Sketching successful start-up stories is the Silicon Valley of India, Bangalore – a city at the core of which sits the swarm of talent. It's a fertile land of business where the seed of "tech start-ups" is sowed not only by seasoned entrepreneurs but also by college and university students. 
Mobile App Development In Bangalore
Zoom in on tech start-ups, and you'll be exposed to mobile apps. Mobile app development in Bangalore is considered to be the first step to subscribe success. The cut-throat edge found in Bangalore's mobile app development services is unmatched at every competition level. 
The streets of the start-up hub of India are swarming with three things: bars, engineers, and entrepreneurs. With a new start-up mushrooming every single day, Bangalore has proved to be the fastest-growing tech hub on the planet since 2016. The Silicon Valley of India is, then, followed by London, Munich, and Paris. Could there be a better place to ideate, design, develop, and deploy your mobile app development dreams other than Bangalore? 
Why Bangalore? 
Backing this little piece of punctuation (?), here's the statement of Ben Legg, the managing director of Ola UK (made after Ola, the Bengaluru-based ride-sharing platform, moved its headquarters from Mumbai to Bangalore): 
Bangalore as a place for entrepreneurs, I think, is really exciting and is getting more exciting. While Mumbai is a bigger and richer city, [the founders] needed a lot of engineers, and there's way more in Bangalore, and if you want to build an awesome product quickly, you need to be in a place where an engineering shortage isn't going to hold you back.

Just like Google, Facebook, or Apple's head office remain where the action is – which is in America, Silicon Valley – I expect the same with Bangalore. With Ola [being in Bangalore], they're in the heart of things. And that's the right place to be.
Top 3 Mobile App Development Companies In Bangalore
We've received a big nod from Ola in response to the "Bangalore?" question. The garden city, Bangalore, is the future face of India. In fact, the VCs are on their toes to inject money in the garden city, given the presence of a slew of successful start-ups like Glance, Jio, and Rapido. One thing that's common among these three successful start-ups is Appscrip.
#1 Appscrip

The first answer to your search for mobile app development in Bangalore is Appcrip, indicating how lucrative Bangalore's ecosystem is after successfully winning technology development contracts from big names such as ForeTees LLC, Reliance JIO, Deutsche Bank, Tata Steel, Cairn, Coke, to name a few.
| | | | | |
| --- | --- | --- | --- | --- |
| Company | Founded | Min Project Size | Avg. Hourly Rate | Employees |
| Appscrip | 2011 | $5000+ | $25 -$49/hr | 50-249 |
With its product-based service's ability to set up startup foundations, Appscrip has earned the sobriquet of innovation. It is less of a typical app development company and more of an industry-leading on-demand mobile product development engine that powers mobile-first business models.
With numerous awards under its belt, Appscrip brings to life the futuristic ideas of rich clientele comprising the world's best companies.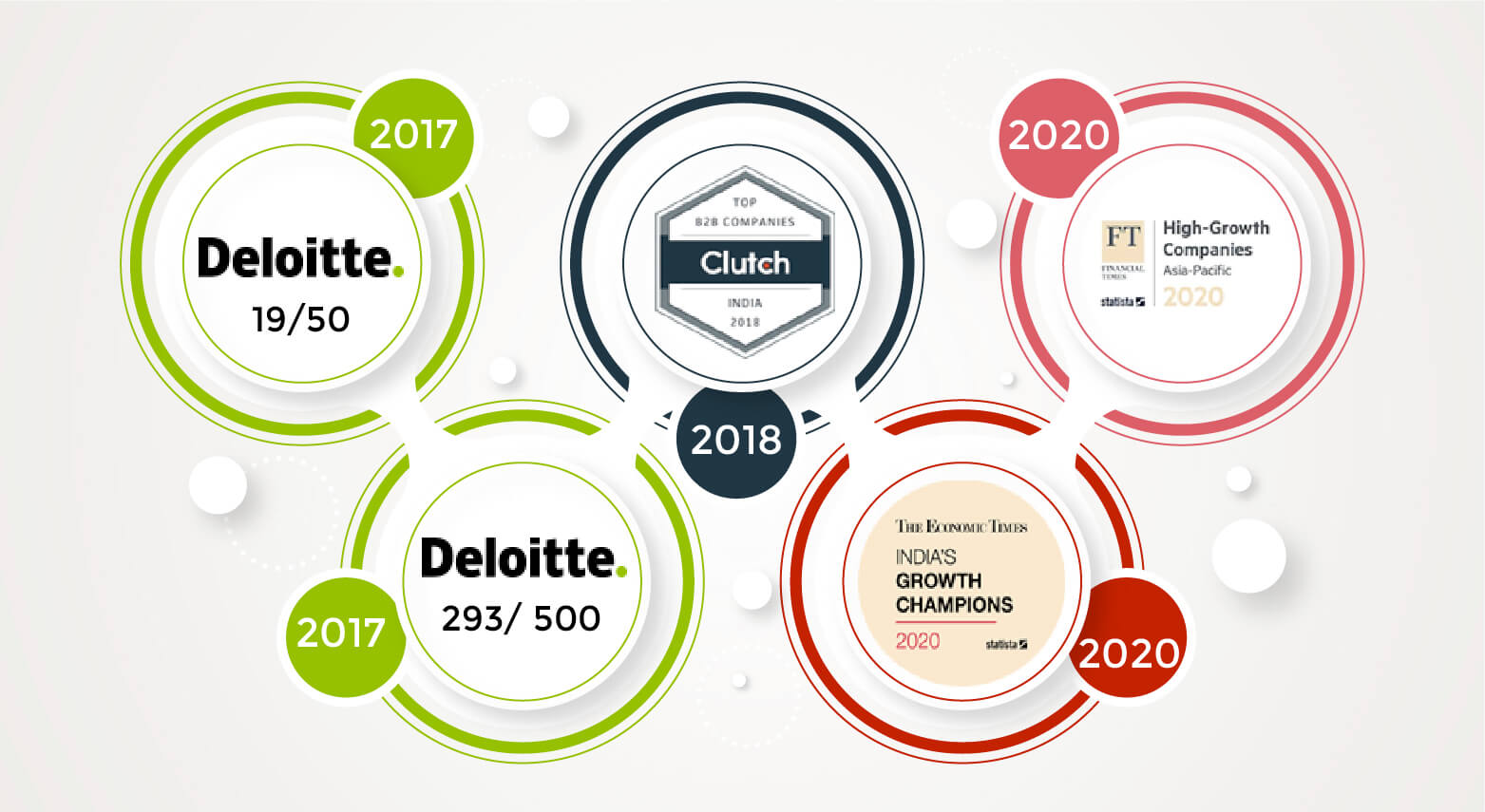 The company's business model revolves around creating robust business-ready technology solutions that can be customized to suit client's needs with a minimum cost of $5000+, proving mobile app development in Bangalore doesn't cost a fortune. It has left its footprints in every sector from ed-tech to fintech while doing justice to its tagline that reads "accelerating businesses."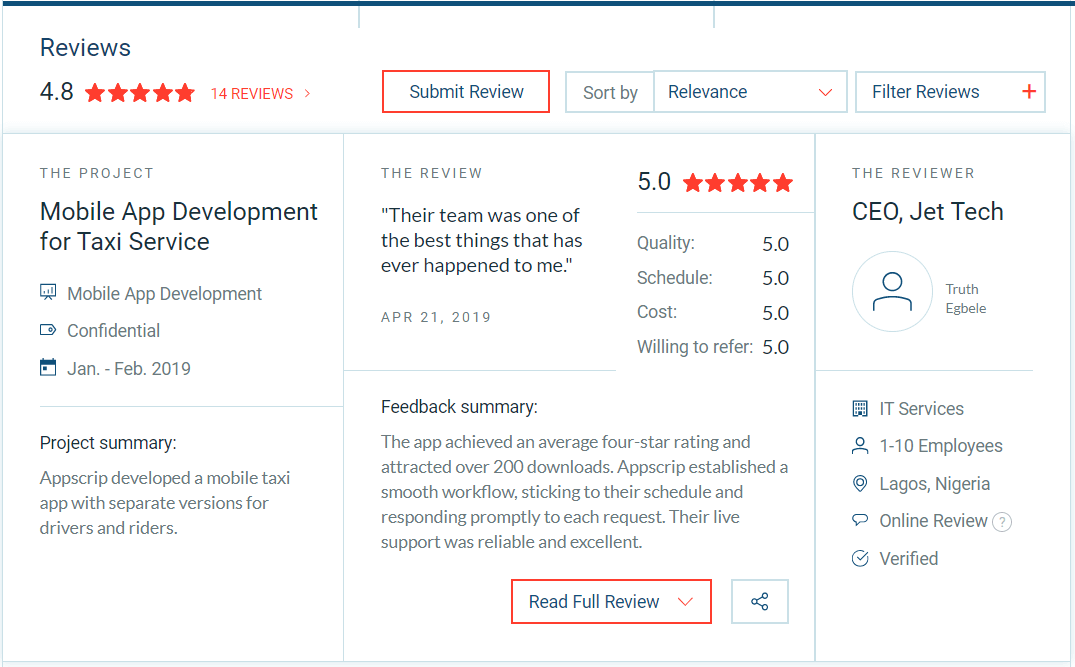 Appscrip has locations in Georgia, the USA, and Bangalore, India where the team of 250+ mobile app and web app developers provides unmatchable services, making the company an epitome of innovation. The company holds a benchmark with 100% YOY growth in the digital sphere of mobile app development and web app development. 
Services
Custom mobile app development

Augmented reality development

Salesforce development 

iOS development

Android development 

UI/UX development 

Internet of Things

M-Commerce Development 

Node.JS Development

ReactJS Development 
Industries
Over time, Appscrip has built several out-of-the-box intellectual property (IP) management software for businesses to get up and running quickly. Businesses can either hire an in-house team to ideate, design, and develop software from scratch or invest in a pre-built solution. With the latter comes more flexibility for scaling a business. 
On-Demand Delivery
Health Tech
MedMe: Online Pharmacy Delivery Software
VaidG: A pre-built software to digitally connect customers with healthcare professionals
E-Commerce And Social E-Commerce
Ed Tech

Transportation And Logistics
Social Media
Real Estate
GetBnB: Online marketplace that enables people to list, find, then rent vacation homes for a processing fee similar to Airbnb
Home.ly: Real estate property listing software solution like Zillow
Dating And Chat
C.Me: Live video chat & dating app like Azar with progressive web application
Hola: White label chat software for business & personal use like WhatsApp
Datum: Datum has been inspired by dating apps like Tinder, Hinge and Bumble
On-Demand Services
#2
Cognitive Clouds

The transformation of simple sketches into fully-featured products is what happens behind the walls of Appscrip's innovation department. Sitting in the front row along with Appscrip in the arena called "mobile app development in Bangalore" is Cognitive Clouds, a company that has bagged projects from Walmart, Verizon Media, UBS, Volkswagen, Mahindra Electric, Yahoo, Sony, and others.
| | | | | |
| --- | --- | --- | --- | --- |
| Company | Founded | Min Project Size | Avg. Hourly Rate | Employees |
| Cognitive Clouds | 2012 | $25000+ | $25 -$49/hr | 50-249 |
Cognitive Clouds is a company that is known to dive deep into the concepts to come up with businesses' capabilities. It works for various businesses engaging in technological advancement, be it a small enterprise looking for mobile app development in Bangalore or big enterprises looking forward to adopting blockchain and VR.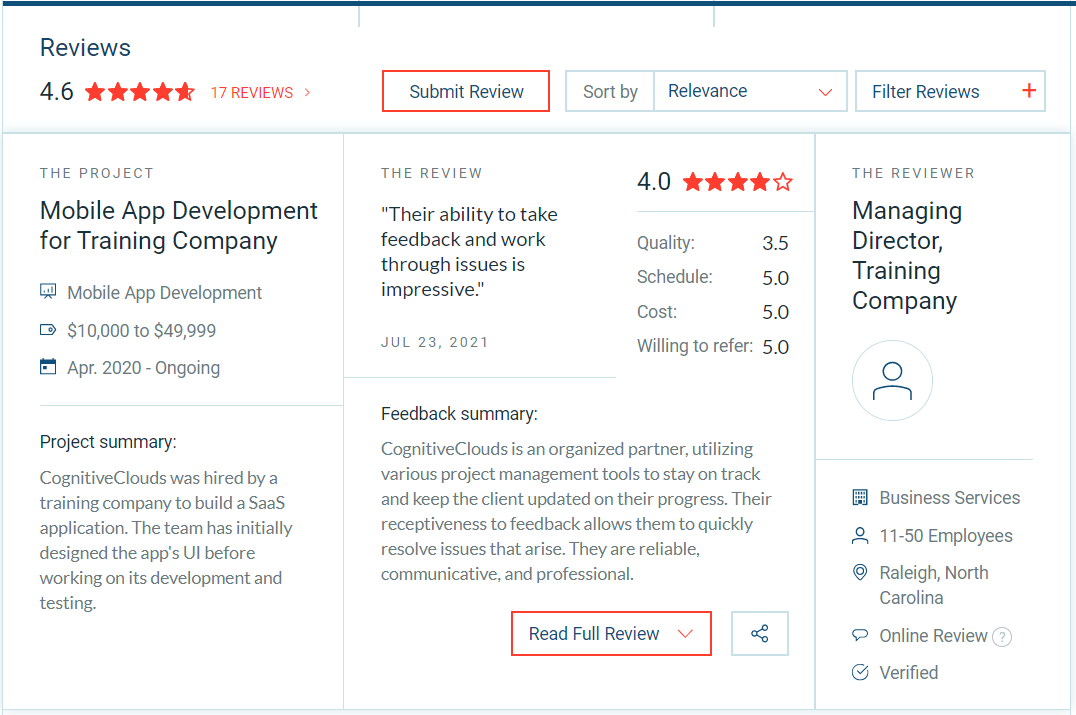 Cognitive Clouds has locations in Fremont, California, USA, and Bangalore, India where the team of 73 provides the following services. 
Services
Responsive Web Design

Ruby on Rails Development 

Mobile App Development 

Omnichannel eCommerce 

Cloud App Development

Angular JS Development 

SaaS App Development 

Python Development 

Rest API Development 

Enterprise Mobility 

IoT App Development 

UI/UX Design 

Spree Development 

Enterprise Web Applications

M-Commerce Development 

iOS App Development 

Android App Development 

Mobile App Design

Web App Development 

Node.JS Development 

Web Application Design 

Smart TV App Development 

Wearable App Development 

Virtual Reality App

ReactJS Development 

Big Data

Data Science 

Artificial Intelligence (AI), Machine Learning (ML), and Natural Language Processing (NLP) 

Blockchain
#3 Happiest Mind Technologies Limited 

The process of mobile app development in Bangalore made mindful? We wouldn't be wrong in saying that. With a tagline that reads "The Mindful IT Company," Happiest Mind Technologies Limited is an application development company that serves industry sectors such as ed-tech, engineering R&D, hi-tech, manufacturing, retail, automotive, BFSI, consumer packaged goods, e-commerce, and travel/transportation/hospitality.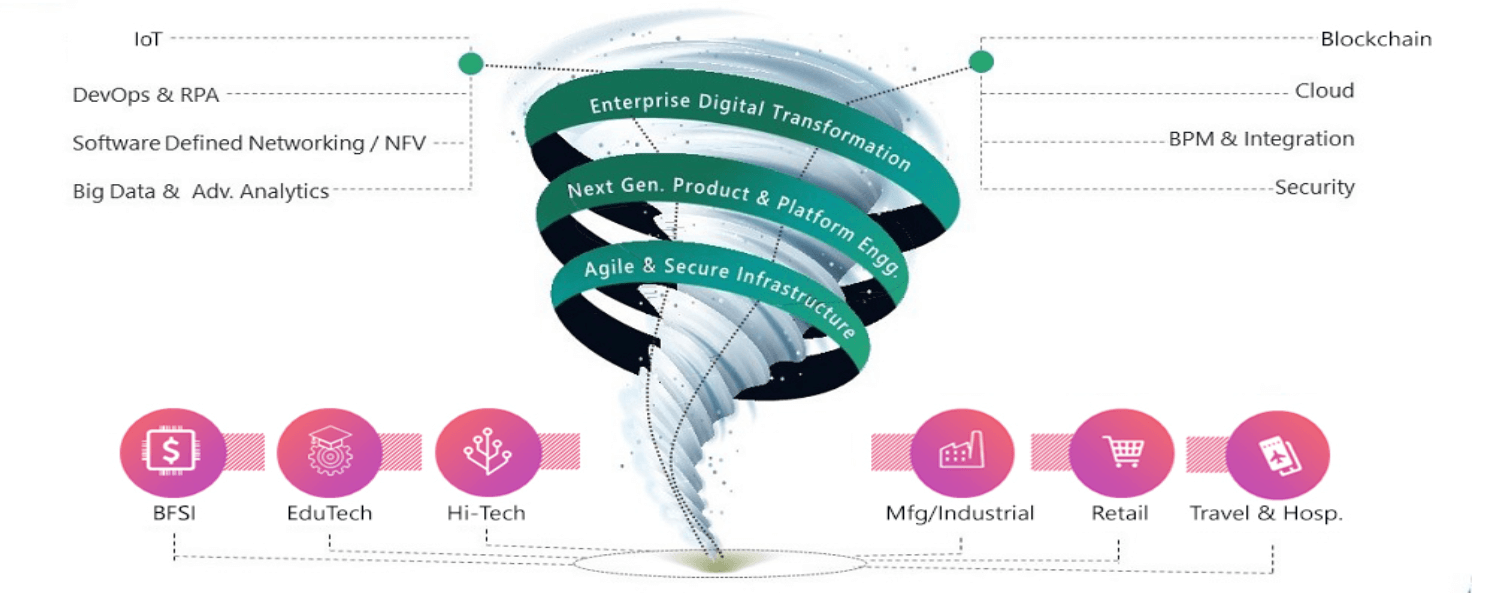 Positioned as "Born Digital. Born Agile," the company makes use of state-of-the-art technologies (Blockchain, IoT, big data analytics, AI and Cognitive Computing, etc.) to chart out its capabilities. The company's capabilities span digital solutions, security, infrastructure, and product engineering.
| | | | | |
| --- | --- | --- | --- | --- |
| Company | Founded | Min Project Size | Avg. Hourly Rate | Employees |
| Happiest Mind | 2011 | $5000+ | $50 -$99/hr | 1000-9999 |
The company's philosophy is simple: happiest people make happiest customers.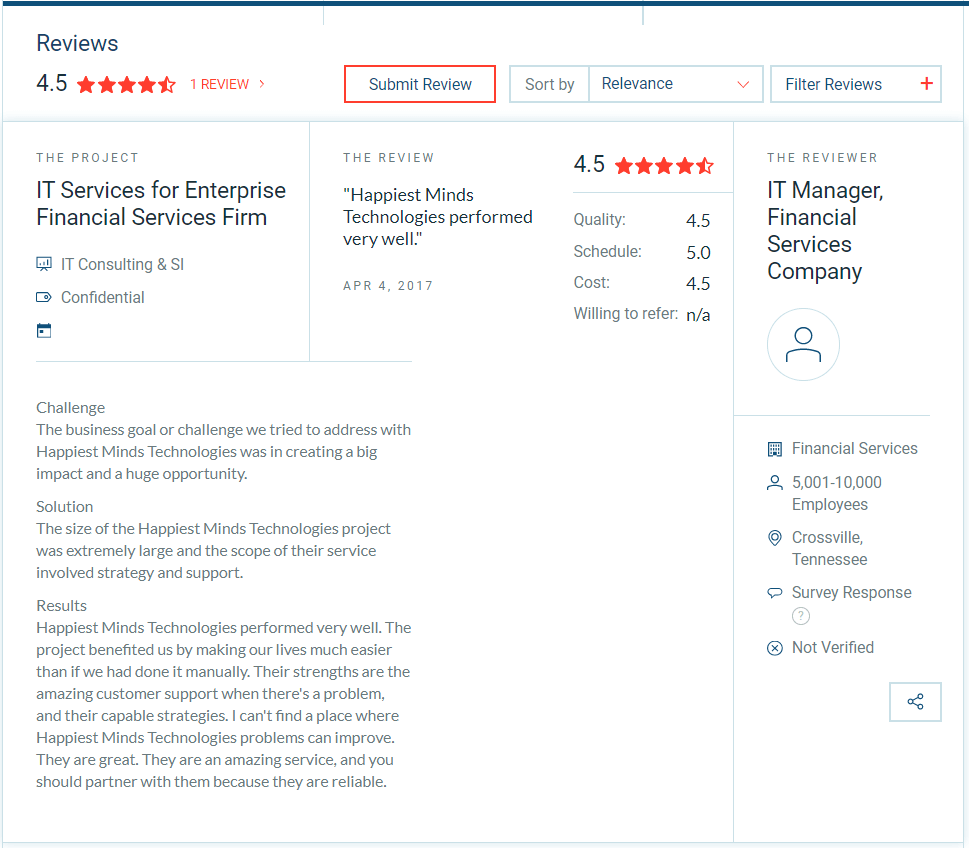 ISO 27001: 2013 certified and a great place to work certified company, Happiest Mind Technologies Limited has locations in the US, UK, Canada, Australia, Middle East, and India where the team of 1000-9999 provides the following services.
Services
Agile Infrastructure 

Data Management 

Digital Transformation Services

Managed Infrastructure & Security Services

Product Engineering Services

IT Security Services

Web Technologies
The Conclusion
Considering the fact that a myriad of app development companies dot the garden city, it's hard to enjoy the flawless browsing moments to select the right mobile app development firm. We hope this pile of words helped you get a clear idea on which company to choose for mobile app development in Bangalore. 
A unique perspective backed by the passion to launch an efficient app product is definitely a sure-shot way to succeed.