Today we are going to discuss the most used eCommerce technologies in 2020 after the global pandemic, which shifted a lot of brick and mortar store owners to online and e-commerce platforms.
We will discuss start-ups, the middle guys and hundred million dollar sites using e-commerce platforms and why they're likely picking these platforms.
First, let's take a look at the entire web and see which e-commerce platforms are dominating the marketplace:
Most Used eCommerce Technologies on the Entire Internet

Source – Buildwith.com
The number one e-commerce platform in the entire world is Woocommerce Checkout, who has 15.51 % of the market and has been one of the fastest-growing e-commerce platforms in recent years.
Woocommerce is open source so it's free and is tied into WordPress.
Wocommerce has grown quickly they have fully functional e-commerce backend and keep coming out with new features.
We see them continuing to grow internationally because they are open source and anyone using their platform can modify anything.
So if you need specialised shipping in the world you can add this type of shipping method through Woocommerce that you may not have been able to do through Shopify or Wix, Woocommerce here is a big contender keep an eye out for them.
Second, we have Shopify with 15% of Market Share 
At the third place, we have WIX with 7.71% of market share, which is surprising for Wix because Wix is more of a general website builder that has built some e-commerce functionality into their platform but they are by no means a fully functional e-commerce platform.
At Fourth position, we have Ecwid with 4.66% of market share 
Fifth, we have a Squarespace with 4.38% that provides the basic website builder and have started tying additional e-commerce functionality to their backend which is growing by attracting small e-commerce shops because they are easy to get up and running. 
The sixth is OpenCart, with 2.39% market share; this is yet another open-source platform that continues to compete as a global e-commerce player.
Seventh, we have PrestaShop with 1.81% of the market share 
Eighth is Zencart with 1% of the market and ninth we have Magneto with 0.5% of the market.
Magneto was the number one platform in the world for the longest time they aren't promoting their open-source solution as much anymore so their numbers have dropped to a smaller size.
They are now focused on the enterprise e-commerce players that are making tens of millions of dollars online.
Magneto stopped merchant support in June 2020 so merchants who do not have the need to upgrade to an enterprise-level would prefer switching to other e-commerce platforms instead.
Now let's move on to the top million sites (remember there are billions of sites on the internet) so if you're in the top million sites online this is actually really good we look at these rankings through a site called Alexa rankings which are owned by Amazon ranking sites from 1 to 1,000,000,000 and where it ranks based on the amount of traffic received to that site.
Most Used eCommerce Technologies in the Top 1 Million Sites

Source – Buildwith.com
If you are ranked in the top million you are getting a pretty large amount of site visits, for example, a brand like Tabasco ranks around the 300,000 marks on Alexa ranking, they are not in the top end of the million but they are a respectable site that still gets a lot of traffic and sites ranking in the top million are probably doing about 1 million in e-commerce sales each year let's check out which e-commerce platforms have the largest slice of the pie in the top million.
Number one in this category is WooCommerce, with 4.86% of the market, which is surprising given that WooCommerce has taken the lead over Shopify.
At number two right behind them, we have Shopify with 3.58%. Number three we have Magento with a 1.29% market share. Number four we have OpenCart, with 0.57% market share.
Next, let's dive into the top 100,000 sites from around the world and see what e-commerce platforms are stealing the limelight at this stage.

Most Used eCommerce Technologies
 in the Top 100k Sites

Source – Buildwith.com
These sites are reputable brands which get tons of traffic and have likely been doing this for a while they are probably doing about 50 million in e-commerce sales a year or more.
They aren't taking their e-commerce platform lightly and they are going to build this platform tooth and nail to make sure they provide everything needed to run their 50,000,000 Dollar plus sites.
Here, the number one player is Shopify with 5.82% of the market, number two is Woocommerce with 3.29%. Number three is Magento in the Wheelhouse with 3.04% of the market.
Number 4 is Shopify+ with 1% this is Shopify's enterprise version which comes with more features and supports.
So we can see a lot of enterprises are still using their basic version of Shopify, with a smaller percentage using the actual enterprise version if we combine these two Shopify+ actually rolls 15.24% of the marketplace.
At number five we have BigCommerce with 1.24% at number six it's Flexify with 1% Flexify is another Shopify extension so if we take this into account as well Shopify is dominating the market place with 16.24% – that's almost a third.
Now let's look into the top 10,000 sites worldwide. These are the top dogs doing hundreds of millions and more in e-commerce sales every year, some even closer to 1,000,000,000. 
Most Used eCommerce Technologies
 in the Top 10k Sites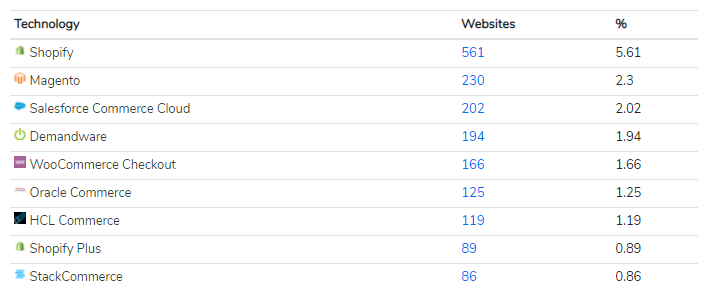 Source – Buildwith.com
Again, as you'd imagine, they take their e-commerce platform very seriously.
Number one is Shopify, again with 5.61%, 
Number two is Magneto with 2%, 
Number three we have Salesforce Commerce Cloud with 2.02% of the market we don't see them at any other level they are purely focused on enterprise players at these large levels they are not really trying to play down the small businesses category. 
Number four Demandware with 1.94% 
Number five is a familiar face Woocommerce with 1.66%
Next is Oracle Commerce with 1.25% and number seven we have HCL Commerce with 1.19% 
Number eighth is Shopify+ with 0.89% – if you combine this with Shopify their total market share is 16.13%. 
Number nine we have Stack commerce with 0.86% 
Here are some interesting stats that show how certain e-commerce firms only come into play at certain levels of the game and larger companies have different, more complex e-commerce systems.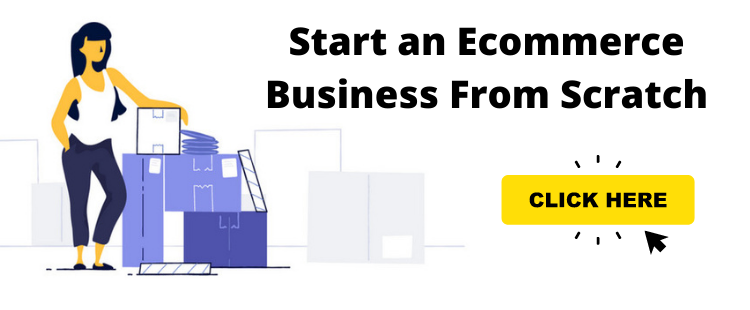 Digital marketing consultant, helps clients generate leads, drive site traffic, and build their brands through useful, well-designed marketing strategies.