OfferUp is an online C2C Marketplace with mobile precedence while promoting in-person transactions.
Even though it was rolled out as a competitor to Craigslist, it differentiates itself from Craigslist with mobile-friendly apps and user ratings. OfferUp was founded in April 2011 by Nick Huzar and Arean Van Veelen. It is headquartered in Bellevue, Washington, USA.
This mobile-friendly local marketplace competes with the likes of eBay, Craigslist, and Facebook Marketplace. In 2015, OfferUp was accorded the title of the Hottest Startup by Forbes.
The company then galvanised into a large marketplace for buyers and sellers where products are displayed for buyers in their feed based on their location. And thus the OfferUp business model gained prominence.
Offerup has gained the trust of users and its able UI makes it a user-friendly app for people to feature products they want to sell. OfferUp was named among the "The 7 Most Innovative Startups in Seattle" by Inc. The app was placed among the Top 50 most downloaded free apps on the Apple App store and Google Play.
What Is OfferUp & How Does It work?
OfferUp mobile application enables consumers to buy and sell used goods. OfferUp collects a minimum of $1.99 or 12.9% of the sales price quoted by sellers.
OfferUp also earns via promoted listings and a verified dealer program. It is a mobile-first C2C platform that can be used to sell preowned furniture, garments, household goods, and lots of other stuff.
The OfferUp business model helps users to post items for sale to friends, followers, people nearby, and people of similar interests. As of June 2021 OfferUp has 20 million Monthly Active Users (MAU) and has been downloaded around 90 million times. It raised over $381 million as of September 2021. 
How OfferUp Connects Local Buyers & Sellers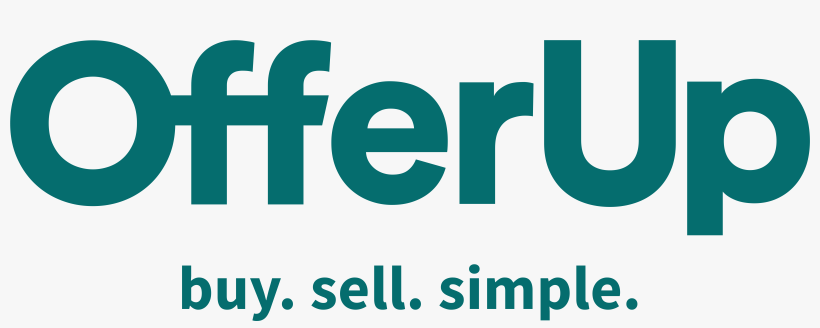 The items that need to be sold by buyers are displayed for sale as soon as it is uploaded by sellers. However, these items are displayed in a buyer's feed as per to their location.
Buyers can select an item they are keen to own and then get in touch with the seller. This is followed by an initial virtual conversation through chat with the seller about the item. Sellers can filter all enquiries received and can sell to the highest bidder.
Finally they can locate a Community Meetup Spot where they can meet up to complete the process. The buyer has 48 hours to examine the product and complete the purchase process.
OfferUp has competitors and companies that operate in a similar manner such as Letgo, Carousell, Shop Runner, Cafe Press, Craigslist, Facebook Marketplace, and eBay.
Create Your Own Buy & Sell Marketplace
Solving problems of the target audience is vital while designing a successful buy and sell marketplace application. Create a fast performing app with eye-catching brand identity, lean app performance and necessary features which will ensure high demand for your online marketplace platform.
The top marketplaces that people seek world over are Amazon, eBay, Walmart, OfferUp, and Wish. Entrepreneurs looking to emulate the success of top marketplaces can leverage our Buy & Sell Script LeOffer.
The product can be built using Progressive Web App (PWA) technology that has several benefits. Or then we can build the same as a native app in Android using Kotlin, and in iOS using SWIFT5. We have improvised the product by including a social element.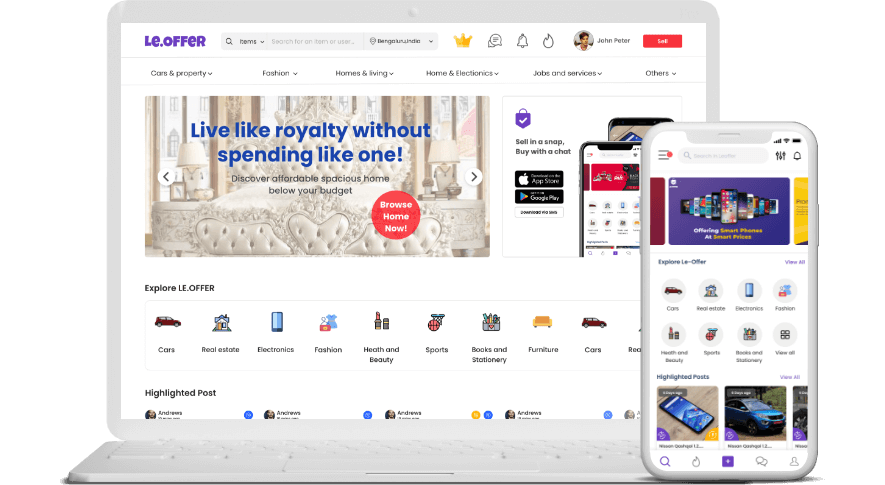 Give wings to your buy-and-sell marketplace business and take it to the next level like never before.
OfferUp Mission
OfferUp's mission is to support millions of buyers and sellers and help them get together to discover value. The vision is to empower buyers and sellers so that they can connect and prosper.
OfferUp Funding & Investor Details
OfferUp raised $120 million so as to acquire through Letgo in March 2020.
The company has raised a total of $381M in funding over 9 rounds. The latest funding was raised on 25th March 2020, from a Venture – Series Unknown round. It had 18 investors.
Some of them are  Andreessen Horowitz, Warburg Pincus, GGV Capital, Altimeter Capital, Tiger Global Management, T. Rowe Price, Quixotic Ventures, Alliance of Angels, Third Kind Venture Capital, Vy Capital, and Jackson Square Ventures.
According to PrivCo, the company has a post-money valuation in between $1B to $10B as of 27th March 2020. Offerup has other competitors such as Quikr, Airtasker, and StockX.
Offerup Revenue Generation
OfferUp garners a minimum fee of $1.99 or 12.9% of the sellers' sales price. Apart from this, it also makes money through promoted listings for sellers. There's also a Verified Dealer Program enabling car dealerships to sell on their platform.
OfferUp was free for sellers to sell their used goods during the first five years of their operation. The reason being, they wanted to attract as many buyers possible to their platform. And this could only happen when sellers had created an extensive menu that could attract buyer's attention.
Secondly  OfferUp wanted to stand up to competitors such as Facebook Marketplace which does not charge sellers who list products on their platform.
However, in the year 2016, OfferUp business model deemed it necessary to start charging sellers a fee for using their services.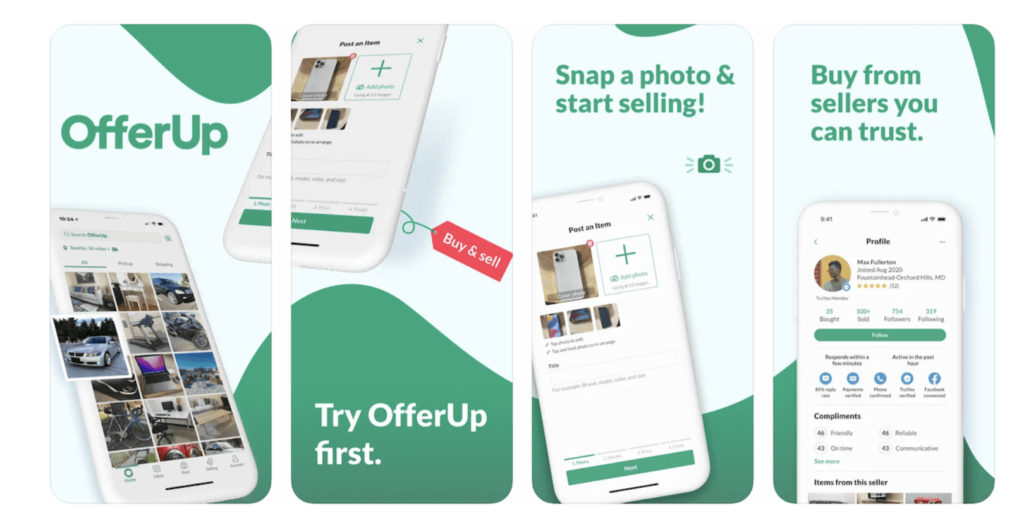 OfferUp Business Model In Detail
LeOffer, is among the top online classifieds app that works on its Customer To Customer (C2C) ecommerce capabilities. The features that have been included in OfferUp have been inspired by apps like OfferUp, OLX, Wish Local, Shpock, Carousell.
1.      Seller Fees
OfferUp garners a minimum fee of $1.99 or 12.9% of the sales price. The fee is taken when a seller sells an item that needs to be shipped.
OfferUp also has a partnership with the U.S. Postal Service.
Despite that, it also enforces a service or shipping fee based on the condition in which the item is being shipped. It also prefers in-person transactions and the product must meet strict guidelines to qualify for OfferUp shipping.
2.     Promoted Listings
The OfferUp business model works such that it helps sellers by giving them the option to promote their listing via the Promote Plus features. These features enable sellers to showcase their products within the top 50 listings in their location.
However, for those who want to head straight to the top, Offerup provides a "Bump" service which allows them to promote their goods at the top for a prescribed time.
Those sellers who seek to promote their products at the top for a longer period, have Promote Plus option that is offered at $19.99/month.
3.     Verified Dealer Program
Offerup has also made a move towards selling pre-owned cars online. The Verified Dealer Program enables car dealerships to sell such cars on Offerup . Offerup uses AI-powered top lead indicators, automatic DMS importation, and a click-to-call button.
Pricing depends on the size of the car dealership and the amount of features it wishes to utilise.
OfferUp has signed up with more than 12% of all car dealerships in the US to date.
USP of OfferUp & How It Aces the Competition
OfferUp is an online marketplace with an emphasis on face-to-face conversation to encourage a sense of community.
After the platform attained a certain number of sellers and buyers, it began charging sellers to feature products on the platform. Sellers can pay an additional fee to have their listings garner more visibility.
OfferUp believes that it is not mandatory to come up with a unique business strategy for every occasion. But they believe that upgrading an existing idea also works. This is a key takeaway for entrepreneurs who are thinking of getting into a similar business.
Having a mobile app is the key to take your business to the next level. Mobile presence will make you available 24/7 to your customers and will facilitate effective customer communication.
Live up to the customers' expectations by making the UI/UX of your application simple and easy to navigate.
The above pointers serve as a guideline for those interested in creating a similar app.
Top Buy and Sell Marketplaces World Over
The global online shopping revenue could exceed $7 trillion by 2025.
The world's top Buy and Sell Marketplaces: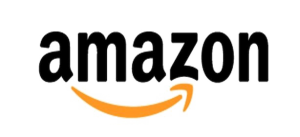 Amazon is an American multinational company that focuses on e-commerce, cloud computing, online advertising, digital streaming, and AI. It was founded on July 5, 1994, with headquarters in Seattle, Washington, United States.
The founder is Jeff Bezos. It has raised $108M as on date. The company closed its last funding on 24th July, 2001 from a Post-IPO Equity round.
Amazon's main competitors are Alibaba Group, Zulily, and Jollychic. The company has 2 investors – AOL and Kleiner Perkins.
Amazon.de makes money through retail, subscriptions, and web services. It makes most of its money from product sales. Amazon also earns through commissions and fees that it charges by making buyers and sellers meet.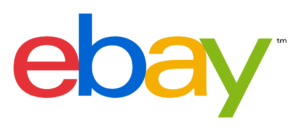 eBay is another American multinational ecommerce company. It is based in San Jose, California and works on consumer-to-consumer and business-to-consumer sales through its website. eBay was founded on September 3, 1995. The founder was Pierre Omidyar.
The company has 2 investors – Maveron and Benchmark. It has raised $1.2B. The company's last funding round was on Nov 7, 2022, from a Post-IPO Debt round.
Their competitors are Ralali, JOOR, and ZAGENO.
eBay generates revenue through sellers and advertisements. It charges sellers fees to list an item for purchase or transaction costs depending on the final value of the item.
When your item sells, eBay keeps a part of the proceeds. The final  fee for most categories is 12.9% of the sale price or lower, plus $0.30 per order.
eBay caters to over 180 million worldwide buyers and operates in 190 markets around the world.
This US based e-commerce company is into handmade or vintage items and craft supplies. It was founded on June 18, 2005. The founders are Robert Kalin, Chris Maguire, Haim Schoppik, Jared Tarbell.
It has headquarters in Brooklyn, New York, U.S. Etsy is both a smartphone application and an e-commerce site for buying and selling handmade items.
It has 19 investors including Dragoneer Investment Group and TPG. The company has raised $97.3M as on date. The company closed its last funding on  May 15, 2017, from a Post-IPO Equity round. Its competitors include Tradesy, JOOR, and Moda Operandi.
Etsy makes money by charging the seller fees when they feature and sell products. It charges a transaction fee of 3.5% of the total sale. Moreover, the site charges $0.20 to list an item, wherein the listing remains active for four months.
Allegro was founded by Arjan Bakker in 1999. It has headquarters in Poznan, Poland. It is among the largest ecommerce platforms and is pretty popular. It has 4 investors, with the recent ones being MCI Capital SA and Goldman Sachs.
The company has raised PLN13B. Allegro was declared to have over 11 million users in 2011. In 2017, it declared having 16 million users on the platform and more than 20 million accounts.
The company closed its last funding on Jan 18, 2017, from a Debt Financing round. Its competitors include Sendlane, Klaviyo, and MainFactor.
It generates revenue by completing transactions between buyers and merchants and charging merchants commissions and other fees.

Walmart is an American multinational into retail selling. It manages a chain of hypermarkets, discount department stores, and grocery stores in the United States. It was founded on July 2, 1962 with headquarters in Bentonville, Arkansas, United States. Walmart's founder is Sam Walton.
Walmart's competitors include Kroger, Macy's, and Target.
Walmart has three verticals from where they generate revenue: Walmart U.S., Walmart International, and Sam's Club. It made $567.8 billion in fiscal 2022 from these three segments.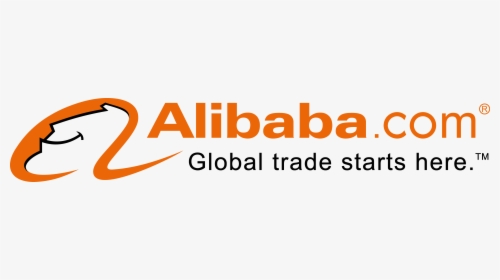 Alibaba is a Chinese multinational company with interests in e-commerce, retail, Internet, and technology. It has headquarters in Hangzhou, China. The company was founded on April 4, 1999. The founders are Jack Ma, Joseph C. Tsai, Zhang Ying, and Jianhang Jin.
It closed its last funding on June 2, 2016, from a Post-IPO Equity round. The most recent investment was on Dec 6, 2022, when Lazada Group raised $342.5M.
Alibaba facilitates digital marketplaces for merchants and consumers just as in the offerup business model.
This Argentine company is headquartered in Montevideo, Uruguay. Meracdo Libre is an online marketplace that focuses on e-commerce and online auctions.
The company was founded on August 2, 1999. The founders are Stelleo Passos Tolda, Marcos Galperin, Hernán J. Kazah. The company has 10 investors with Goldman Sachs being the most recent one. The company has made 3 investments with the last one being on 20th January, 2022. Mercardo Libre works on the same principle of the Offerup business model.
The last funding round was on 12th July, 2022 from a Post-IPO Debt round. The company has raised $3.8B so far.
Advertisers can promote their products within the company marketplace. Clients pay for ads on a CPC basis for Product Ads and on a CPM basis for Display banners. This service enables both businesses and individuals to list general merchandising items as well as conduct their sales and purchases online at a fixed-price.
Conclusion: OfferUp Business Model
Off the $5.2 trillion global e-commerce market, $3.1 trillion is accounted to marketplaces alone. Taking such a considerable slice in the e-commerce niche is quite an achievement. This is in reference to the fact that there are umpteen individual online stores in comparison to marketplaces.
OfferUp is a C2C marketplace company that gained prominence within few years of operation. This has been possible due to the interesting UI features that are visually engaging and easy to use.
Although brick n mortar stores still have their say in the retail industry, the clout of marketplaces is evolving rapidly. In 2020, 63% of all global online spending occurred via online marketplaces, that was a 29% increase over the previous year.
Such a growth rate signifies that online marketplaces will be the preferred choice for consumers around the globe. The company also ensures a good communication interface between the buyer and seller.
Retail leaders will need to plan their strategy on how to foray into the online marketplace arena to further monetise commercial strategies, increase their relevance, and their global / domestic footprint.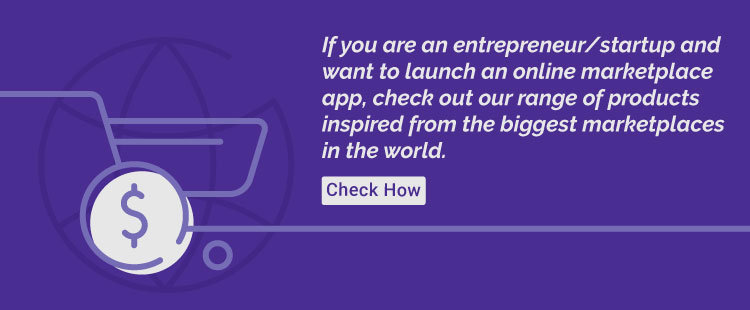 With an Engineering degree and a Diploma in Management under my belt, I worked for 16+ years in the automotive industry with various manufacturers. But my passion for writing was overwhelming, which I turned into a career. I have been writing for more than 10+ years and mostly in the IT domain. I am sure you will find the 300+ published blogs of mine in here informative, exhaustive and interesting.