Is there anyone in the world who wouldn't want a head full of great hair? I don't see many who wouldn't. Hair is a very embellishing feature of our personality. It can make all the difference to the way we look.
---
Often we catch ourselves describing people as – "Her hairstyle is kiff my bru!" or "Ohhh..Such long silky hair, China"
So its imperative that we take utmost care of our precious hair.
'Jislaaik' & 'Kief'
African hairstyles are totally different from other country hairstyles. Their unique braids, beads, and intricate designs make one wonder how much effort goes into styling them. This is also a reason they are one of the most famous forms of hairstyles the world knows of.
We scoured the net and found around 70 different hairstyles that are in fashion. We pick the top 5 for you. Take it away.
Our Top 5 African On-Demand Hair Stylist
#1: Criss-Cross Goddess Braids | Eish!
Chunky cornrow braids, referred to as goddess braids, are perfect for days when you want to give your hair a break or when you are going on a beach vacation and would rather not worry about styling your strands every morning.
The great thing about the braids of this size is that they don't take too long to do and are easy to take out.
#2. Natural Braided Hair | Howzit?
Some African women's hair naturally wavy and very coiled up hair. They like to keep their hair in braids to avoid mess. This is a popular African hairstyle look. Even you can sport this hairstyle.
If you are not good with braided hairstyles then you can consult a good hairstylist for this. You need to maintain this hairstyle with proper shampooing.
A use of serum on hair keeps this type of hairstyle in shiny condition.
#3 Braided Ponytail | Shot!
As wonderful as braids can be to create interesting protective styles, braiding hair can sometimes feel heavy when it comes to hairstyles with individual plaits.
A cornrow ponytail is great for a casual updo that won't pull on your edges.
#4 Coiled Bob Hairstyle | Ja? Nee?
This is a very out-of-the-ordinary African hairstyle look. For this a hairstylist on-demand request is essential. If you have become tired of sporting normal curls, then you can give coiled curls a try.
This popular afro look can become your favorite choice too.
#5: Snake Braids | Yussus
Long and curvy braids are not your typical cornrows, but the idea is pretty much the same. Try the snake braids if you want a fresh take on the hair braided closely to the scalp.
Add golden beads for extra bling!
Also Read | 7 Small Business Ideas In South Africa Facing Acceleration In Growth
African On-Demand Hair Stylist App
Prim-U is an on-demand technology platform for beauty and wellness services. It optimizes booking capacity, usage and eliminates waste for businesses thereby speeding convenience for consumers.
It offers an Uber-like service for those who want a manicure, massage or make-up session.
Thuli Hlongwane, a Cape-Town-based female entrepreneur decided to become a business owner and provide this unique mobile app service to the local hospitality industry.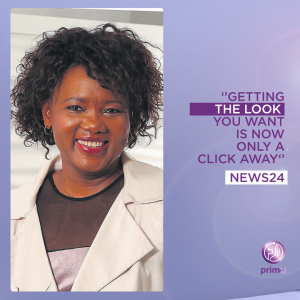 She understood the challenges of being an entrepreneur and the journey of designing, building, maintaining, and growing a successful mobile app and what it all really entails.
The app connects make-up artists, hairstylists, nail technicians and masseuses with people needing those services at a time that suits their schedules. The beauticians come to your house or office.
It is competitively priced with excellent customer service to promote customer loyalty and location that assures convenience to freelancers and their customers.
7 Superlative Black Haircare Apps
The at-home service application is currently active in the New York metropolitan area. This is a cool app and can't be stressed enough. The people come to you. Anything you want to be done to your hair – they have it. No more messy hair. Quick blow-dry? No problem! New braided hairstyle? They will be with you in a jiffy.
Trest operates as something of a salon social network. The app syncs with the user's Facebook account to populate salon recommendations generated by your Facebook friends.
For team natural chicks, Afrocks is your go-to app to find the best stylists for your natural hairstyle. They do all the work going vetting the worst case scenarios so you only have to choose from the best! And, like Uber, no cash payments. Simple, easy, and paid with just a quick push of the button.
The oft-asked question when moving to a new city is: 'WHERE DO YOU GET YOUR HAIR DONE?' then this app is for you! Jihan Thompson and Jennifer Lambert launched the app Swivel to help women whose struggles are too real in finding a good hairstylist.
Currently serving the women of NYC there are talks to expand to more cities.
TresseNoire provides on-location beauty services for women of color in New York City and Philadelphia.
This app allows you to choose your style from a pic and then it offers stylists who can replicate it in the comfort of your boudoir or living room or wherever you get your hair done in your home.
Priscilla Hazel, Esther Olatunde, and Cassandra Sarfo – female entrepreneurs from Nigeria and Ghana – came up with Tress for women on their home continent.
---
---