The On-Demand Economy is defined as the economic activity aided by technology to fulfil consumer demands through speedy provisioning of goods and services.
Supply is driven via an efficient, intuitive digital lattice layered on top of the existing infrastructure of networks.
When it comes to the on demand economy it is either the ease of delivery or reduction in time that has caught the fancy of the people. The on-demand economy's growth is a product of its alignment to consumers' growing appetite for increased convenience, speed, and simplicity.
The businesses in this new economy represent the outcome of years of technological innovation and an evolution in consumer habits. This is certainly not a short-term trend and this unprecedented growth will not decline in a hurry either.
New on-demand models have thrown open doors to real-time fulfilment of goods and services that consumers have embraced.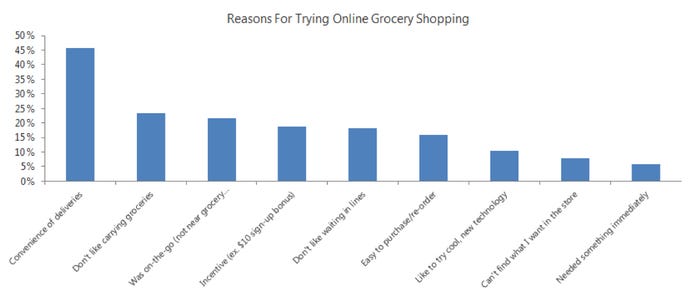 The question is when would the services being offered in this economy, begin to be utilized by consumers outside the tech-savvy realm. And when it does, the On-Demand Economy will usher in a paradigm shift similar to the dawn of the internet decades ago.
The internet offers convenience and makes human desires achievable. Convenience related to the internet is basically achieved by two aspects: speed, and relative ease. If you study what's special about the internet, you realize they are masters at quickening the pace and hampers people thinking.

Rapid Expansion Of The On-Demand Economy
Consumer behavior is changing rapidly. The common man has had a succulent appetizer after the advent of internet in the form of messaging, e-mail, media, and other online functionalities via smartphones. This has generated a sense of deja vu to quick, easy, and efficient experiences.
The On-Demand Economy highlights that the – convenience of delivery – is an irresistible determinant to consumers when it comes to purchasing goods online. Innovative technological firms pursuing advancements and developments have come up with new models that are transforming industries that have been slow to innovate.

Some of them are transportation, shared rides, grocery delivery, and food delivery. These are examples of hyper-growth in the on-demand niche. This growth is largely due to the result of imbibing new technology on top of the existing infrastructure.
Technology & On-Demand Economy
An overwhelming increase in the number of smartphones, basic and secure purchase flows, with location-based services birthed the explosion of on-demand services. Over and above the market conditions and technological innovations all the more helped in enhancing the growth.
On-demand market leaders have designed successful business models that satisfy the needs of consumers in a cost-effective, scalable, and efficient manner than their predecessors ever did.
On-demand businesses have effectively leveraged technology while utilizing existing infrastructure. Pretty regularly new services are launched that provides services to those who require it and organizes moonlighting options to those who can indulge in it so one group helps the other.
Wherever there is excess rooms, drivers, restaurants, or professionals – the on-demand economy takes this surplus and utilizes it to work for the benefit of the professionals, consumers and communities.
Smartphones & On-Demand Economy
The smartphone revolution created the 24/7 community that brought about convenience, efficiency, and simplicity that are vital ingredients in purchasing decisions. Smartphone usage brought about messaging services, photo-sharing, gaming, and now, ecommerce.
Purchases made via smartphones will be responsible for the huge paradigm shift in consumption patterns in history. Never before perceived or it has been imagined that a consumer could buy anything from the tip of his finger.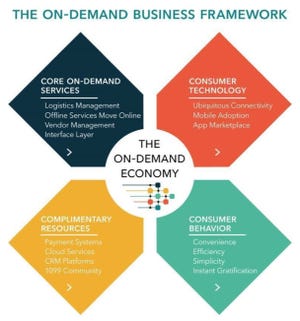 Despite the infancy of the on-demand businesses, companies are competing for not just revenue — but for subscribers and visits too. This is resulting in an influx of capital from investors – private and institutional. This indicates that the on-demand economy will be a force to confront for years to come.
Over $4.7 billion in capital has been invested in the on-demand domain. The transportation industry received over $2.1 billion in financing.
Ground Transportation
Transportation services are where the on-demand economy changed the very working of the industry.  This brought the sector's market size and potential to the fore. Uber's growth is remarkable considering the fact that people were averse to huge spending for daily travel.
But Uber still has a significant opportunity for growth, its value today is primarily due to a relatively small population of tech-savvy consumers. The demand for on-demand transportation will continue as awareness of these services spreads.
Food Delivery 
The on-demand food delivery service in the US is breaching $850 billion. This service has provided yet another avenue for restaurant's to look out for customers beyond physical location. GrubHub led the onslaught with the revenue topping $1.8 billion with over
4.3 million Monthly Active Users in 700 cities. GrubHub found success by targeting independent restaurants that earn a third of their revenue via takeout. There are others who have jumped into the bandwagon as opportunities went northward in this marketplace by extending to new geographies and through tailored service offerings.
Revolutionary Changes In The On-Demand Economy
Well established on-demand businesses with few limits to capital investment will expand their concepts to new markets. While differentiated service providers will seek to target specific customer segments in mature markets.
Aided by strategies adopted by successful on-demand service providers, those in newer categories are anticipated to scale rapidly.
It is expected that few high-profile industry influencers that make up the on-demand niche: grocery, telemedicine, baby-sitters, home services, and logistics were most likely to experience humongous growth.
As evidenced by the recent mergers, consolidation will accelerate as competition grows. Industry leaders cited new competition as their biggest worry.
Collaboration of complementary, non-competitive businesses will become predictable so as to collectively educate consumers about the benefits of on-demand services, increase awareness, and value to core users.
Expect to see service providers in food delivery, hospitality, transportation, and other Fortune 500 firms attempt to "partner with" or "acquire" lucrative and innovative on-demand firms.
Continued revolution in online and mobile technologies is transforming commerce and society.
As on-demand businesses solve logistical challenges, the design will increasingly become a meaningful form of competitive advantage.
Creating a pioneering, memorable, frictionless user interface will be the next battleground for contending consumers' ravenous appetite for outstanding simplicity and convenience.
Conclusion – On-Demand Economy
The On-Demand Economy is here to stay and it will represent the quickest and most significant shift in spending since the dawn of eCommerce. For eCommerce, it was the on-demand economy that represented the most sophisticated application to date.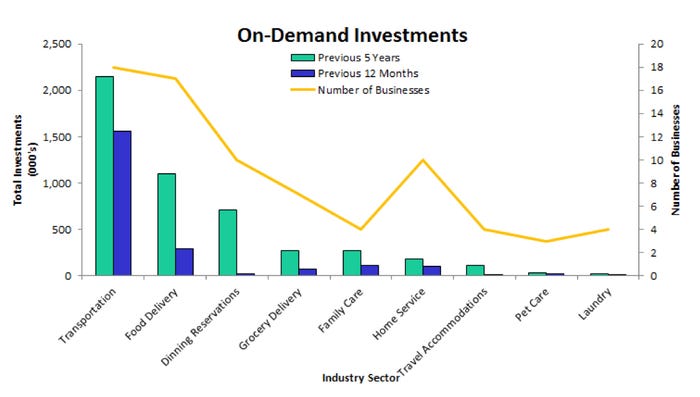 This new industry and its ability to satisfy increasing consumer demands for simplicity, efficiency, and convenience are contemporary today. Never before consumers transacted with such ease and never before businesses were equipped to satisfy such mounting demand.
The On-Demand Economy and the businesses within it are empowering an uprising. The "hunger saviour" Doordash, the "magic" of Uber, the "delivery king" Amazon, "healthy you" Doctor On Demand will weave their craft around us and this is just the beginning of such services.
It isn't too long away before any stuff we need, any car we take, any purchase we make, the doctor we meet will be available at the tip of our finger and we consider it a norm.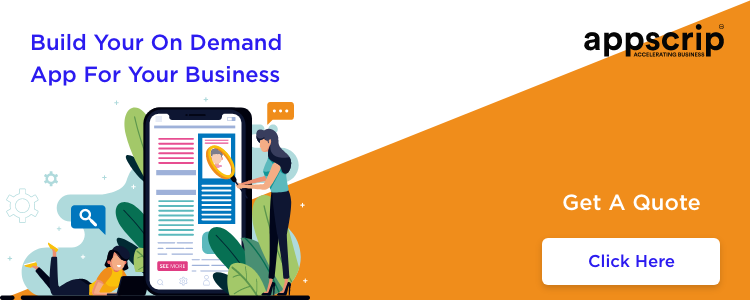 With an Engineering degree and a Diploma in Management under my belt, I worked for 16+ years in the automobile industry with various manufacturers in various capacities. But my passion for writing was overwhelming, hence I turned that into a career. I have been writing for more than 10+ years on various domains including the IT industry. I am sure you will find the 200+ published blogs of mine in here informative, exhaustive and interesting.