The on-demand economy is taking most verticals hostage and that too at a hectic pace. Several possibilities have opened up and unforeseen opportunities are bringing to life new businesses all over the globe. This has been attracting lots of entities into most domains whilst the economy gets hotter and competitive.
Those responsible for this frenzy are a motley crowd of economists, capitalists, business fraternity, and startups. The on-demand economy has gone on to revolutionize business models to create value addition as per the needs, trends, lifestyle and requirements of the local populace.

The scenario has in fact made it imperative that firms align their businesses towards the needs of the on demand economy. The players who have made a serious dent in this niche are Uber, OLA, Urban Clap, Airbnb, TaskRabbit, Swiggy, and others.
On-demand economic revolution:
More than 22% of the US population engage with the on-demand economy and have invested $56 million into it last year. 52% of the on-demand economy players agree that there are positives in the form of increased profits and better time management. The on-demand economy will disrupt conventional systems and enhance incomes.
Statistics show an increase in revenue when people foray into situations where on-demand economy approaches are included. More than 46% of on demand economy users live in cities. On-demand solutions have been largely adopted by the urban crowd as time management gains prominence.
On-demand economy trends: 
Heavy funding and investments have been done by corporate giants in this domain. Venture capitalists who earlier bypassed this domain are now searching for investment opportunities as profits soar and on-demand services propitiate consumers.
On-demand economy growth rate: 
The growth rate in the on demand economy is high. This indicates lucidly that more and more investors and capitalists are accepting the on demand economy.
Firms operating in the on-demand niche have higher chances of business promotion without too much investing too much in it. There will be various on-demand economy challenges for entrepreneurs and businessmen, but those can be resolved with ease.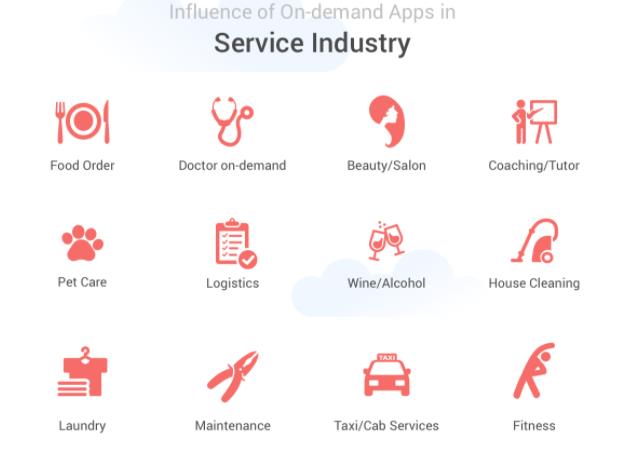 On-Demand economic strategies: 
The on-demand economy will bring about new reforms and revolutionise domains as proven by UBER, Airbnb, JustEat, eBay, Amazon, and PayPal. Getting into the on-demand domain is elementary as it requires very little restructuring of the basic business setup.
The online delivery systems are functioning with the help of on-demand apps that contain several features such as accessibility, instant payment and quick delivery. For example when you order food from your home using a mobile or a website and the food gets delivered at the shortest possible time – this is the on-demand economy in action.
On-demand economy works on three basic principles: 
Relatively light on the purse for customers as unnecessary intermediate steps are bypassed.
The quickness of the service in providing necessary services or goods.
Suppliers find it easy to contact customers.
On Demand economy is not limited to, Uber, PayPal, and Food Delivery. Corporates are coming with newer ideas and imbibing the on-demand model in most verticals.

Real-estate on-demand economy service business
Most folks depend on third party brokers to procure property worth millions, but this poses huge risks and customers are uncomfortable meeting sellers and dealers in person as it eats away valuable time. Therefore, they are adopting on-demand apps that facilitate them to connect to relevant groups remotely.
Consumers are keen to close real-estate deals without delay and if there are relevant on-demand apps to assist buyers and sellers, there will be folks to who will engage with it as long as there is provision in understanding legal matters.
Augmented Reality has also taken up a major role in real estate apps to provide an amazingly genuine experience to customers. Although customers cannot entirely depend upon AR, yet it provides them with a starting block to shortlist properties before visiting them.
Artificial Intelligence in Real Estate: 
Apart from AR, Artificial Intelligence (AI) also serves as a wonderful experience in real-estate apps by sharing the most appropriate results based on customers' requirements.
The conventional real-estate industry will not last for too long. Uber Real Estate and Connect Now are two popular services that provide good flexibility in connecting sellers, scheduling appointments, and offering virtual tours.
Uber for Construction 
Anyone who has begun a journey to construct a home or office knows the troubles and difficulties to find a suitable construction firm to handle their needs. Over and above you also got to paint and complete the interior design. Search for such agencies will eat away your time and patience, this is tiring and time-consuming.
An on-demand app can solve such requirements effectively. Apps can be used to request quotations, communicate with contractors, and ensure safe payments.
On-demand economy print services 
70% of businesses in the US, with more than ten employees, are engaging with print-on-demand services. This business requires offering customization of caps, cups, shirts and loads of other stuff. Firms also need documents with logos for branding and marketing purposes. The service provider also delivers these goods after printing. Therefore businesses are relieved from the task of managing dedicated inventory and workforce for such needs. These services can be availed on an on-demand app.
It is not necessary that business have to target end-users alone, but can also help out retailers who sell customized products. The apps for print-on-demand provide significant convenience to customers and profit to players.
On-demand economy business intelligence
Firms are keen to fathom what draws traffic to their sites. They also need to discover reasons due to which visitors are converting into customers. This translates to business intelligence and is imperative for SMEs and large-scale companies to enhance their business.
But this can be overcome by the introduction of an app that can assist as a marketplace for service seekers and service providers. User-friendly software-as-a-service tools can be provided so that companies lacking BI expertise can use these tools to solve bottlenecks.
Futuristic technologies are going to be a part and parcel of On-demand economy services are: ML and AI
These technologies have an important role in mobile apps. ML and AI apps offer intelligent and relevant solutions with reference to customer generated searches.
Wearable technology:
It was the fitness industry that first took up smartwatches seriously, after which Uber and Zomato followed suit. This year promises to bring in more wearables like watches, fitness bands, movement trackers, and more.
1) IoT: The Internet of Things provides solutions that aim to provide benefit to all who inculcate it. Faster deliveries translate to enhanced revenue. But it should not compromise quality. Integrating IoT devices with various merchants would mean convenience for the delivery personnel who would then know exactly where to go to pick up an item, saving precious time.
2) Chatbots: Chatbots are generating new means for businesses to communicate with clients. By offering instant on-demand assistance, chatbots are improving engagement between brands and their clients. The secret behind the success of on-demand economy services is ensuring that assets such as medicine, grocery, food, apparel, etc. reach the consumers quickly while having transparency in the system.
3) Delivery through Drones: It will not be too long before drones begin delivering goods. The on-demand economy will integrate drones into the supply chain to enhance delivery.

Major factors responsible for the On-Demand Market:
Convenience – Customers prefer services that locate them easily.
Availability of Services – Consumers prefer services that are within their reach to access them easily and quickly.
Time Punctuality – Availability of services within a given time frame.
Quality of services and products delivery – Quick and Quality service will win the trust of customers.
Cost-efficiency – Services and products that are affordable. Charges levied should have an acceptable value.
Quick and Easy Payment Mode – Trouble-free and hassle-free mode of payment improves user experience.
Awareness of Services – People should know of on-demand services in their vicinity so as to avail themselves.
Conclusion On-Demand Economy
Businesses are always in the process of trying to satisfy customer needs. This is a win-win situation for all parties and right now it points to the on-demand economy that has all the required ingredients for success. It is time for businesses to adapt and integrate on-demand economy services in their portfolio to generate higher profits to save themselves from getting outdated.
As change is a constant, it is time businesses invest in the on-demand economy route, cherish it and grow with it.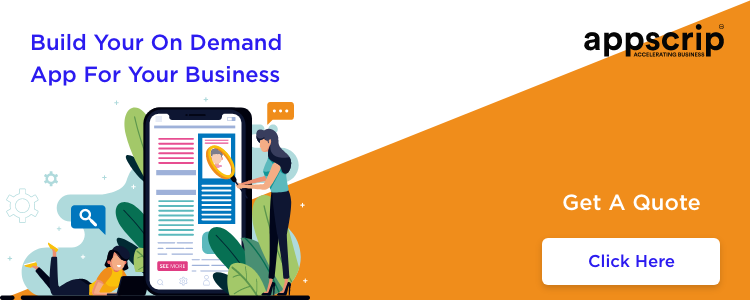 With an Engineering degree and a Diploma in Management under my belt, I worked for 16+ years in the automotive industry with various manufacturers. But my passion for writing was overwhelming, which I turned into a career. I have been writing for more than 10+ years and mostly in the IT domain. I am sure you will find the 300+ published blogs of mine in here informative, exhaustive and interesting.