on-demand ride sharing app, a leader in Mobility-as-a-Service (MaaS), has received $9M in Series A funding from institutional and strategic investors such as CRADLE, Enterprise Holdings & Hyundai Company, etc for being the Netflix of transportation.
 launched in September 2017 is the first free app available in North America for discovering mobility options – helping consumers find the best way from Point A to Point B.
Instead of needing multiple apps, riders can choose from a carousel of services that includes ride-sharing apps such as – Uber, Lyft, Car2Go, Yellow Cab, Lime & Flywheel, as well as public transport.
Jeff Warren, founder & CEO of Migo, told Cities Today that
The opportunity to raise funding for Migo came from finding a market that included both interested consumers & interested providers.
About  On-demand Ride Sharing App

 The total funding raised by Migo amounts to $11.1M over 3 rounds, the latest funding came from a Series A round on Sep 10, 2018.


Migo is funded by 9 investors. CRADLE and Clayton Capital Partners are the most recent investors.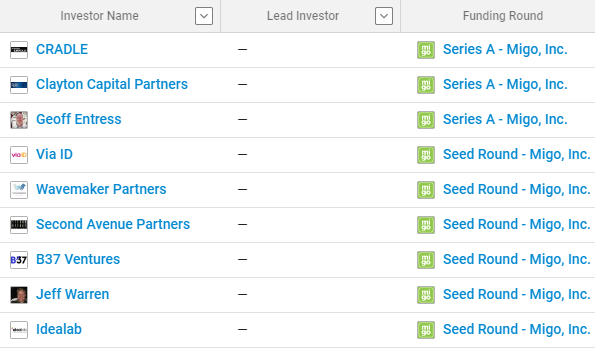 Migo actively uses 3 technologies for its website – Google Apps for Business, Amazon, & Amazon Route 53.

 The amount of traffic on Migo is 8,327 monthly web visitors.

 Migo has 3 current team members –
   Jeff Warren(

Founder, CEO

)
  Vince Cheng(Product) 
  Kathy Van Buskirk(Marketing/PR)

It has spread to 75 cities across North America, including Washington DC, Los Angeles, Chicago, and Toronto.

The user base currently stands at more than 80,000 users.
Discover your ride with 
Migo serves up your full spectrum of on-demand ride sharing & hailing choices on one screen.
Discovering your ideal ride without jumping from one to another has never been easier.
The Migo app displays real-time data for price estimates and wait/walk time and makes it possible to search, hail and book a ride, all from within the Migo app. So no more switching between apps to see who's closest or which one is surging.

Migo even shows you options from the apps you wouldn't typically open. Like taxi and car, bike and scooter shares.
In-app payment is available for many partners today and will be expanded in the future.
For customers, Migo opens up the world of transportation options with an incredibly simple way to discover, find and use the best ride for them wherever they are and whenever they need it.
Image & Statistics Credit: Migo, Crunchbase