Countries and economies are slowly gaining momentum after a dip due to the pandemic.
Businesses are now growing in confidence and are either reviving their establishments or looking to launch new ones.
Most new businesses have one predicament – How to integrate delivery into their portfolio because now we have grown accustomed to getting anything and everything delivered to us.
The shift in buying patterns has been radical all over the world.
Millennials stake claim to 49% of the on-demand niche. Hence entrepreneurs looking to cater to that strata of the society or that on-demand population should be looking to launch an online delivery business. If you are an entrepreneur keen to foray into the online delivery business, read on, this is for you.
Types Of Online Delivery Business
In addition to giving necessary information on profitable delivery business ideas and opportunities that exist in the market, we shall also provide statistics to fathom why it is an profitable industry and there isn't a right time to start an on-demand delivery business.
There are several types of delivery businesses that any entrepreneur can launch to be a part of the online delivery business, such as grocery, food, medicines, cannabis, flowers, alcohol, etc. In any delivery business, time is the essence.
The world has embraced the online sphere, and people are now accustomed to getting everything from prescription medications, food, alcohol, or flowers delivered using apps or the web.
E-commerce has grown by 14.2% in the US last year. Double digit growth is expected in most parts of the developed and developing world in the coming couple of years as far as e-commerce is concerned.
This signifies that there's plenty room for online delivery business opportunities that entrepreneurs could launch and earn handsomely.
Are Delivery Businesses Profitable?
Firstly, decide what is it that you want to deliver through your business. Take time to research the need of such a delivery business in your region and conduct a feasibility study. Sure, you want your venture to be profitable, delivery businesses can be difficult, but there are means to make them work.
Most entrepreneurs launch a business with the primary intention to make money and to be successful. The advantage of beginning a delivery business is the high demand in store for such a service and considerable earning potential, if you do it right.
Due to the COVID-19 pandemic and ensuing lockdown, people stayed indoors, had to order everything online and get them delivered. After the pandemic even though stores and restaurants have begun operations, people have gotten used to the convenience of getting everything find them.
There are businesses that transitioned from a business-to-business (B2B) to business-to-consumer (B2C) model after the pandemic subsided. Now, instead of selling to businesses like restaurants, they can directly target end customers. The pandemic pushed firms to dedicate a high proportion of their business to a B2C audience.
Necessary Features In A Delivery App
Needs of each person differ, hence delivery services should prioritize specific elements to garner success. Competition in this niche all the more makes this a necessity. Let's take you through some of the must-have features in online delivery apps.
1. Free shipping / delivery
Offering free shipping or delivery encourages customers to reach out to you. This is imperative as customers need to be convinced that they are paying for convenience.
Initially you can provide free shipping and after you have provided impeccable service, you can charge for shipping (if required). Clients will pay if they think it is worthwhile.
DoorDash allows participating restaurants to set their own delivery costs that can be worked out taking certain factors into consideration like the distance to the customer's location. Or you could also fix a flat fee all customers must pay.
Consumers fathom they're paying for a reason. However, you can work out to reduce their burden is several ways like providing free delivery after a number of deliveries or provide discounts and online coupons for certain products.
2. Quick Deliveries / Scheduled Delivery
Most delivery services now offer same-day service. The age of instant deliveries, where deliveries are completed within the hour is here. Delivery times for apps like Postmates is within an hour.
Certain subscription services schedule deliveries on a weekly, monthly or bimonthly basis. Customers now know when their shipment will reach. Other delivery services depend on local stores' delivery schedules.
Delivery times could be within a couple of hours, same day or the next day, or then it would depend on how a customer schedules it. Quick deliveries or the ability to schedule deliveries are always appreciated.
3. Easy To Use UI
Delivery services should be easy to use, but if the UI is confusing or the interface difficult to fathom and takes too long – customers could abandon the site. Allowing onboarding via social accounts and reducing downloading of extensions enhances convenience. Remember, the competition is just a tab away.
Customers appreciate delivery apps that save all their necessary info such as payment info, addresses, preferences and previous orders. It is also imperative to have multiple payment options.
4. Reliable & Consistent
Delivery services sometimes deliver the wrong item or supply damaged goods. Customers understand there could be deficiencies in the system, but what is important is how you react to a situation.
Instacart lets you specify what is the replacement you prefer. And a supplier could contact a consumer directly to select alternatives, so as to resolve an issue.
Customers are in the know what they want may not always be available, but it is imperative to maintain control of the situation and provide necessary respite.
5. Offer Free Returns
Ordering online has its share of risks, so businesses should have an efficient return policy. Customers should not find it impossible to send something back. E-commerce companies let customers print free return labels so as to send items back. Retailers should be ready to refund your money or place it in a wallet.
A robust return policy is often times a make or break as to why a client could choose your service over another.
Free and easy returns may not apply to food delivery apps, but there can always be some sort of respite offered. Especially when a wrong item was delivered or the quality was unsatisfactory.
Online Delivery Business Plan
A business plan should typically include the following elements:
Executive summary highlights a business' essential elements. Readers should understand the business plan by just reading this document.
Budget should include operational and personnel costs. Also take into account payroll, marketing budget and other departmental budgets.
Market analysis should include a thorough assessment of the market by identifying competitors, include target customer persona, buying habits, marketing demographics and what you can charge.
A market analysis report can also include competitive analysis.
Product analysis outlines decisions regarding product pricing. Getting the price right is imperative or you scare off customers.
Marketing strategy should outline marketing plan and how best to market your business.
Also consider digital marketing targeting social platforms, email marketing and local marketing.
Top Online Delivery Businesses
Taking up digital transformation has in fact saved scores of businesses from going defunct. After having introduced delivery services, businesses find themselves capable of attending more clients. And they don't have to be located on prime property, thereby cutting down on rent/lease.
Over and above now clients can avail services 24/7. Hence, businesses that are digitally transformed have the necessary fire power to become profitable.
Food delivery
Food delivery business brings prepared meals to you. This is the top on-demand delivery model as people need to eat and may not feel like cooking all the time.
By 2026, food delivery is touted to be a $96 billion industry, with 9.7% annual growth rate. There will be demand, but competition too.
It is imperative to carve a niche for yourself and stay clear of domains such as pizza delivery which is overflowing.
Create businesses that have a clear unique selling proposition (USP)This will set you apart from other food delivery providers.
Medicine Delivery
Medicines delivery has been popularised by the pandemic. Older folks and those who are sick find this service imperative. People recovering from illness or surgery too need facility.
Hospitals may even use this service to get provide respite to those who cannot travel.
Delivery agencies could assist hospitals, labs, medical suppliers, private practices, or pharmacies. Or you can also work with patients directly depending on the market and clientele available.
Research healthcare facilities are in your region and determine which niche you want to choose. Unlike other deliveries, medicine delivery demands due diligence.
In the US there are rules set by OSHA, HIPAA, and the Federal Motor Carrier Safety Administration which need to be followed.
Meal Prep Delivery
Meal prep delivery is a go between grocery and food delivery. Instead of delivering ready-made meals, clients are delivered specialized meals prepared with specific ingredients, along with the recipe. (Gobble, Home Chef, Blue Apron, and Sunbasket)
This business model is quite popular as people are now more conscious regarding their health post the pandemic. The meal kit industry is expected to garner $33 million revenue by 2026 in the US alone.
Customer needs vary when it comes to specialized meals for various reasons such as those keen to lose weight, those diabetic, those recovering from surgery, those looking to build muscles and more. Or cover people with different dietary habits such as vegan, vegetarian, keto-friendly, and gluten–free.
Marijuana Delivery
An on-demand delivery business for marijuana is a viable option if it has been legalised in your region.
Business is booming when it comes to cannabis delivery. This domain is expected to be the fastest-growing delivery submarket. 43% of medical marijuana users prefer using a delivery service.
Do your research to see the legality of this delivery business and check out the kinds of licenses or permits required.
Grocery Delivery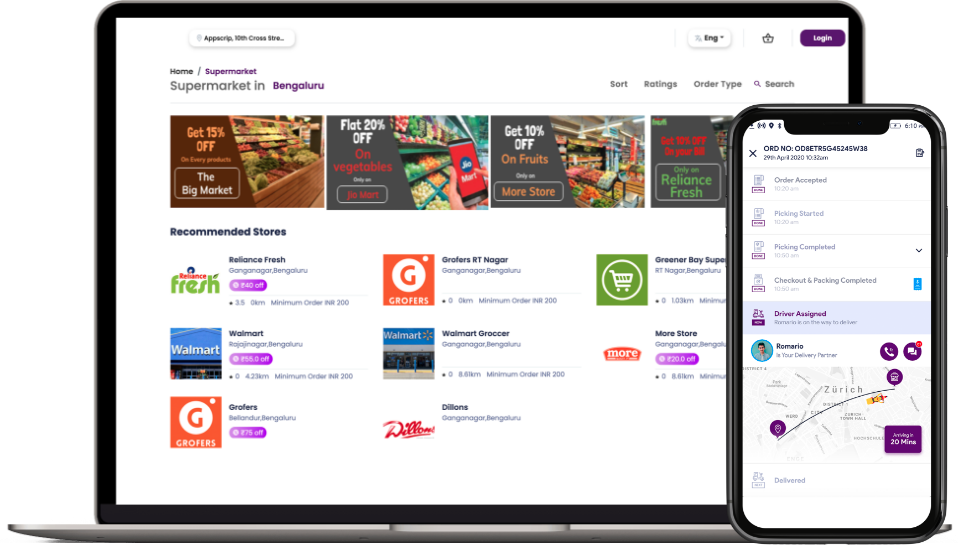 Grocery delivery allows people to select and purchase household essentials online without visiting a grocery store.
The service provider selects groceries and delivers. Amazon Fresh, Walmart, and Instacart are into grocery delivery.
Entrepreneurs interested in grocery delivery will need a mobile app for customers to order goods and track it. Some apps allow pictures to be taken and chat as well. When a customer orders a particular brand, but that is not available, the driver can call to check regarding the replacement.
Or if you already own a grocery store, you can digitally transform your services.
Flower Delivery
A flower delivery service brightens up anybody's day. People send flowers for special occasions, from birthdays to anniversaries — demand for this service is consistent if you can build a proper clientele.
Be prepared for heightened business during special days like Valentine's Day, Christmas, New Year, Mother's Day, and more – these account for 70% of your annual revenue.
Florist sometimes own delivery vans with cooling systems. You can scale up your flower delivery business by including a gift basket as an add-on.
Water Delivery
People relying on bottled water find it difficult to lug home gallons of it on a regular basis. Water delivery service is a need for many homes and offices.
Entrepreneurs can launch various types of water delivery such as individual bottles to office coolers. This is a basic need for such a facility where water isn't potable.
Water delivery is valued by businesses and residential customers but carry out a feasibility study before launching it in any region.
Alcohol Delivery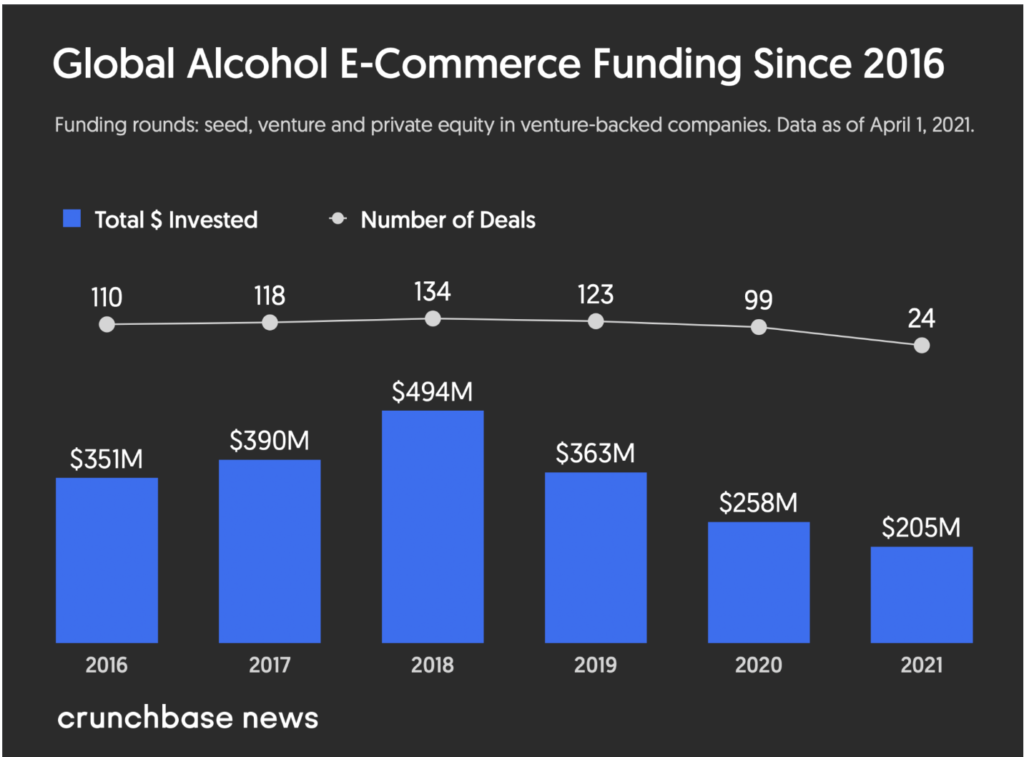 The pandemic accelerated the need for alcohol delivery. What was first a need due to lockdowns, has now become a convenience. Customers don't want to spend time or effort buying liquor anymore – especially when you have an option to get it delivered.
This alternative is also convenient for those stocking up for a party. You can offer to deliver alcohol delivery various stores or focus on niche products, like specialty liquors. But ensure to procure all necessary permits or licenses needed for alcohol delivery.
You would also have to ensure that you have a secure website as only people aged above 21 can order from you.
Courier Delivery
We are aware that few years ago delivery of packages or mails was a long-drawn affair entailing high costs. But with tech making a foray into the last mile delivery domain and online delivery business, operating a courier business has become much easier and competitive.
Technological advances have saturated the industry even though there is still room for tech to improvise the process via drone delivery and use of robots.
A courier service business is not too difficult to launch locally. And then you can slowly increase your offering in the region. You can start by getting a license and launch the service locally using bicycles. Competition in the courier service industry is high and you would have to identify a well-defined niche to offer services.
Laundry & Dry Cleaning Service
The laundry delivery service has been successful in many parts of the world. Nowadays people are short of time, hence they find it difficult to maintain their wardrobe. This is where laundry and dry cleaning services come in.
Entrepreneurs can launch a laundry and dry cleaning service to have people's laundry picked up from their homes and deliver back after cleaning.
Laundry and dry cleaning service helps people to get their daily tasks handled by a business without worrying much about it. If you are already operating a laundry business, you can digitally transform yourself and introduce a pick up and drop service.
You can either employ delivery boys yourself or let it be handled another entity. Now you will be available for longer periods and clients will find this convenience time-saving.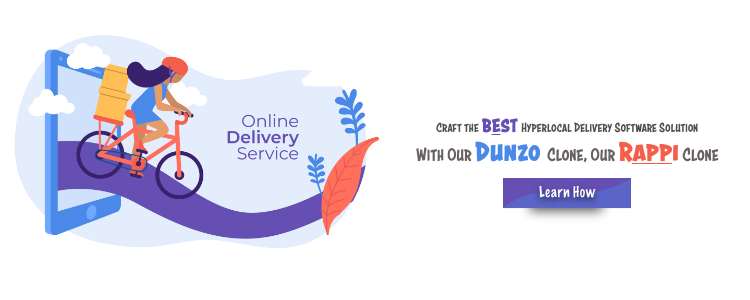 After an Engineering degree and a Diploma in Management I devoted 16+ years working in the automotive industry. My innate skill and extreme passionate in writing, encouraged me to adopt it up as my profession. I have been writing for more than 10+ years in the software industry. The 400+ blogs I published are informative, exhaustive and interesting to a professional and causal reader.