Instead of getting drinks at a bar, going for a walk in the park or meeting up for coffee, people are sending flirty texts and arranging virtual dates. Welcome to new age LOVE. 
What do you do when you are locked up all day with little or no company? You crave a bit of love and attention that brings a much needed warm feeling.
Coronavirus has descended our lands bringing us the darkness of isolation. We are confined to our homes and not allowed to have social contact.
But something new is happening. Quarantines and lockdowns are forcing us to relearn how to date—and figure out how to have sex without touching.
Recently Tinder, one of the world's most popular online dating platforms greeted its user with an unusual message.
Social distancing doesn't have to mean disconnecting. We hope to be a place for connection during this challenging time, but it's important to stress that now is not the time to meet in real life with your match. Please keep things here for now.
As human instincts go, the desire to form connections with other people, particularly of a romantic nature, is very much stronger than other emotions.
Online Love | Dating Activity Is Growing
With the COVID-19 pandemic putting a spanner in socialising, activity on dating apps has gone up. OkCupid app saw an increase in activity by 10% since March.
Earlier people had little time to build relationships online. Now with the #stayathome scenario, they are spending more time trying to know the other person. Men, in particular, realise that meeting in person is out of the question and hence are learning to converse, an activity most was earlier oblivious to.
Conversations on OKCupid have increased on its platform by over 20%.
Virtual dating brings the focus on the quality of conversations and time spent together, making it easier to figure out whether the person you're talking to is compatible with you.
Let's find out the unique ways in which online love & dating apps are helping humans connect digitally in the times of the CoronaVirus.
Feeld App | Sext and Save Lives
The makers of the Feeld app wanted to enable their community to explore their desires without endangering themselves. Feeld is a very dynamic and bold app. They realise that even though meeting in person is out of the way, people still have raging libidos.
Hence they introduced a new virtual locations feature that includes:
Quarantine, Remote Threesomes and Sext Bunker
Since its release on 18 March, the Quarantine core has become a very popular location surpassing London and New York, while the Sext Bunker and Remote Threesomes have grown tenfold, with members joining from 70+ countries.
Quarantine: If you want to connect with self-isolating humans from around the world🌎
Remote Threesomes: If you feel that three's a company and staying in doesn't mean playing house 🏠
Sext Bunker: If you want to skip the small talk 👄
TINDER's  "Passport" – Ticket To Global Love
The app intends to bring some sort of relief for singles staying in isolation and it can be used to get in touch with anyone, anywhere in the world. This will allow a much broader spectrum of search, giving more choice to people.
You can search by city or drop a pin on the map on the destination of the user's choice.
"We hope our members, many of whom are anxious and looking for more human connection, can use Passport to transport themselves out of self-quarantine or isolation to anywhere in the world,"

~ Tinder CEO Elie Seidman.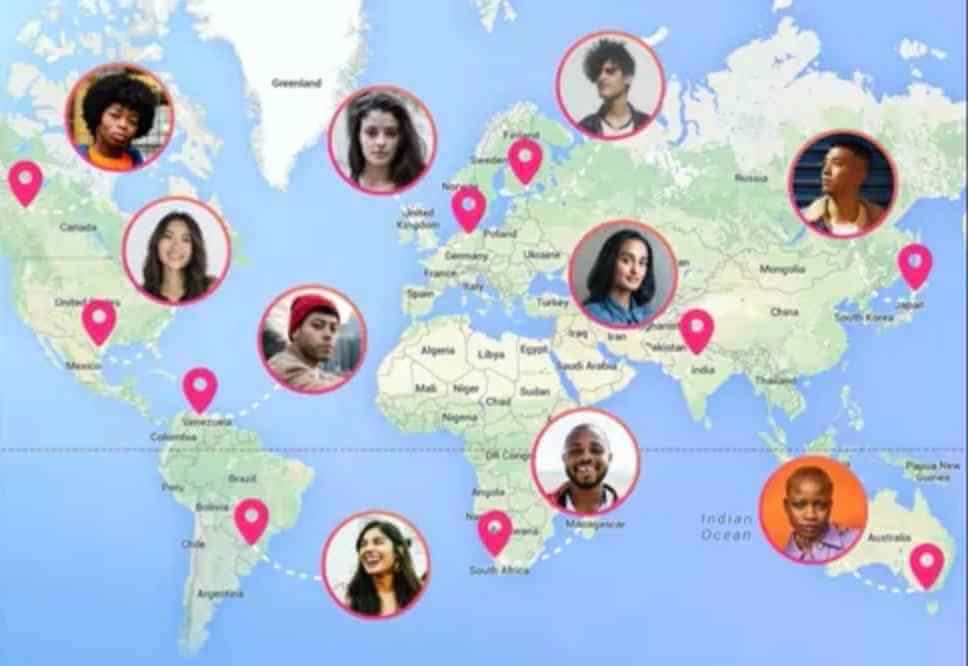 Tinder is primarily location-based, and most people are stuck in one location owing to the pandemic.
But by using Tinder Passport, one also gets to explore the world by choosing options like selecting by city or by dropping a pin to their preferred location.
"Social distancing doesn't have to mean disconnecting. And that's why we're making our passport feature, which allows you to connect with anyone, anywhere in the world, free for all of our members April 30. Now more than ever, having someone to talk to makes a world of a difference,"

~ Tinder Passport's desciption
Even though it isn't FREE anymore it's still the safest bet for finding love overseas.
HINGE's Online Love New Feature
Hinge introduced the "
Date from Home
" menu that appears at the bottom of each conversation, This verifies it they are okay for a video or phone call with their match.
If the user and their match select "Ready", both parties will be notified. The next step entails coordinating for a video or phone call on the platform of your choosing.
The hinge will then check in with you by asking if you had a video or phone date, though your feedback will remain private.
---
Like it or not the coronavirus is going to change our lives in more than one way we ever imagined. There is going to be a flurry of businesses that will want to join the online bandwagon. Dating will also be one of them.