Online marketplaces in France have been conducting business since 2001.
However, there was significant growth in online marketplaces in France after the outburst of pandemic. Covid-19 mandates have changed consumer patterns of purchase and shopping as a whole.
In Europe, without doubt the most popular online marketplaces are Amazon and eBay. Even though there are a plethora of interesting platforms for retailers looking to sell their products or consumers eyeing to buy goods, majority of them seem to prefer online marketplaces.
In this blog you will find information regarding popular online marketplaces in France.
Online marketplaces are here to stay and is the future of shopping. An increasing number of small and medium-sized retailers join these platforms, for better reach to their target audience. It is due to these retailers that marketplaces have become a popular destination for other sellers.
Many consumers don't take effort to search or explore for products online, but they head directly to their favorite online marketplace and start begin the buying process.
The ecommerce market revenue in Europe is worth $363 billion, with an expected annual growth rate of 7.2%. Experts estimate that by 2023 the European market will be worth $481 billion. And as guessed by most, bulk of the action happens in just three European countries – the UK, Germany and France.

Introduction: Online Marketplaces In France
E-commerce sales in Europe rose to $244.2 billion in 2020 which was a 43% higher than the previous year's figure.
These facts were released by ARTS during 2020:
France accounts for a huge share of Europe's ecommerce industry together with Germany and the United Kingdom.
The French Ecommerce Market was valued at $ 35 billion in 2021. The ecommerce domain is expected to touch $105.3 billion by 2027. It will sail through with a CAGR of 7.49% over the estimated period from 2021 to 2027.
France is among the main consumer markets in Europe. It is a crucial ecommerce market in terms of internet penetration, percentage of ecommerce consumers, and average money spent.
Furthermore, the European ecommerce business has been growing rapidly. Thus, providing interesting and compelling potential for online retailers in various industries.
The restrictions imposed during the lockdown turned out to be a game changer for online marketplaces in France. It brought new shoppers and sellers onto digital platforms taking demand to new heights.
Confining people within the four walls introduced the convenience of online purchasing. It also encouraged seasoned online buyers to make more purchases.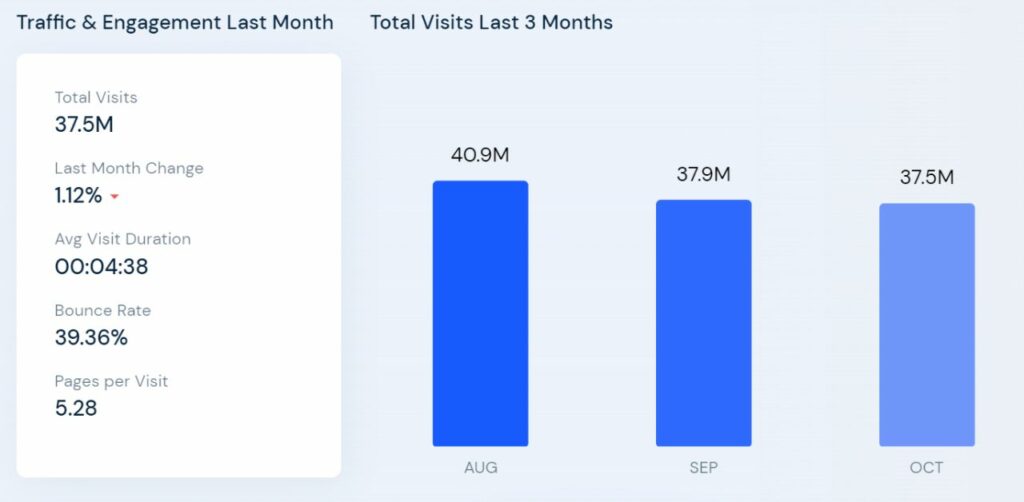 The future of online marketplaces in France is extraordinary. Therefore, more businesses and entrepreneurs in France can join the bandwagon by contributing effectively.
Top 5 Online Marketplaces In France
France is among the most marketplace-obsessed country in Europe. Amazon has a major market share in France and other local platforms are also pretty popular.
Ecommerce sales in France witnessed a rise between 11% and 21% during the pandemic. During this period 40 digital retailers formed business website emarketer.com and launched online services. Retailers of tech and entertainment products witnessed gains of 26% to 27%.
1.   amazon.fr

Annual Revenue – $51.0M – $74.0M
Amazon is the number #1 online marketplaces in France. It has headquarters in France, Clichy. This online marketplace was founded by Jeff Bezos on 5th July, 1994. The company has raised a total of $108M in funding over 2 rounds. The latest funding was raised on Jul 24, 2001, from a Post-IPO Equity round.
It is an international online market for consumers, sellers, and content creators. It provides users with merchandise and content purchased for resale from vendors and those offered by third-party sellers.
Business Model & Revenue Generation
It generates revenue through its retail, subscriptions, and web services. However, retail is Amazon's primary source of revenue.

Annual Revenue – $10.43B (2021)
The company was founded by Pierre Omidyar on 3rd September 1995. It has headquarters in San Jose, California, U.S. It is one of the oldest players and one of the top online marketplaces in France.
This online marketplace claims to have 5 million active buyers who buy goods regularly. Moreover, 80% of the sales are not auction-based, which validates that the platform is turning into a B2C friendly site.
eBay has so far raised a total of $1.2B in funding over 3 rounds. It closed its last funding round on 7th November 2022, from a Post-IPO Debt round.
Business Model & Revenue Generation
The company generates significant revenue from its sellers and through advertisements.

Annual Revenue – > $1.0B
Founded in December 1998, it has based its headquarters in France, Bordeaux. It is among the leading online marketplaces in France. This online marketplace was founded by three brothers, Hervé, Christophe, and Nicolas Charle.
Cdiscount began as an online retailer vending tech, IT and consumer goods. This online marketplace represents 12,000 sellers and an equally active 9 million customers. 20 million people browse through the 63 million items on a monthly basis.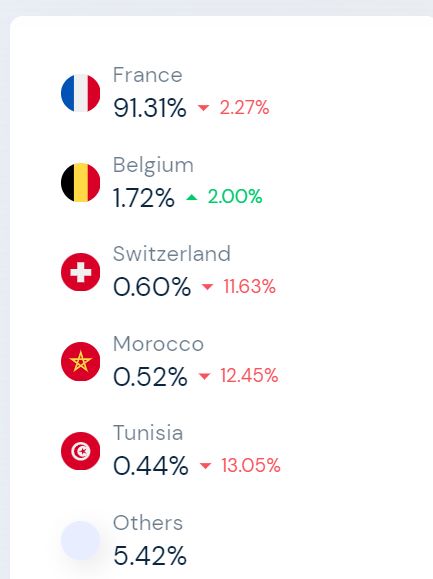 Sellers pay €40 each month and a commission (beginning from 5%) depending on the product sold.
This ecommerce website offers a variety of products that include tech, IT, household appliances, and personal products. To get in as many customers possible they offer coupons, discounts and cashback on the products available on their site.
Business Model & Revenue Generation
Through premium subscriptions.

Annual Revenue – $25.0M – $50.0M
This company was founded in 2009 by Jack Ma Yun with its headquarters in China, Hangzhou. This is among the top online marketplaces in France. Aliexpress is a global marketplace allowing B2B sellers to connect with buyers all over the world.
Notwithstanding the access to buyers worldwide, Aliexpress has tools in its repertoire that make it rudimentary for businesses to thrive on its platform.
This retail service (online) owned by Alibaba. It provides Automotive spares, Phones, Accessories, PCs, Electronics, Fashion Items, Personal Health Products, Cosmetics, Home gardens accessories, and many more.
Business Model & Revenue Generation
It makes revenue by charging commissions as a percentage of the transaction value of goods sold. The commissions vary from 5% to 8% of the transaction value. It also charges a fixed $1500 fee from stores to start business or change the store on the platform.
Annual Revenue – > $1.0B
It was founded in 1954 with its headquarters based in France, Ivry-sur-Seine. The online marketplace was founded by André Essel and Max Théret. It is the largest French retail chain selling cultural and electronic products.
Fnac with a long history of selling for decades decided to launch an online marketplace in 2014. They began selling their own products and helped other businesses/third party vendors to piggy-back on their repute to sell their wares too and earn via commissions.
Fnac in 2016 acquired Darty an electrical retail company.
Fnac Darty combined now have 36 million active customers on their marketplace. This made them leaders in the sale of high-tech goods, appliances and home products. Their primal source of include monthly subscription charges that begin at €40 and commission on sales.
Sellers have the option to register either on Darty and/or on Fnac.
They closed their last funding on Apr 12, 2016, from a Post-IPO Equity round. The 2016 merger of Fnac and Darty made them leaders in omni-channel distribution. They attract 2 million visitors to their site on a monthly basis and earn $1 Billion to $ 5 Billion via online sales.
Business Model & Revenue Generation
It uses an omnichannel approach to improve customer experience. Fnac Darty also makes money through subscriptions. They also earn via repair of large and small domestic appliances.
Conclusion: Online Marketplaces In France
Marketplaces can be classified into three groups, which are divided by their target audience: business-to-business (B2B), business-to-customer (B2C), and peer-to-peer (P2P), which is also sometimes referred to as customer-to-customer (C2C).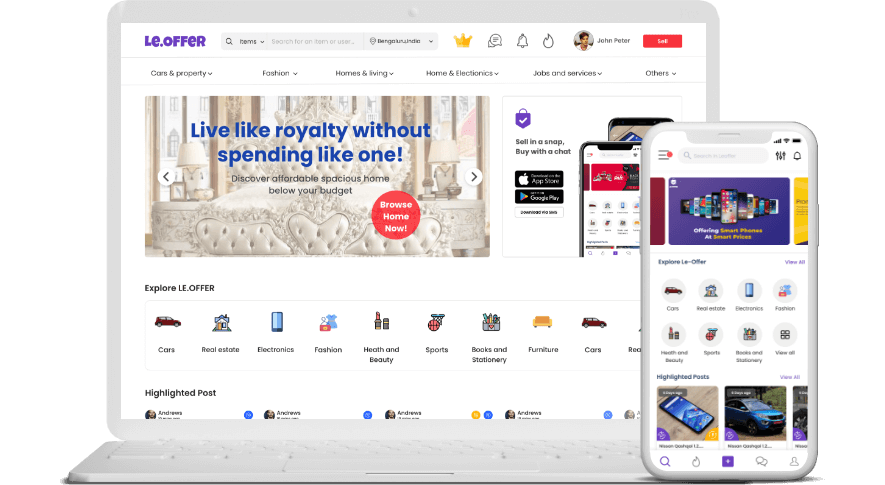 An online marketplace is your option if you are planning to amass product or service offerings from a gamut of sellers. To monetize effectively in this business model, you can employ a commission based revenue model. Here you also have the advantage of selling your own goods.
Marketplaces can reach out to a large consumer base and therefore they can take up marketplace branding and promotion. This will help to attract and profit from retailers seeking for omnichannel presence and smaller players who are better off letting the experts deal with their online ecommerce launch.
Give flight to your online marketplace journey with Buy and sell marketplace software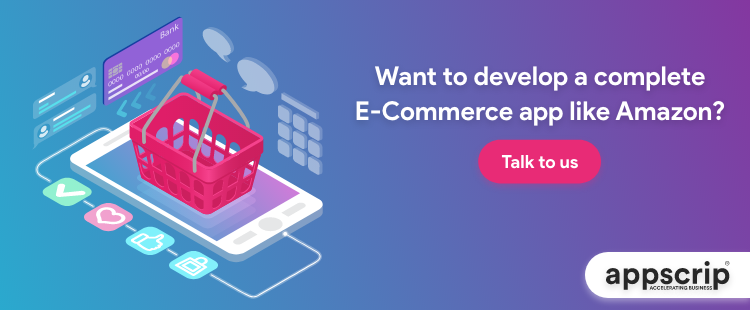 With an Engineering degree and a Diploma in Management under my belt, I worked for 16+ years in the automotive industry with various manufacturers. But my passion for writing was overwhelming, which I turned into a career. I have been writing for more than 10+ years and mostly in the IT domain. I am sure you will find the 300+ published blogs of mine in here informative, exhaustive and interesting.