Smartphones. Jewelry. Books. Gadgets. Clothing. Footwear.
The constant need to acquire an inexhaustible list of possessions is a feeling that we are all familiar with.
Mention the above listed item to a crowd of people and immediately it conjures up a series of emotions in them downright to the feeling that they need some of them.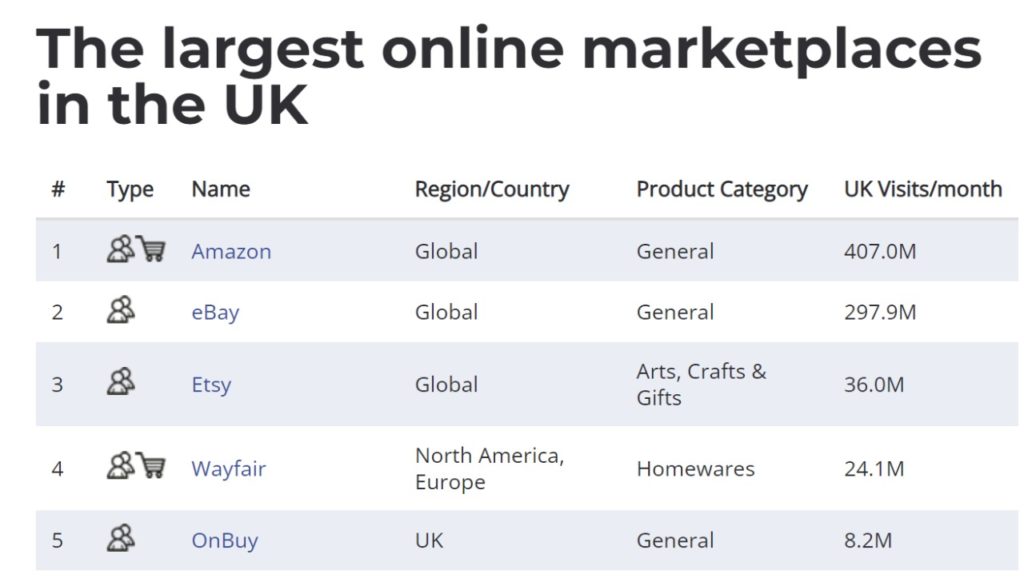 And all of a sudden we are reminded of Amazon, eBay, and other online marketplaces in UK.
During 2021 out of 67.1 million people, nearly 58.8 million, which is 87% of the population used online marketplaces in UK. 40% of these users preferred using US-based Amazon and eBay for online shopping. In 2021, top online marketplaces in UK sold $3.23 trillion goods.
Second-hand or pre-owned goods shopping is experiencing a boom. Earlier a calling of flea markets, charity shops, and vintage fairs, now you can discover all sorts of treasures online. Amazon, eBay and Gumtree are the established marketplaces that are competing with new contenders such as Depop and Vinted.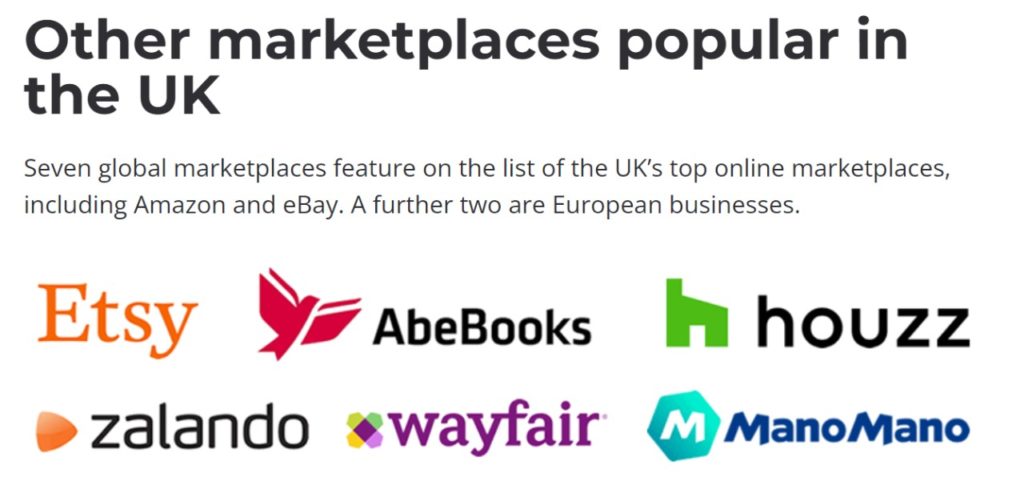 Combined they offer an endless supply of second-hand bargains.
It doesn't blow a hole in your wallet, but overall it supports the circular economy. Basically it resists quick churn of consumerism, while promoting use of discarded goods so that little-used products don't find way to a landfill. In a recent survey, 66% of respondents said they actively used websites to buy and sell their stuff.
How Do Online Marketplaces in UK Begin?
After determining products to sell, entrepreneurs ponder which business models suit their vision best. They utilize either – Consumer to Consumer (C2C), Business to Customer (B2C), or Business to Business (B2B) model. Secondly, they create revenue streams with commissions, featured listing, services fees, and more.
While some websites are more liked than others, but opinions differ amongst buyers and sellers. If you're foraying into the world of second hand for the first time to buy or sell, check out our list of online marketplaces in UK.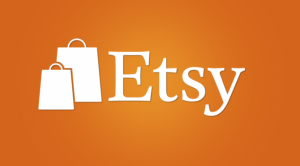 Etsy is one of the largest online marketplaces in UK. It ranks third just after Amazon and eBay. The platform created by Robert Kalin, Chris Maguire, and Haim Schoppik in New York is used by 7.5 million sellers.
Etsy, is an American ecom firm focused on handmade or vintage items and craft goods. These items belong to a wide range of categories, such as jewelry, toys, bags, furniture, clothing, home décor, art, and tools.
Open for business since 2005, Etsy focuses on selling handmade items made by artists, hobbyists, or professional creators.
With unique manufacturers like these, it lists nearly 120+ million items.
The company made total sales of $13.5 billion in 2021. Etsy's popularity is thanks to 100 million active buyers globally. In 2021, its revenue was at $2.3 billion. Funded by 19 investors, Etsy has raised a total of $97.3 million till 2017 from 9 funding rounds.
Revenue Stream: 6.5% Commissions on Sales + Ad fees + Seller service charges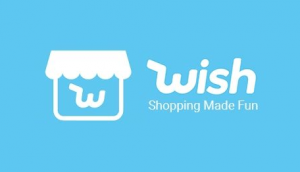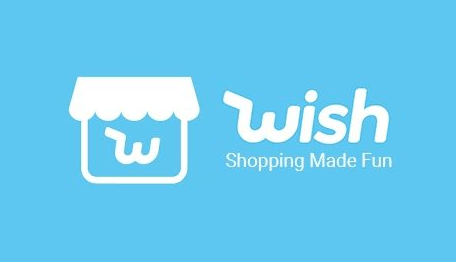 An ex-Google engineer, Piotr Szulczewski, founded Wish in the USA in 2010. The idea was to connect shoppers' wish list to worldwide merchants. This USP helped Wish to stand out from other online marketplaces in UK.
Known to host affordable goods, the B2B website sells the most random items. The Wish universe entices 100 million curious users with items listed by 600,000 merchants. While one can get anything they wish for, the catch is the delivery time which can cost you up to 2-4 weeks.
In 2021, the appealing marketplace had total revenue of $2.08 billion. In terms of funding, the successful marketplace raised 1.6 billion from 12 funding rounds till 2020.
Revenue Stream: 15% Cut from Each Sale + Seller service charges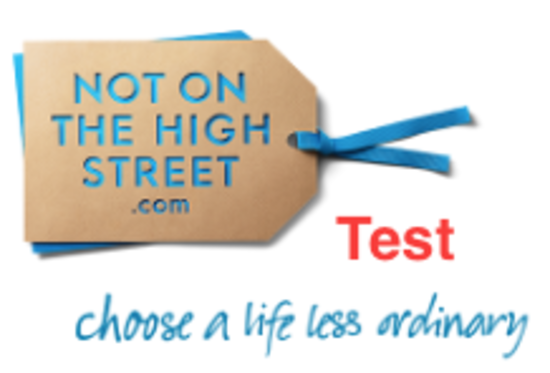 The London-based company was set up in 2006 by Holly Tucker and Sophie Cornish. It has more than 5,000 artisans, designers, and boutiques on its online marketplaces in UK. NOTHS's uniqueness is the focus it has on personalized gift items.
Over 3 million users browse through the website to give their loved ones a thoughtful gift. While NOTHS has made international delivery available at additional costs, most of NOTHS traffic comes from the UK.
After people shifted to online shopping, the women-run business saw profits and revenue soared 55.8% in 2021. The company received its latest Series E funding of $27.6M in 2016. Backed by 9 investors, it has raised total funding of $81.8 million from 14 rounds.
Revenue Stream: 25% Commissions on Sales
Incorporated in 2002, Niraj Shah and Steve Conine founded Wayfair in Boston. At first, the business sold stands and storage furniture. Slowly, their expansion strategies helped them connect with suppliers. Now, they offer over 14 million items.
The home goods website has over 30 million active users in North America and Europe. In 2021, it generated a revenue of $13.7 billion after receiving an order volume of 51 million. Wayfair has more potential to grow among other online marketplaces in UK as it does not manufacture any products.
Instead, it procures them from 11,000 suppliers according to customer demand.
After the US, the UK is second to generate most of Wayfair's website traffic. Since its founding, it has raised total funding of $1.7 billion from 4 rounds. The US-based business had its most recent funding in 2020.
Revenue Stream: Product Sales
Even after entering much later in 2016, OnBuy has managed to make a mark for itself among the top online marketplaces in UK. Targeted only toward the UK audience, it offers almost 35 million multi-category products to over 8 million users.
While OnBuy was founded in 2014 by Cas Paton, its operations started only in 2016. The UK-based company aims to be a 'fair' platform for registered small to medium businesses.
Recently in 2021, the company had a Series A funding round from investors Guy Hands and Richard Goulding. This bought the total funding to $60.1 million.
Revenue Stream: 5% Commissions on Consumer Electronics & 9% on All Others Items
Should One Host Online marketplaces in UK?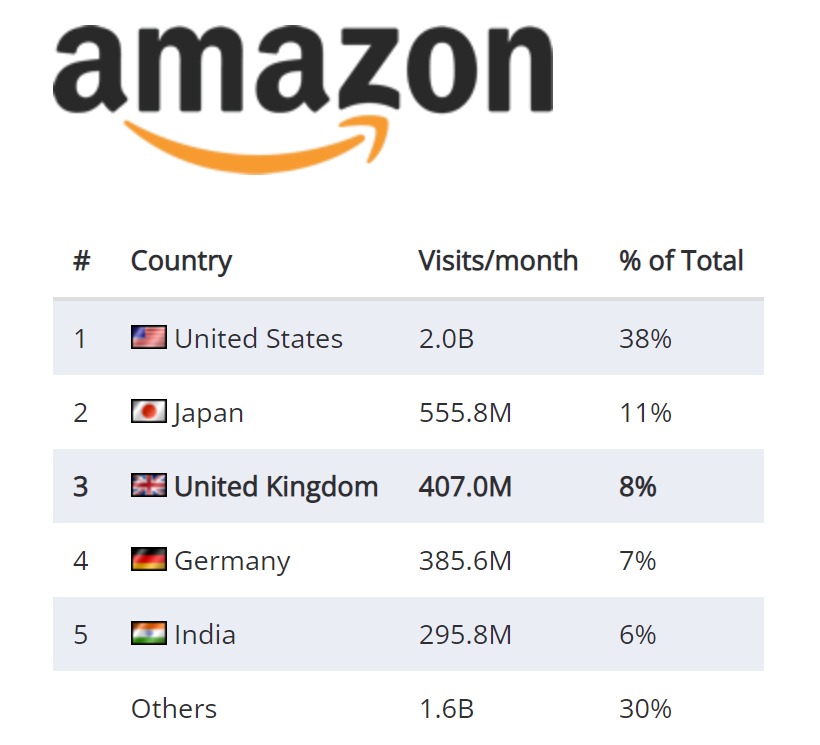 The boom of online marketplaces in UK has made buying and selling convenient. In addition, it has given the community a platform to innovate, open small businesses and consequently, generate an income. Today, the UK is the third largest online market with 87% online shoppers.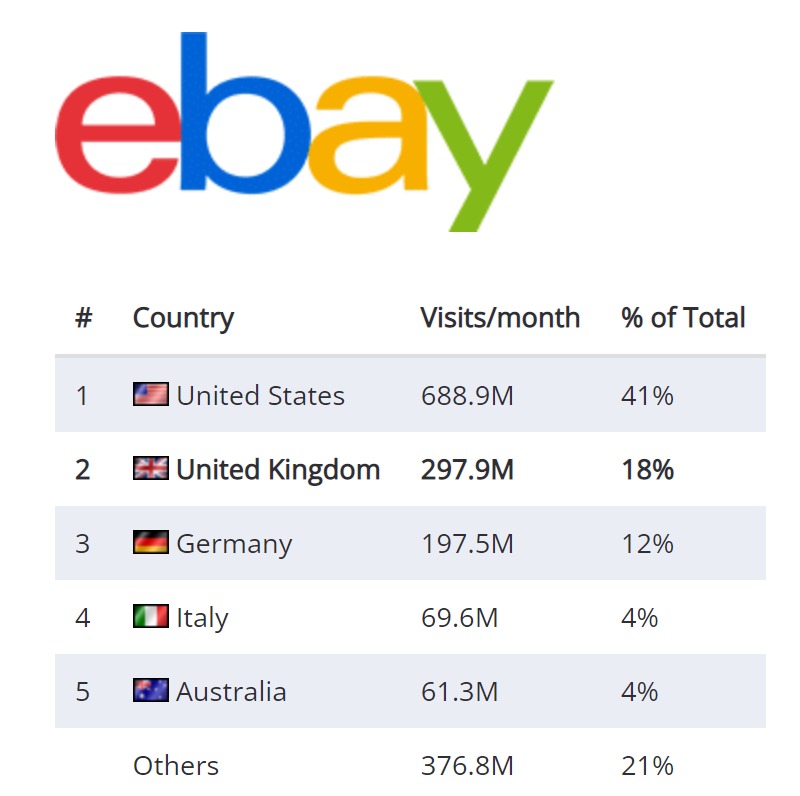 While users have vast options of online marketplaces in UK to choose from, they keep hunting for more. This is your chance to woo customers. Ultimately, only they can make or break your business. Even packaging your idea beautifully is crucial. Not just aesthetically but operationally too like LeOffer by Appscrip.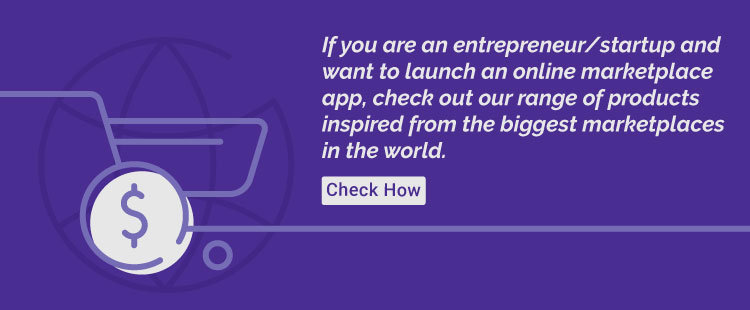 With an Engineering degree and a Diploma in Management under my belt, I worked for 16+ years in the automobile industry with various manufacturers in various capacities. But my passion for writing was overwhelming, hence I turned that into a career. I have been writing for more than 10+ years on various domains including the IT industry. I am sure you will find the 200+ published blogs of mine in here informative, exhaustive and interesting.