The expansion of online pharmacy delivery services in Ireland in recent years can largely be attributed to the increased level of discretion and convenience they are able to offer their customer base, both of which have played a role in driving demand for these businesses. A typical customer's visit to the pharmacy is a more personal and private one than many others they may have.
The combination of the private experience of shopping online, the convenience of easy payments, and the power to control costs enables online stores to boost their share of the retail space occupied by pharmacies. However, the consumer preference of purchasing medicines from local stores that they trust, rather than from online pharmacy delivery services in Ireland, wins out over the advantages that online medicine stores have.
Nearly 61 percent of users have begun to order their medications online, despite the fact that a sizable portion of them are still purchasing their medicines by physically going to the store. There has been a distinguishable rise in the average age of the participants, particularly among those aged 40 and older.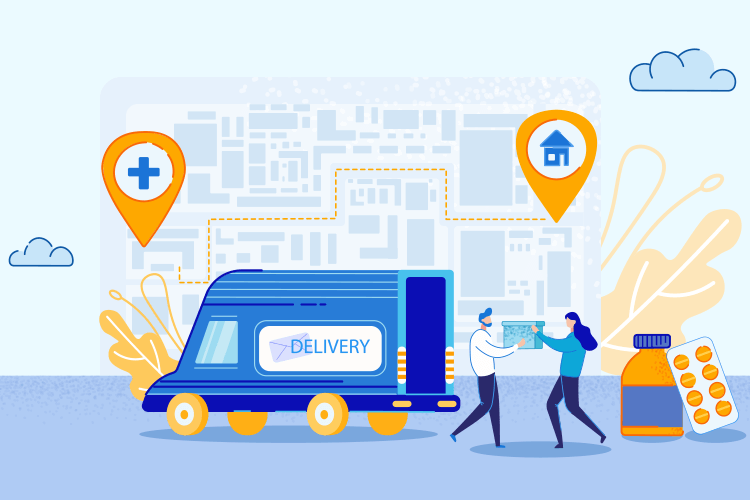 We will now look at some of the best online pharmacy delivery services in Ireland and why you can also join the race if you currently own a local pharmacy store.
The Best Online Pharmacy Delivery Services in Ireland
Irish Pharmacy
Inish Pharmacy is the most trusted online pharmacy in Ireland, catering to customers not only in Ireland but also across the world. The store carries a wide variety of pharmaceutical goods, including medicines, vitamins, skin care products, cosmetics, toiletries, fragrances, and sale items; all orders are processed and shipped out promptly.
Orders that cost more than €40 will be shipped for free, and customers will receive full tracking information and status updates for their packages at every stage of the online delivery process.
Inish Pharmacy is an established online pharmacy delivery service in Ireland based in Inishowen, Co. Donegal, Ireland. Since its inception in 2007, the organization's overall objective has been to enhance the quality of life of its clients, patients, and other stakeholders.
The patient's medical needs and requirements are the primary focus of Irish Pharmacy's customer service efforts, which are aimed at providing a satisfactory level of care. In addition to this, they offer an online medical diagnosis service provided by a doctor on call.

McCabes Pharmacy
McCabes Pharmacy is an online pharmacy marketplace which originally started as a brick-and-mortar medicine store over 40 years ago. It is a family-run pharmaceutical store chain which is currently headed by Sharen and Roy McCabe.
They are a large work family consisting of highly professional pharmacists, lab technicians, and medical advisors who all share the same objective, which is to place the health and well-being of the average person at the centre of everything that is done.
Patients can avoid the crowds by placing their orders in advance through a variety of channels, such as by calling ahead, submitting the prescription to the McCabes Pharmacy app, or using the pharmacy's website.
Customers are given the opportunity to select in advance whether there is a particular day or time at which they would like to collect their prescription, and the medicine will be prepared and waiting for them when they arrive at the pharmacy.
OnlinePharmacy.ie
OnlinePharmacy.ie is a completely Irish-owned and operated online pharmacy delivery services in Ireland. They offer a wide variety of products including medicines and other wellness items. The delivery is free for every order worth 40 Euros and above.
OnlinePharmacy also provides accurate tracking and guarantees that the pharma products will be delivered to the patient's home within 2 days of payment confirmation. They have a transparent return policy that offers a no questions asked return facility and pickup.
PharmaDirect
You can get decades' worth of pharmacy experience delivered right to your door with PharmaDirect. They operate as an online pharmacy that is open around the clock. Their goal is to provide customers with a more modern pharmacy experience by providing more information, education, and assistance than has ever been offered before.
With headquarters in Killarney, County Kerry, Ireland – The members of the PharmaDirect team have family members who have worked in the pharmaceutical industry for many years, and they are thrilled to be able to bring their knowledge and experience online with PharmaDirect. ie.
William Sheahan, the founder and director, is responsible for starting one of the most successful businesses in Ireland, which is now one of the leading providers of online pharmacy delivery services in Ireland.
Healthwave
Healthwave is among the latest additions to the online pharmacy delivery services in Ireland. Healthwave Digital Pharmacy accepts prescriptions at their location in Dublin and ships them to customers across the entire Ireland. Customers are able to place orders for medications using their digital assistant. They have the option of selecting particular conditions or listing the medications.
The prescription for a patient can be sent to the pharmacists electronically by the treating physician, and the pharmacists will check the prescribed medication and get in touch with the patient if they have any questions. It will deliver the medicines in minimalistic packaging within one to two business days via postal service.
They will deliver your order for free anywhere in Ireland if it costs more than 40 euros. In addition, there is a doctor-on-call service that can assist patients in determining the nature of common medical problems.
Reasons to start Online Pharmacy Delivery Services in Ireland
Online pharmacy delivery is becoming increasingly popular among the general public, yet customers' loyalty and desire for convenience are unaffected. 46 percent of customers still viewed location to be an essential consideration when purchasing medical supplies.
The constraint of storage and delivery mechanism results in a gap between the same-day delivery and same-hour delivery capabilities offered by roadside medical stores and pharmacy retail chains. As a consequence of this, customers are required to look for available solutions online in order to buy the medicines they require.
Online pharmacy delivery apps provide pharmacists with visibility and growth opportunities, both of which are beneficial to their businesses. Imagine there is a market that compiles a list of all the pharmacies in the area that provide delivery services. The same way that apps like Swiggy and Zomato, which deliver meals on-demand, work.
Apps that provide on-demand online pharmacy delivery services in Ireland can function in a similar manner, listing all of the pharma stores that have medicines available for purchase. Customers receive additional value from both their neighbourhood pharmacists and the online prescription delivery apps, which in turn helps boost sales at pharmacies.
Local Pharma stores can start their own online pharmacy delivery services in Ireland by using solutions like Med.me – Online Medicine Delivery Software with robust on-demand pharmacy delivery script with innovative features available in top apps like Netmeds, CVS Pharmacy, NowRX, Capsule Pharmacy, 1mg, Amazon Pillpack and Saydl.
Build a complete inventory of medicines, and healthcare products from various brands using our pharmacy store software. Our online medicine delivery script is one of the best medical store management software available for entrepreneurs.