58% Canadians have increased their online shopping behavior as compared to the pre-pandemic era.
Even as Canadians shake off the lethargy caused due to COVID-19 lockdown, marketing experts have noticed a massive shift in their purchasing habits. There is a drastic shift to online shopping that is dominating consumer trends.
A survey done on online retail sales Canada by a payment portal has found that Canadians have on the whole increased their monthly online shopping expenditure by more than $2 billion compared to pre-pandemic times.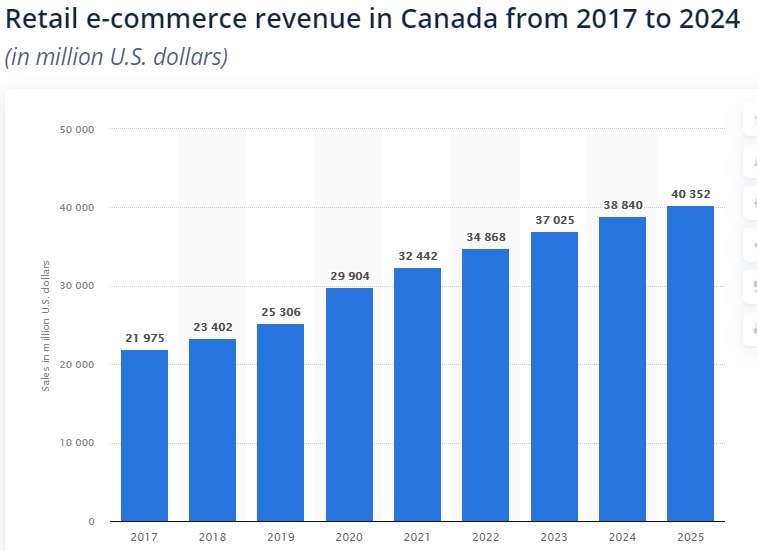 The survey noted that Canadians who earlier spent $70 on an average before the pandemic struck responded that they are now spending at least $180 per month shopping online. This would translate to $5.5 Billion monthly online spending across the country, which is $2 Billion overall increase on online shopping of every month.
Unbelievable Stats Of Retail Online Sales 2020
Worldwide online sales hit US$3.91 trillion in 2020, up from US$3.6 trillion in 2019.
Asia-Pacific region leads with US$2.46 trillion, China being the top contributor.
India, Spain, and China are experiencing the fastest online retail market growth.
North America is next with US$749 billion Online Sales and Western Europe US$498 billion. While Central and Eastern Europe lag considerably at around $92.9 billion.
Latin America and Africa are at the bottom with $83.6 billion and $41.5 billion, respectively.
In 2019 14% of global retail sales were online, while this year it is estimated at 22% and in 2023 around 25%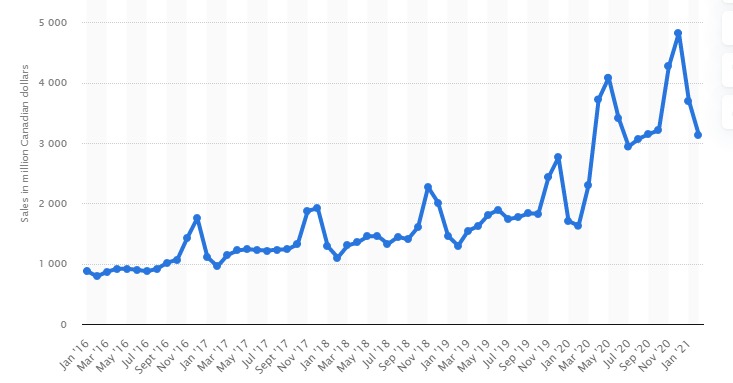 Online Grocery Shopping Surge
While studying where people spent most of their money online, it was revealed that a considerable jump in spending was discovered in the online grocery domain. During the initial survey carried out in March 2020 it was noticed that only 20% users dabbled in online grocery shopping. Then during another survey conducted after a couple of months in May 2020, the surveyors found that 30% Canadians were purchasing groceries online.
While in the last survey conducted after a year in May 2021 it has been seen that 48% indulge in shopping online for groceries.
While making further inroads into determining shopping habits via gender distinction, it is learnt that Canadian women are much more likely to engage in shopping for groceries online more frequently than men-folk. That is 37% women versus 27% men were shopping for groceries online. This would translate to the fact that women plan purchase of groceries beforehand. While the men preferred visiting a physical store as most of their shopping would be last minute decisions.
While taking location into consideration, it was found that Ontarians are more likely to be shopping for groceries online as compared to other regions, that is 36% compared to 26-30% in other provinces.


Online Retail Sales Canada Statistics
Ecommerce sales in Canada during November 2019 was $53,178 million.
Electronic shopping and home goods accounted for $1,775 million while retail ecommerce for $2,430 million. Some 4.5% of all retail sales were online. In November 2020, online sales accounted for $55,435 million, a 4.2% YOY increase.
Electronic shopping and home goods were at $2,704 million, with a 52.3% YOY increase, while retail web commerce made $4,274 million. A monstrous 76% increase from 2019. The Canadian ecommerce industry revenue is projected to touch US$32.804 billion in 2022.
Retail ecommerce revenue for Canada from 2019 to 2023:
2019 – US$ 25.3 billion
2020 – US$ 28.4 billion
2021 – US$ 30.5 billion
2022 – US$ 32.8 billion
2023 – US$ 34.8 billion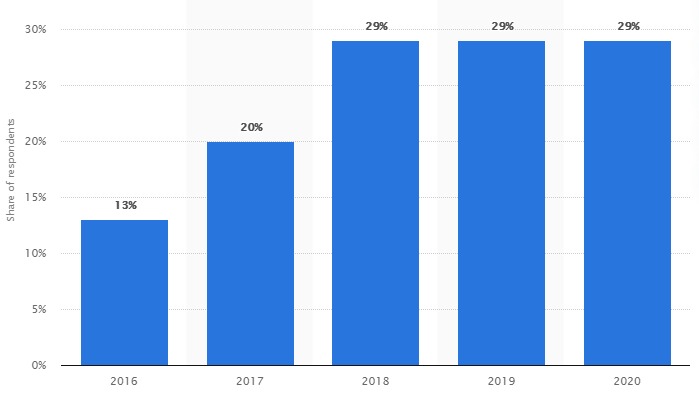 73% Canadians preferably use computers for online shopping and it generated US$46 billion and from mobile US$15 billion. 41% of Canadians buy computers and electronics online, making it the leading category in ecommerce.
The top three categories in Online Shopping are: computers and electronics, women's apparel, and books. Men's clothing is in fourth place, along with beauty products.
Top categories in Online Shopping:
41% computers and electronics
37% women's apparel
31% books
28% men's apparel
28% beauty products
22% footwear
19% health products
19% office supplies
18% toys
13% groceries (non-perishable)
10% furniture
10% pet food or supplies 
Faster shipping ensures online buyers will prefer that retailer
Shipment and delivery are crucial factors when it comes to decision on purchase. 86% buyers will shop frequently if they are offered free shipping.
In fact, 37% of people will abandon the cart if delivery info is not provided. Research shows faster shipping will have 75% of shoppers buy more frequently from a retailer and 67% in case the delivery is flexible.
Rewards and discounts will make 71% of buyers visit shopping websites more often. But if return experience is bad then 79% won't shop again from the same retailer.
Reinventing The Future Of Shopping
It's not just the grocery industry that is experiencing a surge in ecommerce. Online spend grew in most verticals, such as:
Home office furnishings and equipment spending is up by 55% as compared to 42% in April 2020
Fitness equipment, apps, or programs 40%, up from 25% in April 2020
School supplies 36%, up from 22% in April 2020

During the survey conducted in April 2020 only 45% of the respondents were confident that they would continue online shopping for their everyday needs. But today that number is 59%. Looking back at the situation last year when finding toilet paper or hand sanitizers was a huge task, it's satisfying to see that within a year majority of the populace have turned to ecommerce to fulfill their everyday needs and for their groceries.
As key industries expand their presence online, consumers believe the digital economy will be a huge part of their daily lives.
60% of Canadians surveyed say they believe that cashless transactions will be part of their typical shopping experience and 26% say they don't expect to use too much cash five years from now.
Other notable findings include:
Shipping and delivery fears: For most Canadians what deters them the most is the shipping cost (52%) and secondly delivery time (51%). They would rather do a self pick up rather than depend on home delivery (50%).
Secure solutions: While 19% of Canadians expressed fears if their online transaction would be safe without any hassles.
Canadian Online Shopper Demographics Stats
51% of Canadians shopping online are women. In 2019 online shoppers constituted of 48% men and 52% women. In 2020 there was a change with 49% men and 51% women.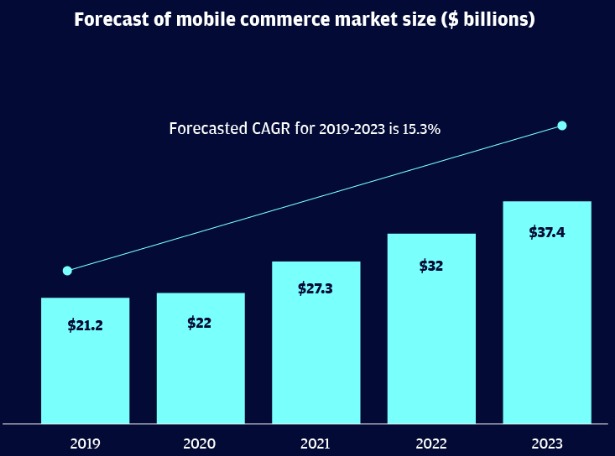 The average annual household income of Canadian online shoppers was $102,350 in 2020 while in 2019 it was $92,720.
In 2020, the age-wise grouping of online shoppers was:
36% from 52 to 70 years
28% from 24 to 36 years
25% from 36 to 52 years
6% from 18 to 23
5% were over 70
Marketplaces of top online retailers in Canada: 
71% Amazon.ca
9% eBay
8% Walmart Canada
7% Best Buy Canada
3% Etsy Canada
2% Newegg Canada
Around 41% of respondents said preferred non-Canadian websites due to lower prices, and 23% said there were better choice options. Consumers said even with duty and other taxes, they could still get a better deal abroad.
Canadians top choices for online shopping sales: Amazon, eBay, followed by Wish and Instacart. 63% respondents preferred Amazon to scour for new products, while 42% had Amazon Prime membership.
Best online shopping sites in Canada in the web commerce categories are below.
The best online retailers in the home wares category:
Home Depot
Canadian Tire
Walmart
Casper
Vistaprint
Purple
Etsy
AliExpress
Bed Bath and Beyond
eBay
Online Retail Sales Canada Bottom Line
Canadian online shopping trends show a significant number of online trade happens through marketplaces and businesses outside Canada. However, these are not included in Canadian reports. As a result, the numbers of purchases and the stats regarding shopping behavior seem lower than they actually are.
Delivery and prices still cause many to buy from the US, especially frequent buyers. Yet 40% will buy within Canada this year from the online retail realm.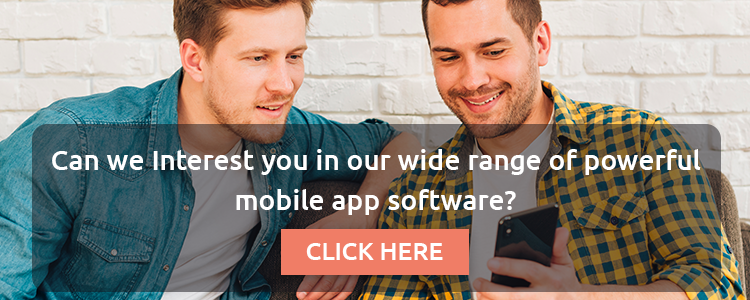 With an Engineering degree and a Diploma in Management under my belt, I worked for 16+ years in the automotive industry with various manufacturers. But my passion for writing was overwhelming, which I turned into a career. I have been writing for more than 10+ years and mostly in the IT domain. I am sure you will find the 300+ published blogs of mine in here informative, exhaustive and interesting.