Bordered by Syria to the east and the Mediterranean Sea to the west, Lebanon is a culinary crossroad of delicious tastes and textures. 
The perfect mix of sophisticated European cuisine and exotic Middle Eastern spices. 
Known as the beloved cuisine of the world😍, Lebanon cookery relies on simple ingredients drawn from nature such as herbs, spices, garlic, and olive oil- the liquid gold of the Mediterranean region.
Lebanese is considered one of the healthiest cuisines in the world.
The origin of Lebanese Cuisine
Lebanese cuisine is a mix of different cultures and traditions. Since Lebanon was occupied and ruled by many countries, the food culture that exists today is incredibly diverse.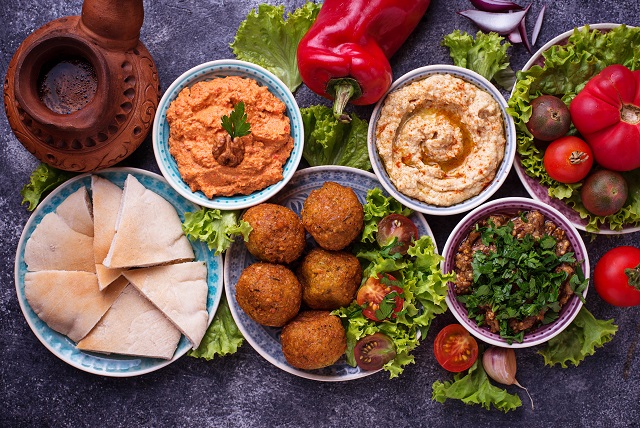 Let's take a look at some of the most influential occupiers who played an important role in shaping the food tradition of Lebanon.
In the first century BC, the Roman Empire occupied Lebanon and introduced exotic spices and new foods to it.
The 400-year Ottoman rule, gave the ancient land olive oil, baklava, nuts, coffee, lamb meat, and bread. Even the recipe of cooking lamb meat stuffed with vegetables and spices was taught to Lebanese by Turks.
Lebanese food also draws on French influences. When France took over Lebanon after World War 1 it brought in all the cheeses, sauces, croissants, and pastries along with it.
The arrival of Persians and Greeks to the land also impacted the cooking methods and ingredients, as well as, the name of the dishes.
Lebanese food is not served as one large meal. Instead, it is served as mezze – many small dishes.
6 Iconic Lebanese Food You Must Try

1. Kibbeh: Lebanon's National Dish
Kibbeh is tempting and delicious. It is prepared with soaked bulgur wheat and lamb meat. It can be baked, fried, or even eaten raw.
Traditionally, the Lebanese used to kill animals on feast days, and eat the raw meat. This was known as kibbeh nayyeh.
Kibbeh is usually consumed as a snack or starter during feasts.
2. Hummus:

Tangy and Healthy
This internationally popular chickpea, garlic, and tahini blend of happiness are perfect for nibbles before dinner. It is served with pita bread, falafel, crudites, Taameya, Kofte.
Hummus has a tangy flavor that can waken up your tongue.
3. Kafta:

Authentic Lebanese Recipe
Kafta is a grilled dish of grounded lamb or beef meat. It is mildly seasoned with onion, parsley, breadcrumbs, and spices.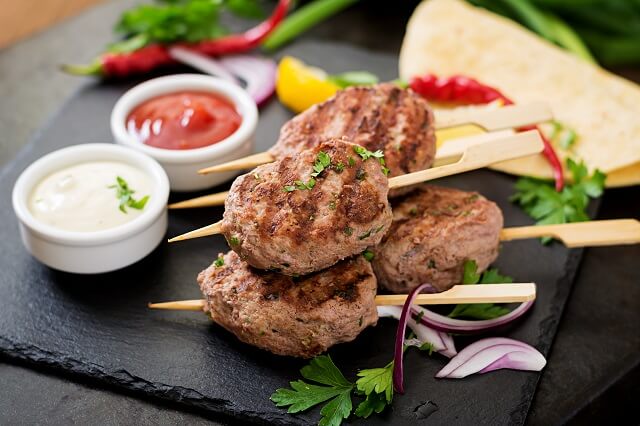 Kafta is consumed as a snack.
4.  Manakish: Perfect Make-Ahead Snack
Bread topped with thyme, sesame seeds, sumac, and olive oil, this 'Lebanese Pizza' is everyone's favorite breakfast food or evening snack. It is a recent addition to Lebanese cuisine.
Manakish is often eaten together with tomatoes, cucumbers, yogurt cheese, or a cup of hot tea.
5. Sfiha:

Levantine Pie
Sfiha is an open-faced meat pie popular throughout the Arab region. With no lid hiding the scrumptious insides, your eyes can start feasting on the good bits as soon as it is placed on your plate.
It is usually consumed hot as a snack, accompanied by tahini sauce or yogurt.
6. Ma'amoul:

Dates Filled Cookie
Ma'moul is a traditional dome-shaped cookie filled with fruits and nuts such as dates, walnuts, and pistachios. These ancient style cookies are prepared for Easter, festivals, and celebrations.
Ma'moul is often served with coffee or tea during the day in many Lebanon households.
ALSO READ: Buy Oud Online | The Scent of Luxury from the Middle East
Taste Of Lebanon | Order Lebanese Food Online
While Lebanese food has undergone many changes over the years it has always maintained a strong connection with its roots.
If you want to try the world's freshest, healthiest, and most delicious cultural food, you can order online from the famous Manoosh Pizzeria.
Toters is another food delivery app that lets you order Lebanese food online from restaurants and local stores. It is a one-stop food delivery solution in Dubai and Beirut.
Lebanese food is also a favorite meal choice for many in the US and the UK.
Jemilafoods, igourmet, deliverro are some popular food delivery sites and apps in the UK, the US, and Lebanon via which anyone can easily order Lebanese food online.
As foodie culture continues to rise, Lebanese cuisine👌 stands to shine brighter than it has to date. Lebanon today is the center of culinary endeavor.
---