Heard the rumors of a dominant player in digital payments getting married to a social media group, Pinterest? The transaction that could scoot the social media giant, Pinterest, into the welcoming arms of PayPal as early as November 8, 2021, was said to be $45 billion (around $70 a share). 
This news of the partnership between PayPal and Pinterest left frowns on the faces of investors. It didn't make sense to investors – showed the 5% fall in PayPal's stock. This news of acquisition sliced about $15 billion off PayPal's market capitalization, valuing PayPal at about $304 billion. 
In contrast, the news squeezed $4.6 billion in the pocket of Pinterest. Pinterest's shares rocketed by 13%. PayPal seemed to be paying the price for moving closer to its dream of becoming a super app UNTIL…
PayPal Dodged A Bullet, Putting Pinterest In Trouble
Renaming the news of acquisition as market rumors, PayPal said on 24th Oct 2020 that it was not acquiring Pinterest at this time. Pinterest stocks dipped 12% amid PayPal deal uncertainty while PayPal stocks surged. 
PayPal X Pinterest Plot  
The price offered by PayPal was = 62 x Pinterest's EBITDA* over the last 12 months.
EBITDA

*

 = E + B + I + T + D + A = Earnings Before Interest, Taxes, Depreciation, and Amortization
This deal would have been PayPal's (+ social media world's) biggest-ever acquisition ever, topping PayPal's $4bn purchase of Honey Science in 2009 and Facebook's $22bn purchase of WhatsApp in 2014. 
PayPal's pursuit for Pinterest would have also pushed 2021 over the line to become the busiest year for M&A (mergers and acquisitions). Pinterest would have acted as a fuel that could give PayPal wings to fly high in the super app world.
PayPal: Blending A Bevy Of Services 
PayPal was founded in Silicon Valley in 1998 by a group of individuals including Peter Thiel, Elon Musk, & Max Levchin.
The digital payment giant has already introduced the world to its family of financial tools on Sep 21, 2021. With offerings including a digital wallet, direct deposit, bill pay, crypto capabilities, peer-to-peer payments, shopping tools, and more, PayPal has become a fully fleshed-out finance app. 
With darts aimed at becoming the world's next super app, PayPal is expected to climb from 403 million users to 750 million users by the end of 2025. If Dan Schulman (PayPal CEO) is able to pull off its super strategy, PayPal could sit at the core of its customer's digital life experience. 
Justifying The Interest Of PayPal In

Pinterest
Today, the online pot of payment spells "powerful" louder than ever. Every tech giant, from Apple (Apple Pay) & Google (Google Pay) to Amazon (Amazon Pay) and WhatsApp (WhatsApp Pay), is sipping profits from the pot of payments. How could Facebook not taste the power of payments? Facebook just launched the digital cryptocurrency wallet Novi in the US. 
Broaden your horizons, and you'll see that the pot of payments is actually floating in the eCommerce pool. 
Think of it! The two tech titans Google and Facebook, have been aggressively trying to bring more purchases onto YouTube (owned by Google) and Instagram (owned by Facebook), respectively. 
You can buy a product from Instagram shops without exiting the app. What does Instagram get? The royalty fees + the valuable information about your purchasing habit. 
Pinterest, on the other hand, makes most of its money by bringing brands' products in its 454 million users' focus. You might know of Pinterest as a mood board creator, but most of its users know about its partnership with Shopify & they have gone shopping with its buyable pins. The links on the pins re-direct users to websites where they can make a purchase. It's exactly where the opportunity laid for PayPal. 
Facebook users = 6 * Pinterest users 

Facebook revenue = 47 * Pinterest revenue 
Facebook has 6 times as many users as Pinterest and 47 times as much revenue. We don't wonder why PayPal seemed to be in love with Pinterest. PayPal could also be afraid of running out of the fintech race as tech giants Google, Facebook, WhatsApp, & Amazon are dipping their toes in the online pot of payments. 
We don't know if it was the fear of running out or the lure of profit, but PayPal's interest in Pinterest made sense to us. It also made sense because PayPal rose to prominence amidst the Pandemic. With $936 billion passing through the platform in 2020, PayPal now has a lot of fresh capital to play with. 
If PayPal had acquired and turned Pinterest into a shopping destination, it could have encouraged a massive influx of transactions through its own payment system. It could have wooed a captive audience that embraced a shift to eCommerce. It could have made a huge change in Pinterest's business model. It could have pushed Pinterest to the forefront of eCommerce. 
Could Pinterest have been a worthwhile investment for PayPal? While PayPal seemed to nod its head, we dare say no. Let's check the pulse of social media!

Pinterest, a company that went public in April 2019 at a $10 billion valuation, generated $1.69 billion in annual revenue (not in profit) in 2020. Is there anything else to sniff at? The answer is no. There seems to be a long way to go before Pinterest could sit under the shadow of PayPal. Let's take a quick peek into PayPal's past. 
PayPal's Appetite For Acquisitions 
Competition is on the horizon – the most common and least complicated reason companies aspire to acquire other companies. For PayPal, the g̶o̶a̶l̶ playground is different. Strongest on North American soil, the payment giant PayPal has already leapfrogged into the super app era and is now thinking of taking over it. 
There's a lot of opportunities to acquire companies inorganically," John Rainey (Chief Financial Officer, PayPal)
PayPal, a company that introduced digital payments to people when paper checks were used for eCommerce transactions, has aggressively been moving into new markets. 
That's not it! Over the years, it has nabbed Venmo, Modest Inc, Xoom Corporation, Braintree, IronPearl, FigCard, Confinity, among various others. 
Why PayPal Dropped The Pinterest Bid? 
Pressure from shareholders? A plummet in the market price? Or simply a plot as social media unveils.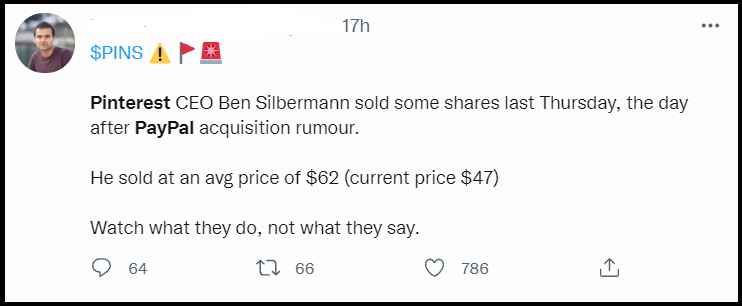 It can be said that PayPal's interest in Pinterest came at a complicated time. 
Earlier this month, Pinterest announced that its co-founder Evan Sharp is stepping down this month. The social media giant has also been gulping down a number of accusations (regarding discrimination against female workers) from its former employees.  
eCommerce Is In Love With PayPal
Pinterest failed to become a family member of PayPal, but PayPal will still continue to experience the royal treatment in the eCommerce world. When compared to other payment options, PayPal converts 28% higher at checkout on eCommerce websites. 
If you are thinking of going vertical (for instance, launching an electronics/entertainment eCommerce platform), the conversion rate is even higher. 
With PayPal as a payment option, electronics eCommerce stores enjoy 90% more conversions. For entertainment, beauty, and gaming verticals, the numbers are 62%, 12%, and 7% respectively.