You need a shirt in a jiffy. You visit a preferred store, an unfamiliar face welcomes you and leads you to the designated area. After lots of searching, reading, chatting and checking you decide what to buy. You got what you want, but it cost you 2 hours.
Now consider this, you login to an ecommerce site– your favourite one. You look for shirts and pronto, just what you looking for- the brand, size and colour. You pay for it and heave a sigh of relief- 7 minutes. Delivery, the very next day and in time for your office photo-shoot. Seems unbelievable, believe it. That's personalization in ecommerce for you.
Personalization in Ecommerce
Ecommerce personalization indicates the practice adopted by online sellers to create a satisfying experience, a fulfilling journey during ecommerce sessions for consumers by dynamically presenting product, content, or media recommendations deduced from their browsing pattern/behaviour, psychological attributes, purchase history, and demographics.
Ecommerce is the process of buying and selling of products/services, or making money transfers, data-transfer over the Net. This manner of business is not impacted by any kind of barriers like distance or time.
The undeniable advantage of Ecommerce is it has moulded this niche of business as appealing, efficient and overtly flexible in terms of reach and time. Over and above your customers are at ease conducting a transaction in an environment that is native to them. As sellers and buyers meet in the virtual world.
To the seller this development is an enormous paradigm shift on his investment. As he wouldn't have to invest extensively on the infrastructure, manpower or location. The basics would be a device and an internet connection.
The benefit brought about by technology is you have tools to identify your clients and their preferences. Being privy to such information, you can conduct your promotions and sale based on the info garnered. You could carry out surveys via the electronic medium with the customer in a comfortable environment without physical involvement. This is effective and low investment.
Product Recommendations Explained
Product recommending is an effective tool in ecommerce personalization whereby products based on data collated on consumer attributes, browsing pattern, demographics, purchase history are dynamically presented to the user on a retailer App, webpage, or by email—providing an enhanced customized shopping experience.
Recommending products are imperative to customers and retailers wherein the product-line is large and varied. The product catalogue could be diverse due to huge inventory or lesser categories but numerous due to an array of features.
To begin ecommerce personalization, any firm should capture data such as:
Background
Device
Time and location
Viewed products
Referral source
Conceivable pattern
Abandonments
Past purchases
Memberships
Other interactions
There are plenty more, but it's impossible to take them all into account. With machine learning, the personalization platform can consider different data points to determine what is best suited in real-time.
Product Recommendations Advantages
Product Recommendations are indispensable feature for an aggressive performance towards achieving the goals of an online retailer. This is a proven method to drive profitability.
Revenue shoots up by 260%
Conversions by 120%
Average Order Value rises by 60%
Personalization in Ecommerce
Personalization in Ecommerce is an imperative facet considered desirable for all online retailers. It is easy to implement initially and retailers could be using them habitually. But while retailers could use the feature expansively, deployment of the recommendations effectively can be challenging due to multifaceted data, delayed processing, other limitations and as such resolutions may not be imbibed across all touch-points.
There are other challenges in ecommerce that needs to be addressed by businesses such as cyber security, website traffic, visibility, regulations, market-reach, etc., Each has to be addressed to succeed.
Here again technology comes to the rescue in the form of machine learning to remove these bottle-necks. Therefore data gathered from all channels can be inculcated by retailers to appraise recommendations to marketers to suggest relevant and associated references to the consumer.
Machine-Learning in Ecommerce
Data captured multi-channel real-time is processed through machine-learning to distinguish and perform as per recommendations. Data from scores of consumers who have visited and purchased, is surmised to infer the intent of other visiting shoppers.  While for customers coming for a repurchase, the data mined can be used to promote products based on the past habits, such as preferred brand, colour, size and other preferences – which the engine acquires over time.
Machine learning motivated product endorsements captures data from various sources to fathom shoppers patterns, likes/dislikes, to convert them into a client. This info along with other related data serves to commend to a user in real-time. Furthermore, machine-learning quantifies response of buyers and in turn persistently improvises accuracy of prediction in future.
Average Order Value 
Due to timely and intelligent recommendations there is a high probability of rise in order value. Along with the usual purchase further additional references could be provided to enhance sales.
Enhance Profits
When the recommendation is timely and accurate, this will naturally drive the sales. The recommendation could also refer to products that are branded, needs to be sold, offers discount or have other important features.
Customer Loyalty
Machine learning inculcates shopping history, geo-fencing, size/colour/features, products availability to ensure that goods that cannot be organized are not recommended. This ensures customer loyalty. Endorsements are screened to guarantee that goods available are shown. Enhance your brand awareness too so that your loyal clients keep buying from you and newer ones get added to the fold.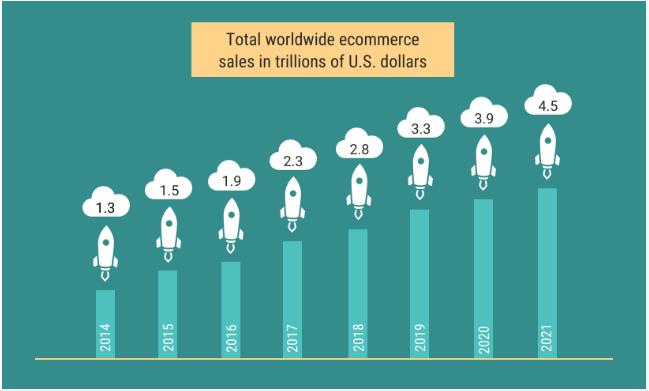 Metrics
A business must define metrics to measure customization efforts. Personalization is in use to optimize Revenue, Conversion Rate, Bounce Rate, or Engagement. A few necessary metrics to keep in check would be:
Average Page Views
Add-to-Cart Rate
Cart Abandonment Rate
Revenue Per Session
Average Order Value
Total Time on Site
Conclusion Personalization in Ecommerce
Relationship with a client needs to be consistent whether on mobile, in-store, online, offline, or via email. To create an unforgettable experience the customer must truly feel distinguished; the personalization strategy needs to be assimilated at all touch-points. With AR making waves to create a truly amazing shopping experience, that's a technology businesses can ingrain to draw consumers to brick and mortar outlets.
Link client's online browsing to in-store by notifying the stores regarding surfing data and vice-versa. Link customer's online browsing pattern to personalize the online experience and generate relevant push notifications leveraging geo-tagging.
Enable a POS feedback that ensures online product recommendations and email promotions can be personalized to include in-store purchases.
This empowers marketers to reach each customer in an adept and meaningful ways to create engaging and immersive shopping experiences that enhance conversions and revenue.
With an Engineering degree and a Diploma in Management under my belt, I worked for 16+ years in the automotive industry with various manufacturers. But my passion for writing was overwhelming, which I turned into a career. I have been writing for more than 10+ years and mostly in the IT domain. I am sure you will find the 300+ published blogs of mine in here informative, exhaustive and interesting.