Surveys in the past decade show pet owners have ranked shopping convenience as one of the most important factors in determining where they will shop. Sometimes, even above price!
This paved the way for a flourishing new business idea– The pets food delivery business/service.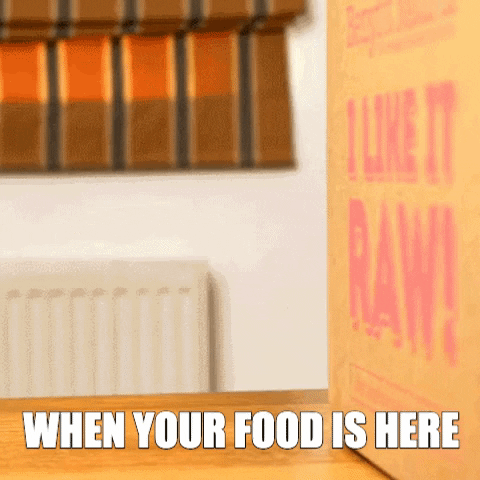 Though we are all aware of the exponential growth in the online food ordering sector, who would have thought this niche would also turn into a viable venture.

An Idea That Changed The Ball-Game
Pet food delivery business offers services, either as an independent entity or as a franchise. It provides a great convenience to the pet owners as the food arrives at their doorstep, without having the hassle of going into the store, or preparing the meal themselves.
This is especially helpful for:

Aged individuals 

Families with young children

People who juggle work and other things
Pets food delivery businesses can offer all kinds of preferred brands and other foods that many parents are in search for. They can offer a wide variety for all kinds of pets. Delivery is just an adjunct to the service of many pet food stores because profits are derived from the direct sale of pet foods. Sometimes, this makes the delivery service free of charge.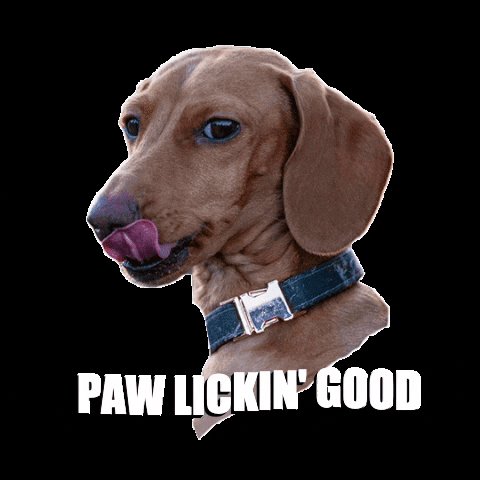 Pets Food Delivery Is Winning The Business Race
This venture can easily be termed as low investment – High profitability as it is one of the major players in the U.S. economy.  According to the American Pet Products Association, each pet household spends $229 on dog food and $203 on cat food, annually. 
Pet food sales went up by 20% during lockdown. The source of growth was not only traditional channel, i.e., pet food stores. E-commerce platform also played a prominent role in pushing pet food sales up.
All You Need To Start A Pets Food Delivery Business
It is very low-cost to start with. Besides just food, you can consider combining a variety of services for your pet parents (read: clients).
Your pet food delivery business can start immediately by talking to friends, neighbors, seniors, and co-workers about helping keep their pet food stocked.
Interests/Skills Required:
Love of pets
Creativity in assembling on-the-go pet products
Organization Skills
People skills & good communication skills
Resources: 
Transportation –bicycle, mobile cart, or automobile. 
Pet food and products require an inventory.
For

integrating

payment gateways ,

consider some of the new credit card technology which works with smart phones or tablets.
Time Required:
 5-15 hrs/week; can work full-time 30-40+ hrs/week
Training: 
Inventory management/tracking skills.

Ability to identify and sell pet products.
Consistency in being available to provide your pet products to your customers.
It may take a little time for pet owners to become accustom to contacting you. Follow-up often to help them with their needs. 
Target audience:
Pet owners.
Start-Up Costs: 
It may vary. On an approximate, the investment could be between $100 and $1,000.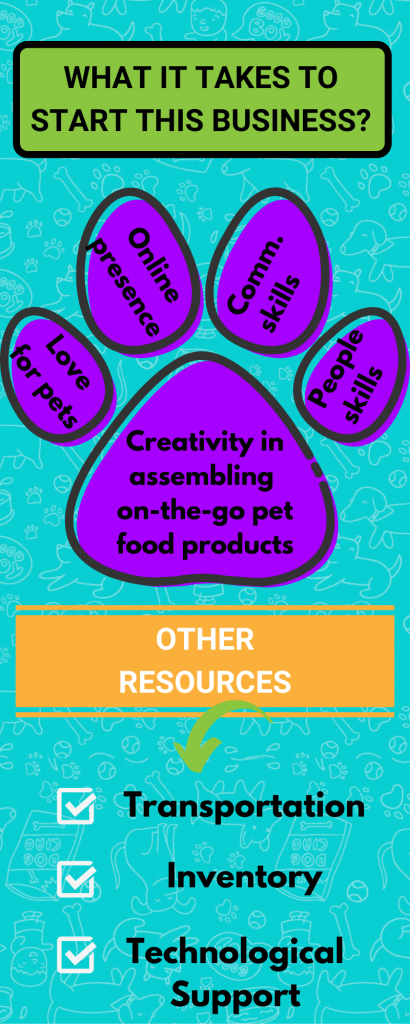 Primary Business Model
Subscription-based pets food delivery apps and websites provide owners with a convenient way to get nutritious food for their four-legged furry friends. Obviously, the app gives an easier and a more interactive user experience.
The subscription-based delivery business usually in the flow stated below:

Users register on the app/ website. They add information for ease of communication.
A section for filling in pets' details must be included. It shouldn't be just limited to, breed, age, weight, etc. for better recommendation of meals.

A menu consisting of the right meals or dog feed will be displayed according to the information put by the parents.

Owners have option to choose from the wide variety of ready made pet feed, or pick ingredients from which a customized meal is going to be prepared.

After completing the process, a food package will be delivered to the doorstep. 

Until the customer chooses to opt out of the subscription, a food package will be delivered and a fixed amount of money will be charged to the customer.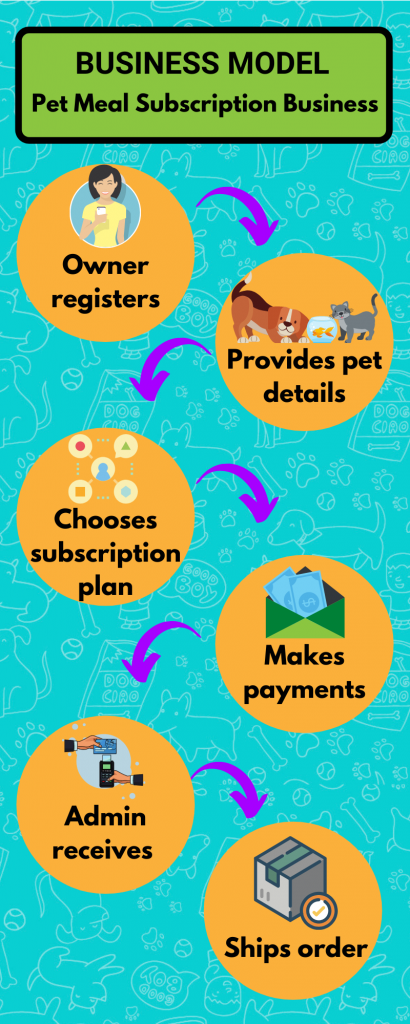 Revenue Model Of Pets Food Delivery Business
Online & Offline Advertising: Partnering with an online or offline business to display advertisements on your app and website is a great option to consider. 
Shop: Another way to earn extra revenue is to sell grocery and merchandise (leash, collars, tick collars, winter jackets, anti-flea and anti-tick shampoos, etc.) on the website and app. This will also help in increasing the brand's online presence.
Premium Membership: Offering premium membership program to your loyal and repeat customers at nominal charges is a must. You can offer them extra benefits such as free shipping, extra meal kit, veterinary advice etc.
Some Important Features That Could Really Make A Difference
Testimonials 
People don't buy from someone they don't trust. And when it comes to meals for the pets, concerns set a new high. Most parents prefer testimonials. This is where words of vets and pet owners matter the most to them. Use the best trust building factor and watch your business soar high.
Recommended Plans
Not all owners know what kind of food is best for their pet. When a user registers on your  app/website, recommend them plans that will help them choose meals in a guided way.
Sign up
Create an intuitive and engaging app and signup page/form so that first time visitors feel a desire to sign up.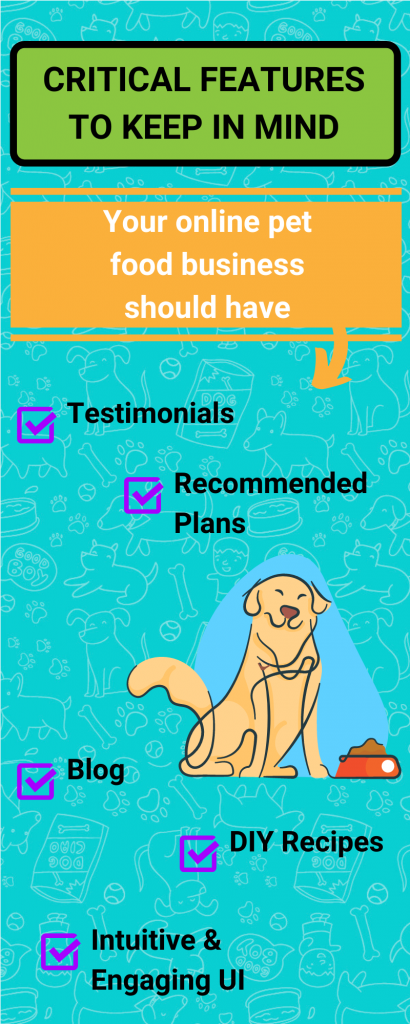 Blog
A blog section plays an important role when you are starting a pet food delivery business.
A lot of visitors on your app/website would be first-time pet owners.  A blog can have content which imparts knowledge on how to take care of the furry bundle of joy. Once they understand more about their pets from your blogs, they are more likely to order a meal plan from you.
DIY
Not all the customers would want to order pre-packed meal kit from you. Some would want to cook for their pets.
Your subscription based service must have a section where people can pay and download recipes they can follow at home.
Why Start Your Own Business?
Following are few of the many advantages a pet food delivery service has:
(1) Not difficult to start.
(2) Requires very little start-up capital.
(3) Highly profitable, especially if you invest in an app/website for your brand.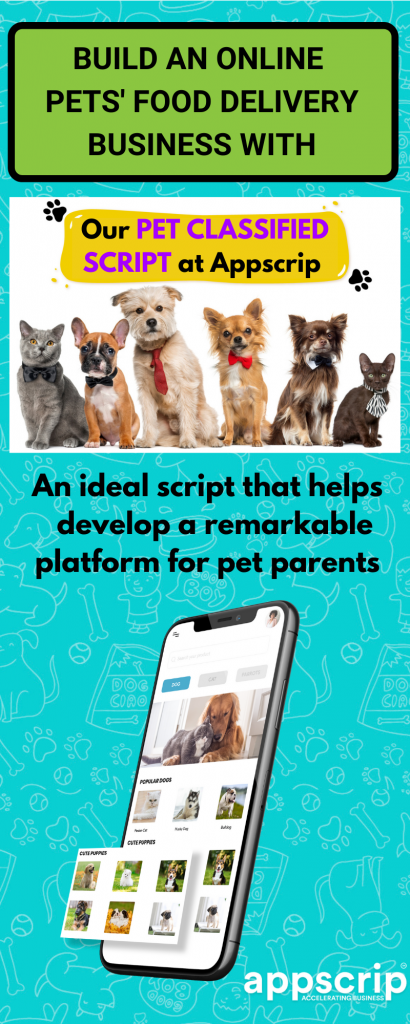 Some Of The Major Market Players Of This Industry
Pet Plate offers personalized and nutritious dog food. This pets food delivery service aims to deliver essential nutritional solutions with unmatched quality.
Ollie is known for its beautiful and user-friendly packaging. They offer a variety of recipes at an affordable price. All recipes are formulated to meet the nutritional levels established by the AAFCO's Dog Food Nutrient Profiles for All Life Stages, which means. the food is appropriate for both growing puppies and adult dogs.  
Nom Nom is committed to improve the health of dogs and cats everywhere. It sets out to provide the very best in nutrition and formulated breakthrough recipes for pets.

Chewy is known as the Amazon of pet products. From potty pads to  heartworm medicine to human-grade puppy eats, Chewy holds the largest selection of pet products.
---