The market for online prescription delivery websites in the Netherlands is quickly becoming one of the most interesting fronts for the expansion of existing businesses. There's no doubt that the current popularity of this field can be attributed to its anticipated growth. The most recent study estimates that the global market for online pharmacies will be worth $68 billion in the year 2021. At a compound annual growth rate (CAGR) of approximately 16.8 percent between now and 2028, the online prescription delivery and pharmacy delivery market is projected to reach $206 billion.
Companies are able to maintain a presence in the increasingly competitive pharmacy industry through the implementation of new technologies, marketing initiatives, and business development strategies.
Many people are using prescription delivery websites in the Netherlands to get their medicines delivered to their homes. These apps have experienced a sizable increase in demand in the midst of the pandemic, which continues to show signs of growth.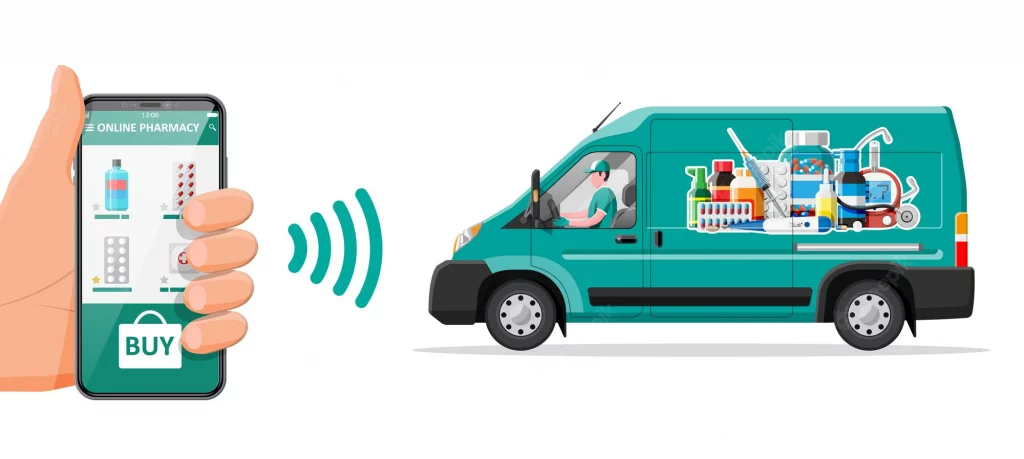 There are a lot of advantages that come along with using an app for prescription delivery, both for customers and for pharmaceutical companies. Ordering medicine through a mobile app offers a number of benefits, including time savings, access to a comprehensive selection of available prescription drugs, protection of personal information, and many more.
Here we can know more about some of the top prescription delivery websites in the Netherlands.
The Best Prescription Delivery Websites in the Netherlands
PillPack
In addition to being a full-service prescription delivery website in the Netherlands, PillPack also delivers to your door. But having the option to have items delivered to your home isn't the only thing that makes this service so appealing. It also helps you keep track of all of your prescriptions and package them together depending on the time of day they are supposed to be taken.
In order to begin using PillPack, you must first create an account on the company site and submit a complete list of your prescription treatments. The next step is to enter your doctor's contact details, insurance information, and a payment method.
All of your prescriptions, packaging, and shipping will be handled by the PillPack team after that. Automated refills are available, and pharmacists are on call around the clock to answer any questions. Deliveries are always free of charge, and prices vary according to the medicines being filled.

MAYD
Your order will be delivered by MAYD without any additional delivery expenses, regardless of the total amount of your order. You can pay without any hassle with your credit card, Apple Pay, Google Pay, or PayPal.
It brings over 5,000 different goods from your neighbourhood pharmacy right to your front door. There is a wide variety of items available, ranging from pharmaceuticals to cosmetics. You are able to obtain professional guidance from MAYD's partner pharmacists in the event that you have any inquiries concerning medications or your symptoms.
MedicatieThuis
MedicatieThuis is an online prescription delivery website in the Netherlands. All prescription refill requests are transmitted to the pharmacy in a safe and encrypted format, where they are then reviewed by a pharmacist. They do not supply medications that are potentially addictive or medications used in hospitals.
Simply scan the label of the medication you are now taking, and within the next 48 hours, the (bicycle) couriers from the Zuidas pharmacy will deliver your medicines directly to your door. The prescription and delivery time are always discussed over the phone in order to ensure the safety of customers.
Capsule
Capsule is a full-featured digital pharmacy that fills medicines and automatically handles refills. Aside from Capsule, no other provider on this list is able to guarantee two-hour delivery of your medication in its service area.
In addition, signing up for the service is a breeze and takes very little time. Capsule accepts patients with insurance from all of the main carriers, and the co-pay amount will not vary, according to the company. You are able to get in touch with the company's staff of pharmacists at any time of day or night through text message, email, or live chat to get answers to any queries you might have or a quick consultation.
The organisation will even coordinate with your doctor's office and healthcare provider, relieving you of the difficulties that come with being responsible for addressing those responsibilities on your own.
Dutch Mill Pharmacy
They are an online prescription delivery website in the Netherlands that started services long ago. In order to meet your pharmaceutical needs, Dutch Mill Pharmacy is happy to serve the customers of the Netherlands. The organisation provides a comprehensive range of services, including home delivery, long-term treatment, compounding, and the fulfilment of conventional prescriptions.
Monetization and Business Model of Prescription Delivery Websites in the Netherlands
The majority of prescription delivery websites in the Netherlands operate their businesses and make money using one of two primary business models. First things first: before you get started developing an app for delivering medicine, you need to figure out what kind of business model will work best for your company.
First Business Model
Pharmacy chains with large inventories can benefit from this business model. To extend their company online, these organisations can develop a pharmacy delivery app in the Netherlands for themselves. The key advantage of this business strategy is the strong brand recognition it provides. Solutions like Med.Me allows them to build a complete inventory of medicines, healthcare products from various brands. Even so, this business model necessitates a sizable supply of pharmaceuticals for sale.
Second Business Model
The next business model entails serving as a middleman between customers and prescription providers. Order aggregation and delivery from third-party pharmacies are the primary functions of these prescription delivery apps.
The developers of these apps do not have to keep any medicines in their facilities under this business model. They are simply responsible for taking the orders, processing them, and forwarding them on to the drivers who deliver pharmaceutical products.
Making Money from Prescription Delivery Websites in the Netherlands
You can transform on-demand prescription delivery into a successful business by adopting one of several different methods for monetizing your app that delivers medicines. These methods are as follows:
You can make money by charging fees if you enable third-party suppliers to sell products on your platform. You can either charge a fee for each product that is sold or a percentage of the revenue.
Using subscriptions as a revenue stream is yet another viable option for monetization. Customers who sign up for a subscription may receive free delivery or a discount on prescription.
The placement of advertisements within your application is yet another common strategy that can help transform an online pharmacy delivery service into a reliable source of cash. You could market medicines, other pharmacies, or products sold by medical suppliers who are not directly affiliated with your business.
Built-in promotion features are an approach that is appropriate for use in drug delivery apps that also function as platforms for third-party suppliers. You may make it possible for people to market their own businesses within your application and earn money in exchange for perks such as having their businesses appear in the application's recommended area, having their medicine appear first in search results, etc.
Integrating these features are usually easy by making use of readymade frameworks like Med.Me, an online prescription delivery script and online pharmacy software with features available in top apps like Netmeds, CVS Pharmacy, NowRX, Capsule Pharmacy, 1mg.