Nowadays, even though the terms ridesharing and ride-hailing are used interchangeably, there's a host of difference between the them.
Ride-hailing is a more formal manner of arrangement between a vehicle owner and a client who needs transportation to a particular location. While in ridesharing, riders are matched with other travellers heading in the same direction, and they share the same ride but get off at different locations.
Commuting has been made convenient, safe, and hassle-free by the birth of this new concept of travelling called 'ridesharing' , which inspired the ridesharing business model for businesses.
In this technology-driven world, ridesharing apps have become a boon to regular travellers who may not own a car or find it difficult to handle the intricacies of handling a car in traffic, its maintenance and parking on a regular basis.
Thus ridesharing apps and the ridesharing business model offers innovative transportation services with immense possibilities to travellers and entrepreneurs respectively.
What Is Ridesharing
The concept of ridesharing is such that it enables different riders to share the same ride on demand – from different points of origin to destination.
Ridesharing business model matches passengers with drivers of vehicles that are for hire via websites and mobile apps. It enables passengers to know instantly when a vehicle will arrive and how much the ride would cost them. Hence, the passenger can accept or decline the ride with a driver based on this information.
However, ride-hailing services via apps connect passengers and local drivers who generally utilize their personal vehicles for this endeavour. This is a convenient manner of door-to-door transport.


Overview Of The Ridesharing Industry
Ridesharing allows you to leave behind the hassles of maintaining an automobile, carrying out other maintenance related activity, vehicle ownership, insurance formalities and repair or service, thereby making this a popular choice for many.
The ridesharing market globally is projected to rise at a CAGR of 16.8%. This is from an approximate market size of USD 85.8 billion in 2021 to USD 185.1 billion by 2026.
Also, a few points that needs to be taken into consideration are: –
Every year, the cost of vehicle ownership is bound to increase, so opting for ridesharing is cost-saving.
Fuel prices and maintenance costs will also rise in the future. As human labour costs keep increasing, so will costs for maintenance and repairs.
Moreover, cities are jam-packed with people and cars everywhere, that makes parking a big concern.
Over and above now you would have to ensure you have space to park a vehicle at all times and ensure its safety when you are not around.
As per American Automobile Association (AAA), the average cost to own a new vehicle has increased multi-folds.
People aged between 18 and 35 have lost interest in owning a car due to the present circumstances.
Enhanced connectivity by public transportation in cities is another key factor leading to diminishing interest in car ownership.
Short-distance travel accounts for a major market share. Many of the ridesharing business models are built on intercity short-distance formulas.
Users prefer short-distance ride-sharing services like e- hailing and micro-mobility for making their way to public transportation modes.
Uber and Lyft provide such options for shorter distances under the 30-40 km range. Ola has slashed the commute cost per user to attract most customers choosing shorter-distance ride sharing.
  Ridesharing business model has reduced travel time and cost remarkably
The present generation is tech-savvy and comprises the largest user base of ridesharing services. Therefore, the service providers of these kinds of services can capitalize immensely on them.
The leading players in the global ride-sharing market are:-
Uber Technologies Inc., DiDi Global Inc., Lyft, Inc., ANI Technologies Private Limited, and Cabify Spain SLU.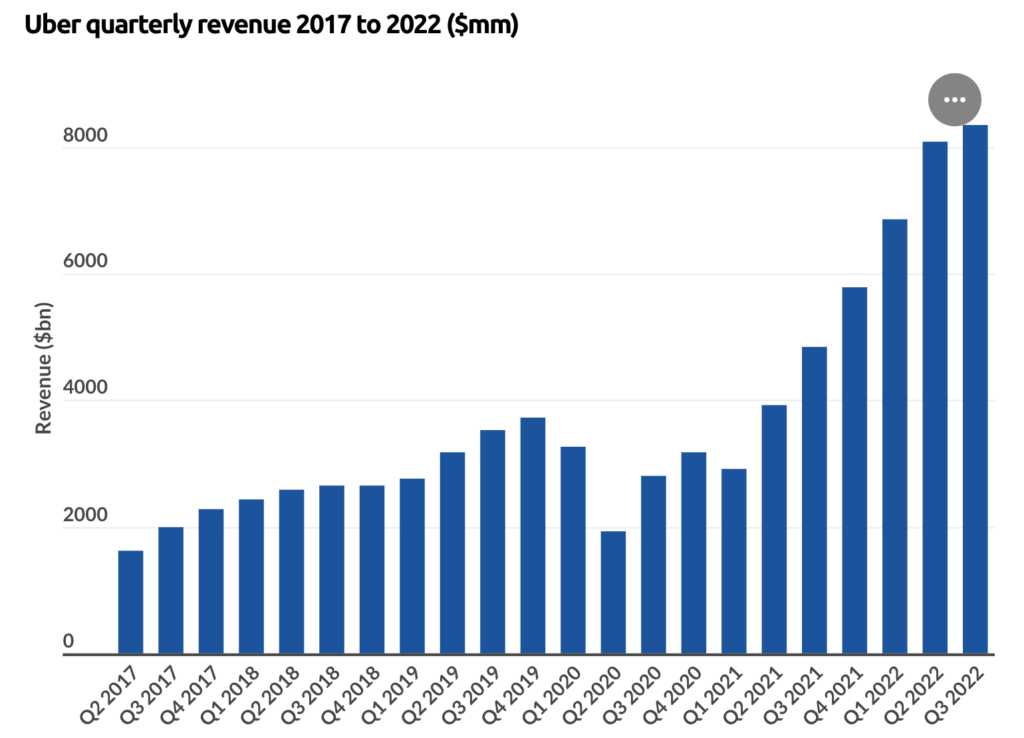 How Ridesharing Works
 Steps involved in booking a ride
Download the Ridesharing App
Go to the Play store. Search for the company you want, for example, Uber.
Click the install button and then click on "open"
To help the app detect your location, turn on your GPS
If your address is not tracked automatically / correctly then specify your pick-up location.
Specify your drop-off address / location.
Select the type of ride (Uber Pool and Uber Go)
"Uber pool" is the option where you share rides with other commuters. Uber Go is a ride you use for yourself and don't share with anybody.
Ensure that the facility you select is active. For example, the button should read "Request UberPOOL" if you are booking a POOL cab. It will also ask you to verify the number of seats followed by verifying your pickup address. You can set it correctly on the map.
After clicking on "Confirm Pickup" the app will begin to locating a ride for you. Once a ride has been located, the app will present you driver details, cab details, ride fare and time of travel.
In  situations, where you no longer wish to cancel your journey or have mentioned an incorrect address, click on cancel. You'll be either partially charged or a cancellation fee will be levied on your next ride.
After you are through with your trip, you will be asked to share your experience. This will happen during your next visit on the app. Make sure to share your experience through ratings as it helps to fix the shortcomings if any.
Give a suitable name to the place you frequently travel to. For example, if you use the rideshare to travel to your office regularly, save the place as "Office". Or if you use rideshare to travel home, save the location as "Home".
From next time on, you just need to hit the Office / Home button to set your drop-off location.
This is a brief description of how to book your cab. Ridesharing apps have numerous other options as well, like apply promo codes /coupons, ask for help, log out from the app on your device.
Role Of The Ridesharing Platform
The Ridesharing platform enables one-way transportation on short notice. Uber and Lyft are the biggest players in ridesharing business model. The only difference between them is their availability. Uber is found in more than 250 cities in 45 countries as of early 2017.
However, Lyft is present in more than 60 cities in the United States and Southeast Asia.
 Foster sustainable transport
 Connects passenger with the driver
 Car utilization is reduced resulting in less traffic congestion
 Enhances vehicle occupancy and public transport ridership
 Saves traveling time and cost-effective
 The platform provides a hassle-free on-demand experience.
 Ridesharing is environmentally friendly.
 The platform provides full-time, part-time, and flexible employment in terms of (location and hours).

Role of the ridesharing driver
The Ridesharing driver is the key person in transporting people from place to place in a timely manner. The number of hours and the region of operation is left to your volition.
The logistics are managed through an app given to you by the company. It also handles the rider's payments. This is when no physical money is exchanged. Even tips can be obtained through the app.
The role is quite challenging as it makes the ridesharing driver navigate unfamiliar routes and deal with delays like traffic. Moreover, you need to possess good communication skills. Have patience as your prime responsibility is to transport people to their destinations on time.
To play this role efficiently, one needs to have a valid driver's license and car insurance. You need to validate that you drive a vehicle you own. Also, that you reside in the same city or state that you are driving in. Your driving history will be checked also if you have any criminal records.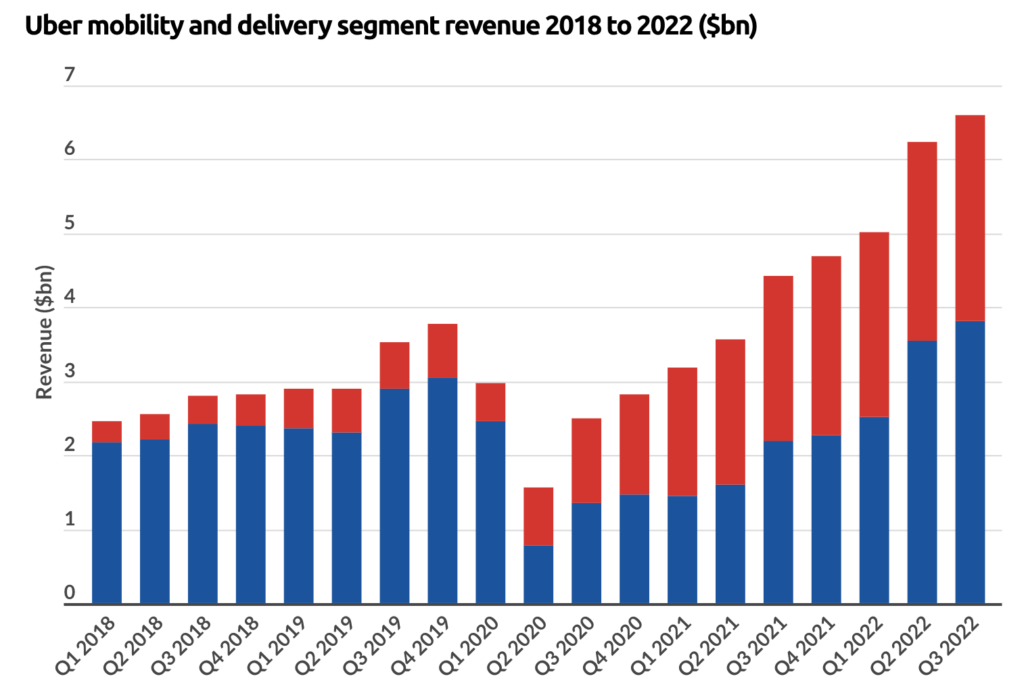 Ridesharing Business Model
Revenue streams for ridesharing companies
How Uber makes Money: Business & Revenue Model
Ideally, the cash collected from each journey in a ride is the main source of revenue for a cab company. However, uber's revenue model is based on multiple factors. Uber makes money through the customer's trip commission.
The facilitator of the service takes approximately 20% of the fare charged to the customer, and the rest 80% is given to the driver.
The revenue is generated by collecting fees from the platform's gross bookings. Uber generated over $17.4 billion in revenues. It came from mobility ($6.95B or 39.8% of its total revenues) in 2021. Also, through delivery with uber eats ($8.36B or 47.9% of its total revenues).
Uber is a multi-sided platform. It connects drivers (offer) and passengers (demand) to offer cheaper transportation and an extra source of income.
Pricing Model For Ridesharing Services (Uber)

Uber has a dynamic pricing algorithm that adjusts rates based on a number of factors. They are the time and distance of your route, traffic, and the current rider-to-driver demand. At times, it can also mean a temporary surge in price particularly during busy periods.
Uber Peak Hours
      Friday and Saturday nights
      After-work rush hour
      Big events and festivals
The cost structure for ridesharing companies (Uber)
It keeps 25% of each fare booked through its app. Different rates are set for every city by uber. The fares differ according to the instant demand for rides and the user's choice of vehicle and service.
Lyft Business & Revenue Model

It runs on a peer-to-peer (P2P) business model that offers a platform to connect riders with drivers. Lyft depends on the multimodal business model, subscription revenue model, commission revenue model, and surge pricing model to generate revenue.
Lyft's revenue stream is the riding or booking cost charged to the rider. It has a commission-based revenue model. The company keeps 20% of the ride subtotal and the rest goes to the driver.
Pricing Strategy For Lyft
Lyft raises its price with its dynamic pricing model when there is a surge in demand and not enough drivers. Passengers will pay higher rates. The price of a ride can even jump to 50 percent or more.
Rush hours are between: 7-9 AM and 5-7 PM.
Advantages & Disadvantages Of Ridesharing
Most ridesharing companies allow passengers to rate drivers after the completion of a ride. Ratings typically from 1 to 5 stars, with 5 stars being an enjoyable experience and 1 being the worst.
Whenever a rider books for a ride, the average star rating of a driver is provided. Each passenger has their own reasons while providing a high or low rating. Drivers who receive lower ratings will find it difficult to get rides or insurance. Meanwhile those with good ratings will enjoy a profitable venture.
Passengers can also leave comments so that others can understand what exactly went wrong with a ride. This can help riders or the driver depending of the comment.
Advantages For Riders
Offers convenience of traveling from one place to another that too on time
Cost-effective
Environment friendly
Less stressful commutes as fewer traffic snarls
No parking concerns
Gives an opportunity to socialise. You can meet your friend whom you had lost touch with or you can get to meet your immediate neighbour.
Avoid the maintenance cost of owning a personal vehicle
Round-the-clock availability even for short-distance trips or otherwise.
Less waiting time in comparison to Taxis
More Safety in comparison to taxis as the vehicle number, driver's name, and picture appear.
  
Advantages For Drivers
Flexible working hours
Ridesharing offers employment opportunities. Can be taken as a side hustle also for additional income.
Offers mobility, comfort, and convenience
Offers independence and privacy.
You are the master of your own job
Also, it keeps your brain agile, sharp, and alert
Makes you aware and helps you navigate, unexplored destinations
Work as independent contractors
Disadvantages for riders
Safety concerns at times
Reliability issues
A sudden surge in prices
Involves accidents at times
No responsibility for driver's negligence
Disadvantages for drivers
Lack of job security
Lack of benefits
Driving is a big responsibility and managing time is also a very critical component of this work. Hence, too much pressure and stress due to all this.
Adverse effects on health due to overwork
Future Of Ridesharing
Mobile apps for ridesharing services encourage users to take up ridesharing as a vocation. If you own a vehicle that qualifies for this venture, you can earn some much needed revenue to enhance your income. During the pandemic many folks resorted to this activity to substantiate their income.
Trends in the ridesharing industry
In 2020, the global ride-sharing market was valued at $59.53 billion. It is expected to reach $205.83 billion by 2030.
Potential Challenges & Opportunities For Ridesharing Companies In The Future
The rise in demand for carpooling and the rise in the cost of vehicle ownership are expected to drive market growth. The development of Robo taxis and the evolution of eco-friendly electric cab services are things that might lead to growth.
Improvement in public transportation . Also, resistance from the local transport services in combination with different government regulations in different countries can hinder market growth also.
Some other challenges are price wars, building customer loyalty programs that stay, payments, and other financial services. Moreover, drivers can switch from one company to another depending on where they are being paid more.
Potential Impact Of Autonomous Vehicles On The Ridesharing Industry
The cost of autonomous vehicles would reduce. Hence, they would cost one-third of cars today. A fleet of autonomous ride-sharing companies using autonomous cars would result in more  people opting for these cabs over city buses.
Conclusion: Ridesharing Business Model
When rideshare was introduced, it was more of carpooling where the passenger covered half of the cost of the trip. And generally both the driver and rider were heading in the same direction. What made this arrangement viable was that the rider helped subsidize the cost of the trip.
Rideshare today is a refined form of the earlier arrangement and looks at it as a profitable venture. A driver has no intended destination and is rather offering transportation services to commuters in a similar manner as a taxi.
How this arrangement is made feasible for all, by the use of technology with the help of an app or website that is operated by a third party. The third party or the tech company would take a fee for connecting riders and drivers.
The ride-sharing market is expanding at a rapid pace. It comes with a win-win situation for customers, drivers, and the transportation industry as a whole. Redefine your business with Ride Sharing Software. It will add value to your business and take it to the next level.

After an Engineering degree and a Diploma in Management I devoted 16+ years working in the automotive industry. My innate skill and extreme passion in writing, encouraged me to adopt it up as a profession. I have been writing for more than 10+ years in the software industry. The 400+ blogs I published are informative, exhaustive and interesting to a professional and causal reader.