eCommerce and mobile commerce have dramatically changed the way brands reach customers, making it faster and easier for consumers to make purchases on the fly while avoiding the hassles of going to the store.– Hil Davis.
Ecommerce has penetrated our lives vastly in the last decade. From being sceptical about buying goods online to being our primary source for all shopping needs, eCommerce has come a long way. 
With eCommerce, there is a new uprising of a new online business called social commerce. It's simple, easy to use, and accessible on our favourite social media channels. 
From our experience in digital commerce through the years we clearly know that online businesses are easier to start. They are more flexible and have a low operational cost. 
Each form of business comes with its benefits and drawbacks. Therefore, this article will help you choose between social commerce vs eCommerce, the best path suitable for your business needs.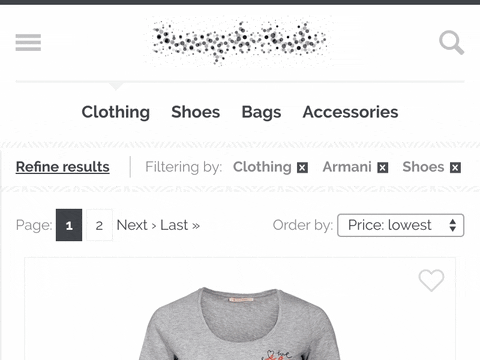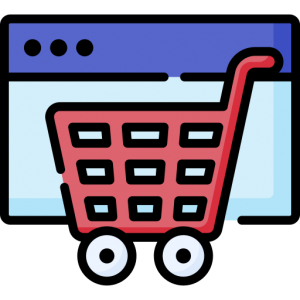 What Is Ecommerce?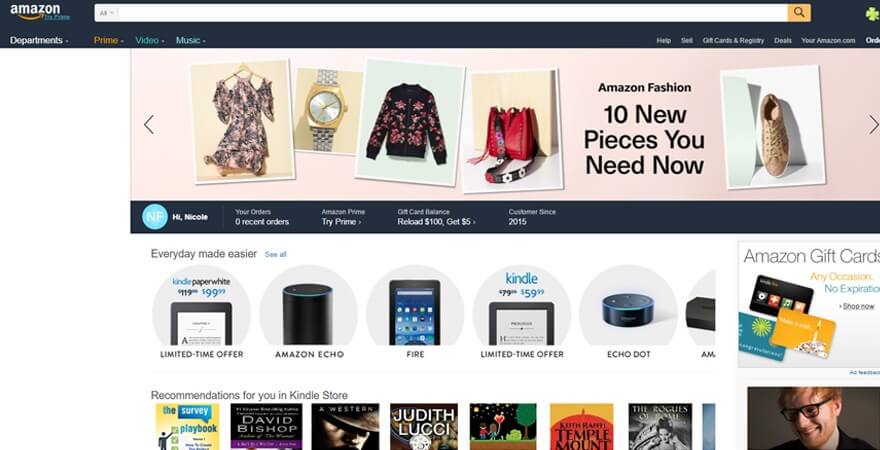 Ecommerce is buying and selling goods via the internet. This form is also known as electronic commerce or internet commerce, where goods can be physical products or services.
Here the customers will choose the products through photos or product descriptions provided by the seller. The products will be shipped to the buyer or transferred through other mediums, depending on the type of product and service.
Some of the notable eCommerce giants are Amazon, Flipkart, eBay, Alibaba, Shopify, and others.
What Is Social Commerce?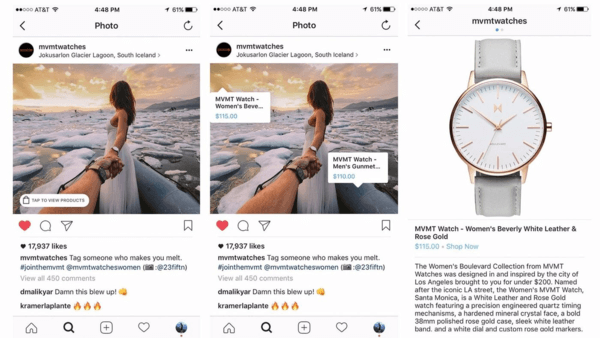 Social commerce is a subset of electronic commerce or ecommerce wherein it involves social media and online media that supports social interaction. Here user contributions in a big way assist online buying and selling of products and services.
To put it more lucidly, social commerce is the utilization of social network in the context of ecommerce transactions. Social commerce is an integration of the complete eCommerce experience into social media. Users can make purchases through their social media feeds. 
It differs from social media marketing where the user is redirected to an eCommerce store from the social media platforms. Instead, it offers users the ability to checkout directly within the social channel they are using at the moment. Social commerce is a $89.4 billion market right now. It's projected to grow to $604.5 billion by 2025.
Social commerce uses chatbots and messengers for a streamlined checkout process hence decreasing the number of clicks and enhancing the customer purchase journey. Currently, social apps that allow for social commerce include Instagram, Facebook, and Pinterest.
The top three social commerce sites that are benefiting the most are Facebook, Instagram, and Pinterest. 
What Is The Difference Between Social Commerce And Ecommerce?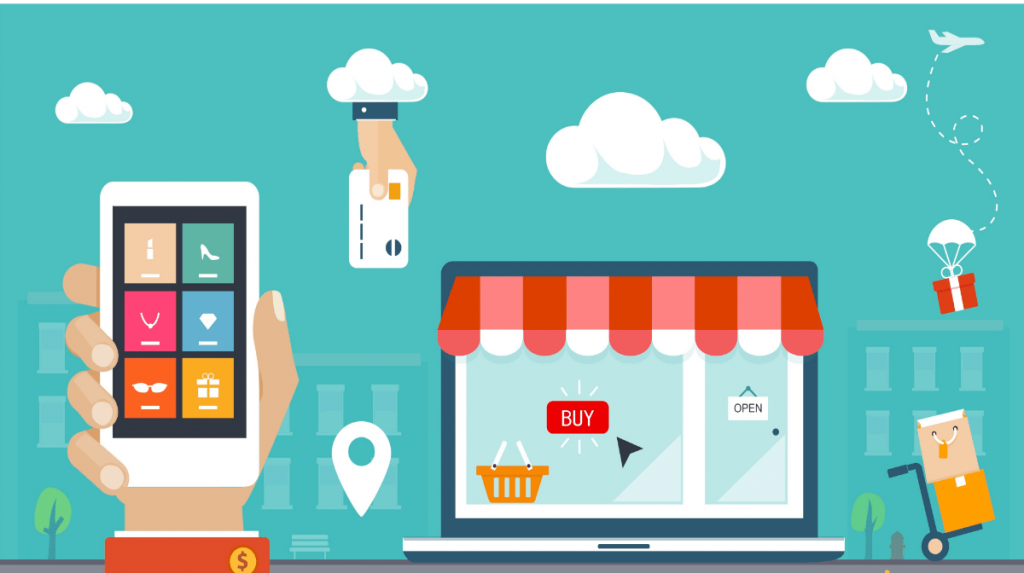 Ecommerce currently is the largest market existing for many industries but social commerce is not that far behind. 
Ecommerce interactions are managed from the seller's website whereas social commerce sale interactions happen over both social media channels and seller's websites. 81% of shoppers research products on Instagram and Facebook, and shopping is a top priority for 48% of Pinterest users. 
Social commerce is an advancement of online shopping through eCommerce sites. What social commerce has successfully achieved is it has transferred all the process of online shopping to the location where the potential customers spend a large amount of time and share their experiences with their friends. 
In social commerce vs e-Commerce, both have the niches that set them apart. Let's compare them over 4 major features. 

Marketing Cost
Even though eCommerce is cutting slack on operational costs it has to bear the huge cost of marketing its platforms. Customers are now becoming smarter every day. Customers now are aware of the products more than the e-commerce sites themselves. 
Ecommerce still has a lot of catching up on understanding their customers. But in social commerce, they can be easily identified and made into a resource bank of reference points. 
The information provided by users in communities or their public feeds can be used to understand the demographic characteristics of the customers which can be used by sellers for targeted campaigns. 
Loyalty & Promotions 
Social commerce gives extra insight on loyal customers and brands can assign exclusive promotions just for them! This in return will keep customers happy and a sense of belonging with brands. 
Ecommerce on the other hand depends on social media platforms to promote and create brand loyalty either through their own social media channels or through influencers. 
Customer Experience
Every online store needs to be a dynamic window that changes depending on the customer's needs and choices. 
Social media platforms help in showcasing products depending on the customer's desired product range. They also have a more comprehensive customer engagement, opportunity to research on customers and receive quality feedback. 
E-commerce vs social commerce sites have also simplified user experience using customer insights through tracking and analytics. This has helped them increase sales with instant gratification. 
"If you do build a great experience, customers tell each other about that. Word of mouth is very powerful."- Jeff Bezos, Founder of Amazon.com
Customer interaction
Ecommerce sites have leveled up by introducing personalized messaging for their product pages. Customers can ask questions and enquire about key features that help them make informed decisions. 
Social commerce with embedded messengers gives better interactivity while purchasing, make comparisons, and even executing purchase and payment all in one place.
The Number Games Of Social Commerce VS Ecommerce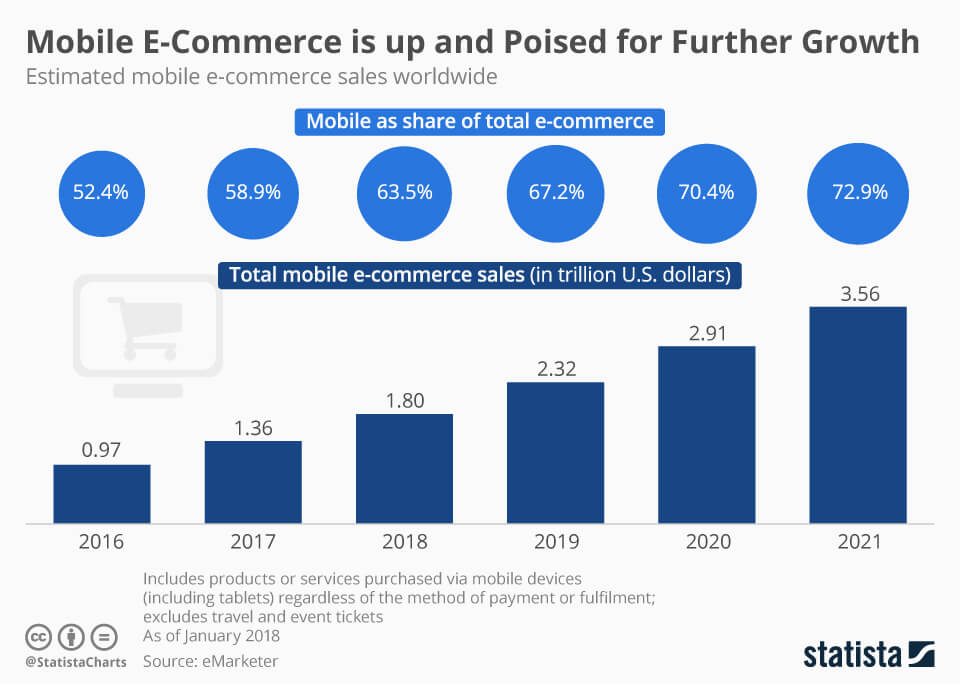 Ecommerce sales have grown constantly as online shopping is the most popular activity on the internet. The sales are projected to increase from 1.3 trillion in 2014 to 4.5 trillion in 2021. Which means a threefold increase just within 7 years. 
With 1.47 Billion daily active users on Facebook, social commerce is giving tough competition to eCommerce. 
30% of online shoppers say they would be likely to purchase a social media network like Facebook, Pinterest, or Instagram.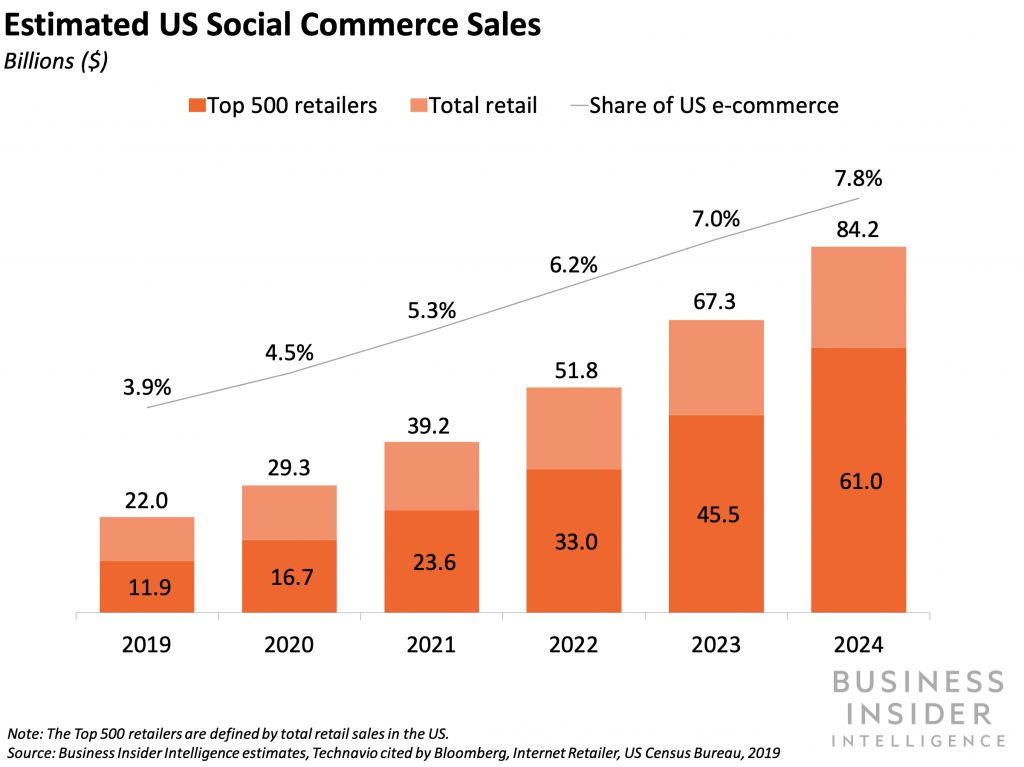 There has been significant growth in mobile commerce. Since 2016, sales made via mobile devices have increased by 15%. This has been due to the rise of millennials and GenZ users spending estimated at $1.4 trillion. 
 60% of Instagram users say they find new products on Instagram. And in the fight between social commerce vs eCommerce, Social Media Messenger sales are massively outperforming the current ROI champion of email.

Social Commerce Strategies In Social Media Platforms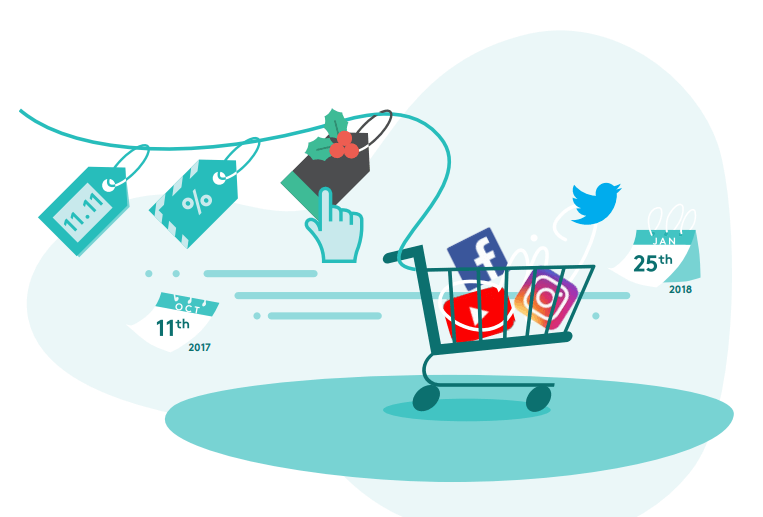 Social commerce is currently the buzzword in the world of online shopping. Social commerce has shown that online shopping is not primarily about providing offers and discounts but the trick is to keep customers engaged. 
Let's decode how Facebook, Instagram, and Pinterest does it so seamlessly. 
Facebook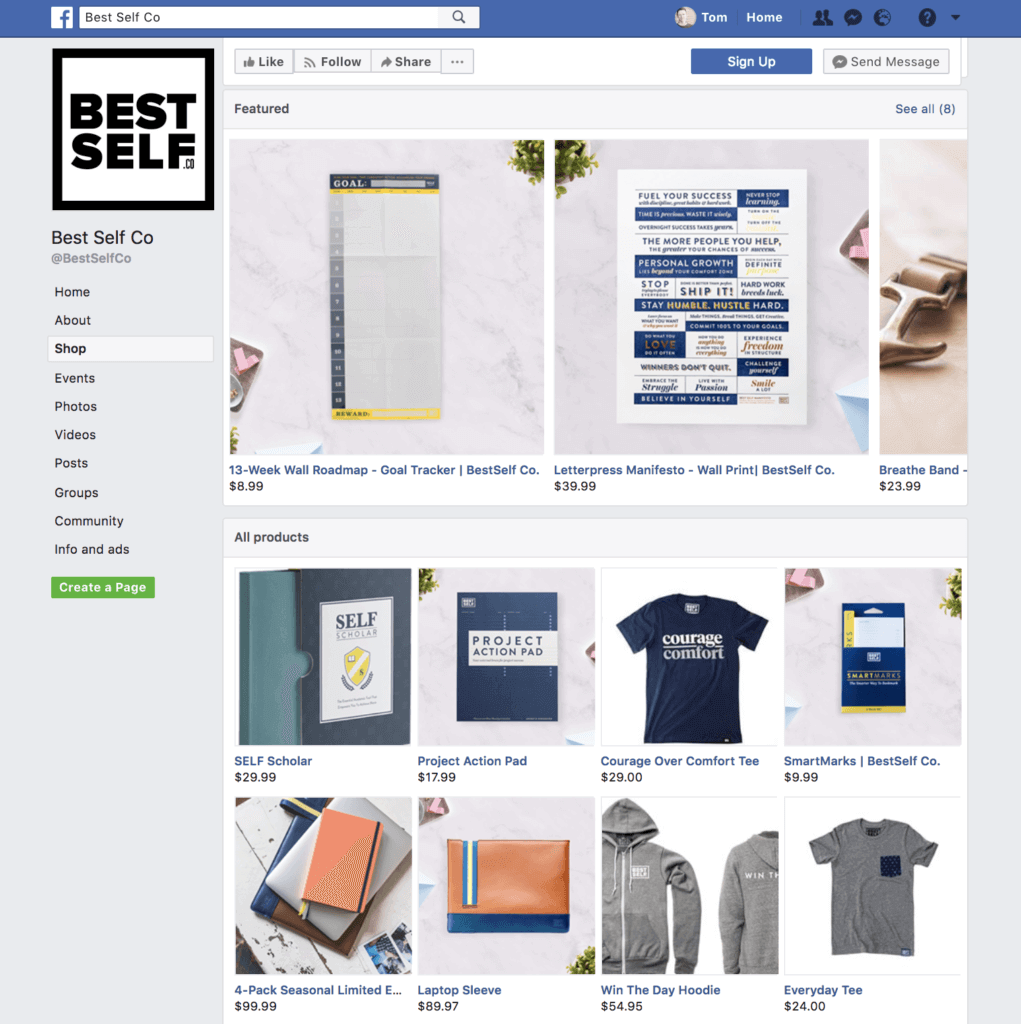 Facebook is the giant in the social commerce industry which risked and reinvented the whole online shopping. 
Facebook recently launched Facebook Shops, a response to the COVID-19 pandemic. This new feature gives businesses the ability to display and sell products directly on the platform.
The shutdown of physical stores due to government measures left sellers hopeless. Facebook leveraged this opportunity by inviting sellers to open stores and help them find their target audience. 
Chatbots and Messengers (E-commerce vs Social Commerce)
Facebook's chatbots and messengers have surpassed the sales generated via email campaigns. With a more direct line of communication, Facebook Messenger chatbots generate an 80% open rate and 20% click-through rates on average!
Messengers now come with call-to-action buttons, a seamless checkout process, and interactive visual templates for chatting. 
Instagram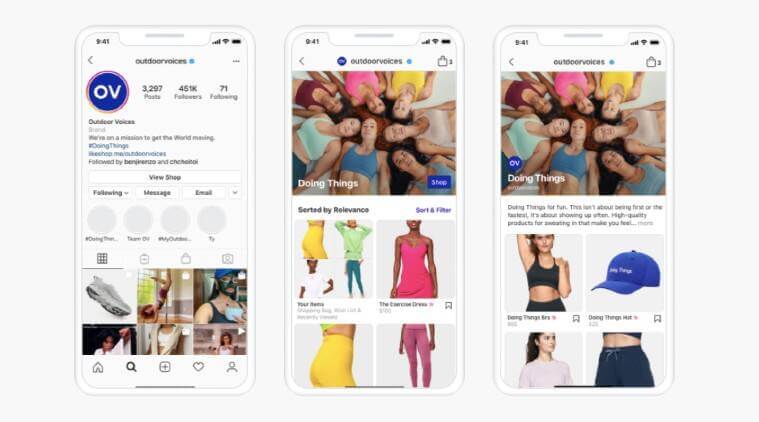 Instagram is now becoming social commerce giant with 200 million users visiting at least one business profile a day. 
The latest data suggests that 70% of consumers go to Instagram to discover new products.
Instagram Checkout 
This feature enables shoppers to look through images and videos of products in their feed. Once they find an item they want to buy, they click on the post, select the dimensions or colour, and then pay without leaving Instagram.
Shoppable Stories and Stickers 
These stickers can be added to both images and videos, and when a user clicks on them they can see the name, price, and description of the product from your catalogue.
Stickers and stories are an effective tactic as they are interactive, engaging, and important real estate. 
Pinterest 
Pinterest has around  322 million active monthly users worldwide, another visually appealing social commerce channel. 
Brands can use Rich Pins to sell products on the platform. Rich Pins are an organic format that provides extra up-to-date information on the Pin itself, including price and availability.
Buyable Pins 
Buyable Pins allow customers to buy products directly on Pinterest without the platform redirecting them somewhere else.
Buyable Pins come with a big blue "Buy it" button next to the iconic "Pin it" one. They also allow users to see the product's price, its seller, and its descriptions. Once shoppers click on the blue button, they are automatically taken to the checkout page within the platform.
Benefits Of Social Commerce In Tier 2 Cities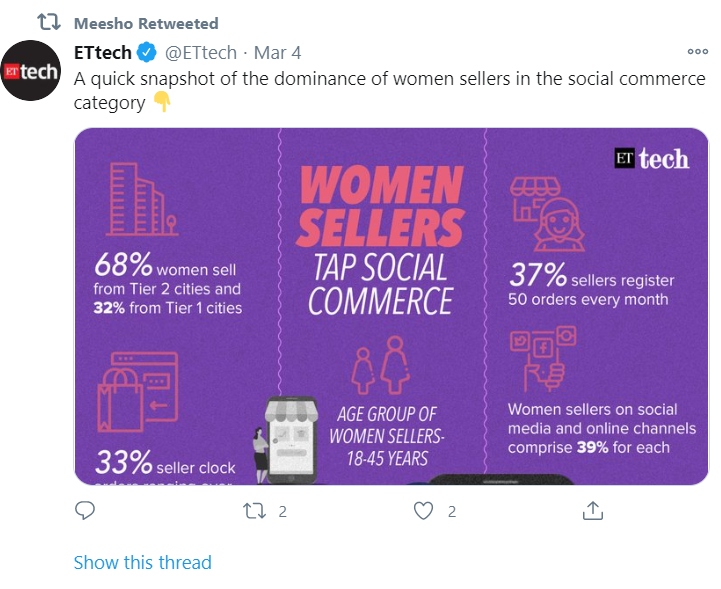 The rise of smartphone usage and low data costs has led to the rise in social commerce startups. They are helping thousands of first-time internet users in small towns by setting online shops on social media.
In 2019, social commerce was the fastest-growing segment of India's online retail industry. Some of the top social commerce startups include Meesho, BulBul, DealShare, and others. 
Meesho, one of the earliest social commerce startups, has been successful in creating alternative distribution channels for homemakers, small entrepreneurs, teachers, and students to sell goods on through WhatsApp, Facebook, Instagram, and other social media platforms.
They are selling goods from over 15,000 suppliers in over 700 small towns, connecting around two million 'social sellers', nearly 80 per cent of which are women.
Its app is available in seven local languages, with 40 per cent of its daily active users (DAUs) consisting of the non-English speaking population. 
Such social commerce apps have been crucial for first-generation entrepreneurs to share, connect, and contribute to the empowerment of the community at large.
Combining Social commerce and Ecommerce 
The ability to expand the store and communicate with customers might be limited on eCommerce platforms. Therefore, you can create an additional social networking store to attract more customers who live anywhere. 
As a result, you will create increased brand loyalty and a better customer experience. It ensures your income is always stable and helps you stay ahead of your competitors. 
 In today's ever-changing world of commerce planning, a long-term strategy keeps you away from the risks and downfalls. Venturing slowly, step-by-step can help you assess and understand your customers better. Choose different types of commerce and explore the advantages of each platform.