This Nigerian freight logistics startup never ceases to turn heads with the investments it receives.
SA is still exploring the grounds of tech startups, but Kobo 360 launched an Uber-like app that connects truckers and companies to deliver services.
We have already covered how logistics is going to drive the boom in Africa, lets narrow down to understand the latest investments and potential expansion plans of this startup.
Why Huge Investments?
Kobo 360, since its launch, has shown the potential. It has continued to grow its product offerings, VC backing and customer base.
With a fleet of more than 10,000 drivers & trucks operating on its app. Top clients include Honeywell, Olam, Unilever, Dangote and DHL.
They also received $6Million equity from World Bank IFC in December 2018.
This is an innovative startup that is making company operations more efficient and lowering transport costs – Philippe Le Houérou, CEO of IFC.
As a cross-border freight service, the company looks to benefit from Africa's Continental Free Trade Area (AFCFTA), signed this year by all the continent's 54 countries to reduce barriers and friction on Pan-African commercial activity.
It plans on declaring the 10 cities they would expand in 2020.
All About The Investments
Lets look at the investments it has been receiving since 2016.
The below info-graph shows, various fundings Kobo 360 has received over the years of its operations.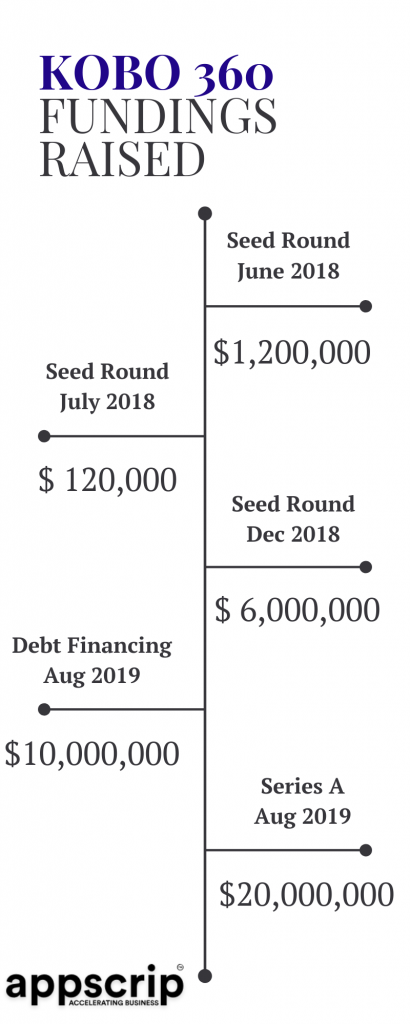 Among the latest funding, it has received it raised a $20 million Series A round led by Goldman Sachs and $10 million in working capital financing from Nigerian commercial banks. 
According to Digest Africa's latest ranking, Kobo360's $20 million Series A is the 5th largest investment in an African startup this year.
Conclusion
With the success of Kobo 360 and its competitor Lori systems, e-Logistics is proving to be a very promising business in South Africa.
Businesses with potential do not have to worry about the investments and fundings, Kobo 360 has sure hit the market at the perfect time.