Brasil, país do futuro (Brazil is the country of the future)
That being said, 2020 is the future the above phrase is referring to. At least for tech startups in Brazil could be the chance entrepreneurs are thriving for! Many a times, Brazil has been mentioned as the sleeping giant with enormous power and potential for the startups to flourish.
Let us look at the top 5 business trends 2020 that could give you all the right reasons to begin in Brazil!
Business Trends 2020
1. Force Majeure of Digital Media
Brazilians spend more time on social media than in music streaming services and online TV streaming combined – WARC
Digital Media/Social Media is by far the fastest and rapidly growing business trends in today's era.  Brazil is no exception, in-fact the in the latest prediction by Statista, it is expected to grow from $34.9 billion dollars in 2016 to $43.72 in 2021.
According to a study, Brazilians highly trust social media, giving an edge for the entrepreneurs to launch social media platforms successfully.
In addition to that, Brazil has the 3rd largest social media using population with 130 million active Facebook users.
If you are thinking of launching a social media app solution, Brazil might be the best place and 2020 might be the best time you can think of.
2. Boom in Tech Freak Shoppers
This sudden boom in the digital economy has given birth to the tech freak generation. They rely on the technology for everything, especially shopping.
FYI : Brazilians are known to conduct a fair product research before making a purchase.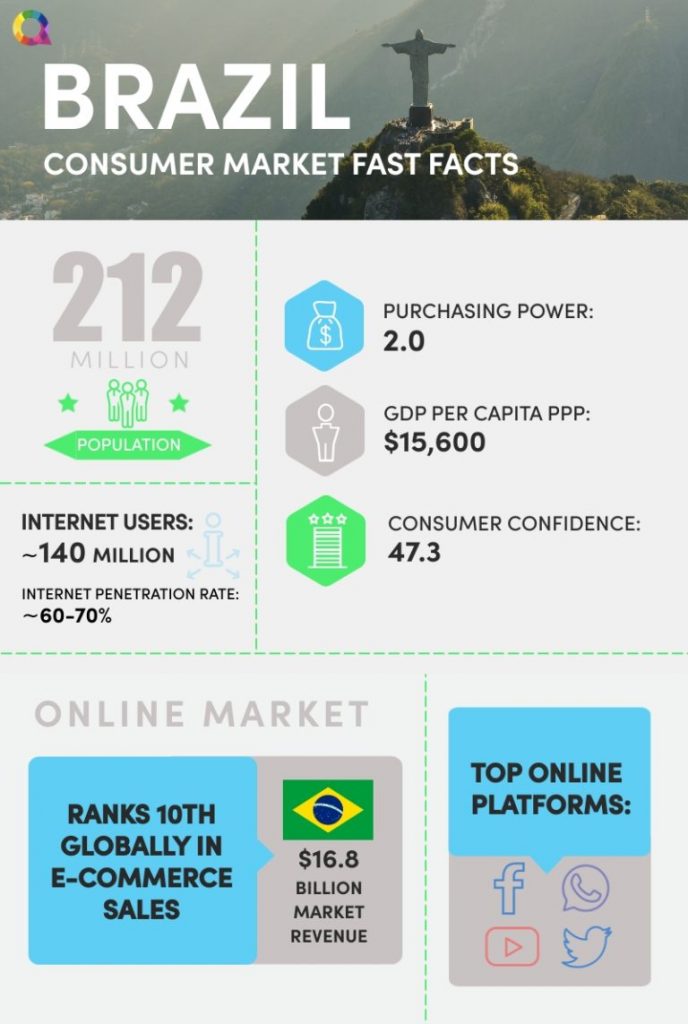 These tech pro Brazilian consumer group depends more on the reviews online, they expect the brands to get in touch with them via social media than any other channel.
3. Dependency on eCommerce
Without any question, Brazil is considered as one of the most happening market for eCommerce startups.
Also Read: Top 10 eCommerce Startups in Brazil
Following are the things that give Brazil the benefit over the other countries:
Largest economy in Latin America.
5th biggest country in area and population in the world.
Has 4th largest internet economy in the world.
6th largest smartphone market Globally.
4. The Economic Reforms to the Rescue!
Investors and economists believe that this is the make or break year for the startups in Brazil.
Unprecedented monetary stimulus, huge strides on the government's reform agenda to bring public finances under control and open up the economy, and a record low exchange rate should help fuel the boom.
Lowest interest rates in decades.
The privatization seems to be the significant driver of this foreseen growth. There are economists who are putting forth the downside of privatization.
After the recent recession, the Brazil economy stood up pretty quick than it was expected to.
Startups in Brazil: Success Stories
  iFood
iFood currently delivers food to 822 Brazilian cities. It is a first food tech company to partner with Amazon.
iFood is using an in-house AI developer to create new AI developments that will help it to keep up with its growth. They look forward to training their employees to use this technology. These tech advancements are meant to boost the efficiency, safety, and happiness of iFood's different partners and customers.
They plan on keeping affordability as the primary feature
Total Funding: $591.9M in 7 Funding Rounds
 Loggi
Loggi is Brazil's latest tech Unicorn, a logistics startup, raised 100 Million half a year ago.
This new unicorn seems to have very ambitious plans in pipeline for 2020. They are looking to provide the next day delivery to almost everybody in Brazil, given the geographical stretch of the country and the population, the goal seems far off than practicality.
Loggi was launched in 2014, from delivering documents on the chaotic streets of Sao Paulo, to using the investment to build a team of more than 1,000 engineers as it constructs a Brazil-wide logistics service.
  CargoX
Speaking of Logistics in Brazil, there is no way to skip this startup. CargoX, 'Uber for Trucks' logistics solution has gained a lot of attention from the investors like Goldman Sachs, The Blackstone Group and Samsung Ventures.
Has growing network of 1,oo,o00 truckers.
The company raised $60 million in its most recent round of funding, but has been on investors' radar for years.
Also Read: The Next Big 2020 Market | Handymen Services Platform in Latin America
Conclusion
Brazil is in the best shape for the startups to make an entrance in the Latin American tech market. Brazil stands significant in Latin America as well as globally.
There are counter arguments opposing the privatization in Brazil.
To conclude, 2020 will be the make or break year for the startups in Brazil!