"You are smart, beautiful, and in need of money. You would make a perfect sugar baby. Can I be your sugar daddy?
What is a Sugar Daddy All About'? | Money, Money, Money!
It is a sort of business because it is based on fulfilling mutual needs through a financial transaction.
You have what I want and I am willing to pay for it – very bold but very truthful!
A sugar daddy is a generous older man who spends lavishly on his mistress, girlfriend or boyfriend. He's often a businessman, who considers himself too busy for conventional dating.
A sugar baby is usually a beautiful, attractive younger woman who can't afford her luxury lifestyle. The term "Toy-Boy" is the female equivalent of a sugar baby.
Allowances and lavish gifts are exchanged for the company of youth and intimate sexual favours. Some sugar babies ask for a monthly allowance, while others get perks in the form of exotic holidays and plush shopping sprees.
A growing number of sugar babies are university students, who turn to their 'daddy' to pay their fees.
Oh, La La! Sugar Daddies for Sugar Babies | Ah! The Perks
Fantastic Trips, Treats & Gifts.
Because of their business, they are frequently zipping around the world. Business trips are the best way to get a Sugar Baby out and about in beautiful and romantic places.
Networking and Security
Sugar Daddies are very well-connected, which can turn into fantastic professional opportunities.
ZERO Drama, No Games
Sugar Daddies are mature and too busy to play games. Their goal is a great relationship, entirely honest and mutually beneficial. It is a win-win for all involved!
Why Do Men Want To Be Sugar Daddies?
Saviour complex
From a male's perspective, there's a genuine feeling that you're helping someone's future. It makes the men feel like the money they are putting into it isn't wasted because someone's using it to put food on their table, while genuinely wanting to be with them.
A feeling of overpowering control
Sugar daddies also enjoy having the upperhand when it comes to transactional relationships.
Sugar daddies feel good when they can help others achieve something their families may not have been able to do otherwise. This is also be a power thing.
Making up for lost time
They might not have dated much before they got married or they were spending time building their business. Having a younger sugar baby helps them believe they have a second chance.They feel they are regaining or reclaiming their past when in the company of a younger woman who looks up to them.
Financial domination fetish
While some may say that being a sugar daddy is in itself a sexual fetish, for some, the physical pleasure that comes with an exchange of money becomes the prime reason to get into sugar dating.
Where Do You Find One? | Sugar Daddy Apps For Sugar Babies
Well if you are really serious about going into such kind of an arrangement, do check out the following apps and be on your way to that sparkling mansion!
# SeekingArrangement | Best Sugar Daddy Fishing Hole
Seeking.com is the world's largest site for sugar relationships.
According to a Forbes report, the website earns at least $30-40 million every year.
Featured and reviewed by CNN, 20/20, New York Times. It is considered the world's largest network for Sugar Daddy Apps for Sugar Babies.
What Are The Selling Points Of This App?
It never displays fake dating profiles
You can try the website first before you pay for anything.
More choice – 4 females to each male
More Fortune 400 billionaires on SeekingArrangement.com than any online dating site.
https://youtu.be/cNIIR3YWfyI
How Does It Work?
# What's Your Price | Buy & Sell First Dates
Although this site is not literally specified as a 'sugar daddy apps for sugar babies, it meets the needs of such a relationship. It is a platform where you can get a date by sending and accept date offers. This site was featured on CNN, NBC and Fox.
Cash is used as a form to get dates. You have two different categories, the generous members and the attractive members.
The men browse pictures and profiles and then make a monetary bid for the women, who can then chose to accept or make a counter-offer. The average price for a date is $80.
The website has 500,000 members in the U.S.
"WhatsYourPrice.com has a policy banning escorts. It says it vets all new profiles and rejects about 500 of them each month for suspicion of prostitution.

Bid for First Dates
1. Sign up and take advantage of the dating shortcut.
2. Purchase Credits & Start a Conversation
Initiating a first date conversation does not require payment from an Attractive member. Start the conversation and get the ball rolling.
3. Agree on a First Date Bid
Counter or accept your bid — open communication leads to great first dates!
4. Enjoy your exciting first date!
If you feel you are ready to benefit from the advantages that come from first date bidding then join the dating auction by signing up here.
# Secret Benefits | Where Generous Men Meet Attractive Women
This app claims to have millions of generous, mature men and attractive women, who find each other and start honest relationships.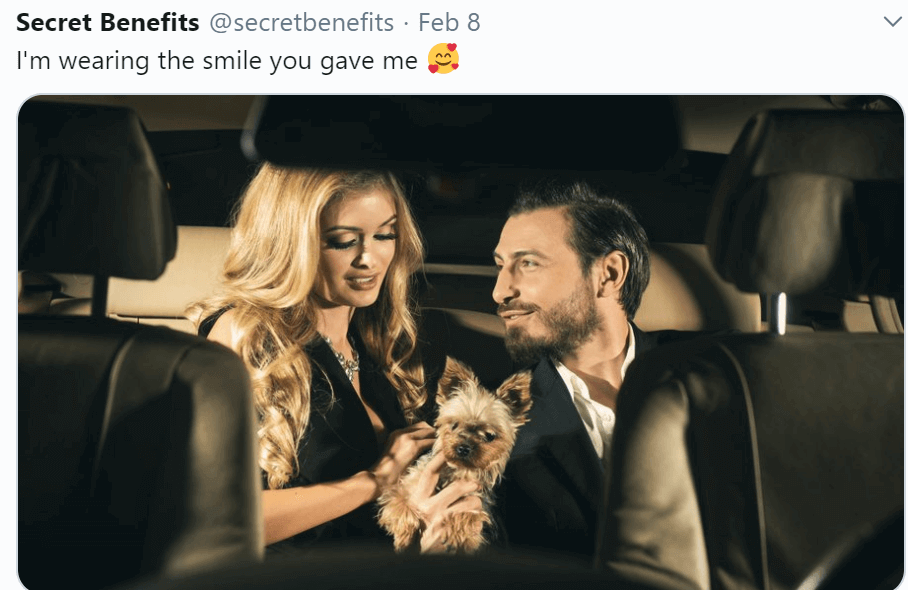 The app aims on removing the stigma around Sugar Baby-Sugar Daddy relationships and encourages a dating community without nudity.
The app wants to foster relationships that are supposedly honest.
Despite having material things involved, it promises that finding true love among the members is possible.
Making Contact On Secret Benefits
A "Verified" badge is displayed next to the username if the member had passed verification.
All search filters in the search tool are available for free.
You can add photos and videos of yourself wearing revealing clothes to "Secret Albums".
You can share your album with other members that you like.
10 credits are needed to unlock the messaging feature for each member.
---
The market for sugar daddy apps is fast catching on. Why not capitalise on this trend and launch you own app?
SUGAR DADDY DATING FAQ
[sc_fs_multi_faq headline-0="h2″ question-0=" How much does one earn from being a Sugar Baby or ToyBoy?" answer-0="It all depends on the daddy. He will decide based on your personality, body, way you conduct yourself socially and a host of other factors. Every relationship and agreement is different in terms of compensation. Anything from 2500$ per month. In addition to the other perks of travel, shopping etc." image-0="" headline-1="h2″ question-1="What do Sugar Daddies Expect" answer-1=" At the basis of the transaction is SEX. They are also looking at having someone as arm candy. In rare cases it may also happen that the sugar daddy is just interested in talking or non-sexual acts like cuddling." image-1="" headline-2="h2″ question-2=" How should I prepare to be a good sugar baby?" answer-2="Make an agreement that is mutually beneficial. Talk about what both of you consider a deal-breaker. Then try not to do those things. Don't ever cancel on your Sugar Daddy. Never change the terms of your arrangement. Don't ask for more money before it is time.." image-2="" count="3″ html="true" css_class=""]