Rapido is a successful startup that provides on-demand bike taxi services via a mobile app, in India. It was one of the early entrants into the on-demand bike taxi niche.
Rapido along with being a successful startup, is also one of our success stories whom we have built taxi software solutions for. We are proud to play the stepping stone of its success.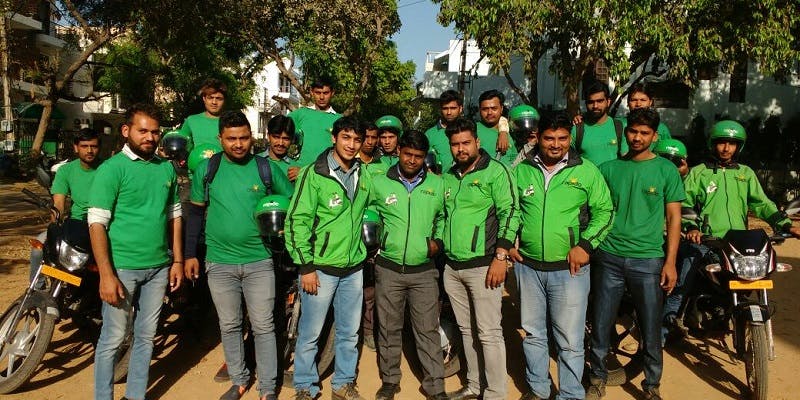 Rapido's Growth  
Since its launch, Rapido has never looked back in terms of growth rate.
It went on to gathering funds from reputed companies like Hero MotoCorp Ltd, AdvantEdge Partners, Astarc Ventures, Tessellate Ventures, People group, Smile Group, Flipkart, Google, Carnation Auto for its expansion in different cities of India.
Rapido was launched in November 2015, and by April 2016 had a fleet of over 400 bikes across Bengaluru, Gurgaon, Delhi and over 50,000 app downloads with more than 1,25,000 completed rides .
A  Forbes article states that Rapido has raised $6 million in two rounds of funding so far(2018).
Rapido's founders stated that their monthly earnings are currently $1.5 million and their operations are profitable in most of the cities it operates in.
As on 2018, Rapido has 15,000 bike "drivers" or "captains" on its platform and completes 30,000 rides daily.
It's nearing two million cumulative app downloads since its founding in 2015.
In an interview with Forbes, when asked what is next for Rapido?  
 Looking forward to achieve 1 million rides per day by the end of 2019– Aravind Sanka, Cofounder, Rapido.   
Rapido's Tech Stack 
Rapido owes all its growth to the robust and scalable technology that supports over a million of rides in a day.
It utilizes Load Balancers, Snapshots, Floating IPs, and the Kubernetes Clusters the most from their cloud services partner DigitalOcean. Its reliability and simplicity contributes in the skillful & efficient functioning of Rapido.
Rapido predominantly uses Node.js & Java and leverages Microservice Architecture to enable them to experiment with more languages other than Java, like Python, Scala and Go in the language stack.
Rapido also works with open source technologies such as Kafka, Cassandra, MongoDB, NATS, Redis and Elastic search, etc.
[spacer height="5px"][adrotate banner="1″][spacer height="5px"]
Rapido's Unique Features 
Rapido being India's largest on-demand bike taxi provider, thrives to make rides easier and memorable to its customers.
Better ride experience: To ensure security and better ride experience to female riders they send captains with best ratings to complete the ride.
Emergency button: In light of women's safety, they have emergency button in the app in case of any emergencies.
Power pass: Recently they have launched subscription-based 'power pass' for regular commuters which intends to make rides even more affordable.
We are planning to make the app more powerful with new features. We will continue to be focused on making commuter's daily travel faster and cheaper – Aravind Sanka, co-founder, Rapido.
In Conclusion 
We can say that Rapido's success is because of quick realization of potential market for bike taxi and the decision of tapping on it.
They understood that the bike taxi niche is new found and is grasping mass popularity amongst users because of the time efficiency and cost effectiveness it offers compared to any other existing on-demand taxi providers in India.
As a result, Rapido is now close to getting 1 Million rides a day.
Rapido's success also suggests that the on-demand bike taxi niche is open for new entrepreneurs to get it.
---
Get your own custom on-demand taxi solution built with us !
[spacer height="5px"][adrotate banner="2″][spacer height="5px"]