Mexico is home to over 130 million people and the marketplace industry is booming, offering online marketplaces an incredible opportunity to expand their business in the country with the second-largest population in Latin America.
---
Although Brazil has a larger population, Mexico is the largest ecommerce market in Latin America.
Not entirely dominated by American giants, an interesting competition is at play with traditional department stores holding their ground against pure e-commerce players fighting to expand their presence in this growing market.
Mexican e-commerce statistics
By 2018, e-commerce in Mexico reached a value of MX$396 billion (equivalent to US$20 billion). This represents a growth of 20% over the previous year.
By June 2018, Mexico's e-commerce market had grown 18% over the final figures of 2017.

60% of users bought a product or service online in the last three months.

Annual buyers in Mexico represent 75% of users over 18 years in the country.
Online purchases for users in Mexico have increased every day. The most popular online commodities for 2018 includes:
Transport – this service leads the pack with a whopping 60% share in online purchases.
Nearly 5 out of 10 online shoppers in Mexico acquired digital services in streaming, music, and video mainly.
Tourism also increased compared to 2017, gaining another 2% of online shoppers' attention.
Almost 8 out of 10 online shoppers in Mexico prefer to have their products delivered at their home.
Amazon is still a key competitor, but the Mexican e-commerce market seems to be occupied by traditional department stores, with Walmart Mexico, and the Mexican chains Liverpool and Coppel strongly following these two leaders.

Top Mexican ecommerce Sites in Mexico
10. Best Buy Mexico

Sells its electronics and home appliances online to Mexican digital customers.
Website: bestbuy.com.mx – Estimated monthly traffic: 3.5 Million visits
9. Ticketmaster Mexico
American ticket sales and distribution company.
Originally was selling tickets to concerts and events offline.
Developed its online presence in many countries, including Mexico, where it is now a key online seller of tickets for music, sports, and other events.
Website: ticketmaster.com.mx – Estimated monthly traffic: 4.2 Million visits
8. Home Depot Mexico
Largest hardware and home improvement supplies retailing company in the United States, also operating in Canada and Mexico.
Sells tools, construction products, home and garden equipment furniture and associated services.
Website: homedepot.com.mx – Estimated monthly traffic: 5.2 Million visits
7. Sears Mexico | Among the best ecommerce Sites in Mexico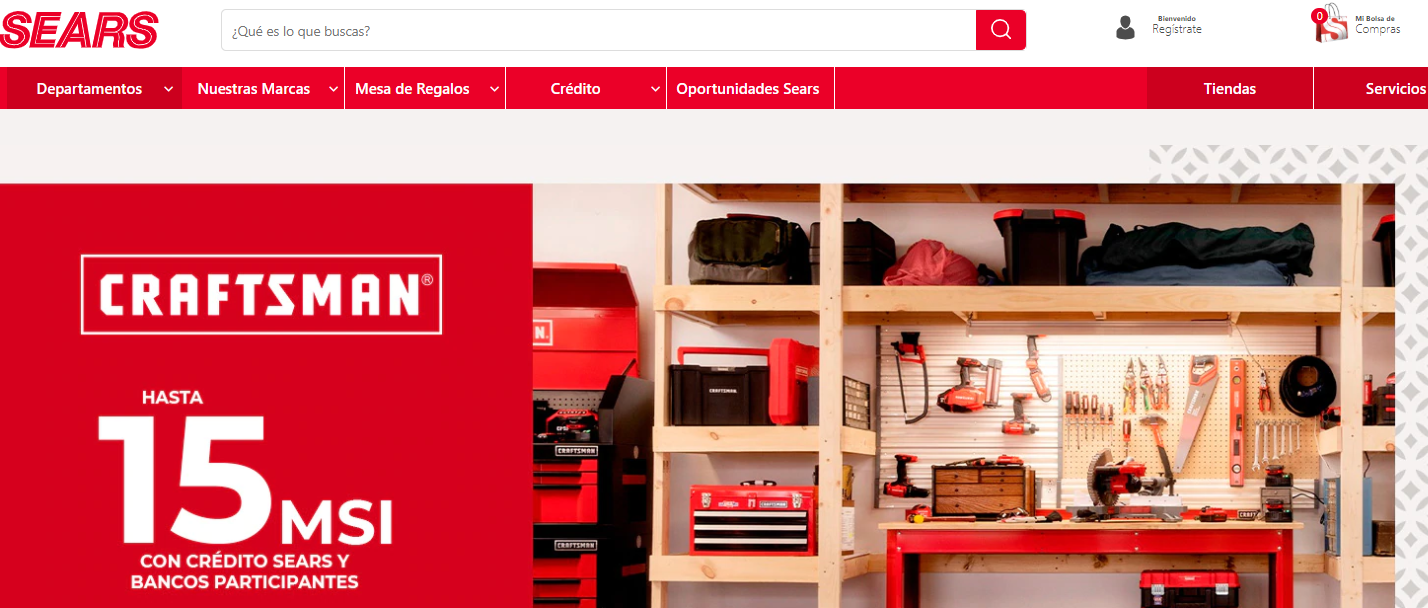 American chain of department stores, owned and operated in Mexico by Grupo Carso.
Doing well with more than 75 stores across Mexico.
Selling its products online, Sears provides clothing and accessories, home appliances and furniture, cosmetics, tools, and electronics.
Website: sears.com.mx – Estimated monthly traffic: 6.45 Million visits
6. Sam's Club Mexico
American chain of retail warehouse clubs of Sam's West, Inc., a company belonging to Walmart.
As a membership-only store, Sam's Club provides a range of electronics and home appliances, furniture, food, family and hygiene products.
Sells its products online through an e-commerce platform which has taken an important share of the market in Mexico.
Website: sams.com.mx – Estimated monthly traffic: 7.4 Million visits
5. Liverpool
Retail company operating a chain of department stores in Mexico, operated by the company El Puerto de Liverpool Limited.
Primarily sells clothes and accessories, electronics, home decoration, furniture, toys, and specialty food throughout Mexico.
Website: liverpool.com.mx – Estimated monthly traffic: 9.8 Million visits among the ecommerce Sites in Mexico
4. Walmart Mexico
World's largest retail corporation, operating hypermarkets, department stores, and grocery stores.
Leader in the United States.
Engaged in Mexico through its subsidiary Walmart de Mexico, also known as Walmex, one of the largest companies in Mexico.
Its online shop sells a diversified range of products, from food to electronics, from fashion to pharmacy, from home equipment to auto-parts.
Website: walmart.com.mx – Estimated monthly traffic: 15.7 Million visits
3. Coppel
Chain of department stores.
Selling electronics, home decoration, appliances, clothes, and accessories, as well as auto parts, sports goods and travels.
Operated through more than 20 brick-and-mortar stores as well as its online e-commerce platform.
Website: coppel.com – Estimated monthly traffic: 17.6 Million visits
2. Amazon Mexico
Amazon started as an online bookstore that later diversified to products including media, electronics, apparel, furniture, food, toys, and jewelry. Uncontested leader of e-commerce in the US and globally.
Developed further into brick-and-mortar retail with the acquisition of Whole Foods Market, as well as publishing, electronics, cloud computing, video streaming, and production.
Website: amazon.com.mx – Estimated monthly traffic: 41.3 Million visits
1. Mercado Libre Mexico
Beating the American giants, the leader of e-commerce in Mexico is Mercado Libre Mexico
A marketplace developed by the Argentinian e-commerce and electronic payment company Mercado Libre.
Allowing people and business to sell their products through a wide range of categories, from electronics and home appliances to autos and accessories, from fashion to toys and furniture, and even property, Mercado Libre is present in multiple countries of Latin America.
Reaching more than 170 million customers and notably also leader of e-commerce sites in Brazil.
Website: mercadolibre.com.mx – Estimated monthly traffic: 108.5 Million visits
Top ecommerce sites in Mexico compared by estimated traffic
Mercado Libre de Mexico and Amazon stand far above the other players, respectively above 108 and 40 million monthly visits.
The pack of followers is a bit behind, in the range of traffic volumes from 3 to 10 million visits per month.
---