The growing app popularity may be attributed to the penchant for food delivery apps in France. They put the needs of their customers first and do everything they can to make their lives easier, rather than considering customer service as an afterthought.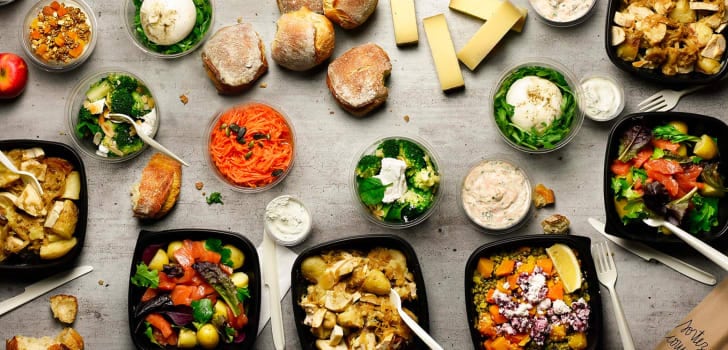 On-demand food delivery apps in France have shaken the economy because they can coordinate every step of the fine dining experience, from taking orders to preparing and delivering the food. Four types of convenience strategies for food delivery apps in France are useful in reducing the time and effort required by their users. Some instances are as follows:
Decision convenience is a word that describes how easy it is to make a certain choice. Zomato and Swiggy are two popular applications that provide user reviews of local restaurants to help you decide where to place your food order.
Access convenience refers to making something easier and faster to reach. For instance, a firm like Spoon Rocket makes it possible to have a hot meal delivered to your door in as little as 15 minutes. You can always find a nice place to eat food anywhere you travel.
Transaction convenience is defined by its ability to facilitate quick and easy transaction execution. Everything can be bought online using a credit card, PayPal, or a mobile payment system like Apple Pay.
Post-service convenience refers to measures taken to make future purchases less hassle for the customer. You can speed up the ordering process by creating a bookmark that contains your regular purchase items and billing/shipping details.
The Best Food Delivery Apps in France
Uber Eats
Uber Eats is one of the most popular food delivery apps in France. Customers can track their meal deliveries in real-time, creating the proper anticipation. In contrast to Deliveroo, your meal delivery person will keep the tip you offer him after they make the delivery. Thus, this bonus structure is more comparable to those of other countries.
The app's UI is minimalistic and straightforward, making it simple to learn and use. If you're seeking to branch out and try different restaurants in your area, this app will do an analysis of your eating habits and make recommendations based on your tastes.

Deliveroo
Deliveroo offers a vast range of fast food, but it is also known for its fresher and healthier meal options. Aside from its clean layout, the app's tracking system is easy, and several helpful tools are available to help you zero in on the data you need.
The first six items on the app's primary menu include all kinds of food, including pizza, sushi, burgers, and more. The area that adjusts your results for food allergies and preferences is just the icing on the cake. The most recent purchase is displayed at the top of the page, which is helpful for those who tend to reorder the same products. There are a lot of restaurants and daily specials that offer free or discounted delivery.
Just Eat
To make the process of ordering and delivering food from restaurants and cafes in urban areas easier for clients, JustEat has partnered with a wide variety of establishments around the country. JustEat is a Danish startup that started as an online platform for ordering food and has since expanded to France. Users in France can use the app to place orders from nearby eateries.
Glovo
One of the best applications for delivering food to your home is Glovo. You can get just about anything delivered right to your door with the help of this app, which can be found in both the App Store and Google Play.
Glovo users may also order groceries and other products from stores without leaving the comfort of their homes. The Glovo couriers will bring your orders to the specified address after placing them. Notably, Glovo has expanded to serve over a hundred cities in roughly twenty countries.
FoodCheri
Finding a list of neighboring restaurants is now unnecessary. Due to its in-house culinary staff, the FoodCheri food delivery apps in France can provide its users with ready-to-eat meals. Foodcheri offers a wide variety of dishes for its customers, such as appetizers, main courses, and desserts.
To get your food, select your options from the app's menu. Restaurant tickets or online payments are accepted methods of payment. Once you've decided when and where you want your order delivered, you can finalize your order. Once your order has been placed, you can monitor its progress in real-time from the convenience of your mobile device.
Business Model of Food Delivery Apps in France and How They Make Money
There are three primary components to any restaurant meal: placing an order, preparing the food, and delivering the food itself. Nevertheless, the on-demand food sector has taken a holistic approach to each of these factors, which has caused it to shake up established markets. By developing your own app using iDeliver solutions, you may reach a larger audience needing food delivery.
Customers' preferences for preparation and delivery times are considered during the ordering process. For any food delivery service, orders can be placed via the website, mobile app, or by just calling the service. Their own kitchen may receive the orders, or they could be transferred to a partner kitchen.
This information can be used to predict how much of the time spent cooking in the Food Delivery app is spent in preparation before an order is placed and how much is spent cooking after an order is placed. Food could also be cooked quickly once an order was placed.
Successful on-demand businesses cannot function without a reliable delivery system. Businesses have a few options regarding how they deliver meals to clients, and each option might look slightly different depending on several factors.
These tasks can be simplified with the help of food delivery apps in France. iDeliver automates numerous marketing tasks, including online purchasing, delivery and shipping management, and order tracking in real-time.