Food delivery apps in the Netherlands economy have a straightforward psychological appeal: they guarantee to buy us more time and lessen the amount of effort we need to put in. They don't just provide convenience as a simple service attribute; rather, they provide convenience at every point of interaction with the customer.
The on-demand food industry has caused disruption in traditional markets by taking a full-cycle approach to the three fundamental components of fine dining at a restaurant: placing an order, preparing the meal, and having it delivered.
Research on convenience has uncovered five distinct opportunities for convenience technology to buy people more time and save effort. These opportunities are as follows:
Decision Convenience is the process of making it quick and simple to select an option. You can, for instance, view customer reviews of restaurants on Zomato and Swiggy, and then choose which restaurant to place an order from based on those.

Access Convenience refers to the process of making something quick and simple to acquire. By way of illustration, Hot Meals can be delivered to you at your destination within 15 minutes when you use SpoonRocket. This makes it simple to eat well wherever you are and whenever you feel the need to do so.

Transaction Convenience can be defined as making it quick and simple to pay for something. For example, you can pay for everything with a credit card, your PayPal account, or a wallet service like Apple Pay.

Post-Benefit Convenience entails making the process of repurchasing something quick and simple. For eg. You have the option of saving your address and card info, bookmarking your go-to items, and reordering in a matter of seconds.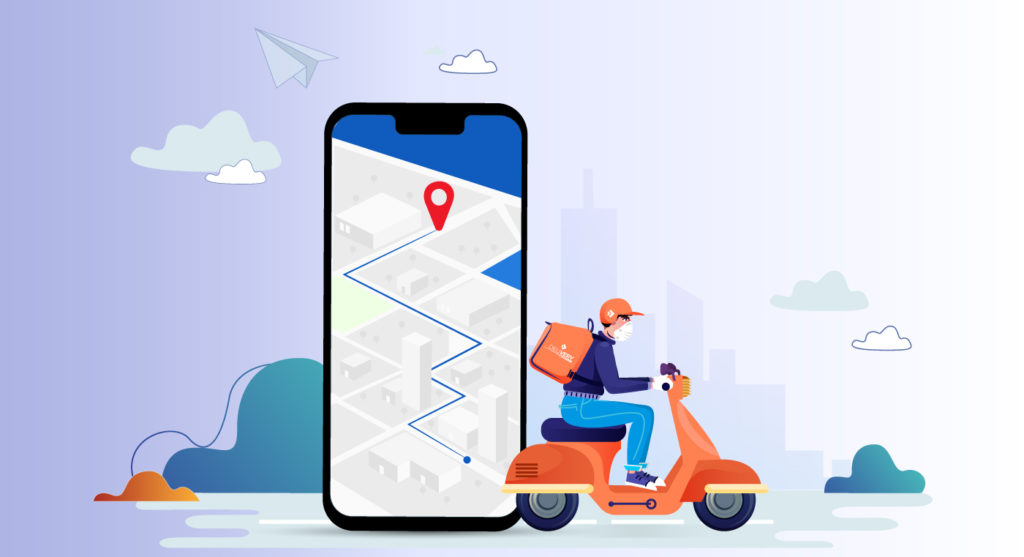 The advantage of the convenience of Food Delivery apps in the Netherlands is that it makes something simpler and quicker to enjoy or use. On Postmates, for instance, you can place an order for delivery from more than one eatery, and the food will be brought to your house directly.
The Best Food Delivery Apps in the Netherlands
Here are some of the best food delivery apps in the Netherlands that work according to the convenience factors mentioned above.
Uber Eats
Launched in 2014, Uber Eats is an online food ordering and delivery service that was developed by Uber, which is best known for its taxi booking platform.
It's common for Uber Eats to feature restaurants that are a little pricier. It also usually has exclusive partnerships with certain restaurants. For example, SLA, a salad cafe, and Maoz, a falafel bar, only deliver via Uber Eats.
The app boasts an excellent tracking system, which enables users to observe the progress of their food delivery and experience the appropriate level of anticipation. In contrast to Deliveroo, the person who brings your food to you is the one who receives a tip after the delivery has been completed. This method of tipping is more consistent with how it is done in other countries.
The user interface of the app is very straightforward and uncluttered, making it a breeze to get around. This is a fantastic app if you want to try out new restaurants in your area because it can quickly determine your dietary preferences and make recommendations for new restaurants based on those preferences.

Thuisbezorgd
Thuisbezorgd is a major player among online food delivery apps in the Netherlands. It is a multinational company founded by Jitse Groen that provides online food ordering and delivery services. Its headquarters are located in Amsterdam, the Netherlands. Takeaway.com, Just Eat, SkipTheDishes, Grubhub, and Menulog are all part of the company's portfolio of brands.
It operates a number of different food delivery platforms, through which customers can order food online from the menus of various restaurants, and then have it delivered directly to their homes or places of business by restaurant couriers or company couriers, using either an app or a website.
In 2012, the venture capital and growth equity firm Prime Ventures made an investment in the company that resulted in the company receiving a profit of €13 million (US$16.7 million). In November of 2013, it started taking Bitcoin payments. In 2014, it received a further investment of €74 million, which is equivalent to US$98.31 million, as part of a Series B round of funding that was led by Macquarie Capital and Prime Ventures.
There are a couple of flaws with the app layout: you have to scroll sideways for a long time to find the dietary preference or food-type choice, and the font doesn't help the general clunkiness of the app. But it does have a wide offering of restaurants, and the general features are there: you can order food and track it till it arrives at your door.
Deliveroo
When it comes to online food delivery in the Netherlands, there is no better option than Deliveroo. Although it offers a fair amount of junk food, Deliveroo is known for its healthier and fresher-tasting food alternatives.
Furthermore, the app is elegant, the tracking system is simple and clear, and there are many options to help you locate exactly what you're looking for.
Pizza, sushi, burgers, and the like are among the first six cuisines listed on the app's menu bar. On top of that, there is a search tool that allows you to include dietary requirements and such in your search results.
To aid those of us who want to order the same things over and over again, the page shows you what your previous order was at the top of the page. Free delivery or a percentage off your order is available from featured restaurants and daily specials.
De Krat
De Krat, in contrast to the previous apps, delivers fresh, seasonal products right to your house. Cooking instructions are also included in the package. There is no need to leave the comfort of your own home to receive this. As a one-time purchase, or as part of a subscription, you can acquire the meal boxes. Starting at 35 Euros, each crate comes with all the materials and instructions you need to cook three different meals.
The Meal Box idea was conceptualised and founded by Eefje Brugman in October 2010. In the world of meal boxes, the crate is the free-range butcher, fishmonger, vegetable jeweller, and caterer. With a focus on quality and fresh ingredients, this is a small but innovative step among food delivery apps in the Netherlands. While marketing takes up a small portion of your lunch box's budget, high-quality ingredients make up the majority of the remaining funds.
Marleen Kookt
Another mealbox delivery service, Marleen Kookt, was founded by Joris Keijzer in November 2011. When it comes to family meals, you can count on Marleen Kookt to deliver. The products are brought to your door ready to use, but they should be chilled before they are used. It's not a big deal because she offers instructions on how to warm them up. Marleen Kookt accepts orders before 11 a.m., but you can also order ahead of time.
Within the greater areas of Amsterdam, greater Haarlem, greater Utrecht, The Hague, and Leiden, as well as Rotterdam, the meals are brought to you on electric cargo bikes by a team of energised and cheerful delivery persons.
Why do you need to start food delivery apps in the Netherlands?
In the Netherlands, how do you go about placing an order for food? It's a very urgent question. There are an increasing number of evenings in which the idea of walking a mile to the restaurant that is geographically closest to one's current location appears to be an excessive amount of effort.
It's not going to help with the plastic troubles in the Netherlands, and it won't make a dent in the grocery bill, but there are some evenings when nothing else will make you look quite as cosy and luxurious as having a great meal delivered right to your doorstep. Getting restaurant food is definitely a treat for everyone.
Ordering, cooking, and delivery are the three fundamental aspects of the dining experience at a restaurant; however, the on-demand food sector has adopted a full-cycle approach to these aspects, which has caused it to disrupt traditional markets.
The ordering process involves taking requests from customers to make and deliver their food. All food delivery services take orders through either their websites, mobile apps, or over the phone. It is possible that the orders are for their own kitchen or for another meal provider with whom they have associated.
Based on this information, cooking time for the Food Delivery app is anticipated to be either pre-prepared or cooked after an order has been received. Meals could also be made immediately after an order has been received.
The conveyance of delivery is the foundation of any on-demand business. There are several possible models for the delivery of food used by businesses, and these models might vary depending on a number of circumstances.
Using food delivery apps in the Netherlands can help businesses simplify the above-mentioned processes. By developing your own food delivery app with iDeliver solutions, you may provide delivery of food to a more diverse range of customers. Automation of marketing processes, online ordering and management of deliveries and shipments, as well as real-time tracking of food orders are possible using iDeliver.