Over the past few years, grocery delivery apps in Germany have seen several significant improvements. People are increasingly turning to more modern, technological means of doing their supermarket shopping. It's possible to attribute all of this to the mix of technological improvement and evolving consumer preferences.
Any entrepreneur considering investing in the budding grocery e-commerce market is advised to research thoroughly about the industry before making any financial commitments.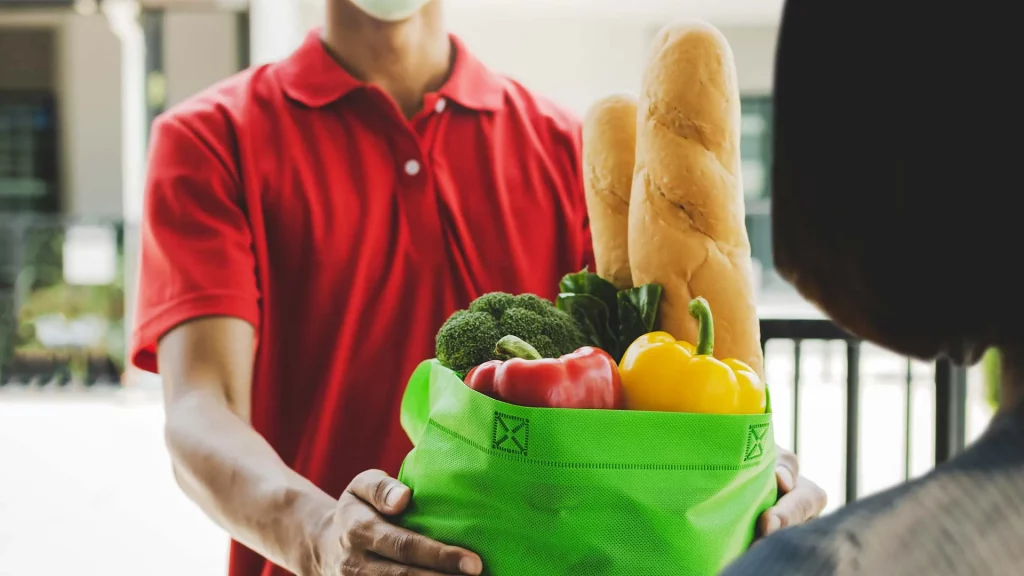 Online grocery shopping is one of the fastest-growing sub-sectors of the broader eCommerce market. With the coronavirus pandemic in full swing, more and more people turned to online grocery delivery apps in Germany to stock up on supplies. Demand for grocery delivery services from online retailers such as Amazon, Walmart, Instacart, and others increased because of the lockdown and people's hesitation to leave their homes.
The following are some of the most reliable and convenient online grocery delivery apps in Germany.
Best Grocery Delivery Apps in Germany
HelloFresh
HelloFresh is a grocery and meal-delivery service that provides customers with a weekly meal plan complete with recipes, groceries, and kitchen tools. You can select a weekly delivery of one of several meal plans, any of which can be tailored to accommodate dietary restrictions or preferences, including vegetarian and vegan options. In addition to delicious meals, HelloFresh provides a wide variety of nutritious meal plans.
Sign up for the app to receive a promo code if you're a first-time user. As a bonus, your first order will be shipped out at no cost, and you can save up to €100 on your meal plan.

Flink
Flink is widely used as a grocery delivery apps in Germany. The Flink app is simple and straightforward, making it a joy to place an order for food. As a result of its lightning-fast shipping, Flink is gaining popularity not only among Germans but also among foreigners living in the country. Flink provides a wide variety of options for its customers, whether they want a quick bite or a full dinner.
The delivery fees are typically €1.80, although this varies with the total amount of your order. While placing an order, you can view the whole price on the app.
Rewe
In Germany, the grocery store chain Rewe offers a convenient pick-up and delivery service. Your groceries can be delivered to your house for a nominal price, or you can choose to pick them up at the supermarket closest to you after placing your order online.
With weekly sales and deep discounts on a changing assortment of items, you could save a lot of money while still getting what you want. All new customers can select their preferred pick-up service at no additional cost.
Gorillas
Gorillas is a popular German grocery delivery app that stocks a comprehensive selection of food and drink items, including fresh produce, dairy, meat, and beverages. The app also features a wide selection of popular food brands from both Germany and throughout the world.
Related: What Is The Best Approach To Develop A Grocery Delivery App?
All orders with a total value over €15 are charged a flat delivery fee of €1.80, while orders under €15 incur an additional €2.10. If your referral is accepted, both you and your friend will receive a €15 discount at Gorillas.
Getir
Like Instacart and Deliveroo, Getir is a German grocery delivery app that promises to save you time and effort by providing you with the items you need without requiring you to leave the house. Getir has daily deals and discounts to help you save money. Your groceries will be delivered to your door for a flat rate of €1.80, with no minimum order size required.
Business Model of Grocery Delivery Apps in Germany and How they make money
Collaboration between experts and engineers across fields is essential when building a bottom-up app like online grocery delivery apps in Germany.
Launching an online grocery delivery service is a multi-step process that calls for the knowledge and assistance of many different people. Experts in many fields such as design, development, market analysis, and business are included. It's more practical to hire a company that specializes in developing apps for grocers. You have a lot of discretion in terms of customization, onboarding support, and business strategy implementation.
Apps for Grocery Shoppers – Customer Facing
Apps for online grocery shopping are available whenever they're needed. Customers have the choice of utilizing their services either in traditional storefronts or on the company's website. Orders placed at any time of day or night can be delivered to any address within the service region, making online shopping a practical option for busy people. Users will have an easier time shopping with the many helpful features of the grocery ordering app.
Apps for Grocery Delivery Agents and Merchants
Apps from grocery stores make it easy to get your supplies to your door. With the use of features like order management (which might involve geolocation), payment and notification management (push notifications), and numerous additional benefits for delivery personnel, services like these can make deliveries more convenient for service providers and grocery store owners.
For budding business owners looking to establish grocery delivery apps in Germany, all-in-one grocery app solutions like Grocer can be a huge help. This eCommerce solution was built with the success of industry leaders like Big Basket, Amazon Pantry, Grofers, and Nature's Basket in mind.