The adoption of online prescription delivery apps in Cyprus stands out among the many promising new markets for existing firms. Without a question, the optimistic predictions for the future of prescription delivery applications have contributed to their spectacular rise to fame.
By 2028, the online pharmacy and prescription refill industry will be worth an astounding $206 billion, growing at a compound annual growth rate (CAGR) of roughly 16.8 percent from 2022 to 2027.
While competition is high in the pharmaceutical industry, businesses that take a creative approach to technology, advertising, and expansion stand a better chance of retaining their market share.
Quite a few people take advantage of prescription delivery apps in Cyprus, which make it easy to get medications shipped straight to their doors. Demand for these kinds of smartphone apps has skyrocketed during the pandemic, and it's only anticipated to increase.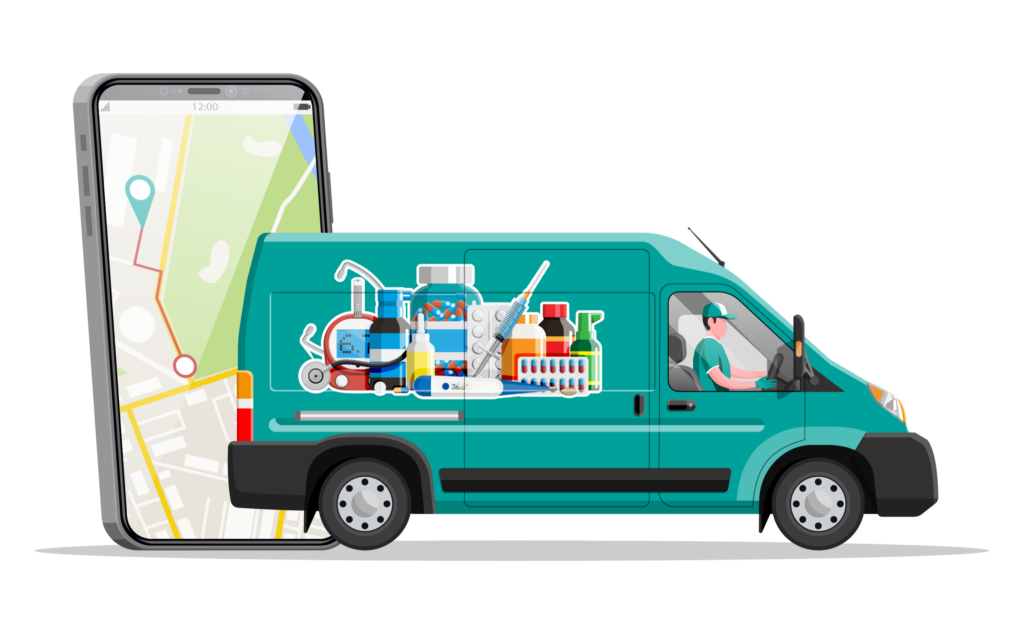 Using a prescription app has many advantages for both customers and pharmacists. If you order your medication through a mobile app, you can save time, receive access to a wider variety of prescription medications, rest easy knowing that your private details will be protected, and so on.
The Best Prescription Delivery Apps in Cyprus
Wolt
Businesses and delivery services alike can benefit from Wolt's app because it streamlines the ordering process for customers. To that end, it has developed tools including local logistics, a retail app, and banking services, and it also operates its own prescription delivery apps in Cyprus under the Wolt Market brand.
In the year 2020, enhancements were made to the Wolt app to make it possible to place prescription medicines through the app, and other changes were made to make Wolt orders as secure as possible, such as making delivery completely contactless. The early investors in Delivery Hero, including Goldman Sachs Growth Equity, invested €100 million, and the company's co-founder, Lukasz Gadowski, contributed €7.5 million.

Limassol Pharmacy
As long as the items you need are in stock, you can place an order with Limassol Pharmacy and have it delivered the next day by a collaborating courier. If any of the items you've ordered are out of stock, they will get in touch with you to discuss the specifics of canceling the order, getting a refund, or selecting a different delivery date.
Related: How To Build A Successful Online Pharmacy App?
Together, their committed staff, cutting-edge technology, and round-the-clock support ensure that their clients always have access to individualized, comprehensive pharmacy benefit management solutions.
Mefal Pharma
Mefal was established by pharmacists in the Larnaca, Ammochostos, Nicosia, and Limassol metropolitan areas. It's one of the largest pharmacies in Cyprus, and it uses cutting-edge technology to ensure that orders are fulfilled quickly and accurately 99.9 percent of the time. It delivers on a daily basis to one hundred different sites, and it does so six days a week. The 92 pharmacies that makeup Mefal's Business-to-Business (B2B) clientele are the company's primary target market.
DocMorris
You may obtain your drugs quickly, cheaply, and easily from Europe's largest online pharmacy, which also happens to be a mail-order service. When you spend more than 19 EUR at the online pharmacy DocMorris, basic shipping is free. Also, there is zero shipping or handling fee associated with using your prescription coupons. Discounts on health and wellness products are available year-round at DocMorris Pharmacy's web store.
Med24
Med24 was founded in 2005 and has since been actively serving the public. Med24 is a well-known online pharmacy that promises next-day delivery on all orders placed before midnight. Customers can also consult with a staff of qualified dietitians, cosmetologists, pharmacologists, and materials scientists. They put in long hours to ensure that customers with product questions about Med24 get answers.
Monetization and Business Model of Prescription Delivery Apps in Cyprus
In-House Prescription Delivery Apps
A pharmacy with a vast selection of medications can benefit from this layout. By creating their own prescription delivery apps in Cyprus, these companies may increase their visibility online. The most significant benefit of this advertising strategy is an increase in brand awareness.
Because of services like Med.Me, many pharmaceutical and healthcare corporations now have an outlet to market their prescription drugs. However, a big supply of medications is essential to the success of this strategy.
Pharmacy Marketplace Model
One business model involves an intermediary that connects customers with pharmacies that supply their prescriptions. These kinds of apps are used to collect prescription orders from customers and then send them to nearby pharmacies to fulfill.
Because of the nature of the business, app developers don't need to keep their workplaces stocked with medicines. Orders are taken, processed, and then forwarded to drivers in the pharmaceutical business, who are in charge of delivering the actual supplies to consumers.
Make Money with Prescription Delivery Apps in Cyprus
Profiting off on-demand prescription delivery apps in Cyprus is a realistic prospect. Here are a few recommendations:
Commissions from sellers who list their products on your platform are one potential source of revenue. A percentage of profits or a fixed rate per unit sold can be agreed upon.
Subscriptions are an alternative revenue stream that should be considered. Customers who sign up for the service have the opportunity to receive benefits such as free delivery and decreased prescription drug costs.
Most online pharmacies monetize their apps by displaying advertisements within them. Pharmaceuticals, non-traditional pharmacies, and medical gear are all good options for advertising.
Integrating this kind of functionality is a breeze when working with specialized frameworks like Med.Me, a script for online prescription delivery, and online pharmacy software. Popular programs like Netmeds, CVS Pharmacy, NowRX, Capsule Pharmacy, and 1mg all offer similar features.