Online prescription delivery apps in Denmark are becoming one of the most exciting new markets for established firms. There's no denying that this field's current prominence may be traced back to the industry's expectation of continued expansion. It is anticipated that the market for online prescription delivery and pharmacy delivery would reach $206 billion by 2028, expanding at a compound annual growth rate (CAGR) of around 16.8 percent between now and then.
The pharmacy industry is becoming increasingly competitive, but businesses are able to keep their position in the market by implementing new technology, marketing activities, and company development methods.
In Denmark, many people use prescription delivery apps to have their medications sent directly to their homes for pick up. In the midst of the pandemic, which shows symptoms of continuing to spread, there has been a considerable uptick in the demand for these mobile applications.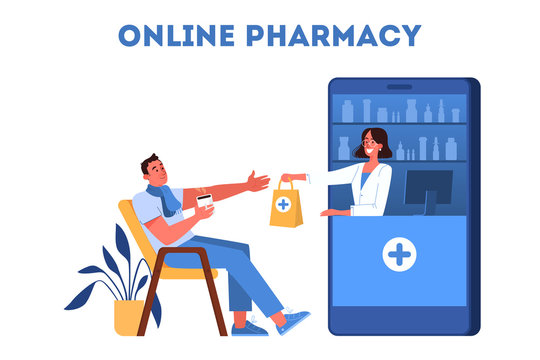 Customers and prescription drug businesses alike stand to benefit in a number of ways from the utilization of an app for the purpose of prescription distribution. These advantages include: When you order medication through a mobile app, you get a variety of benefits, such as saving time, having access to a broad selection of available prescription medicines, having your personal information protected, and a lot of other advantages.
On this page, you will find information regarding some of the most popular prescription delivery apps in Denmark.
The Best 5 Prescription Delivery Apps in Denmark
Med24
Med24.dk has been operational from the year 2005 and has been a pioneer among prescription delivery apps in Denmark. This online health store has its own logistics and warehouses in Lokken, North Jutland. Because of this, when you buy something from Med24, you will have it within twenty-four hours, which is one of the reasons why it is such a popular option among customers.
Additionally, the company employs certified pharmacoeconomists, dietitians, cosmetologists, and materialists who are more than happy to offer guidance and aid to customers. They are constantly accessible to answer questions that customers have regarding the products that Med24 sells.

Apoteka
Apoteka is one of the prescription delivery apps available in Denmark. This app assists patients throughout the entire process, from the initial selection of a product (which includes all Rx medicine currently available to consumers) to receiving the medicine with lightning speed (which also includes a personalized letter with relevant guidance specialized to the order), to full transparency into applicable reimbursements, insurance claims, and other financial matters.
Apoteka was established in Sjaelland, Denmark on 2015 and is currently one of the largest prescription delivery apps in Denmark. The startup was recently acquired by Verdane to expand its operation in the country.
Medicinkortet
The Medicinkortet app is among the prescription delivery apps in Denmark that provides you with an overview of the medication that has been prescribed to you and your children, as well as the possibility to renew the prescription online so that you do not need to call your primary care physician. On the website sundhed.dk, you can find an overview of previous medicines.
ChoiceRxDrugs
You can search for and buy the appropriate medications at Choicerxdrugs without even having to get out of the home. Choicerxdrugs evaluates medicine shelf life and storage conditions like traditional drugstores. They operate with the following core values guiding their business practices – dependability, professionalism, quality assurance of medicines and other products, timely service, and competitive pricing.
This particular online pharmacy obtains the products straight from the original manufacturers. They sell a wide variety of products, including pharmaceuticals, vitamins, ointments, and lotions, as well as generic and brand-name versions of other pharmaceutical preparations.
When you order medication with Choicerxdrugs, you have the option of having it delivered to the closest post office, which could be on the way to work or directly to the home. The time it takes to deliver an item is determined by your location, but it will typically take between 10 and 14 days.
Related: How to Build a Successful Pharmacy Delivery App?
Medicintjek
An app called Medicintjek, which simply translates to "medicine check," is capable of retrieving information in Danish pertaining to various medications. It is free to download on mobile devices such as iPhones and Android and will be made available to anyone who expresses interest in doing so.
The app gives you the ability to search for information in Danish about a product, and it also allows you to scan the barcode of a medicine package to access information in Danish about the following: Product name, Active ingredient, Indication, Recommended dose, Strength, Price (without rebate), and any risks associated with using multiple medicines together.
Products can be bookmarked in a list, and then you can check that list for information on any potential side effects of taking multiple medications at the same time.
Monetization and Business Model of Prescription Delivery Apps in Denmark
First Business Model
Large-inventory pharmacies can benefit from this arrangement. These businesses have the option of developing a pharmacy delivery app in Denmark for themselves as a means of expanding their internet presence. Strong brand recognition is this business strategy's main benefit. Solutions like Med.Me help them establish an inventory of medicines and health items from numerous brands. Even yet, this business model requires a large supply of drugs for sale.
Second Business Model
The second type of business strategy is acting as a go-between for customers and the prescription delivery apps in Denmark that fill their orders. The key functionalities of these prescription delivery applications are order aggregation and fulfillment from pharmacies that are not affiliated with the app itself.
This business model doesn't require app developers to store drugs. They are only accountable for taking the orders, processing them, and handing them on to the drivers who are responsible for delivering the pharmaceutical supplies.
Making Money Off of Online Pharmacy Prescription Delivery Services in Denmark
You can profit from on-demand prescription delivery apps in Denmark by monetizing your app. The following are some methods:
If you allow things to be sold on your platform from third-party vendors, you can generate revenue by charging those vendors a fee. You have the option of taking a cut of the total revenue or charging a fee for each individual item that is sold.
Using subscriptions as a source of money is one more possible approach for monetization that can be considered. Customers who sign up for subscriptions are often eligible for free delivery or price reductions on their prescriptions.
Placing ads in your app is another frequent way to monetize an online drug delivery service. You could market pharmaceuticals, other pharmacies, or medical supply products.
When using premade frameworks like Med.Me, which is an online prescription delivery script and online pharmacy software, integrating these functionalities is typically a simple process. These functions are available in top apps like Netmeds, CVS Pharmacy, NowRX, Capsule Pharmacy, and 1mg.