Online prescription delivery apps in France are one example of the numerous interesting new markets for established companies. Without a doubt, prescription delivery apps meteoric rise to fame has been aided by optimistic projections for their foreseeable future.
By 2028, the online pharmacy and prescription refill business will be valued an amazing $206 billion, expanding at a compound annual growth rate (CAGR) of about 16.8 percent from 2022 to 2027.
Despite fierce competition, pharmaceutical companies that think outside the box when it comes to R&D, marketing, and growth will have a higher chance of succeeding.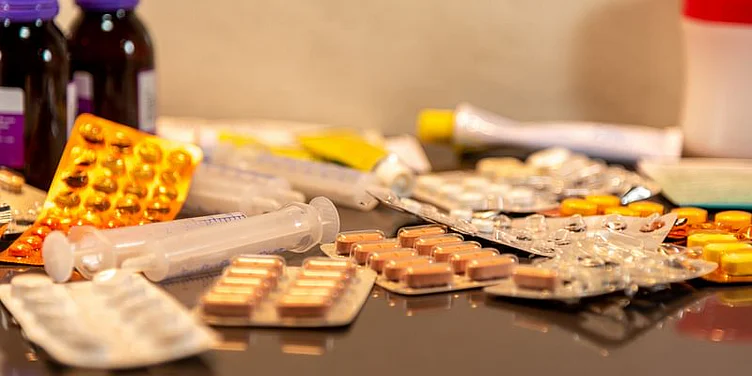 A large number of people take advantage of prescription delivery apps in France, which facilitate the convenient delivery of prescriptions to their front doors. The demand for such smartphone apps has surged during the pandemic, and it is set to increase.
Customers and pharmacists alike can benefit greatly from using prescription delivery apps in France. There are many advantages to placing your pharmaceutical purchase through a mobile app, including convenience, privacy, and access to a greater range of medications.
The Best Prescription Delivery Apps in France
The French Pharmacy
The French Pharmacy is an online retailer that specializes in selling high-quality French skincare and beauty products. The company was started by Dr. Marine Vincent, who is a French Doctor of Pharmacy. You may now shop for all of your preferred skincare, French beauty, and French prescription drug products in a single location online, just as you would in Paris.

NewPharma
Newpharma is one of the leading companies in Europe and France in the fields of healthcare, cosmetics, and online pharmacy. The company was established about 13 years ago, and it is currently present in 12 countries.
The website currently allows for the ordering of more than 1,700 different brands and 39,000 different pharmacy products at any time of day or night via the internet. The delivery will be completed in France within 48 hours for 90% of orders that are ordered before midday.
PharmaGDD
Pharma GDD, which is authorized to sell medications online and is subject to the same rigorous regulations and quality controls as all other physical and online pharmacies in France because it is registered with the National Order of Pharmacists, is able to offer medicines over the internet.
All of the medications that are available through the online pharmacy originate from legitimate pharmaceutical research facilities; they are the same as the ones that can be purchased at a conventional pharmacy; and they are obtained solely through official distribution methods. If you place your purchase before 6 o'clock in the evening, Monday through Friday, they will prepare it for you on the same day and bring it to you within 24 hours.
Wolt
The Wolt app simplifies the ordering procedure for customers, which benefits both businesses and delivery providers. Wolt is available for both iOS and Android. In order to achieve this goal, it has developed a number of tools, such as local logistics, a retail app, and financial services. Additionally, it runs its own prescription delivery apps in France under the brand name Wolt Market.
In the year 2020, modifications were made to the Wolt app that made it possible to place orders for prescription medications using the app. In addition, other adjustments were made to make Wolt orders as secure as possible, such as making delivery totally contactless.
Med24
Med24 began operations in 2005 and has been providing its clients and the general public with medical services ever since. Med24 is a well-known online pharmacy that guarantees delivery the following day for all purchases that are placed before midnight.
Dietitians, cosmetologists, pharmacologists are on staff for customers to consult with should they have any questions or concerns. They put in a lot of work to guarantee that consumers who have inquiries about Med24 products get answers to those questions.
Monetization and Business Model of Prescription Delivery Apps in France
In-House Prescription Delivery Apps
This configuration is helpful for a pharmacy that carries a wide variety of different drugs. These businesses could perhaps raise their online presence by developing their own prescription delivery apps in France. An increase in brand awareness is the most major benefit that can be gained by employing this advertising method.
Many companies in the pharmaceutical and healthcare industries now have a channel via which they can promote the prescription medications they produce thanks to services like Med.Me. However, in order for this technique to be successful, it is necessary to have a significant inventory of drugs.
Prescription Delivery Marketplace
It requires the participation of a third party who acts as a middleman between customers and the pharmacies that fill their prescriptions. Apps of this kind are used to collect prescription orders from clients and then transfer those orders to pharmacies in the user's immediate vicinity to be filled.
App developers do not have to ensure that their places of business are stocked with medical supplies because of the nature of their line of work. In the pharmaceutical industry, customers place their orders, the orders are processed, and then they are sent on to the drivers, who are the ones responsible for actually delivering the products to the end users.
Make Money with Prescription Delivery Apps in France
The potential for making a profit from on-demand prescription delivery apps in France is not out of the question. The following are some suggestions that have been made:
One potential source of revenue could come from the sellers who list their products on your platform in the form of commissions. It is possible to reach an agreement on a fixed rate per unit sold or a share of the earnings.
Subscriptions are a viable revenue option that should be thought about. Customers who sign up for the service will have the opportunity to gain benefits such as free delivery as well as reduced pricing for their prescription medications.
The vast majority of online pharmacies generate revenue from their mobile applications by displaying adverts within those applications. Advertising opportunities are plentiful in the fields of pharmaceuticals, non-traditional pharmacies, and medical equipment.
Working with specialist frameworks such as Med.Me, which is a script for online prescription delivery and online pharmacy software makes the process of integrating this kind of functionality a breeze.