One of the most intriguing new areas for well-established companies is the use of online prescription delivery apps in Norway. Certainly, the industry's optimism about the future has contributed to this field's current popularity.
By 2028, the online prescription delivery and pharmacy delivery industry is expected to reach $206 billion, growing at a compound annual growth rate (CAGR) of almost 16.8 percent from 2022 to 2027.
Companies can maintain their market share in the highly competitive pharmacy sector by adopting innovative approaches to technology, marketing, and corporate growth. Prescription delivery apps are widely used in Norway, allowing patients to have their medicines shipped straight to their doors. During the pandemic, which seems likely to keep spreading, there has been a big rise in the number of people who want these mobile apps.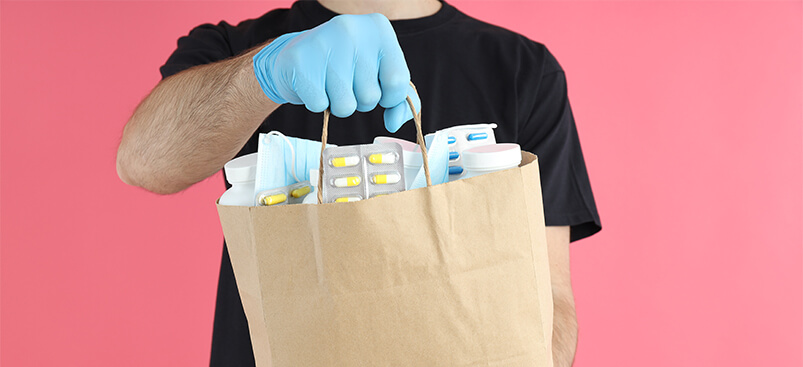 Using an app to distribute prescriptions has multiple advantages for both customers and pharmaceutical companies. There are several benefits to ordering medication through a mobile app, like the ability to save time, gain access to a wide variety of prescription medicines, be assured that your private information will be kept secure, and so on.
A number of the most well-liked prescription delivery apps in Norway are discussed below.
Best Prescription Delivery Apps in Norway
Apoteka
Apps like Apoteka are available in Norway to help you get your prescriptions. From the first product selection (which includes every Rx drug now available to consumers) to the lightning-fast delivery (with a personalized letter with necessary guidance tailored to the purchase) to full transparency into eligible refunds, insurance claims, and other financial matters, this app is there to help patients every step of the way.
Apoteka, founded in Sjaelland, Denmark in 2015, is now one of the most popular prescription delivery apps in Norway. Verdane recently acquired the startup with the intention of expanding its operations there.

Farmasiet
When it comes to Norwegian online pharmacies, nobody does business better than Farmasiet. Early in 2020, Farmasiet established itself as a crucial enabler of safer distribution of prescription and pharmaceutical items, drawing a sizable share of Norwegians seeking social distancing and, in particular, those aged 55 and up.
The authorities were open to learning about the parts of Farmasiet's company that might pose a challenge to established methods because they had helped ensure the timely and secure distribution of lifesaving medications to those most in danger from COVID-19.
PharmaShopi
PharmaShopi is among the online prescription delivery apps in Norway that provides timely delivery of prescription medicines at a nominal fee. The company was established in France but has expanded its service in Norway for the past few years.
All you need is a valid prescription that you can upload to their prescription preparation service and start enjoying the benefits right away. When your prescription is ready, you can pick it up at the pharmacy or have it delivered to your house.
Med24
With a history stretching back to 2005, Med24.no is now live and serving its users. Logistics and storage are handled in-house in Norway by this Denmark-based company, allowing them to provide competitive prices on health products online. This is one of the many reasons why Med24 is so well-liked by its clientele; when you make a purchase, you will receive your item within twenty-four hours.
Related: How To Build A Successful Online Pharmacy App?
The business also has on staff registered dietitians, cosmetologists, pharmacoeconomists, and materialists who are happy to help clients. They are available at all hours to respond to consumer inquiries about Med24's inventory.
ChoiceRxDrugs
Similar to conventional pharmacies, ChoiceRxdrugs considers the stability and longevity of a drug's supply. Their business is based on the principles of reliability, professionalism, product quality assurance (both pharmaceutical and otherwise), prompt service, and reasonable prices.
Products at this online prescription delivery apps in Norway are acquired directly from the suppliers. They offer both generic and brand-name alternatives to various medications, vitamins, ointments, lotions, and a large range of other products.
You can choose to have your medication delivered to the nearest post office, which could be on the way to work or right at home when you place an order with ChoiceRxdrugs. Delivery times range from 10 days to about 14 days, depending on where you live.
Monetization and Business Model of Prescription Delivery Apps in Norway
In-House Prescription Delivery
This setup is useful for pharmacies with a lot of stock. When looking to increase their online visibility, these companies can create their own pharmacy delivery apps in Norway. The key benefit of this business strategy is increased brand recognition.
With the support of solutions like Med.Me, they are able to stock their shelves with products from a wide variety of pharmaceutical and health care manufacturers. However, a substantial stock of pharmaceuticals for sale is still necessary for this economic strategy.
Prescription Delivery Marketplace
A second business tactic involves mediating between customers and the pharmacies that fill their prescriptions. Most importantly, these apps for delivering prescriptions aggregate orders from customers and have independent pharmacies fulfill them.
Due to the nature of this industry, it is not necessary for app developers to keep medications on-premises. Orders are taken, processed, and passed on to drivers, who are ultimately in charge of delivering the pharmaceutical products.
Make Money with Prescription Delivery Apps in Norway
Monetizing on-demand prescription delivery apps in Norway is a viable option. You can try these tips:
You can make money by charging third-party sellers a fee to list their products on your site. You can either take a percentage of the gross profit or set a flat rate per unit sold.
Subscriptions are another viable option for monetization that should be thought about. Signing up for a membership can get you free shipping or a discount on your prescriptions.
One common strategy for making money off of a web-based pharmacy is to include advertising within the app itself. You could promote medicines, competing pharmacies, or medical equipment.
Integrating such features is often straightforward when working with prepackaged frameworks like Med.Me, which is a script for online prescription delivery and online pharmacy software. Such features may be found in popular apps like Netmeds, CVS Pharmacy, NowRX, Capsule Pharmacy, and 1mg.