Prescription delivery services market is expected to experience a significant growth of 17.8% CAGR from 2022 to 2030.
Rising chronic ailments, presence of e-solutions and home based treatments has increased the prospects of prescription delivery services market.
In 2021, the global pharmaceutical market was valued at $1.24 trillion. Post pandemic people evaded going to pharmacies to buy their medicines or any medical supplies for fear of infection. This cynical attitude towards physical pharmacies resulted in a significant scale of online prescription delivery services.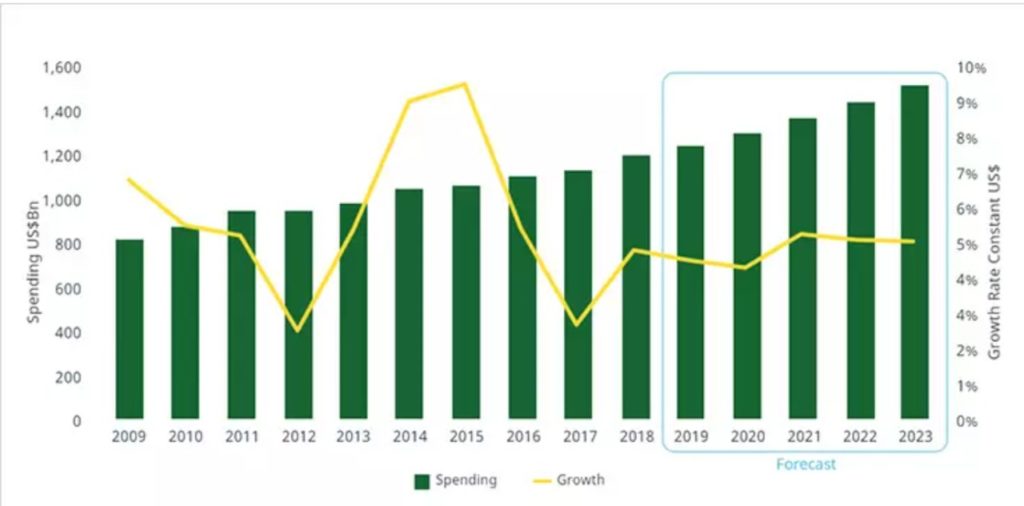 The prescription delivery websites in UK are likely to earn immensely in revenue and subscription due to this development. In this blog we provide you an in-depth analysis of the top prescription delivery websites in UK and top pharmacy apps in UK. These top online pharmacy apps will help you gain knowledge if you intend to build your own prescription website or launch a pharmacy app in the UK.
We shall look at the business and revenue models of some of the most popular pharmacy apps in the UK. We shall also provide their user-friendliness, user ratings, and provide brief reviews of these prescription delivery websites.
Top Prescription Delivery Websites & Apps
Statista reported that in 2021 a revenue of $175 million was generated by Pharmacy2u.co.uk. Pharmacy2u is the top prescription delivery website with the highest net ecommerce sales in the UK. This is followed by Lloydspharmacy.com with $140 million. Chemist-4-u.com ranks third in the list with a revenue generation of $77 million.
With $42 million in 2021, Ukmeds.co.uk is the fourth largest pharmacy online store in the UK. Let us see in detail how these prescription delivery websites in UK and apps operate.

Pharmacy2U is a UK-based online prescription delivery website. It has been ranked as the top prescription delivery websites in UK. With the Pharmacy2U app, you can schedule your pharmacy requirements as per you needs. You can set reminders so that you don't run out of medication. You can also schedule your delivery as per your convenience.
You can set instruction for delivery in the letterbox or you can confirm a safe location for delivery in case you are not available.
Pharmacy2U has been involved in the management of electronic prescription transfer in the UK. Patients' NHS repeat prescriptions are managed by them. Daniel Lee, a pharmacist, founded Pharmacy2U in November 1999. It went on sale to the general public in June 2000. Their monetization strategies include commission fees, subscriptions, tele-consultations, ads, and healthcare commission.
The website LloydsPharmacy.com is one among the top pharmacy websites in the UK. Founded in 1973, it is owned by the Aurelius Group. It was formerly owned by the American McKesson Corporation. McKesson Corp have been in the pharmacy business for over four decades.
You can also get online health advice from expert doctors who are available 24×7. Lloyds app ensures that your medicine schedule is not missed with customizable reminders to take each dose. They offer free delivery on orders over 35 pounds.
Lloyds app has been downloaded more than 500,000 times. The website's shop by category section makes it simple to find anything. Subscriptions, commission, and consultation are the main monetizing strategies followed by this business.
Founded in the year 2004, Chemist 4 U is a licensed UK online pharmacy as well as a leading independent pharmacy in the country. The website, which offered pharmaceutical services to online and mail-order customers, was launched in 2006. The app is simple to set up, easily register and connect to your doctor with the NHS login. This ensures a safe and secure manner of verifying your identity.
Ordering prescriptions is modest after connecting to your doctor. Your repeat prescriptions will be displayed in the app by which you can view as well as order prescriptions at the press of a button.
Their goal is to be a low-cost healthcare provider by offering a diverse range of products at reasonable prices. Chemist 4 U is an NHS pharmacy offering NHS services. They collaborate with GPs across England to dispense prescriptions to patients at no extra cost. They also offer services based on private prescriptions.
You no longer have to wait for a GP appointment or stand in line at a pharmacy. Founded in 2015, by David Wightwick, UKMeds has risen into a leading prescription delivery websites in UK. Online pharmacies as these stock a wide range of branded and non-branded products. This ensures you value for money when you purchase through the App.
Most of the UK online pharmacies offers quick delivery and a straightforward payment procedure to reduce the hassle out of shopping.
UK Meds is a registered pharmacy website with an excellent team that provides services that make purchasing medications simple and easy. The business is centered on a commission model and a significant revenue is generated from consultation, ads and subscriptions as well.

Direct Pharmacy is one among the top pharmacy marketplace website in the UK. You get GSL products, personal care products, pet care products, and much more.
The pharmacy store's USP is the accumulation of reward points through regular purchases and the availability of various delivery methods for quick service. It offers exciting deals and offers on medicines and other variety of pet care, personal care products that it offers.
Benefits Of Launching A Similar Business
Prescription delivery websites have numerous advantages. During the Covid-19 pandemic, many of these pharmacy delivery services profited immensely as the lockdown curtailed people from moving around. Due to the imposed lockdowns people were largely dependent on online delivery services.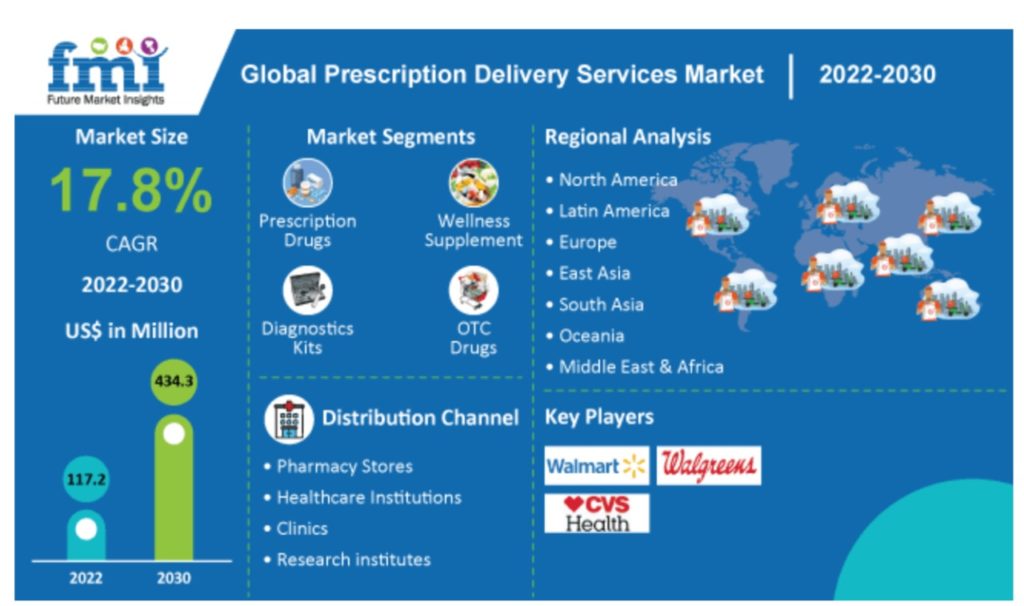 This has proven beneficial to entrepreneurs who have invested in this niche. A few pros of launching a similar business are:
Profitability
Humane work
Payment options and real-time tracking
Reports, Analytics, and the Admin Panel
A Digital Marketing Platform
Gaining More Customers
 Improved Competitive Ability
A Recognizable Corporate Brand
Non-stop Business Development
Improved Patient Care
Conclusion: Prescription Delivery Websites In UK
Future Market Insights' projects, pharmacy stores hold a substantial share of 65% in 2021 within the global market. Are you looking to ride the pharmacy business opportunity wave? Read more about Prescription Delivery Websites.
In UK and learn how to start an online pharmacy store and connect with Med.me. What's Med.me?  Med.me software provides on-demand pharmacy app development solutions to pharmacy store owners and entrepreneurs looking to foray into the online pharmacy business.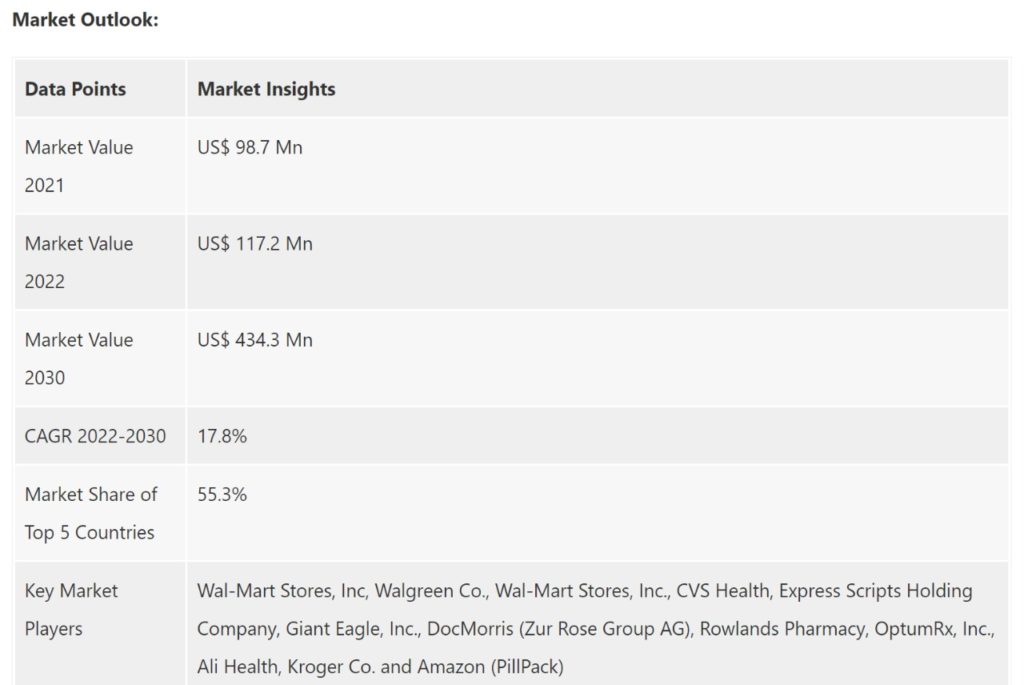 Using our pharmacy store software, you can create a comprehensive inventory of medicines and healthcare products from various brands. Our online medicine delivery script is among the best medical store management software for entrepreneurs available.
Our software been designed specifically for the healthcare industry to provide solutions and to make physicians, pharmacists, hospitals, and patients' practices easier.
This market has great potential in the days to come, so if you wish to invest in the prescription delivery business, try Med.me, your one-stop solution for a pharmacy delivery app.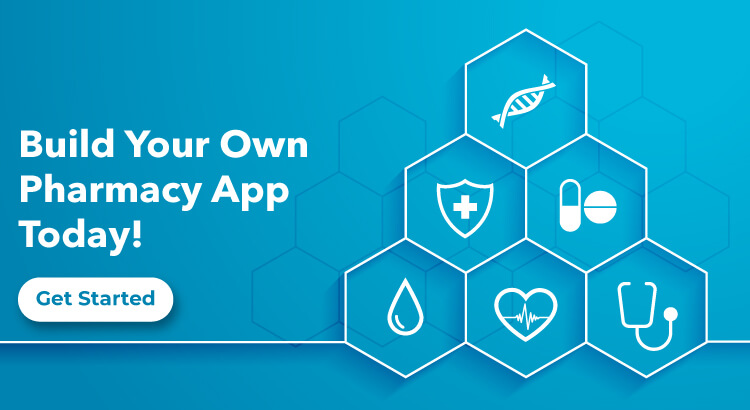 After an Engineering degree and a Diploma in Management I devoted 16+ years working in the automotive industry. My innate skill and extreme passionate in writing, encouraged me to adopt it up as my profession. I have been writing for more than 10+ years in the software industry. The 400+ blogs I published are informative, exhaustive and interesting to a professional and causal reader.