Revenue in the grocery delivery segment is expected to reach $627.3B this year. With a CAGR (2023-27) of 16.1%, the projected market volume is $1140B by 2027. The average revenue per user (ARPU) in this segment is projected to touch $449 this year and the number of users 1,995M.
Entrepreneurs looking to make inroads into the thriving grocery delivery market will find this blog on grocery delivery apps in San Francisco informative to assist them launch an app.
The grocery delivery market in San Francisco is a rapidly growing driven by factors such as increasing popularity of online shopping, the growing number of working professionals, and the increasing demand for convenience.
Grocery Delivery Apps In San Francisco
Consumers demand convenience, and the delivery industry has delivered as promised. User penetration in the grocery delivery domain is 18.2%. With the rise of smartphones and on-demand services, consumers are turning to grocery delivery apps for their daily essentials and to save time.
---
Instacart
| | |
| --- | --- |
| Founders | Max Mullen, Apoorva Mehta, and Brandon Leonardo. |
| Total Funding | $2.9B |
| Launched On & Headquartered | 2012 ; San Francisco – California |
| Business Model | Revenue is generated through delivery fees, service fees, and markup on the products. It also has a subscription service. |
Instacart is considered to be among the top grocery delivery apps in San Francisco. Instacart partners with various local grocery stores, enabling users to order groceries from their favourite stores and have them delivered to their doorstep.
Instacart offers same-day delivery and has a user-friendly interface. The app allows customisation, including special instructions to be passed on to shoppers.
Entrepreneurs can leverage the Instacart platform by partnering with local grocery stores and offer a seamless shopping experience to customers.

Unique Selling Proposition
Same-day delivery
Wide Selection
Personal Shoppers
Instacart Express
Integration with Local Stores
---
FreshDirect 
| | |
| --- | --- |
| Founders: | Jason Ackerman, Joe Fedele |
| Total Funding: | $280M |
| Launched On & Headquartered | 2002 ; New York |
| Business Model | It follows just-in-time inventory model, reducing excess inventory and ensuring that products are sourced and stocked based on demand. |
This American online grocery delivery service specialises in delivering fresh meat, seafood, and groceries directly to customer locations. They also provide subscription programs, like DeliveryPass, that allows unlimited free deliveries for a monthly or an annual fee.
FreshDirect grocery delivery focuses on delivering fresh and high-quality products to customers that comprise of a vast selection of organic produce, artisanal products, and prepared meals.
Entrepreneurs can explore partnerships with local farms and food suppliers to provide customers with fresh and locally sourced products through the FreshDirect platform.
Unique Selling Proposition
Customisation
Just-in-Time inventory management
Sustainability initiatives
Importance towards food safety and quality assurance
Extensive product selection
---
Amazon Fresh
| | |
| --- | --- |
| Founder | Jeff Bezos |
| Total Funding | $8.1B |
| Launched On & Headquartered | 2007 ; Seattle – Washington |
| Business Model | Subscription Model |
Amazon Fresh provides a vast selection of groceries and delivers them to your doorstep, often with same-day delivery options.
Amazon Fresh is part of the Amazon ecosystem offering grocery delivery services. With a wide range of products, competitive prices, and fast delivery, Amazon Fresh has become a pertinent choice for many.
Entrepreneurs can tap into the vast customer base of Amazon and partner with them to provide grocery delivery services. This opens doors to extensive resources and exposure to a larger audience. 
Unique Selling Proposition
Integration with Amazon Prime
Fast Delivery
Whole Foods Integration
Extensive Product Selection
Prime Savings
Delivery Flexibility
Seamless Online Shopping Experience
Cross-selling and Upselling
---
Shipt
| | |
| --- | --- |
| Founder | Bill Smith |
| Total Funding | $65.2M |
| Launched On & Headquartered | 2014 ; Birmingham – Alabama |
| Business Model | Membership-based Platform that enables unlimited deliveries. |
This grocery delivery service collaborates with various supermarkets and retailers to provide delivery services.
Shipt is an app-based grocery delivery service that provides same-day delivery from various retailers across San Francisco. Customers can choose their favourite stores and have a personal shopper handpick items.
Entrepreneurs, partnering with Shipt can tap into their existing infrastructure and reach customers who prefer a personalised shopping experience.
Unique Selling Proposition
Convenient On-Demand Delivery
Extensive Retailer Network
Personal Shopper Experience
Customisation and Special Requests
Flexibility and Scheduling
Membership Benefits
Reliable and Timely Delivery
Customer Support
---
Postmates
| | |
| --- | --- |
| Founders | Bastian Lehmann, Sam Street, Sean Plaice |
| Total Funding | $763M |
| Launched On & Headquartered | 2011 ; San Francisco – California |
| Business Model | Subscription service called Postmates Unlimited, Gig Economy Workforce |
Postmates offers grocery delivery services in San Francisco apart from food delivery. It collaborates with local grocery stores and delivers groceries to your location.
Although primarily known for its food delivery service, Postmates also delivers grocery in San Francisco. With its vast network of couriers, Postmates delivers groceries from local stores to customer quickly.
As an entrepreneur, you can leverage Postmates' extensive delivery network and establish partnerships with local grocery stores to provide seamless delivery services to customers.
Unique Selling Proposition
Versatile Delivery Options
Delivery from Anywhere
Real-Time Tracking and Transparency
Wide Network of Partnerships
Customised Delivery Experience
Delivery from Multiple Locations
Delivery Fee Structure
Promotions and Discounts
---
Boxed
| | |
| --- | --- |
| Founder | Christopher Cheung |
| Total funding | $365.9M |
| Launched On & Headquartered | 2013 ; New York |
| Business Model | Membership Program called "Boxed Up" |
This online grocery delivery service delivers bulk items, household essentials, and groceries. Generally, Boxed ships orders within one business day through Boxed Express.
Select the same-day delivery option if it's available. While normal shipping orders could take 3-4 business days. The orders are delivered by carriers like UPS or FedEx.
A Boxed shopper fulfils orders in stores and delivers them. Their prices are pretty competitive and they have an extensive delivery schedule to multiple locations, including San Francisco.
Unique Selling Proposition
Bulk Buying Convenience
Wholesale Prices
Membership Benefits
Mobile and Web Accessibility
Private Label Products
Customer Support
Personalised Recommendations
---
Misfits Market
| | |
| --- | --- |
| Founder | Abhi Ramesh |
| Total Funding | $526.5M |
| Launched On & Headquartered | 2018 ; Pennsauken – New Jersey |
| Business Model | Subscription-Based Model |
Misfits market provides fresh organic produce, sustainably sourced pantry staples, and other grocery products to your doorstep. And this gives them a standing among the top grocery delivery apps in San Francisco.
Misfits market ensures affordable, high-quality food accessible to the general population and works to reduce food wastage. They also work directly with farmers & food producers to source high-quality meats, seafood, plant-based proteins, organic produce, and dairy products.
Misfits market also source pantry staples, wine, and other groceries that might otherwise be dumped and deliver them to you at up to 40% off grocery store prices.
Unique Selling Proposition
Reduce Food Waste
Affordable Organic and Conventional Options
Customisable Subscription
Expanded Product Range
Commitment to Sustainability
Philanthropic Initiatives
---
Walmart Grocery
| | |
| --- | --- |
| Founders | Sam Walton, Bud Walton |
| Total funding |  $5B |
| Launched On & Headquartered | 1962 ; Bentonville – Arkansas |
| Business Model | Variety of products at competitive prices, efficient supply chain management, and sustainability initiatives. |
Founded in 1962 with headquarters in Bentonville, Arkansas, United States, Walmart grocery delivers grocery to customers. Their professionalism places them among the top grocery delivery apps in San Francisco.
They offer a variety of groceries, including fresh produce, pantry staples, and household items, with convenient delivery options.
You can shop for groceries and household essentials online and opt for grocery pickup. Walmart Grocery will pack your order and have it ready when you arrive.
Unique Selling Proposition
Everyday Low Prices
Broad Product Assortment
Physical Store Network
E-commerce Integration
Private Label Brands
Customer Service
Global Presence
One-Stop Shopping
---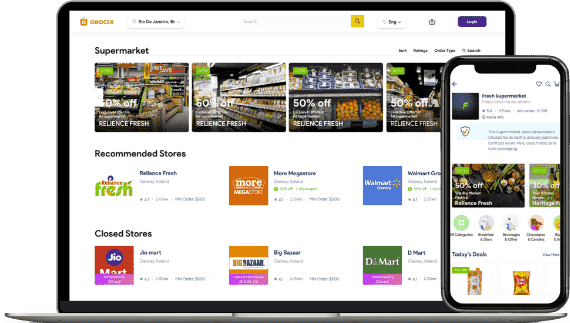 Conclusion: Grocery Delivery Apps In San Francisco  
To foray into the grocery delivery industry carefully study the top players and their offerings. By clearly understanding the popular apps like Instacart, FreshDirect, Amazon Fresh, and Postmates, entrepreneurs can decide on the features they can include in their solution.
Focus on customer preferences, local partnerships, and service quality to differentiate your business and succeed in this competitive landscape.
We offer – Grocer, a grocery delivery software, which is a one-stop solution for businesses and entrepreneurs aiming to enter this business. Inspired by the big players – BigBasket , Amazon Pantry, Grofers & Nature's Basket, our grocery delivery solution is a perfect answer in the delivery domain.
After an Engineering degree and a Diploma in Management I devoted 16+ years working in the automotive industry. My innate skill and extreme passionate in writing, encouraged me to adopt it up as my profession. I have been writing for more than 10+ years in the software industry. The 400+ blogs I published are informative, exhaustive and interesting to a professional and causal reader.