A car break-down is any motorist worst nightmare.
Now he requires help to get it either fixed or towed to a repair facility. But how does anybody go about contacting a towing service provider? The stranded motorist can search for towing/roadside assistance services. But getting a number to reach the service without too many details is a difficult scenario and he is fishing in the dark.
But instead the motorist can reach for his smartphone and search for a "Towing Apps Like Uber or Roadside Assistance App". The app would provide all necessary information and the motorist has the option to choose exactly what he needs. He can provide his location and find out how much it would cost for the service. Once he confirms the service requirement, the estimated time for the tow truck to reach is provided and details of the service provider.
Mobile technology and the rise of on demand app solution has alleviated a difficult situation. Tow trucks or roadside assistance is available anytime and anywhere on-demand for customers.
What is Uber for Tow Trucks? How it helps to increase profits?
Uber for tow trucks app is a platform that ensures tow truck owners or companies offering towing services get an opportunity to display their services and secure business. Customers can download the app and use it effectively to engage with towing services.
The app would display time required to reach them and the costing.
The Uber for tow trucks offer intuitive modules that provide the best support for customers and aids your business process. Uber for tow trucks equips businesses to expand along with functionalities that support it along with cloud assist for business processes.
Top Towing Apps Like Uber & Uber for tow trucks around the world
Features Of The Uber For Roadside Assistance App
Real-Time Tracking With GPS
Track the agent or vehicle journey in real-time with unified GPS to check the status
User can view the agent arriving to the location or even while the vehicle is being towed away
Truck drivers can use the GPS to check out the best navigation to the client location
Define Zones
Admin can check various zones available and using a dashboard disable service in specific regions
Admin can set a pricing strategy with a base fare for zones and categorize them
A service radius can be set using geo-fencing wherein a particular agent can provide their services
Call Screening
Uber for tow trucks app provides secure calling feature between clients and drivers
Clients can call the driver directly with the call masking kicking in and ensuring the privacy of their contact details
Or if comfortable the client can chat with the in-app provision to discuss and resolve queries
Analyze Earnings
Uber for tow trucks ensures admins view earning details. They can also export the same for offline use.
The agent/business can analyze the earning details in the app on daily, weekly, and monthly intervals
Joint owners of businesses can check out earnings at regular intervals
Manage Fleets
Admin can manage all the vehicles that are registered with them and view details of all individuals
Admin can define different types of tow trucks and categorize them
Admin can store driver details and vehicle maintenance information for customers to assign rating
Cloud Support
The Uber for roadside assistance is cross-platform software that provides amazing user experience
Data can be stored and shared across all modules and devices in a smooth and synchronized manner
Therefore it enables users to access their account and request services from any of them with cloud support
White Label Provision
Our white-label tow trucks software solution can be personalized as per your need
Edit the app theme, design, color combination, assign a name or logo and market it as your product
System admin has rights to enable or disable certain features as per their liking
Track Booking
Admin can track bookings and view its real-time status
Any updates by the service provider generates notifications for the user as well as updates the service status
Admin can track the entire visit of a towing agent and check service status in real-time until its completion
Working of Uber for tow trucks/roadside assistance app
Registration

(one-time or optional)
Customer can register on the app using an email address or phone number or via social login

Service selection

Customer can opt for the service he needs from a list of options provided such as towing, battery replacement, tire repair, accident damage, etc.

Share location

Customer can share his location with the towing service provider.

Share vehicle info

Customer also provides vehicle information such as make, model and registration number. This is for the service provider to gear himself up for the job.

Service fulfilment

After the towing service provider reaches the client's vehicle, the vehicle is either repaired or then towed to a service centre.
Features in Towing App Like Uber/roadside assistance software
An on-demand tow truck/roadside assistance service business consists of three key stakeholders.
The customer– Needs assistance
The service provider/tow truck driver– Provides assistance
The business admin / towing company owner– Manages the show
Let us check out basic features of each of modules.
Tow truck/roadside assistance app features
Easy Onboarding

Simple registration gets you started with the app – email, phone number or social login.

Service list

Customers are provided with a list of service options available such as towing service, battery repair, tire replacement, etc. The service options would depend on each service provider and their offerings.

Location sharing

Customers would have to share their vehicle's location so that the service provider can find your vehicle.

Add vehicles

Customers can add include all vehicles owned by them in their profile. This information would help the service provider to arrive at the location armed with necessary tools.

Cost information

Customers are provided with the details about the service charges based on the work involved.

Real-time notifications

Customers get notifications and regular updates via push and SMS channels about the service status.

Seamless payments

Customers can pay without any hassle for the services rendered to them. Multiple payment modes are available such as cash, card, and wallets.

Reviews & ratings

Reviews and ratings ensures that users are able to share their experience and provide necessary feedback to improve the service as well as encourage other clients to use the service. Feedback mechanism helps to enhance the quality of the service.

SOS panic button

A panic button is placed on the tow truck app in a prominent location. Customers can use it in case of any emergency. An SOS signal will be transmitted to concerned authorities.
Tow truck driver/service provider app features
Easy login

As in the customer app, tow truck driver app also needs registration and and sign-in.

Real-time requests

Towing requests are relayed to service providers in real-time via the app. The provider can either accept or reject a call within a given timeframe.

Availability status

The app has an 'Availability Toggle' whereby the service provider can decide to either be present online to receive service requests.

Job details

Drivers receive the vehicle location, contact details and other relevant information after accepting a request.

Built-in navigation

There is in-app Google Maps provided for service providers to use and reach the customer location quickly.

Collect payments

After the job is completed, an invoice is raised that is visible on the service providers app screen that is titled as "collect payment". The client can pay online or using other means as provided in the app.

Driver/service provider dashboard

An overview of both completed services, upcoming requests, feedback information, earnings information and more.
Uber for tow trucks admin panel
Secure login

2-factor authentication so as to login securely into the admin dashboard.

Dashboard

A bird's eye view of the towing business operations with key metrics, analytics and highlights.

Tow trucks/fleet management

Admin can add, manage and track their entire fleet of tow trucks on a real-time map.

Driver/service provider management

Add and manage towing / service professionals who are part of the network. Keep an eye on their schedules, payments, feedback and more.

Customer management

Provide customers with all necessary information such as number of service providers, details of work that can be done, request status, feedback mechanism, payments received and more.

Promotions management

Towing businesses have the option to send promo codes and coupons through SMS, push notifications and email to towing service app users.

Rate and pricing management

Rates for services offered by a towing business to be available on the app. Manage pricing strategy based on service type, pickup, costing as per distance, time taken, and other options.

Reporting & analytics

Towing businesses can collate useful business insights based on the app usage patterns and improve roadside assistance services being offered.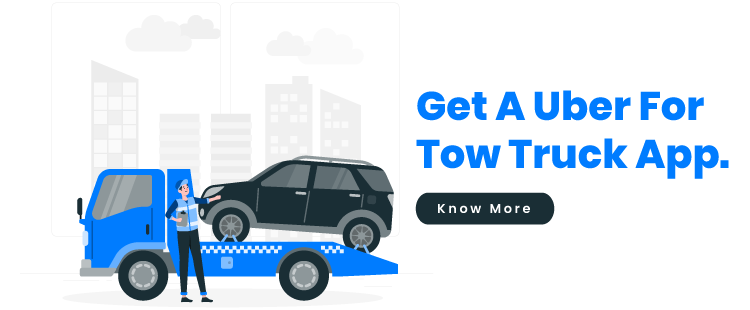 With an Engineering degree and a Diploma in Management under my belt, I worked for 16+ years in the automotive industry with various manufacturers. But my passion for writing was overwhelming, which I turned into a career. I have been writing for more than 10+ years and mostly in the IT domain. I am sure you will find the 300+ published blogs of mine in here informative, exhaustive and interesting.