Trends in the buying and selling mobile app industry suggests that it has revolutionised commerce by banking on mobile applications and online platforms. A mobile-first approach is crucial as smartphones dominate the market and apps provide an easy on-the-go browsing, buying, and selling experience.
Trends also include integration of Artificial Intelligence (AI) and Machine Learning (ML) that enhances user experience, offers personalised recommendations, identifies trends, and automates processes like inventory management and pricing. The global AI market is expected to reach $250,000 by 2023.
Growing Demand And Market Expansion
The buying and selling mobile app industry's growth is being driven by a number of factors, such as the popularity of mobile devices, growing number of online shoppers, and the increasing demand for convenience.
Increase In Smartphone Penetration & Internet Accessibility
There are 6.4 billion smartphone users worldwide, that's 80% of the world's population.
Widespread ownership of smartphones and improved internet accessibility have greatly impacted the buying and selling mobile app industry and expanded the user base for these apps.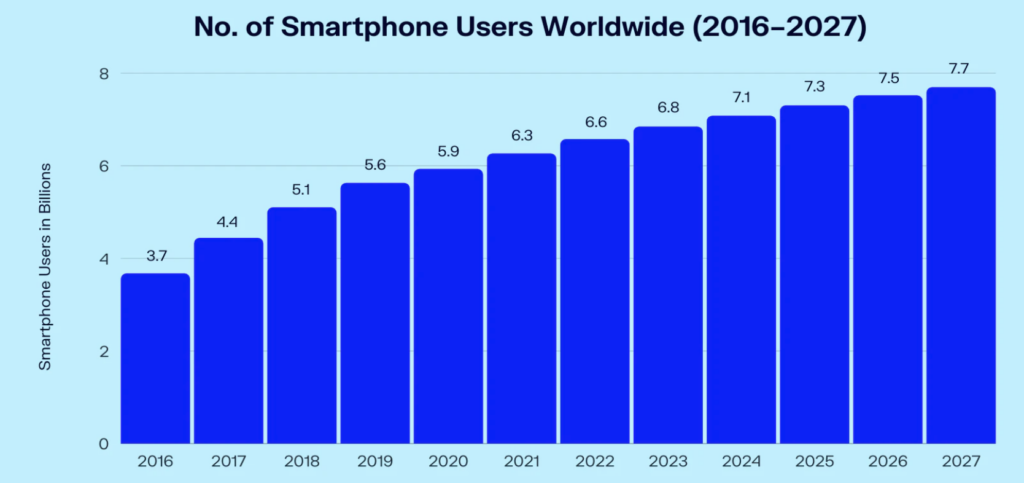 Rise Of E-Commerce And Online Marketplaces
In 2022 the global e-commerce market breached $4.9 trillion. The rise of e-commerce and online marketplaces have benefitted the buying and selling mobile app industry.
Consumers shift towards online shopping due to its convenience, wider product selection, and competitive pricing. This has in turn created a thriving market for buying and selling apps connecting buyers and sellers.
Success stories of popular e-commerce platforms like Amazon, Alibaba, and eBay highlight the potential and profitability of the online marketplace model. These platforms have attracted a large user base and transformed global buying and selling practices.
Mobile-First Approach
The growth of mobile commerce is being driven by the increasing popularity of smartphones, tablets and availability of high-speed internet.
In 2022, mobile commerce revenue touched $431 billion in the U.S. Mobile commerce market is expected to reach $3.5 trillion this year.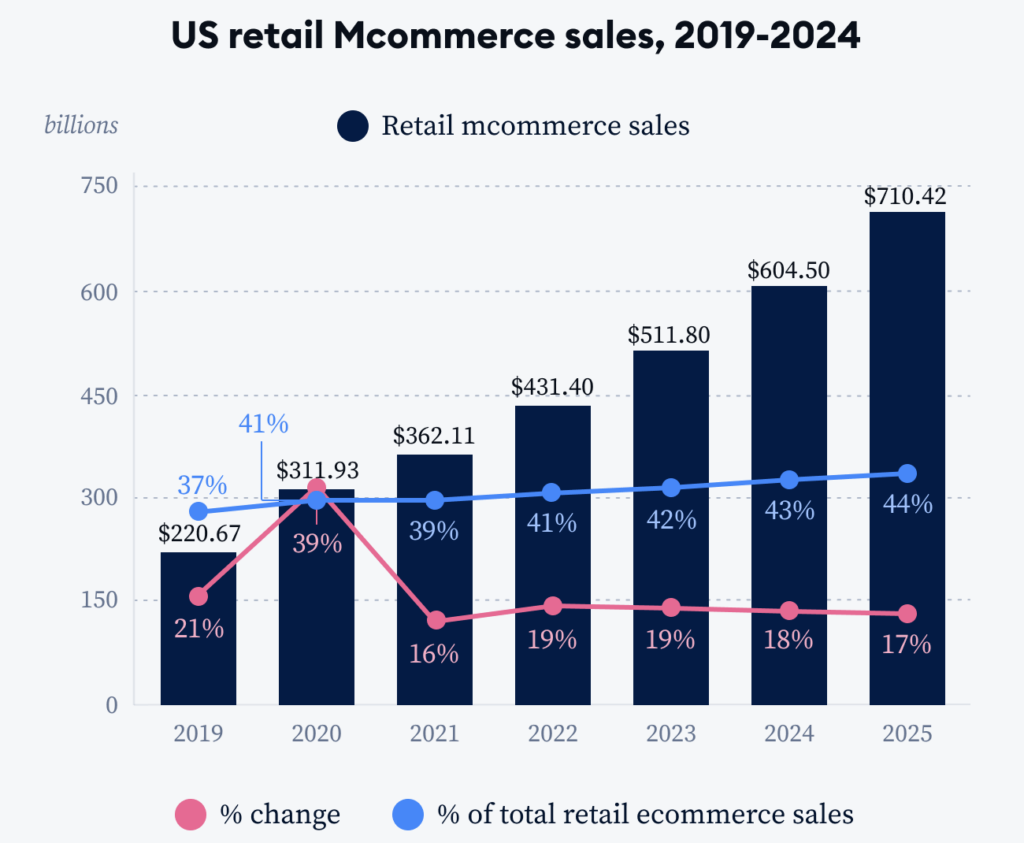 Importance Of Mobile Apps In The Buying & Selling Industry
Mobile apps are crucial to engage with the target audience as it offers a seamless and convenient experience. Consumers rely on smartphones for online shopping, which has in turn benefitted the buying and selling industry.
Smartphones contain features like push notifications, location services, and camera integration, enhancing the overall user experience compared to websites.
Enhanced User Experience And Personalisation
Mobile apps are integrating AI and ML to enhance user experiences. These technologies analyse user data to provide personalised recommendations and targeted promotions, to create a tailored shopping experience.
Mobile apps offer customisation features that allow users to personalise their settings, save favourite products, and customise the app's interface.
Use Of AI – Artificial Intelligence & ML – Machine Learning
AI and ML are being increasingly used in the buying and selling apps industry to improve customer experience. The global ML market size is valued $26.03 billion in 2023 and is expected to exhibit a CAGR of 36.2% till 2030 and grow to $225.9 billion.
Leveraging AI and ML help gather insights into customer behaviour so as to optimise their offerings and marketing strategies, to enhance customer engagement, leading to higher satisfaction and conversion rates.
For example, AI can be used to personalise product recommendations, while ML can be used to detect fraud and improve search results.
Integration Of Augmented Reality (AR)
AR Technology And Its Impact On Buying And Selling Apps
AR product experiences are 180% more engaging and by year end, there will be 1.4 billion AR device users. In buying and selling apps, AR enables users to visualise products in their environs using smartphones or wearables.
Retail is expected to account for 8% of AR use by year end. AR transforms the buying experience by allowing virtual try-ons, visualising furniture or artwork placement, and more. It bridges online shopping with the physical world, providing customers a better understanding of products.
Benefits For Entrepreneurs And Businesses
Integrating AR into buying and selling apps boosts customer engagement and interaction. AR experiences captivate users, leading to more time spent exploring products to build a stronger connection with the brand that translates into higher conversion rates and greater customer satisfaction.
AR enables realistic and personalised product visualisation and this visual immersion builds customer confidence, reducing uncertainty and returns. Informed purchasing decisions result in increased customer satisfaction and loyalty.
Shopify states AR ads outperform traditional display ads, inducing 84% higher conversion rates.
AR opens new possibilities for advertising and marketing within buying and selling apps. Interactive AR ads, virtual try-on experiences, and gamified campaigns increase brand awareness and customer engagement, fostering a deeper connection between businesses and their target audience.
Social Commerce & Influencer Marketing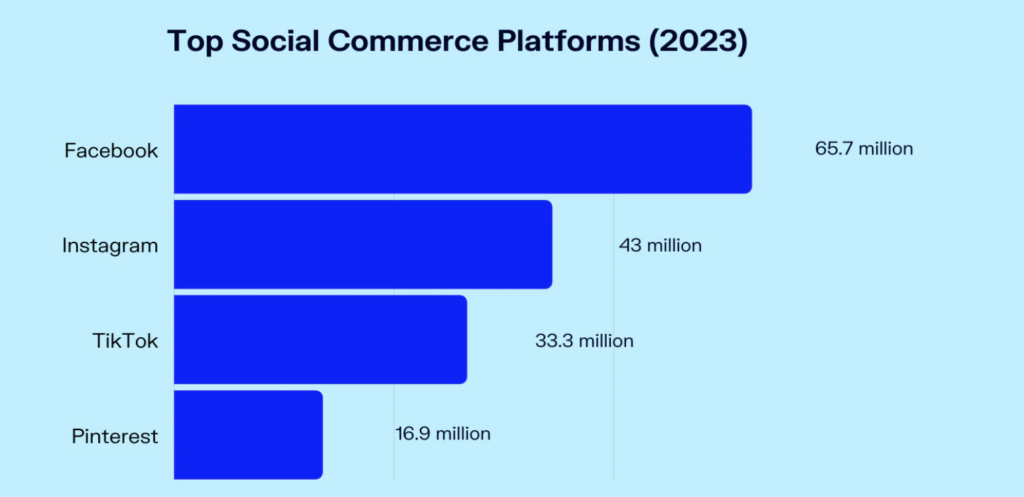 The Rise Of Social Commerce
Social commerce allows users to buy and sell products directly on social media platforms. Social commerce market size is expected to hit $1.3 trillion this year, which is a 30.7% rise from the previous year, when it amounted to $958 billion.
Platforms such as Facebook, Instagram, and Pinterest have evolved into powerful channels for buying and selling, offering features that enable businesses and individuals to showcase and sell products to their followers.
Social media platforms are increasingly being used for buying and selling goods and services as they offer advantages such as a built-in audience, the ability to connect with friends and family, and the ability to share product reviews and recommendations.
Influencer Marketing As A Catalyst
Influencer marketing has emerged as a powerful tool in shaping buying decisions, as influencers with a large social media following can influence their audience's purchasing behaviour.
Influencer marketing is lucrative and this segment earned $13.3 billion in 2021. By 2028 it is expected to hit a value of $109.4 billion growing at a CAGR of 35.1%.
Buying and selling apps are recognising the value of influencers and are increasingly partnering with them to tap into their reach and credibility through collaborations.
Influencers promote products or services on their social media channels, directing their followers to the buying and selling apps for purchases.
This can be via sponsored posts or affiliate marketing, to leverage influencers' engaged audience and drive app adoption and sales.
Popularity Of Peer-To-Peer (P2P) Marketplace
P2P marketplaces allow users to buy and sell goods and services directly with each other, without middlemen. This is driven by the demand for convenience and growing trust in online transactions.
The estimated size of the P2P marketplace is $5.1 billion by 2032. This is at a value based CAGR of 15.5% with the top 5 vendor share to be around 20%.
Payment Innovations and Security Measures
Evolving Payment Options
The buying and selling app industry has seen the introduction of innovative payment methods like digital wallets, cryptocurrency, and contactless payments. Digital wallets, such as Apple Pay and Google Pay, enable secure and swift transactions.
Cryptocurrency, like Bitcoin, serves as a decentralised digital currency for online transactions. Contactless payments, using NFC technology, allow users to make payments by tapping their smartphones or payment cards.
These diverse payment options offer convenience to customers, attracting a broader customer base and increasing sales.
Trends in the buying and selling mobile apps industry showcases a commitment to imbibing technology to enhance the customer experience and build a positive brand image.
Ensuring Secure Transactions
Trust and security are of utmost importance in the buying and selling app industry. Users must feel confident that their personal and financial information is protected during transactions.
Implementing robust security measures is essential by including encryption technologies, SSL, tokenisation, 2FA, and fraud detection systems. Regular security audits and updates, as well as adherence to industry standards, help mitigate potential risks and safeguard user data.
Building customer trust is also achieved through secure payment solutions, displaying trust indicators, transparent communication about security measures and privacy policies, and providing efficient customer support for payment-related issues.
Conclusion: Trends In The Buying And Selling Mobile App Industry
The buying and selling apps industry is experiencing growth and transformation driven by emerging trends in the buying and selling mobile app industry. Leverage our buy and sell script to launch a buy and sell app.
LeOffer, is one of the best software solution available in this domain. We have created it using state-of-the-art technologies like NodeJS, Angular, PHP, at its core, which is highly scalable, secure, and fully customisable.
LeOffer has been meticulously developed with inculcating scalable technology practices to provide an overall marketplace solution to entrepreneurs or businesses looking for customisable buy and sell marketplace scripts.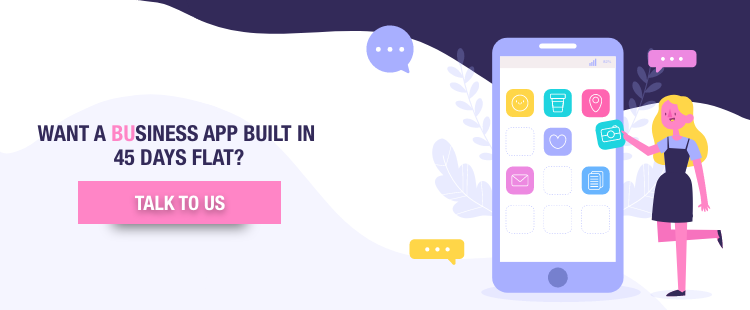 After an Engineering degree and a Diploma in Management I devoted 16+ years working in the automotive industry. My innate skill and extreme passionate in writing, encouraged me to adopt it up as my profession. I have been writing for more than 10+ years in the software industry. The 400+ blogs I published are informative, exhaustive and interesting to a professional and causal reader.