Freight forwarding is a business full of challenges that you face on a daily basis, and it can be stressful to manage everything at once. A freight forwarding system can make this much easier.
Freight management app software helps companies choose the best transportation options for their needs. Its beneficial for companies who don't have their own fleet and need to work with freight services providers.
The software is delivered as a standalone solution or as a part of a supply chain suite. It may require integration with other logistics solutions like shipping software, yard management software, and supply chain planning software.
Factors to look for in a Freight Management Solution
Real time tracking & maps
Maintaining direct contact with your drivers is crucial to shipment managers. Status updates from your drivers allows you to stay better informed on your shipment statuses.
To be a real hit on the market, the app should be able to locate the driver, the customer, and able to track cargo in real time. The drivers should be able to consult maps with probable routes and real-time traffic updates in order to completely optimize the process.
You need to make sure that a good route optimization software has been built in the app. Google's Geolocation API is something that you can trust on, for implementing tracking into your On-Demand freight movement and logistics app development.
Shipment history
In the Freight Management business, shipment is not a onetime service. The organizations must also focus on data freight management to keep the records for future references.
View/Edit Bill of lading drafts
Bill of Lading or BOL can be used as a receipt or title or even as a negotiable instrument. Hence, it is one of the most important documents for freight management companies. Viewing and editing of BOL gives an ease in operation which is another must in list of the requirements in your software.
Integrated payments
Transparency and instant payments is a dream.
Payments need to be calculated over the weight, distance, size of the goods, and the amount of supply available. They need to be quick, secure, and convenient. Variety of options – credit cards, debit cards, cash, net banking, and several digital wallets – should be incorporated to ensure customer convenience.
Also Read | How to book and track loads on your Freight Broker Software?
Uber Freight : Convoy  | LoadEmUp incorporates their features & more of its own
We have gathered data after installing these apps and studying their features. Some of the characteristics couldn't be properly determined and hence marked as 'undetermined'
General Features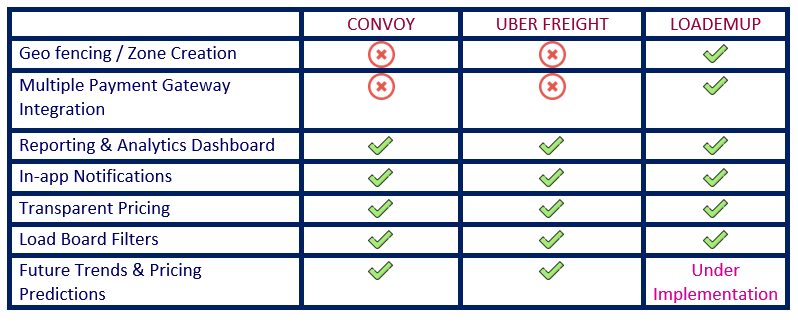 Shippers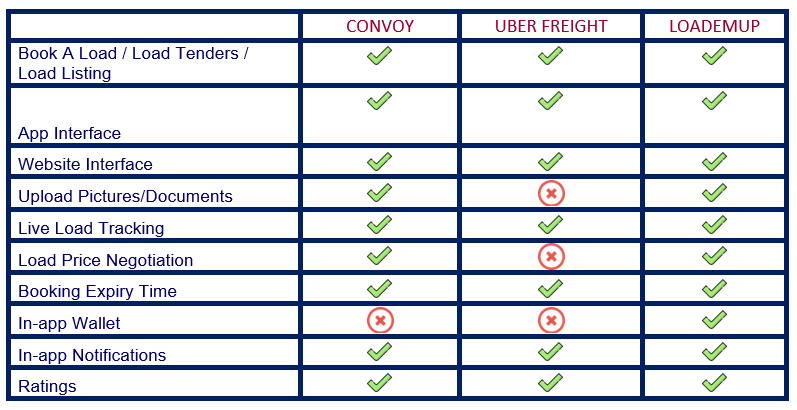 Fleet Owners / Carriers / Dispatchers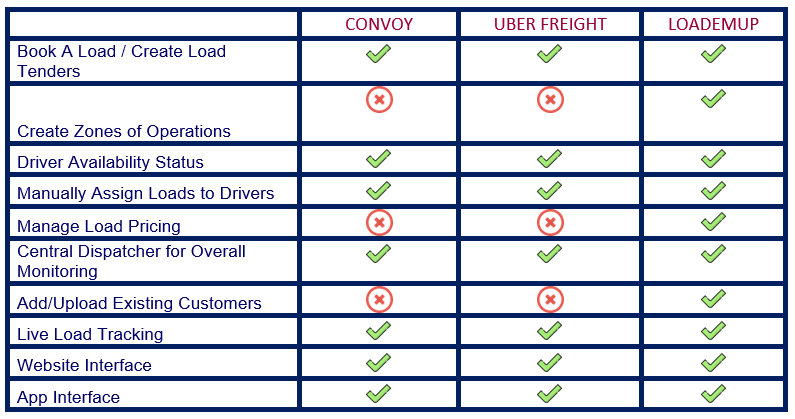 Drivers / Carriers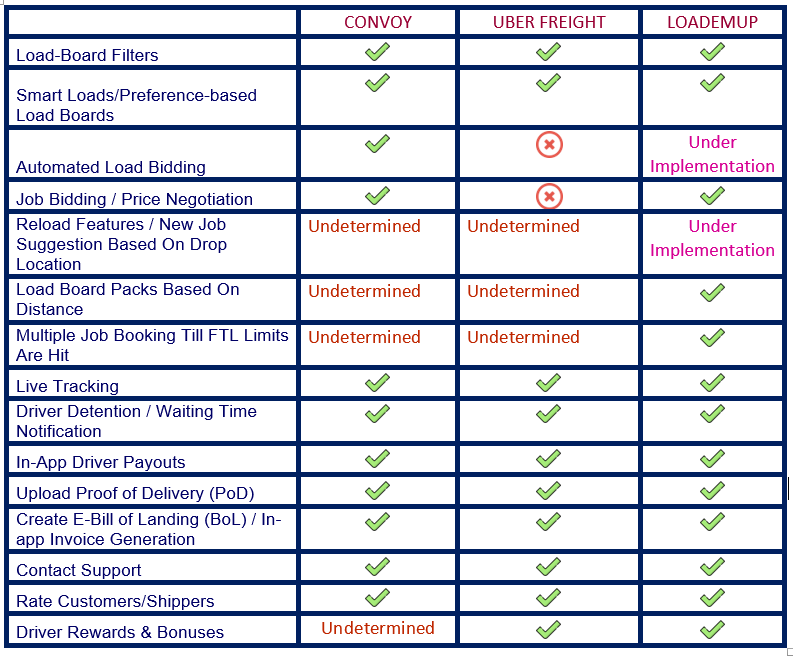 Businesses
Technology
Extras
Verdict…
From the above comparisons we can clearly see that LoadEmUp trumps over the other two by a sizable margin.
---