Uber Business Model: Introduction
Uber has changed the entire face of the taxi industry by introducing the now renowned Uber business model in the market. Considering the growing demand for online on-demand services, Uber is successfully hitting the bull's eye, since 2009.
Uber's business model is a one-stop solution to the transportation requirements of a large customer base. With an introduction to UberEATS, UberKITTENS, UberFREIGHT, and UberPOOL they have made themselves one of the most self-sufficient on-demand business model designs.
Following infographic will provide you brief of the Uber business model case study: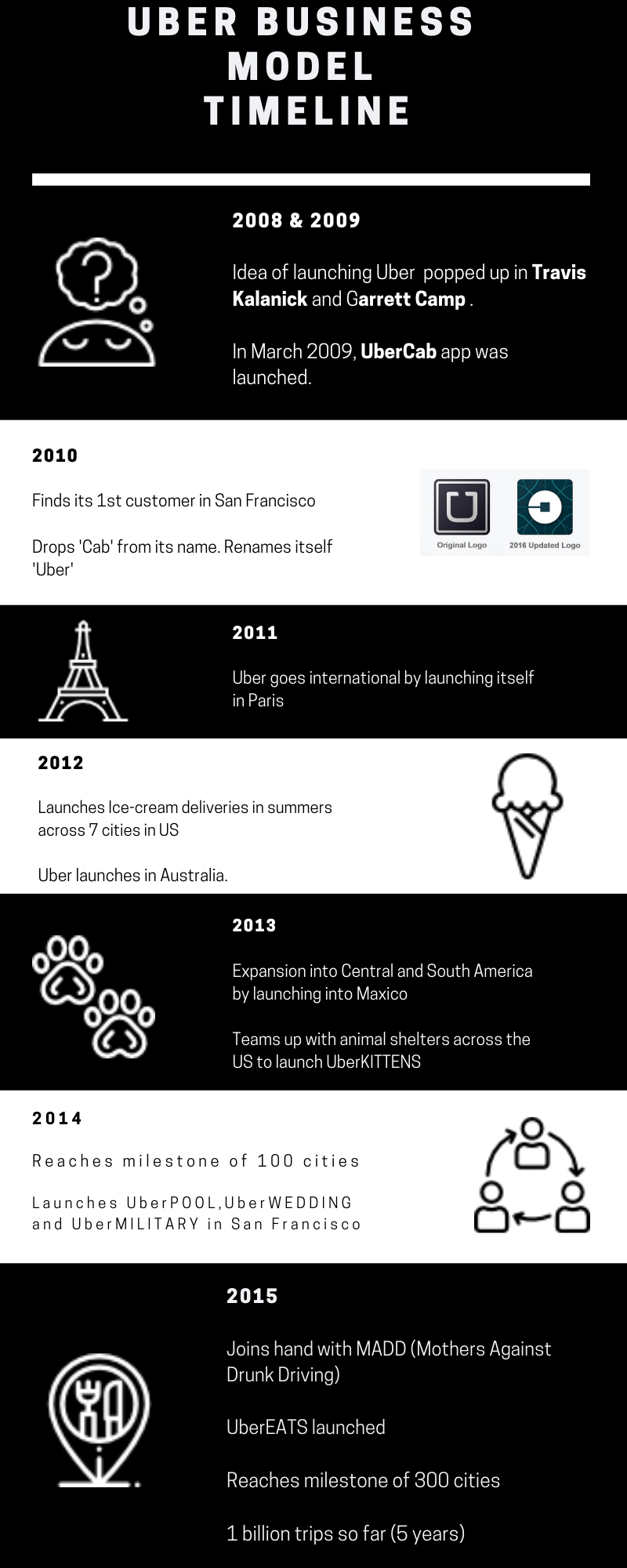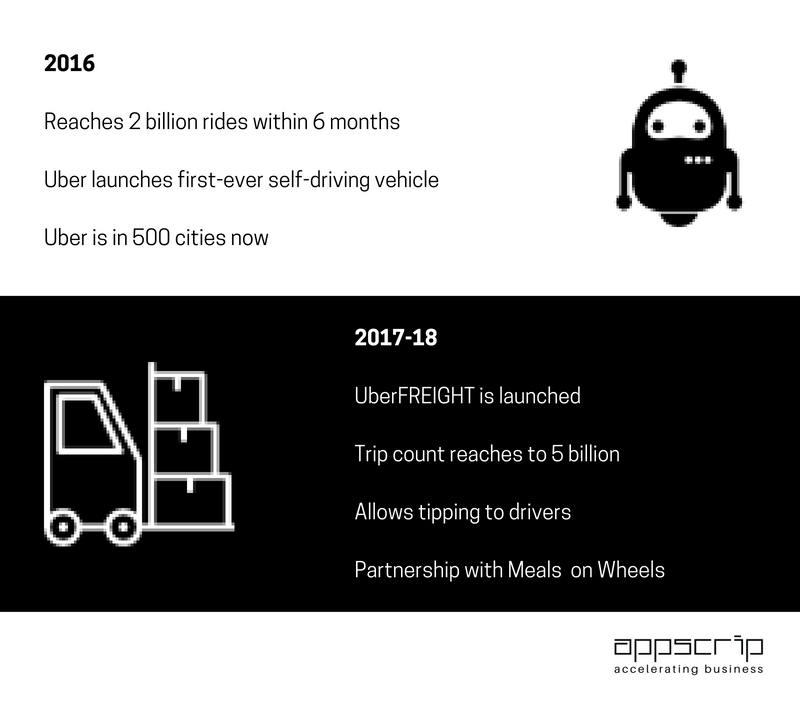 Uber was an outcome of transportation inconvenience faced by its founders Travis Kalanick and Garrett Camp in 2009. They came up with Uber taxi business model in 2010 and have expanded in over 600 cities across the world in 9 years and continues to do so.
Uber Business Model(Taxi): Explained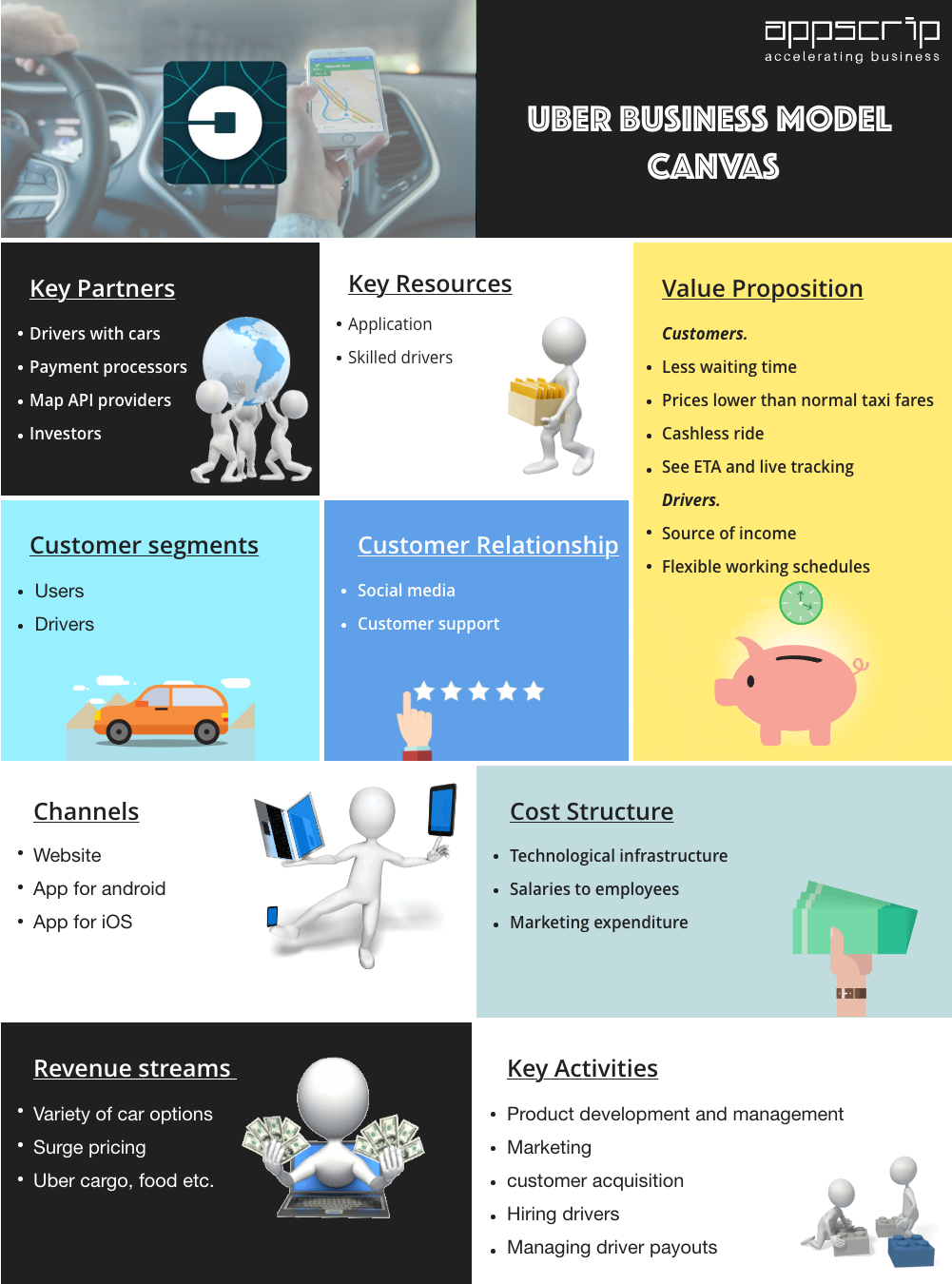 Key partners:
Key partners of Uber consist of the drivers who have their own cars, financial investors of the business, and the technology partners like Google Maps enabling online tracking and Braintree for different payment gateways.
Customer segments:
Uber has 2 large customer segments on which it relies. Customers, people who book rides and Drivers, people who have a vehicle and are registered with the Uber app as drivers.
Key activities:
Key activities that Uber performs include managing ride demands and providing drivers accordingly. Hiring trusted drivers and managing driver payments after charging a due commission.
Customer relationship:
The Uber application allows putting up reviews & suggestions on the service delivered and rate the driver & ride. Social media basically shows you a reflection of your brand image in society, people freely post their queries and suggestions on these platforms.
Channels:
Uber application supports multiple platforms, enabling customers to book from Android, iOS, and website.
Value proposition:
Following are the value propositions Uber provides for its customers as well as drivers.
To customers:
Waiting for a taxi for an unspecified time can really be exhausting, Uber offers reduced and predefined waiting time for your ride to arrive, along with live in-app tracking feature and ride details in advance.
Uber is a comparatively cheaper substitute for taxis and it also supports cashless payments.
To drivers:
Uber provides individuals with a car, a chance to earn an extra amount. You can be a freelancer driver, without work time obligations.
Key resources:
The 2 key resources Uber depends on are skilled drivers and Uber application. Application is a platform where all the transactions are carried out, these transactions are incomplete if there are no skilled drivers available.
Cost structure:
Uber incurs a considerable amount of expense to maintain its application's scalability and robustness. As its customer base is increasing, more and more people are subscribing to the application.
It also has to pay its permanent employees who are involved in managing and maintaining the technological infrastructure and other managerial jobs in the company.
Launching and exhibiting new products in the market incurs a lot of costs.
Uber revenue model:
The amount you pay to the driver for your ride is the main revenue source for any taxi business, the same applies to Uber. This might be the only source of income Uber has, but analyze it this way, they have completed over 2 billion rides in 9 years, think of the revenue generation rate.
Providing below more insights into the Uber revenue model:
Uber for everyone: Travelling alone? With family? Nearby ride? Outstation ride? Black car? Any car? Uber has many car options for your needs.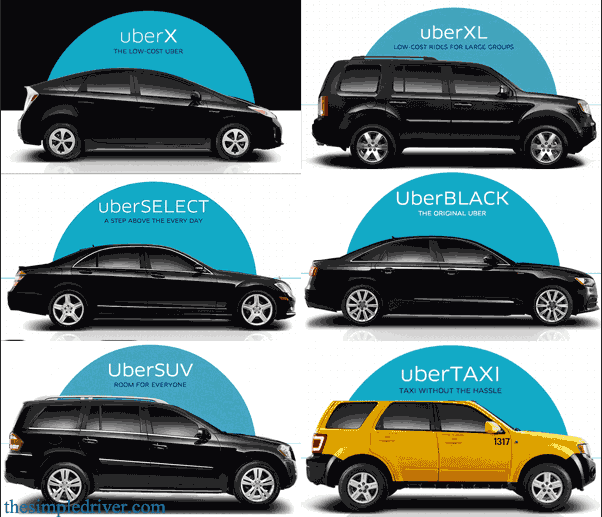 You can select your ride based on your requirement. You can also explore Uber's carpooling service, share your ride and fare with people traveling in the same direction.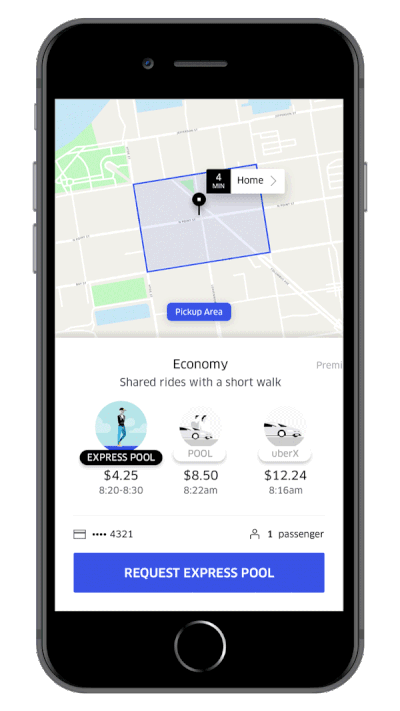 Surge pricing technology: Ideally, surge pricing is applied when demand for drivers is more than the availability or supply of drivers in the area or at a particular time. It charges extra for your rides when demand is very high. It can be during festivals or during peak hours of the day, or even during late nights and early mornings.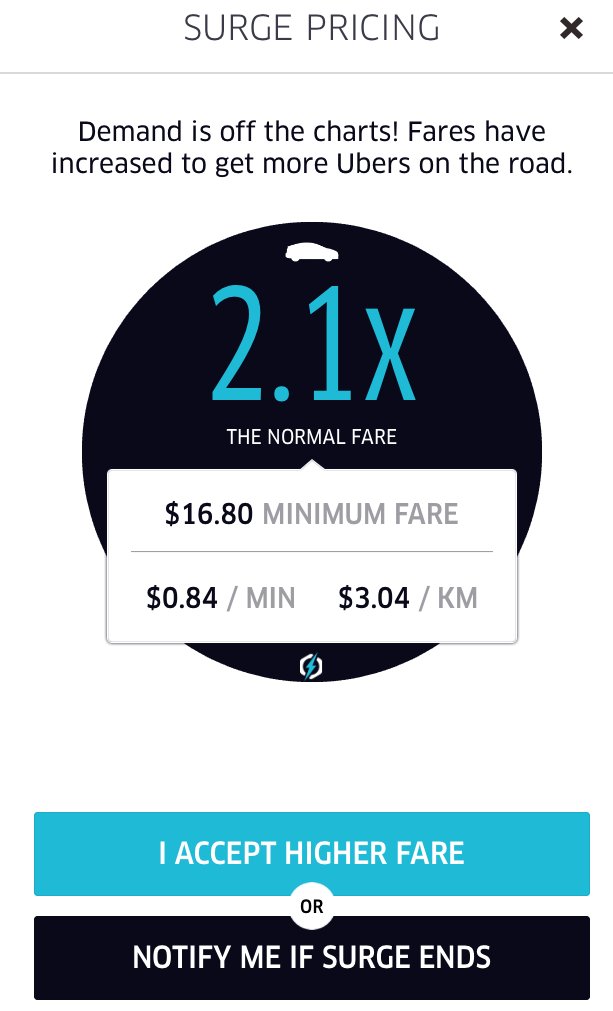 To know more about how surge pricing works click here
Other Uber riders: Uber is now no longer restricted to car rides, it has increased its scope to food deliveries through UberEATS and freight services via UberFREIGHT, delivering ice cream in 7 cities across the USA and many more such services provided by Uber has all contributed to Uber's revenue generation.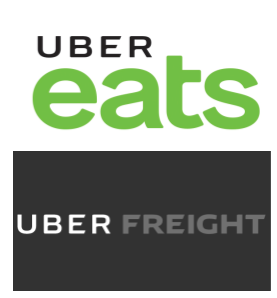 Uber Business Model: Growth of Customer Base
Initially, Uber used intense market focus to create local network effects in their launch city, San Francisco. Later, shifted to digital marketing and then word-of-mouth publicity over a period of time.
One of its 1st big marketing campaigns was the 'Get there with Uber' campaign, which features six different creatives of real drivers and riders, as opposed to actors, to show how customers and employees really use the app.
The riders and drivers were photographed and interviewed with the aim to inspire potential customers and employees through their real stories and experiences of using Uber.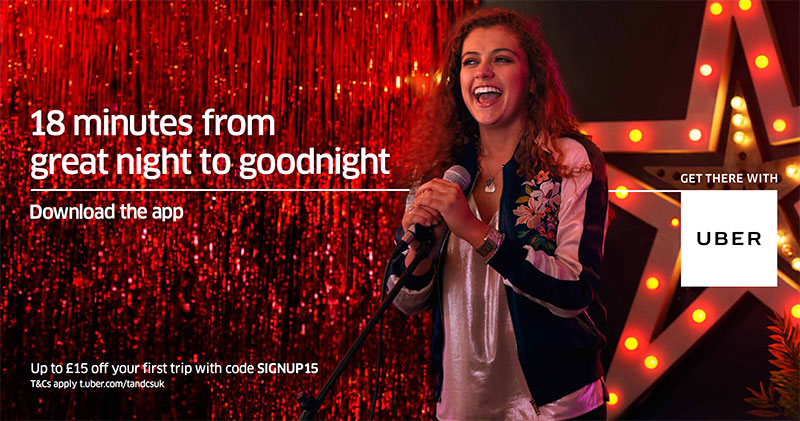 Uber Business Model: Takeaways
Uber basically follows the less Ownership model, it plays a broker to Customers and cab drivers. It does not own any cars and yet provides over 1 million rides a day.
Uber is a technological disruption in the long-existing taxi industry.
For any business to operate in a good manner, Customer satisfaction is very significant. Uber has 2 customer groups in its business model. To keep the harmony of these 2 groups intact, Uber allows its consumers to review the service received and drivers to take home a major portion of the ride fare.
You must have heard the saying, slow and steady wins the race! Uber took a considerable amount of time for its expansion and product diversification. It launched in San Francisco and gradually captured the entire world.
Uber Business Model: Reason For Success
The following points will explain why Uber turned out to be a boon for the taxi industry:
Problems with local taxis: Local taxis started playing the monopoly game, by charging customers as they wish. People started exploring better options, Uber gave them one.
Disruption in the industry: Uber was a much-needed technological disruption in the traditional taxi industry. Reducing the malfunctions carried out by taxi drivers.
Launch city (early adopters): Early adopters are the people who accept and adopt new innovations in the market as soon as they arrive. Uber was launched in San Francisco, A city with a rich economical structure, making it the best place to launch any innovation.
Un-targeted word-of-mouth publicity: People are bound to talk about their experiences of the services they encounter. This kind of publicity is unplanned and uncontrolled.
Uber Business Model: Product Diversification
Uber's business model is not just limited to a ride-hailing taxi service. It has diversified its product base by introducing a lot of new services into the market. Following are the products lines Uber ventured into:
UberEATS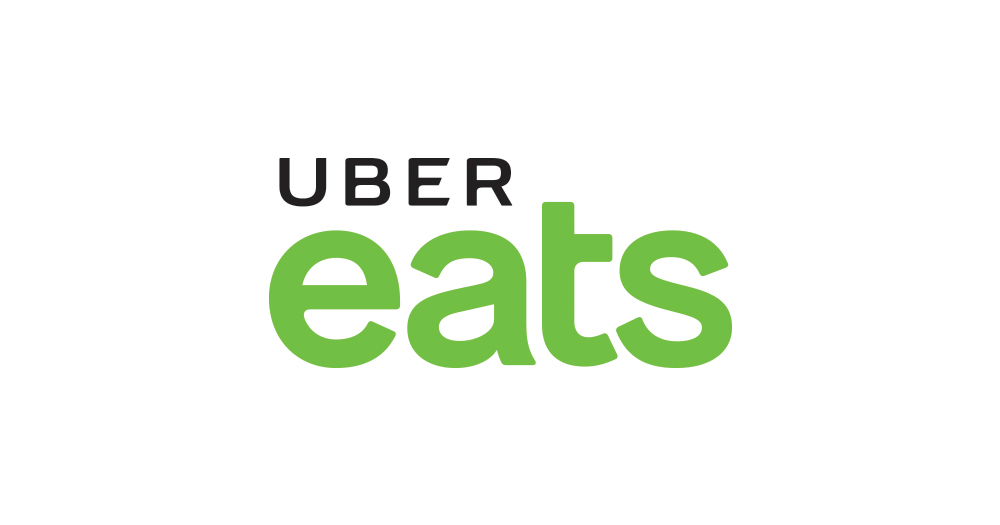 You can order your favorite food from your favorite restaurants via the UberEATS application. The restaurants will prepare your order, and a nearby Uber delivery partner will deliver it to you, at your doorstep.
UberEATS partner: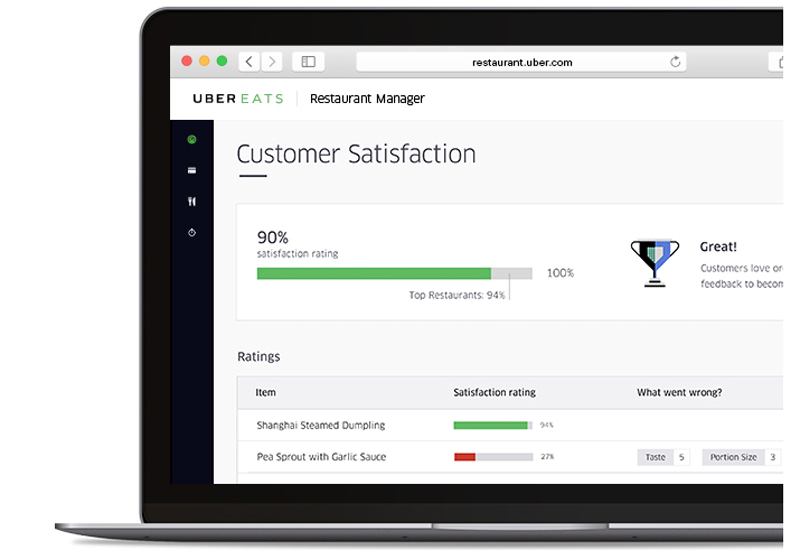 You can connect to UberEATS if you own a restaurant or as a delivery partner if you wish to earn an extra buck by delivering UberEATS orders.
UberFREIGHT: Uber freight is an app that matches carriers with shippers. Shippers tap a button to instantly book the loads they want to haul. It allows carriers to know the exact payment that they will receive.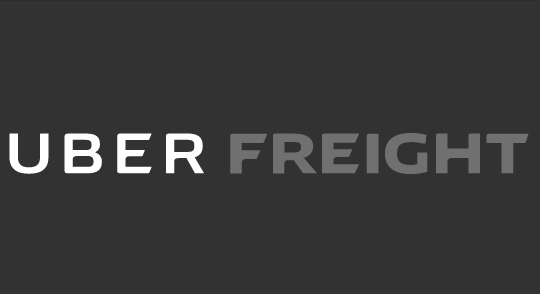 To know more about the freight broker industry, check out this resource. 
Uber for business: Uber for business gives you an easy way to manage your business's conveyance needs. It offers a clear view of employee's trip activity with automated billing.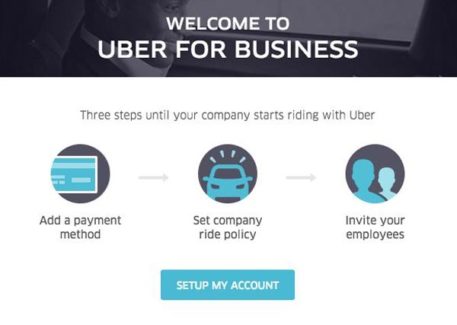 UberATG (Advanced Technologies Group): UberATG aims at building safe, reliable, and cost-effective self-driving technologies. With teams in Detroit, Pittsburgh, San Francisco, Tempe, and Toronto, the group is bringing self-driving cars and freight trucks to the Uber network.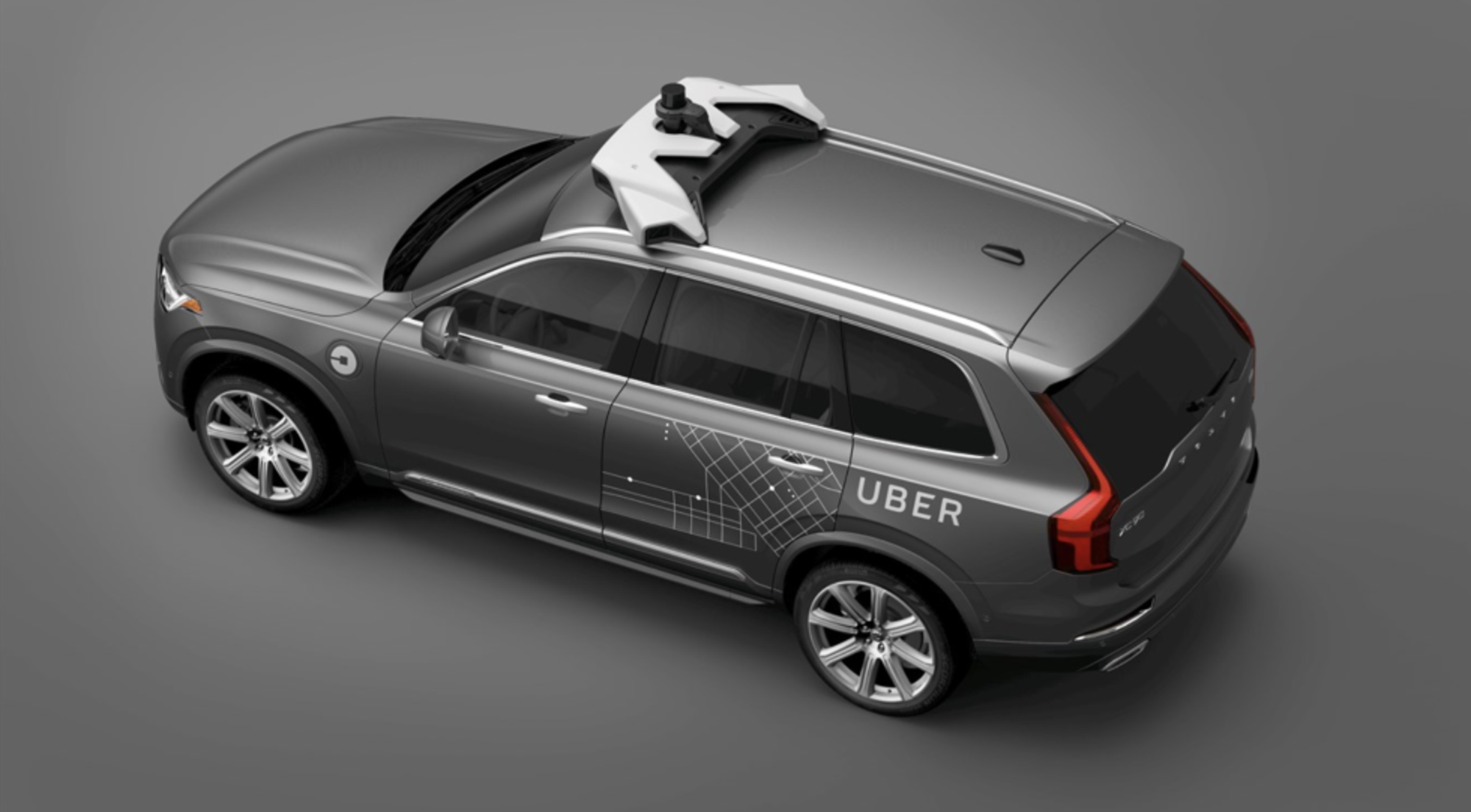 UberAIR: Launching an Aircraft line is next in Uber's product diversification plan. The project is still under the development stage and is expected to launch by 2023.
Uber Business Model: Future
Uber started on a good and promising note. While its expansion, they ventured into a lot of other sectors like freight and food delivery.  On its way to 2018, they fumbled upon a lot of troubles and controversies.
Falling into less or no controversies is obviously on its top agenda, given the number of controversies they are already part of.
They plan to introduce an air-taxi service, the company is striking partnerships in hopes that one day it can manage to achieve this. Launching its own Aircraft line is another plan Uber is thriving its way into.
The industry is still open for a lot of exploration, leaving enough room for new entrants to make a remarkable entry into the industry.
Trying to make it big in the on-demand taxi industry? check out our white-labeled & customized ride-hailing software solution
Click Here
Image credits:
www.gearbrain.com, www.uber.com, www.businessinsider.in, www.bloomberg.com, www.ubereats.com, 

www.campaignlive.co.uk, 

www.marketingweek.com, www.businessofapps.com