The cleaning services market had always faced growth issues in the previous decade. due to the lack of technology & relying on only a few means of spreading awareness such as word-of-mouth, yellow pages, recommendations, limited-functionality booking websites etc.
However over the years, with the rise of mobile apps, their usage to digitize and streamline various industries & the growth of the on-demand economy – Cleaning service providers now have brand new means of spreading awareness, while simultaneously benefiting from an audience that had grown used to booking for services with just a few taps on their screen.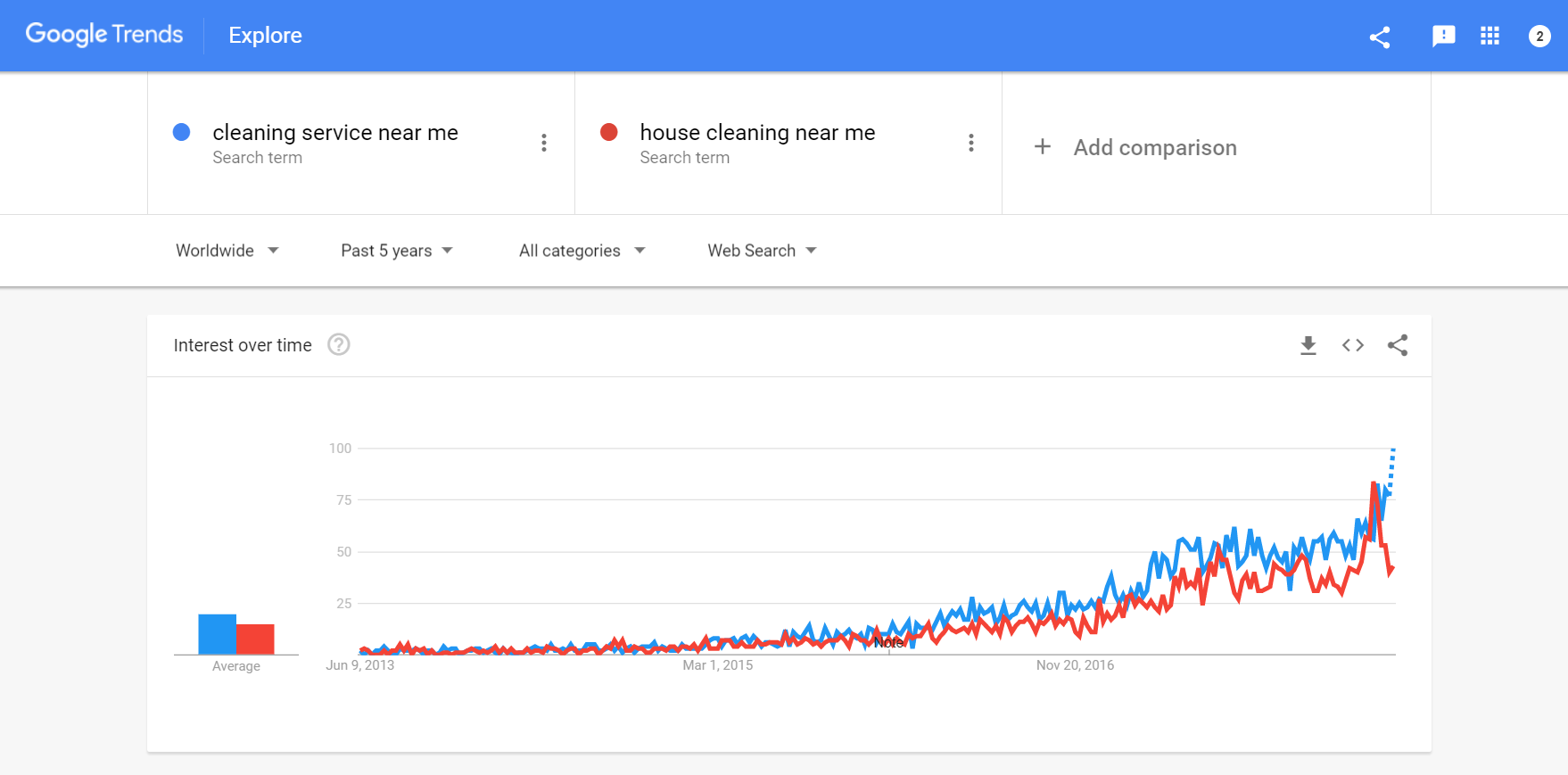 Cleaning Industry Brief & Impacting Factors
The cleaning service industry is divided between commercial & residential cleaning segments. The commercial segment includes services such as window cleaning, vacuuming, floor care, kit cleaning, and dusting. The commercial cleaning segment usually encompasses offices spaces and commercial buildings that require consistent cleaning to maintain upkeep.
The residential segment includes cleaning services such as maid services, appliance cleaning, carpet & upholstery cleaning.
Both segments have been witnessing a rapid rise in demand over the years. In the case of the residential segment, factors such as increased amount of disposable income, increased number of dual-income households, ease of booking of services via apps/websites etc has led to an increased growth rate of this segment over the years.
Globally, the penetration of cleaning services is higher in Asia-Pacific followed by North America.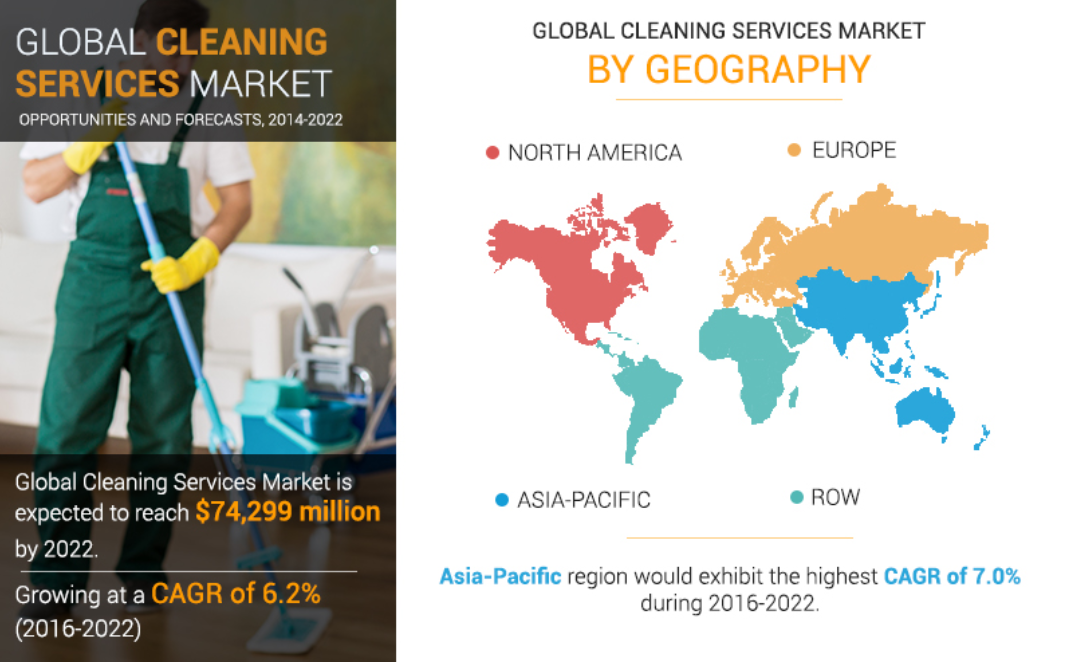 Residential Segment – Increase in Disposable Income(APAC) & Aging Population
The increase in disposable income has been expected to heavily improve the demand for cleaning services market, especially in the APAC region. Increase in disposable income in China & India is expected to drive the APAC cleaning service market.
According to the National Bureau of Statistics in China & the Minstry of statistics and Programme Implementation(MOSPI) – The disposable income has increased from $3,101 to $ 3,349 USD till 2015 in China & $1,191 USD to $1,312 in India respectively.
Increasing number of members from dual-income households are also accelerating the demand in the residential cleaning segment. Lack of time for consistent cleaning activities has led to this increase in demand.
The growing elderly population is another contributing factor as well. Being physically less able to perform standard cleaning tasks over the years as well as the majority of that segment prefers to stay in the comfort of their homes.
Commercial Segment
The commercial segment has always been the larger revenue-generating segment for the cleaning industry. With even vacant office spaces needing upkeep, the commercial segment has a higher market share with regards to cleaning services, additionally owing to the increased demand from the construction, retail & real estate sectors over the years.
The vast majority of cleaning service revenues are from non-residential/commercial markets – Inclean Magazine 2016
Retails sectors, hospitals, public institutions, stadiums, office spaces etc have always been a steady growing demand for cleaning services.  Construction & mining sectors as well are seeing a huge demand for commercial cleaning services for dusting & debris cleaning.
According to estimations by the Chinese central government, 60% of the Chinese population is expected to reside in cities by 2020, which in turn means larger demand for construction and its associated debris removal & dusting cleaning activities. The US commercial cleaning market is expected the same kind of demand with the rise in construction activities for highways, streets, bridges etc, according to the U.S Census Bureau.
In the commercial cleaning market, floor care services are one of the highest revenue generating segments while the vacuuming segment is expected to be the fastest growing segment due to its increased demand for dust cleaning in commercial sectors like malls, event venue & stadiums
---
Uber for House Cleaning aka On-Demand Cleaning Services
Did you know back in 2013, Homejoy on-demand cleaning startup secured $38mil USD in funding to expand its cleaning services?
This San Francisco-based startup is a great example and one of the torch-bearers for on-demand cleaning/'Uber for House Cleaning' industry.
Homejoy allows customers to quickly book their cleaners personally for specific cleaning jobs & ensures all cleaning providers are bonded, insured, background-checked with good reviews by stay-on staff. Homejoy has modernized the cleaning industry via their website & app.
But what exactly do Uber-like on-demand house cleaning apps encompass, that makes it so appealing to users & cleaning professionals?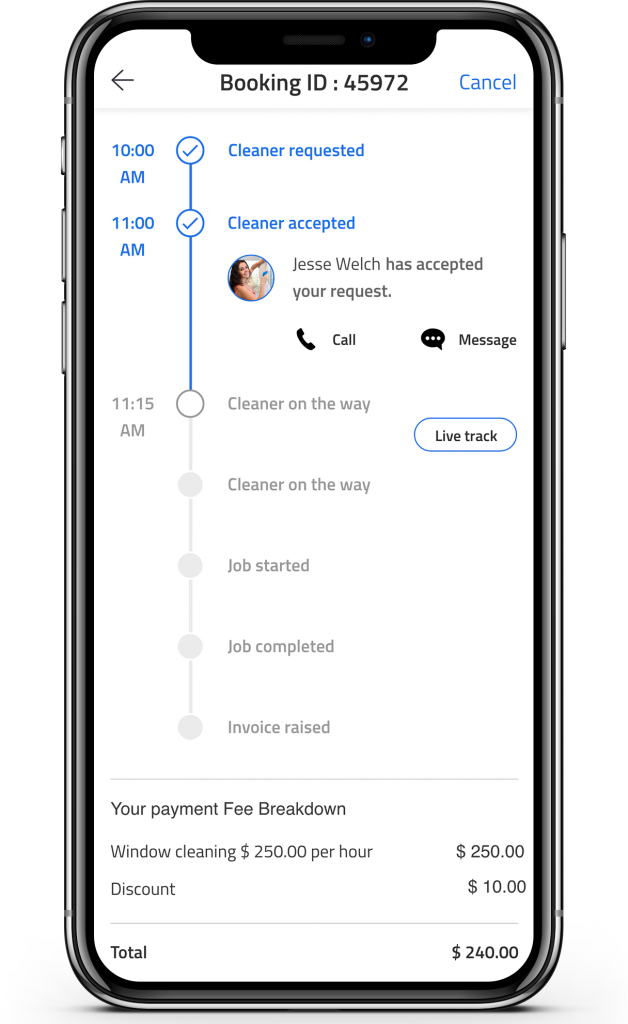 Customer app UI features:
Rich UI depicting a wide variety of cleaning services
Detailed cleaning professional profiles & appropriate rate cards plus filtering options
Marketplace-like cleaning service addition & checkout (think Amazon, but the products are cleaning services)
Able to place custom quotes/bids for cleaning jobs
Seamless selection-to-checkout process with a variety of payment options including in-app wallet payments
Live map view of nearby cleaning providers, live job tracking and real-time in-app job status notifications
Detailed invoice of the cleaning job provided both in-app and on email
Easy cancellation & refunds
Promotional Offers
Ratings
Provider app UI features:
Uber-like live job request signaling UI, showcasing live job requests to all nearby cleaning professionals
Set up custom rate-cards for cleaning services
Counter-bid job offers provided by customers
List of available cleaning jobs, their quotes from customers and counter-bids by other cleaning professionals
Live GPS tracking to the client's locations by GoogleMaps or Waze
In-app invoice generation, ability to add extra chargeable services that were additionally done during the job, and receive customer signature to complete the invoice generation
In-app analytics on bookings & earnings history
The above mentioned are just basic features apps like Homejoy, Handy, MaidsPro, UrbanClap & other on-demand cleaning service apps provide. Each one trying to get the competitive edge over the other via lower prices or by providing various specialty cleaning services(upholsteries, green cleaning etc) or attractive promotional/referral offers.
Neatso, is another 'Uber for Home Cleaning' app that leveraged the $15Billion USD cleaning market via its easy on-demand cleaning booking UI.
Tips for Running A Successful Cleaning Business
First, let's sum up the customer pain points when it comes to home cleaning
Lack of energy or time to personally invest in cleaning
Possible allergies to dust or certain cleaning products
Lack of reliable & trustworthy local cleaning professionals
Unable to maintain certain standards of hygiene and cleanliness
1) By knowing the exact pain points/needs of your client's service request via a simple in-app questionnaire,  you could provide a better first impression & an overall satisfied customer at the end of the journey.
2) Keep in mind the type of cleaning demand in your target area. Is there a higher demand in the commercial or residential cleaning segment? Are there new construction projects that are happening in your area? Do nearby localities have existing offline cleaning services? Can you integrate their services with your app or outshine them with lower prices & wider options?
3) Although the overall cleaning market is growing exponentially, the particular service demand has shifted over the years. Allergies are now widespread factor to consider while cleaning, especially when it comes to carpet & upholstery cleaning.
Promoting specific carpet & upholstery cleaning services that take possible allergies into consideration, will definitely help your brand.
4) The "Green" approach or "Green Cleaning" is another trend kicking up in the cleaning market. This approach uses natural organic cleaning products that don't release harmful chemicals into the environment.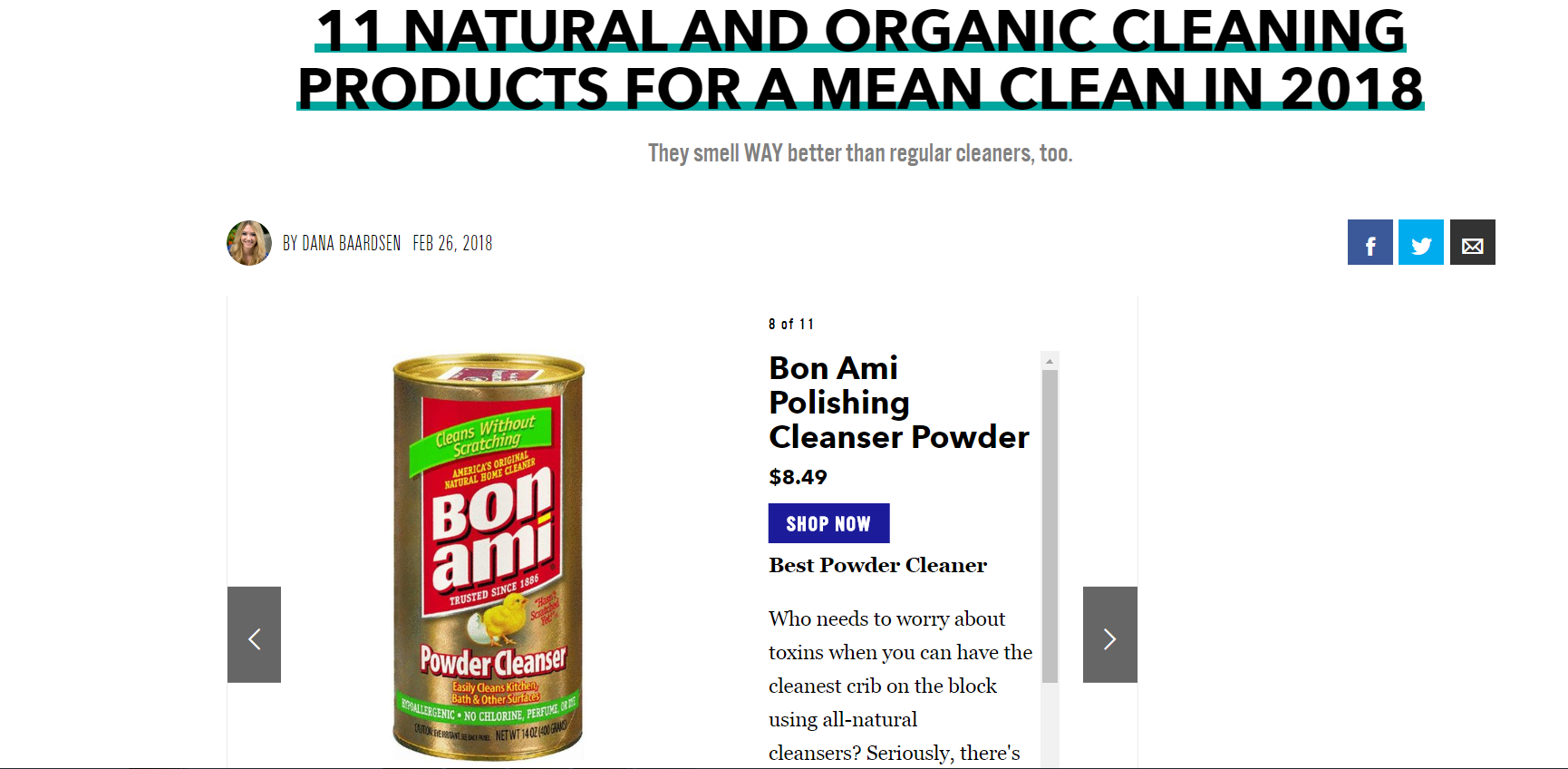 Marketed as cleaning products that are good for the people & planet, the green approach is quickly being adopted by various brands. You can test the demand for its usage by providing it as an optional add-on during checkout.
Based on its opt-in rate you can then decided to keep it optional or do a brand makeover as the "1st Organic Cleaning Brand" in your area.
5) Social media is a great way to spread awareness of your brand for the residential segment. Whether its boosting sales or awareness, effective use of social media will help in the overall growth of your brand.
"You need to have a Facebook business page. If you're having a sale or running a promotion, post it across your website and on all your social media channels. Google grabs all of it.That way if someone is searching for a service in your area on Google, the sale will show up in results on Google and will likely incentivize them to go with your business." – Rafael Valdez, PPC Analyst, Jobber

"The real winners in 2018 are going to be those who learn how to use Instagram—how to edit, post professional photos. It's amazing the amount of marketing you can do within your city through Instagram using hashtags, stories, and location tags."
– Katie Pearse, President, The Maid Mentor
You can get some great cost-effective social media tips & strategies for startups here
Statistics & Resources
https://www.alliedmarketresearch.com/cleaning-services-market
https://www.universalclass.com/articles/business/current-supply-and-demand-of-your-cleaning-business.htm
https://www.freedoniagroup.com/industry-study/contract-cleaning-services-3371.htm
https://www.bestproducts.com/home/cleaning-organizing/g18675876/natural-organic-cleaning-products/?slide=10
https://www.bls.gov/ooh/building-and-grounds-cleaning/janitors-and-building-cleaners.htm
Check out our white-label Uber for Maids house cleaning solution
Click Here