Who are Tradies?
The Uber for Tradies (Handyman) industry has grown consistently over the past few years. Industry operators are typically sole proprietor/sole traders who are likely to perform a range of jobs such as gardening, building maintenance, plumbing, fencing, and painting.
Nowadays, people have stopped using Yellow Pages to find tradesmen, as the number of websites and Uber for tradie like application such as Hipages, Airtasker etc have increased.
Uber for Tradies, How is it helpful for a tradie?
In many ways, app ideas such as an Uber for tradies, are actually improving the life of tradies and consumers. How? Tradies can now register with Uber for tradie-like applications, which currently lists over 65,000 tradespeople and gives them access to more than $1.35 billion worth of jobs each year.
As per the statistics of 2016-17, the industry was expected to grow at an annual rate of 3.4% over the next five years, with the last year's revenue being $982.5 million.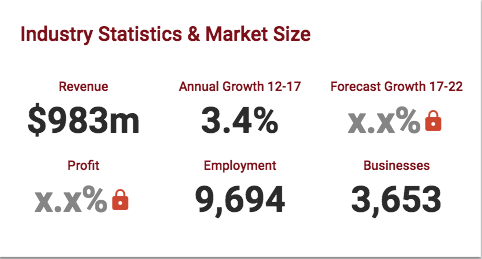 How much does a Tradie in Australia Earn?
The above statistics from May 11, 2016, shows that plumbers and electricians are Australia's richest tradies, charging more than double of what an average lawyer would earns.
The serviceseeking.com.au website reveals that average plumber charges $78.40 an hour in 2017, and the average electrician charges $74.61 an hour.
The average Australian lawyer, by comparison, earns $37 an hour, according to PayScale.
"Although tradies usually have expenses such as insurance come out of their hourly rate, skilled tradies can earn a fortune." Jeremy Levitt, chief executive of ServiceSeeking.com.au
He further mentioned that even by just owning the right license and certification, a tradie can earn more than a decent income.
Statistics:
Australian tradies may have increased their hourly rate by 1.4% in the past year, this is due to the fact that 94% tradies are often working on weekends and 58%, work for more than 40 hours a week to sustain their business.  Tradies are building a strong business on the back of Australia's resilient property market.
Plumbers have increased rates by 4% in the last 12 months with an average rate of $80.92; while electricians charge $75.56 which is a 5.4% increase, year-by-year.
Carpentry services had the highest national increase with a 7.7% and it increases to $56.45. Painting prices stayed mostly static at $42.56 hourly.
According to the statistics by Trade Risk, here are the top 10 earning trades up till  November 2017: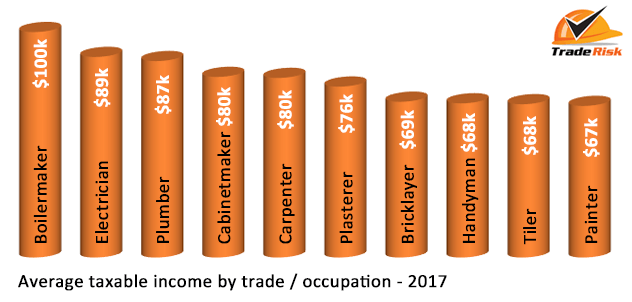 Boilermakers are consistently at the top of the report over the past few months, but this is the first time that any of the tradies have cracked $100k.
Plumbers are back in high demand after taking an unusual dive last year.  They were the biggest winner, moving up by 3 positions, as compared to last year, with an average income of $87,139.
As per 2017,  average taxable income for a tradie is $82,766.  That's a strong increase from the $76,800 average we saw last year. National average income in Australia, according to the ABS(Australian Bureau of Statistics), is $83,616.
It's important to remember that the numbers include tradies who are primarily just sole traders and subcontractors. Even if a tradie is still left out with $100k after paying for all of the business expenses and other work-related taxes, the tradie is STILL considered to be doing well!
Overall, the average income of a tradie is increasing year-on-year.
Current market players of Uber for tradies: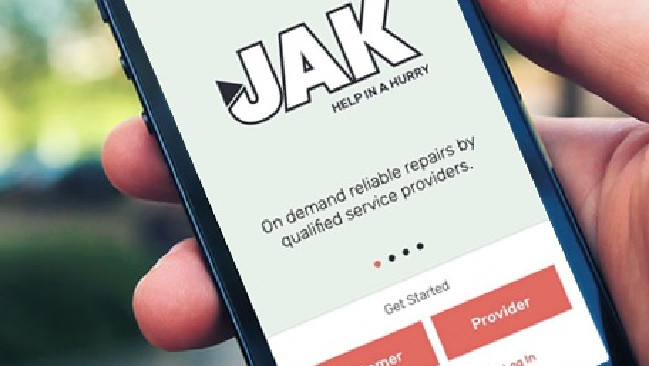 JAK is a tradie services app that connects people to tradies in a hurry, meaning you can get your blocked toilet or leaking taps fixed in no time.
The Jak app promises to get a tradie to your door in under 17 minutes.
Based in Perth, Jak has raised around $1 million, to expand its operations throughout Australia. The founders are planning, to expand the app operations to NSW within weeks and Queensland within the next three months.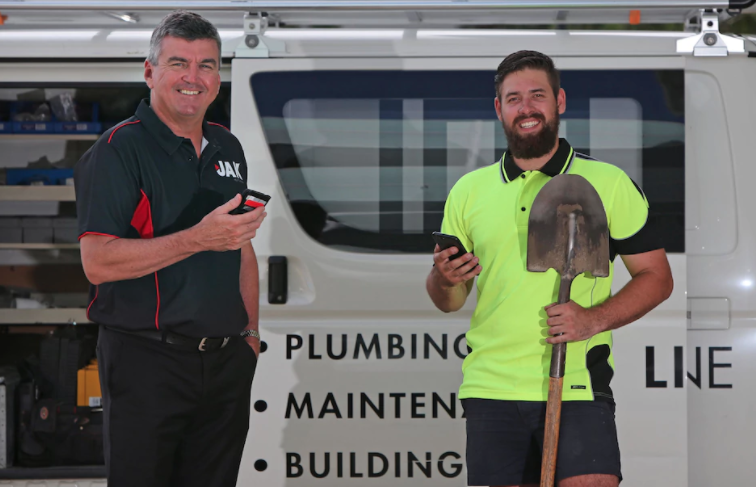 Hipage: The hipages app is a free and easy to use a platform to find professional tradies, allowing you to manage projects on the go. The hipages app has a comprehensive directory of trades, professionals and home service providers in over 1,200 categories. You can view the profile of each business with examples of their previous work and recommendations.
According to the News Corp-backed startup, over two million people have used their mobile app to hire a tradesperson, generating $2.4 billion worth of job value this year.
The company announced a 37% year-on-year growth and an annual revenue of $37 million.

Airtasker is highly recommended app for tradies. Airtasker is a Sydney-based Australian company which provides an online and mobile marketplace enabling users to outsource everyday tasks. Users describe the task and indicate a budget, community members then bid to complete the task.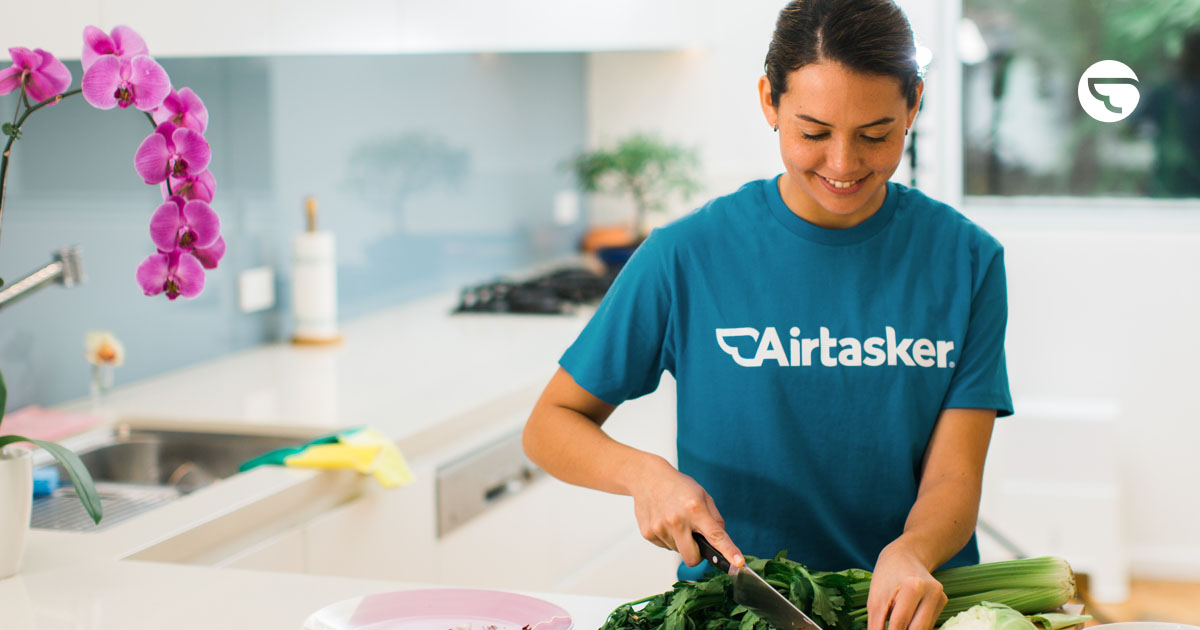 Due to the trust users have with the Airtasker app, tradies are used to earning lump-sum revenues for their assigned tasks. Some of which were as high as $171,000.
Conclusion – On-demand market scope Uber for tradie app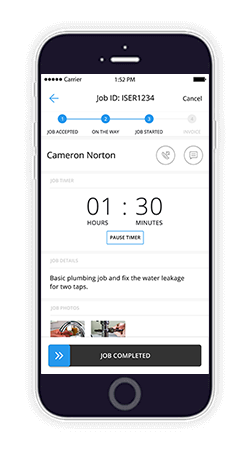 Australian Bureau of Statistics (ABS) of March 2017 showed that demand for tradespeople is booming, with the highest demand coming from the residential construction sector.
The number of people employed throughout the construction sector in Australia had grown by 18,300 in the quarter of February 2017, to reach record highs of 1.065 million.
Even though most of the tradies have an average income lower than the national average, it's important to point out that plenty of those tradies are STILL doing very well for themselves. 
According to the facts and statistics, mentioned above regarding tradies, and the revenue raised by Uber for tradie like apps, we can see that having a tradie app is good for any tradie business!
Uber for tradie like apps have made it possible for customers to easily hire tradies on-demand at affordable and fixed rates. Simultaneously, tradies list out their skills/trades and are quickly connected to customers via applications.
In simple terms, "Is the 'uber for tradies' app idea profitable?"  Yes.
Image credits (ibisworld, which-50, thewest, news.au)