Are you a regular Uber user? Have you ever come across the option of a 'Walking Buddy' besides Uber Pool and X? 
Here's the truth
A few days back, a twitter user shared a screenshot of the Uber app with the caption "Lmfao walking buddy?"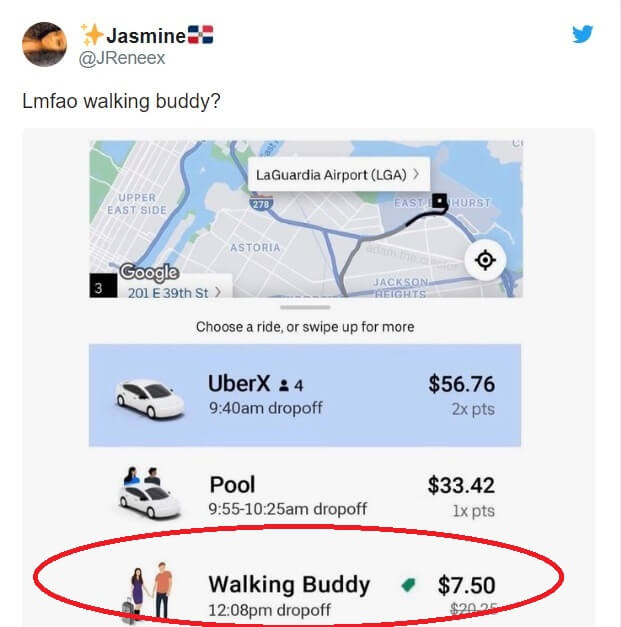 In the image, there was a third option of a 'Walking Buddy' to LaGuardia Airport in New York along with Uber's other options. And what more…the fare for this service was USD 7.50 cheaper than other options.
What was even funnier was the icon, unlike the usual image of the car, had two buddies holding hands.
Uber's 'Walking Buddy' has taken the internet by storm since the time it got shared but has Uber really launched this strange service?
Well…the tweet

had

the internet laughing hard but it was nowhere near the truth.
What netizens think about the idea?
The screenshot was merely a hoax. Although, the 'Walking Buddy' option is not real, still in no time it got viral and created a buzz on Twitter. Some Uber users took the rumor seriously and stormed the internet with all sorts of queries regarding the unusual idea.
Check out some of the hilarious comments:-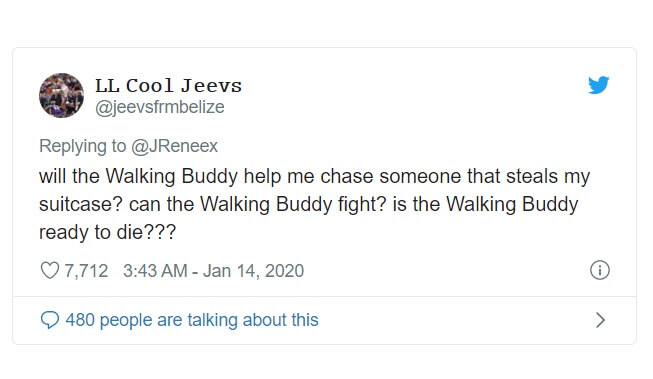 https://twitter.com/illuminati_pwn/status/1216907743459708928
Uber's funny take on 'Walking Buddy' option
Along with the netizens, Uber also joined in on the fun. Re-tweeting the viral image the brand said,

Wait… has this fake news given Uber an idea?
Is 'Walking Buddy' a good idea?
If we can find a dating partner through dating apps then why not a walking partner…doesn't this sound great?
The way netizens welcomed this rumor and showed their eagerness to the unusual idea is a sign that the idea will be openly accepted if brought in by the online cab services.
And the way the online cab services keep upping their facilities these days, it will not be a shock to see 'Walking Buddy' option soon.
ALSO READ: Build An Uber Like App
Also, in the world of digital technology where physical interactions have been outstripped by virtual interactions, walking buddies will be a great idea.
People will get a chance to meet and talk to real people and not on social platforms.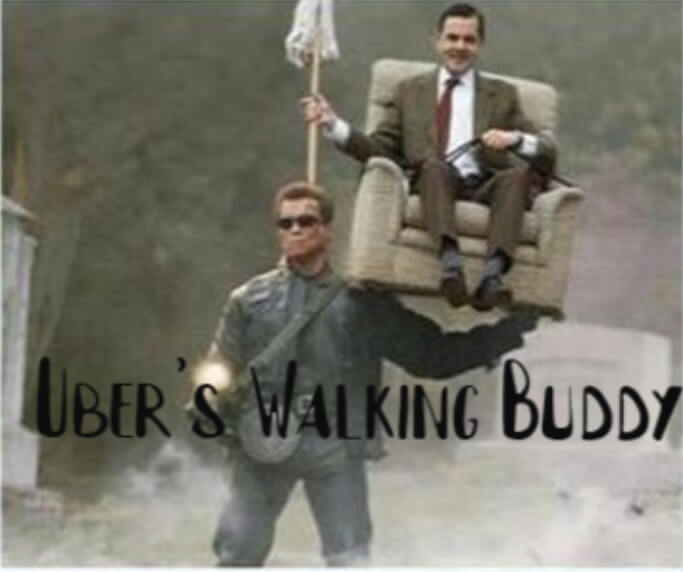 Honestly, it's not the dumbest idea. Say you're at a walking distance from a store and its night and you don't want to walk alone. Here comes the 'walking buddy'.
Or you just want to go for a walk but you don't want to be alone, you can always get a walking companion. But, for some Uber users, the idea did not go well.
It may be exciting but it's creepy as well.  What if the 'Walking buddy' role is taken by someone like Joe Goldberg, the serial killer from Netflix series "You?"
Wait!! What if you really need to forgo wheels for some sneakers? You can always turn to apps like bSafe, My Safetipin and Life360. Although these apps don't offer a companion to pair you up with, they'll surely lend a sense of security to walkers. They work by sending real-time updates based on your location to your contacts.
The solution to a problem is only one idea away. You can always come up with a feature you think would add value to the existing Uber business model and improve the experience of the users. Your app development needs are always taken care of at Appscrip.
---