Speedy grocery delivery startups are flying over the UK on the wings of profits. When weaving a strategy to set foot in the UK speedy grocery delivery startups industry, one needs a bird's eye view of the ENTIRE industry. 
Everything you need to emerge as an entrepreneur from statistics to strategy to a software solution is encapsulated into this enlightening pile of words. The purpose of this article is to transform information into insight to help you magically condense your grocery delivery startup idea into a powerful brand. 
Let's start by having a bird's-eye view of the UK's ENTIRE instant grocery delivery industry!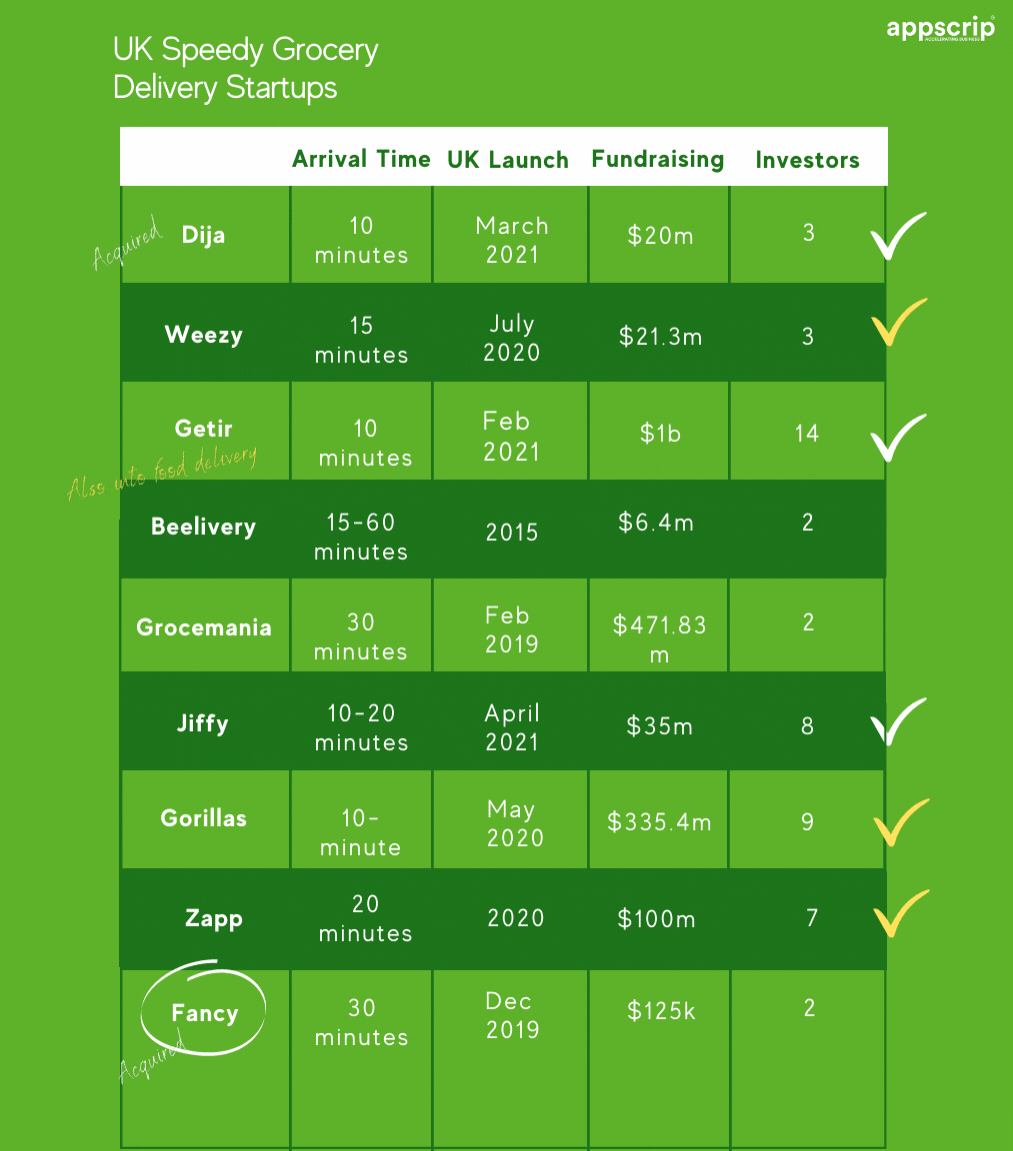 The UK is definitely becoming a smorgasbord of speedy grocery delivery startups. From bananas to baby food, biscuits to bubbly, and shampoo to shaving creams, these startups deliver everything you need WITHIN MINUTES. Catch Outrun them if you can! 
Please note that Deliveroo, JustEat, UberEats, GoPuff, and other food-tech giants aren't a part of this list. Though most of them are trying to sink their teeth into the speedy grocery delivery industry, some are only jumping on the bandwagon. 
Simply put, these food delivery apps don't reside in the vertical market*. For instance, GoPuff is also into food delivery, alcohol delivery, and snack delivery.
*

Vertical Markets focus on a very niche sector or demographic. In this case, the niche sector is the INSTANT/SPEEDY grocery delivery and the region is the UK. 
A startup can only compete with the giants by narrowing its focus and launching a startup under a different category. The UK speedy grocery delivery startups listed in the comparison chart eliminated their competition by narrowing their focus to one word: SPEEDY.

GoPuff

is no longer a competition for

Weezy

,

Jiffy

,

Grocemania

, and other such startups.

You narrow your focus not only to narrow down your consumers but also to cut the competition.
The next word to be noted on the comparison chart is 

ACQUIRED

. Ultrafast grocery delivery startups, 

Dija

 and 

Fancy

, have been acquired by goPuff. If you are thinking of launching a UK speedy grocery delivery startup, you are left with 7 competitors

including

Weezy

,

Getir

,

Beelivery

,

Grocemania

,

Jiffy

,

Gorillas

, and

Zapp

. 
Let's talk about Getir, a Turkish start-up founded in 

2015

. It was launched in the UK in 

Feb 2021

. Apart from the ultra-fast delivery service, the startup also offers courier service for restaurant food deliveries. Is Getir working on 2 different models? Does Getir stand with each foot in a different boat?
Of all these startups, only Beelivery was launched back in 2015. The UK speedy grocery delivery startup market picked the pace only after 2019. 
The industry is only becoming red hot, year after year, and it's just the beginning. Today, the UK's instant grocery delivery industry shouts SUCCESS louder than ever.
Startups Continue To Splash Plenty Of Cash To Dial-Up Their Grocery Delivery Services

Astonishing achievements in the UK's speedy grocery delivery industry are as common as the sunrise. The UK's speedy grocery delivery startups slide into VC's hearts before they are even born.

Dija, the 10-minute instant grocery delivery startup raised $20m before even LAUNCHING, and that too, WITHOUT a pitch. In my last article, I talked about Dija's journey from breaking out of an egg to walking the hottest aisle in the on-demand world. 

One of the UK's speedy grocery delivery startups, Jiffy just scooped $28 million in series A funding. Jiffy was founded in April 2021. It's clear that VCs are ready to pour money into these platforms with a blindfold on!
We are betting this trend (switching of people from supermarkets to their delivery app) will only accelerate as we become a more mature service. – Co-founder Jiffy, Vladimir Kholiaznikov 
Avoiding Pitfalls of Gig Work

The UK's speedy grocery delivery startups, including Dija and Jiffy, don't hire gig economy workers, avoiding a myriad of pitfalls (legal, ethical, reputational, and logistical). The drivers work in shifts and are 100% allocated to one site. 

Shedding Light On The UK Grocery Delivery Statistics
From $70 billion in 2021, the grocery delivery market is expected to grow by USD 631.84 billion during 2020-2024, progressing at a CAGR of almost 29% during the forecast period. (Source: Business Wire)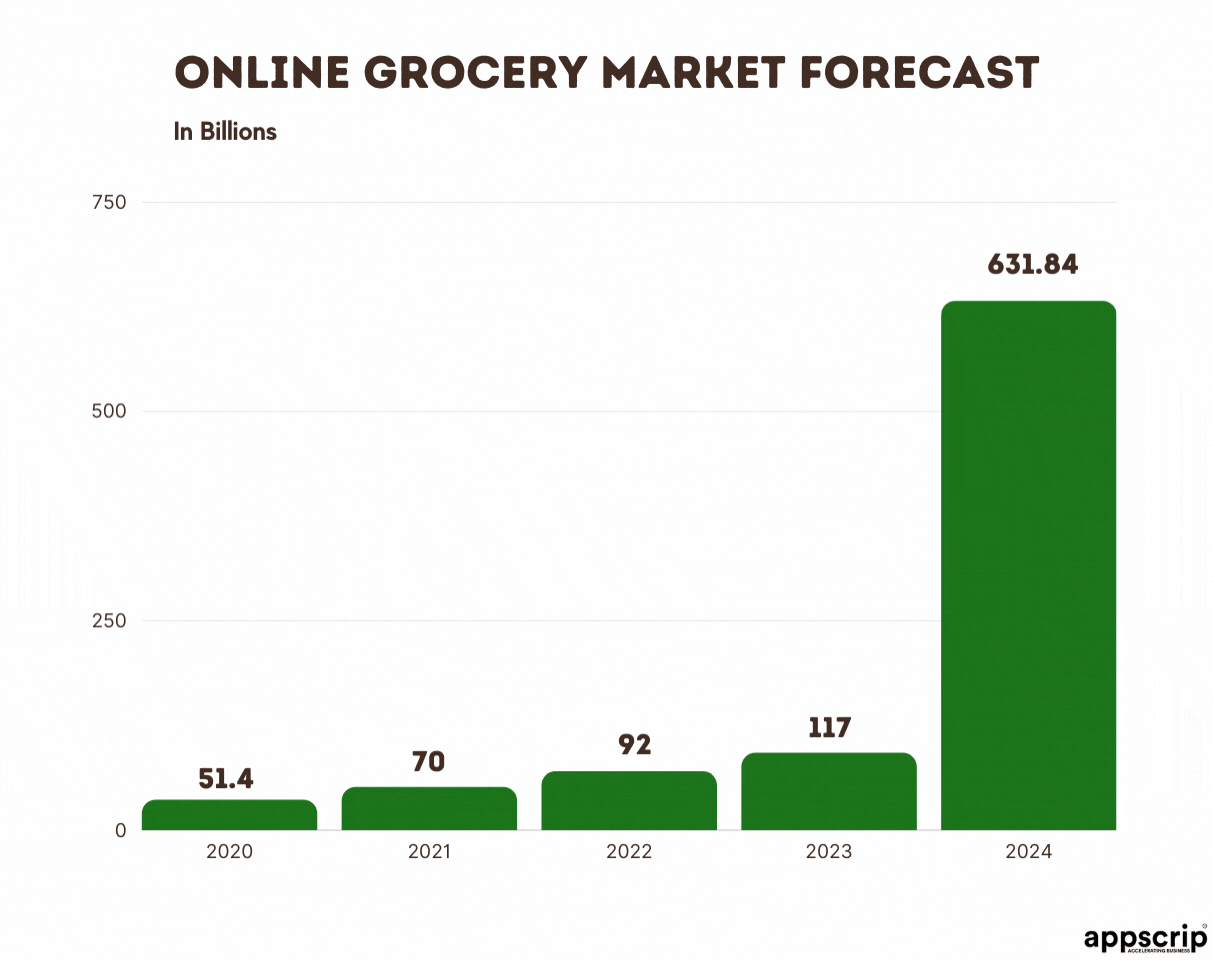 Waitrose & Partners polled 2,000 people across the UK in August 2020 only to find that

 

77%

 of them do online grocery shopping. 
These statistics show the gap needs to be filled in the online speedy grocery delivery market by aspiring entrepreneurs. A combination of confidence, clarity and a complete grocery delivery startup plan could land you among millionaires.
Online instant grocery delivery apps are no less than money-making machines. But for these money-making machines to work fast, you need to get good at lubrication maintenance. You need to find a way to grease your way to the UK's on-demand instant grocery delivery industry.
Let's first, understand the friction you'll face!
Friction Faced In An Instant Online Grocery Business

Before you can even think of launching an INSTANT grocery delivery startup in the UK, you need a wide network of fulfillment centers (dark stores) nestled within neighborhoods. 
What's the point of delivery-only dark convenience stores when the delivery drivers can pick and pack everything from supermarkets? 
Can supermarkets guarantee what's on their shelves? Think of it! The delivery driver has to walk down the supermarket aisles to pick and pack different grocery items, ask the cashier to generate a receipt, and drive to the delivery address, and that too, within 10 minutes? 
Out-of-stock items are a big 'Ouch!' Ah! Product substitutes? Doesn't the driver need more time to manage those? 
Dark stores are usually optimized based on which products sell together and which ones sell the most. Dark stores force 3H's (hassle, hesitation, and hindrance) to take their hands off your delivery business. I don't wonder why

all the UK

speedy grocery delivery startups' grocery arm

 is moving into dark stores

.  
Now you must be thinking of dotting the UK streets with dark stores, right? Before you could do that, you'll have 5-6 more startups to compete with. So, what's the right grease to reduce this friction? 
Eliminate Friction, Improve Efficiency: The Re-Birth Of Innovation

Introducing you to the Picker App – an app to make the grocery delivery process less painful and more powerful. 
What if I say you can launch your instant grocery delivery startup by the start of 2022? 
Did you know that Grocemania rolled out its first dark store in June 2021?  Jiffy is still looking forward to launching 20 fulfillment hubs across the UK in 2021. Weezy is also looking forward to weaving a network of 90 dark stores by the end of this year. 
You can expand even after launching a speedy grocery delivery startup. Setting up dark stores on the UK streets isn't rocket science. However, for some entrepreneurs, deepening your roots in an instant online grocery delivery market is. 
How Picker App Works: Penning Down The Power Of Picker App

Let's say the UK's every nook shouts your startup's name. You've set up several dark stores. Even then, the picker app would continue to pour perfection into the process of pickup and delivery. 
For anyone aiming to launch an instant grocer delivery startup, the goal isn't to go after competitors anymore. The goal is to beat the time bar set by other UK Speedy grocery delivery startups, (i.e. 10-minute delivery). The only purpose of the assigned picker is to pick and pack grocery items until the driver arrives at the location. 

This is the brief flow of the picker app, considering the order is accepted by the store owner and all the ordered items are available. To understand the concept behind the picker app, you can check the complete flowchart of the picker app! 
The answer to, "How the picker app can be used best?" depends on the aspiring entrepreneur who wants to set up the delivery software system. 
Entrepreneurs can also collab with only those stores/supermarkets that have their own picker. 

 The driver and picker can also be the same person. In case, they are different, they can coordinate with each other, either in terms of templated messages (I have reached the location or How long till you hand over the bag) or calls. 
The picker app I gabbed about here is a part of Grocer, a power-packed, pre-built one-stop software solution. Grocer is the answer to "How do you give online technology newspapers something to separate the wheat from the chaff?"