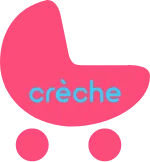 CHILD CARE SCHEDULING SOFTWARE | UBER FOR BABYSITTING
Entrepreneurs can launch a child care scheduling software solution today. Crèche is on-demand childcare software for parents / guardians to find support to take care of their children. Crèche has been inspired by top apps such as Urbansitter, Care.com, Sittr, Chime & others. Crèche is available both as an App or a website for booking babysitters / nanny services.
CHILD CARE SCHEDULING SOFTWARE | GRAPHICAL FLOW
CHILDCARE BOOKING SOFTWARE
Creche has been inspired by several on demand child care schedule software such as
Chime, Helpr, Sittr to assist parents / guardians. The App has been crafted with safety and
ease of use as salient features.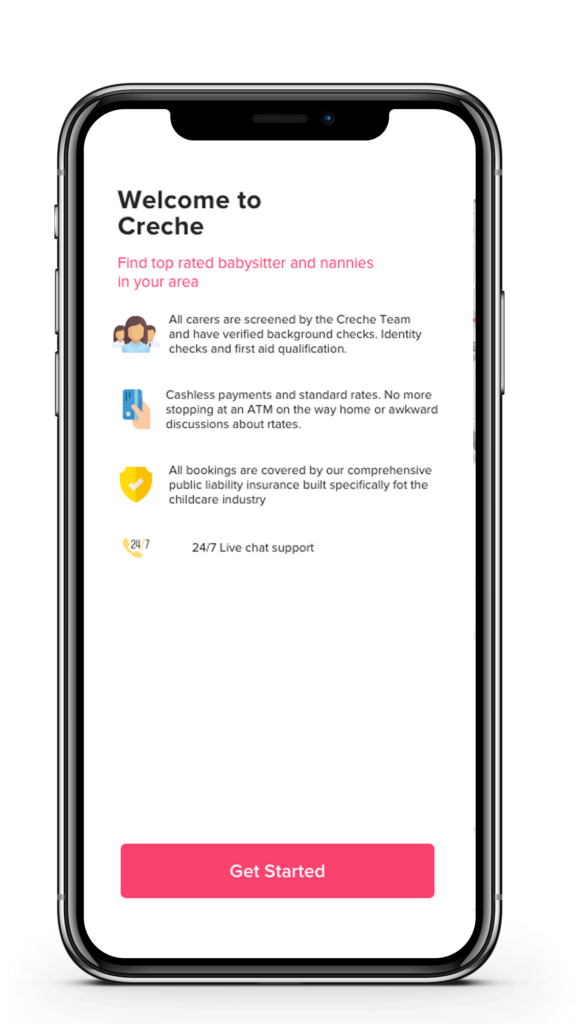 When it comes to children safe and security is vital. Hence the App has inculcated the best safety features of other prominent Apps available in the market as Helpr clone and other on-demand nanny services.
Social Account Registration
The registration process has been simplified so that parents/guardians can easily register via social accounts into this childcare scheduling software.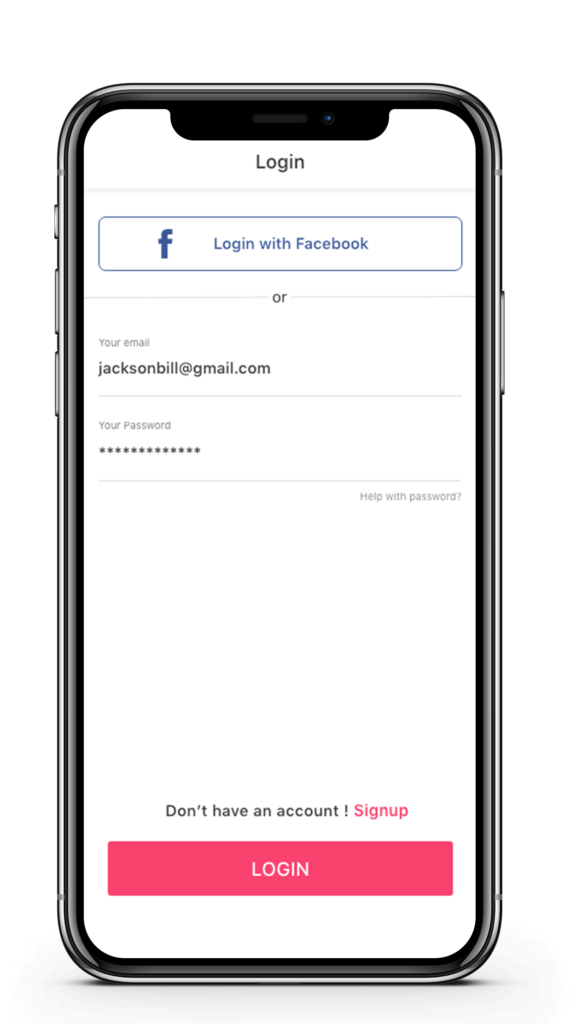 FEATURE-RICH CHILD CARE STAFF SCHEDULING SOFTWARE
Scheduling a babysitter is not just another chore. Parents/ guardians must trust the babysitter /nanny on an App to go ahead and choose them to take care of their children. Creche is designed build trust through innovative features and converts them to long term customers. The App promotes referrals while granting ease of childcare service booking.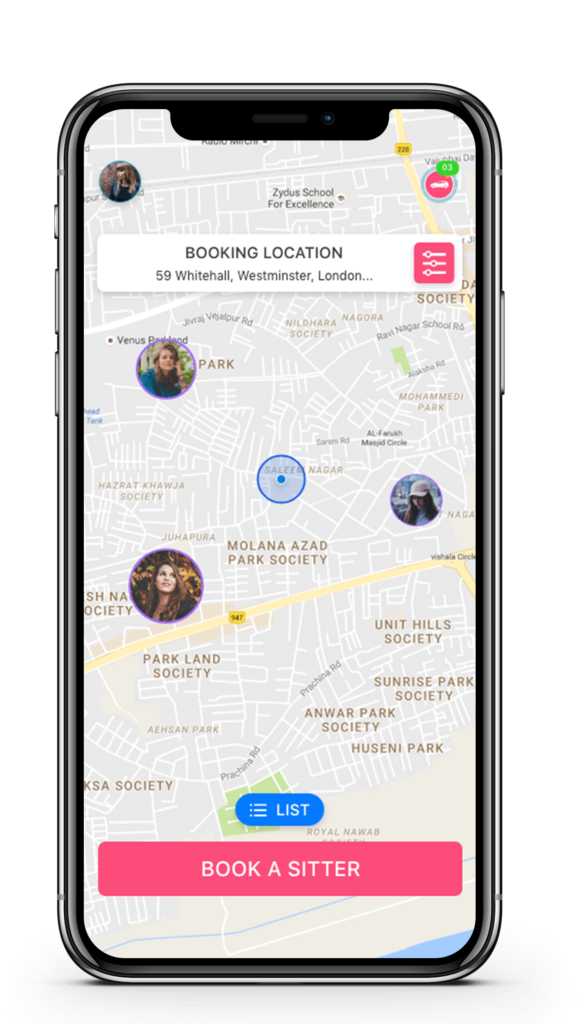 Real-time View of Babysitters/ Nanny/ Childcare Professionals nearby
A map with real-time view of all available babysitters / nannies nearby can be utilized to book an apt one for your services.
Advanced Child Care Scheduling Filters
Parents can filter available babysitters on the Uber app for childcare staff scheduling through customizable filters based on babysitting / childcare needs & services.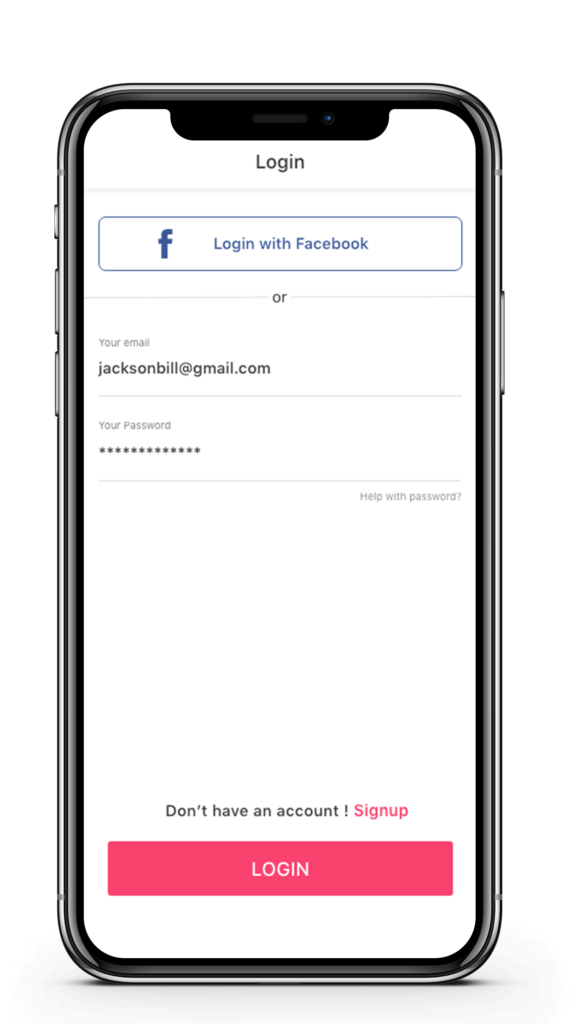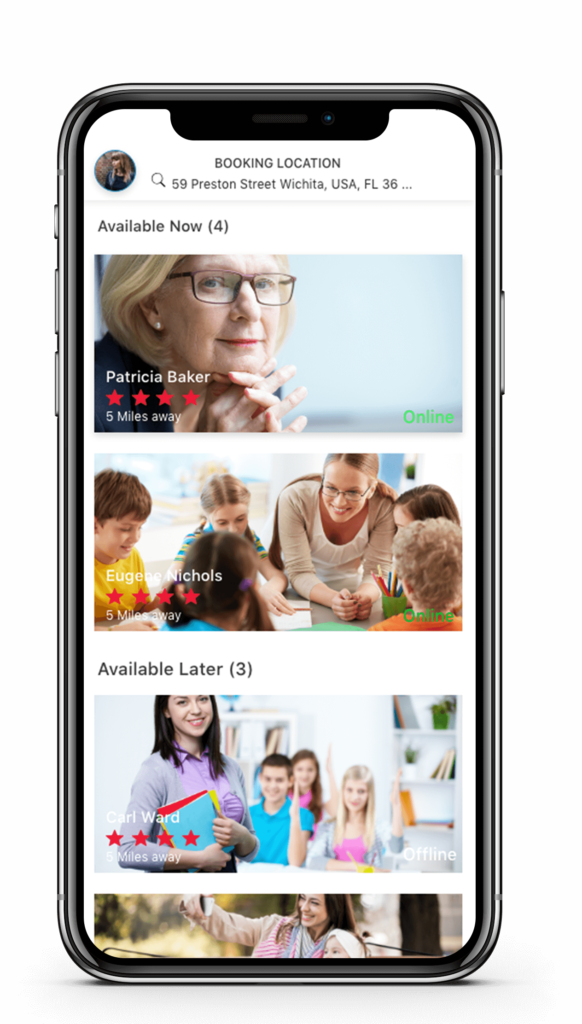 View Various Babysitter Profiles
Parents can view a list of all 'Available' & 'Available Later' childcare professionals in their vicinity. Star ratings of the babysitters would be provided on the childcare app based on past reviews.
Detailed Babysitter Profile
A detailed profile is provided for all babysitters /nannies /childcare professionals to the user. The information would be a video profile, recommendations by parents, skills of the professional, additional qualifications, etc.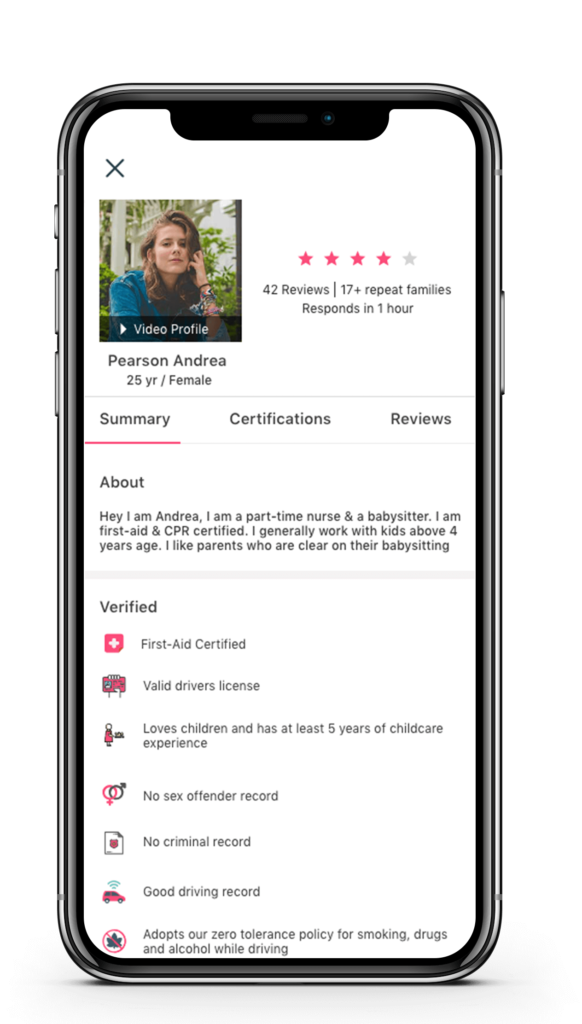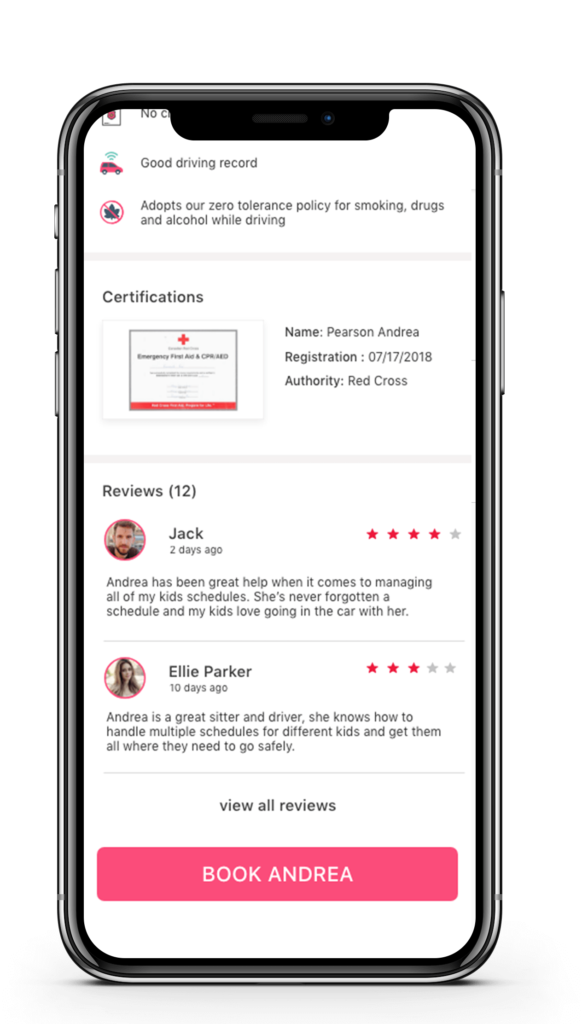 Parents / clients can view childcare certifications, reviews, additional information that has been uploaded onto the application after verification by the admin. Childcare scheduling software includes reviews by previous parents to build trust in the App & the individual.
Scheduling & Price Estimates
The on-demand nanny service or childcare staff scheduling can be for an immediate requirement or can be scheduled for a later date. You can also set up weekly schedules for childcare service or nannies. The price estimate can be viewed after scheduling for the service.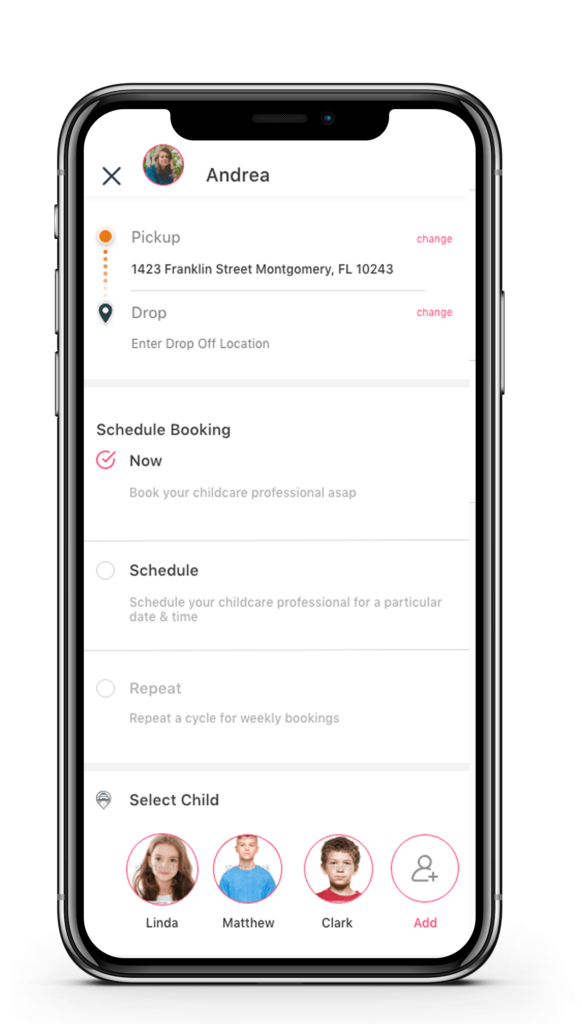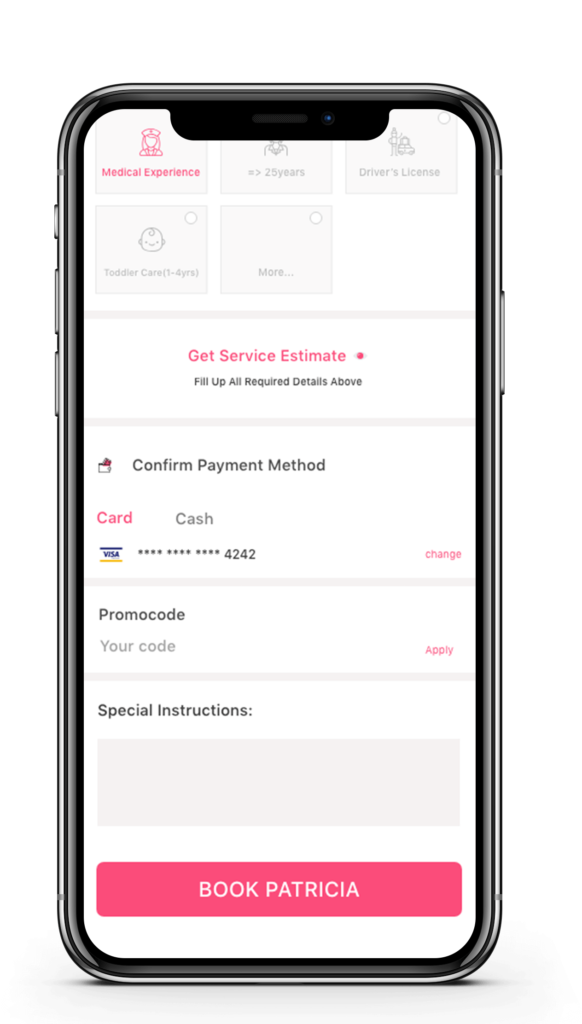 Payment Methods & Promo Codes
Users can specify their preferred mode of payment while booking and add promo codes provided through campaigns, referrals, loyalty programs or other in-app offers available on the childcare scheduling software.
Once the babysitter accepts the schedule, parents can track their babysitter on the childcare scheduling software. The nanny can be contact though diverse options provided on the App during the babysitting schedule.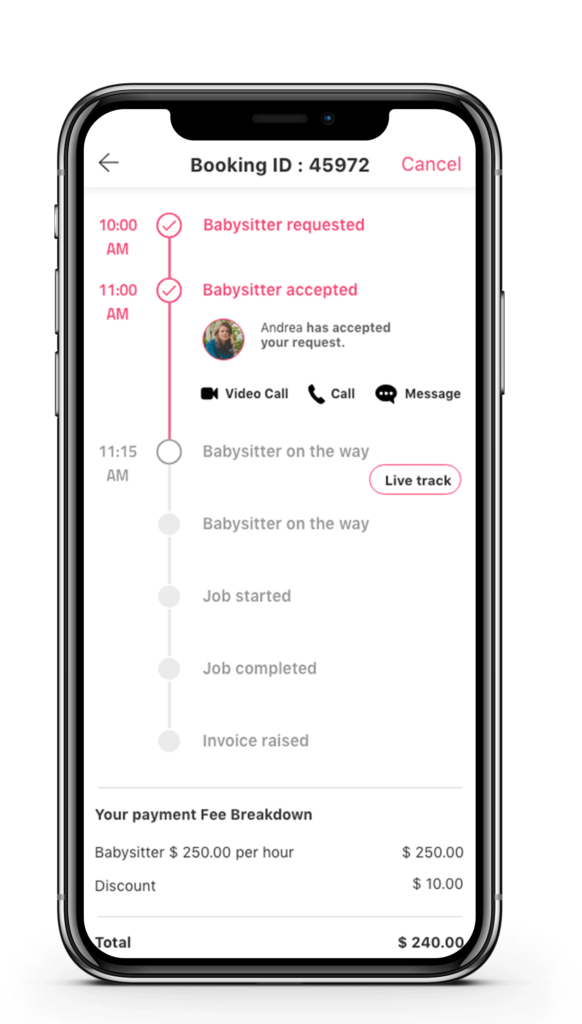 INNOVATIVE CHILDCARE BOOKING SOFTWARE
Crèche, the Uber for child care scheduling service provides various means for parents to contact babysitters on the job. This ensures a building of trust on the service which further improves the user's positive word of mouth regarding the babysitting software.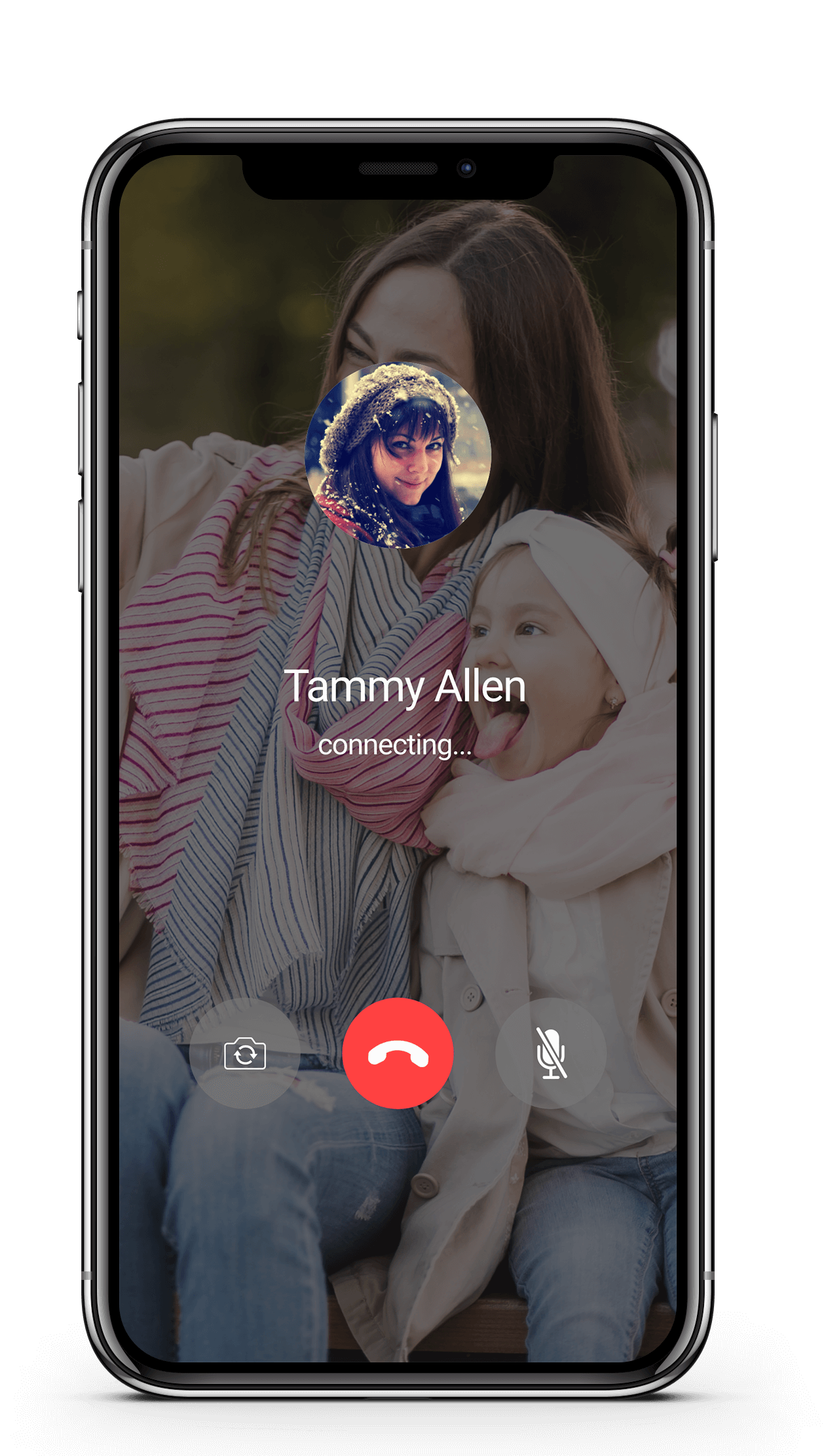 Parents can enable live-streaming of their child & babysitter using an in-app video call feature which has been integrated into the nanny service script.
Parents can opt to chat with their babysitter / nanny via the in-app chat module integrated into the childcare scheduling software.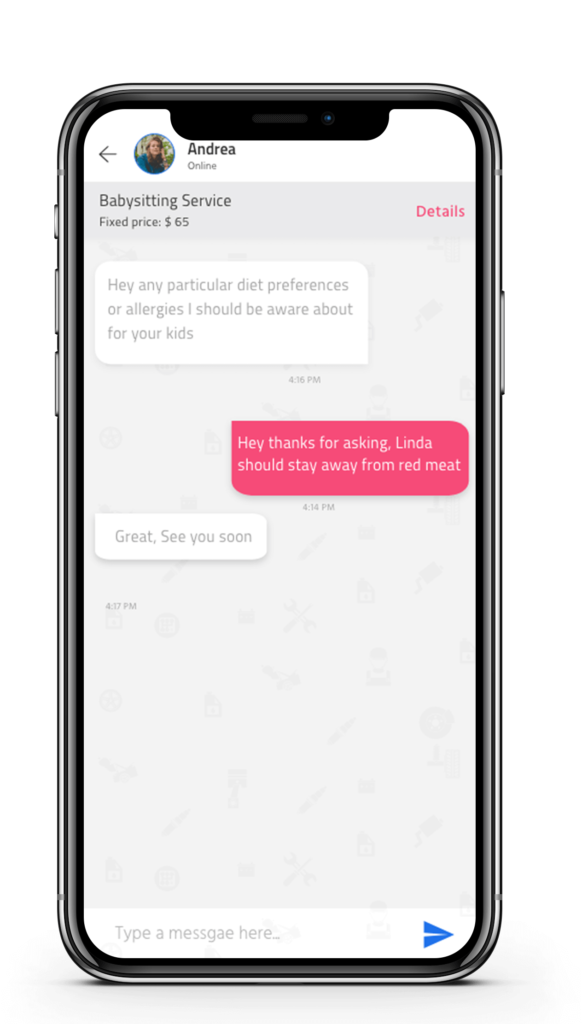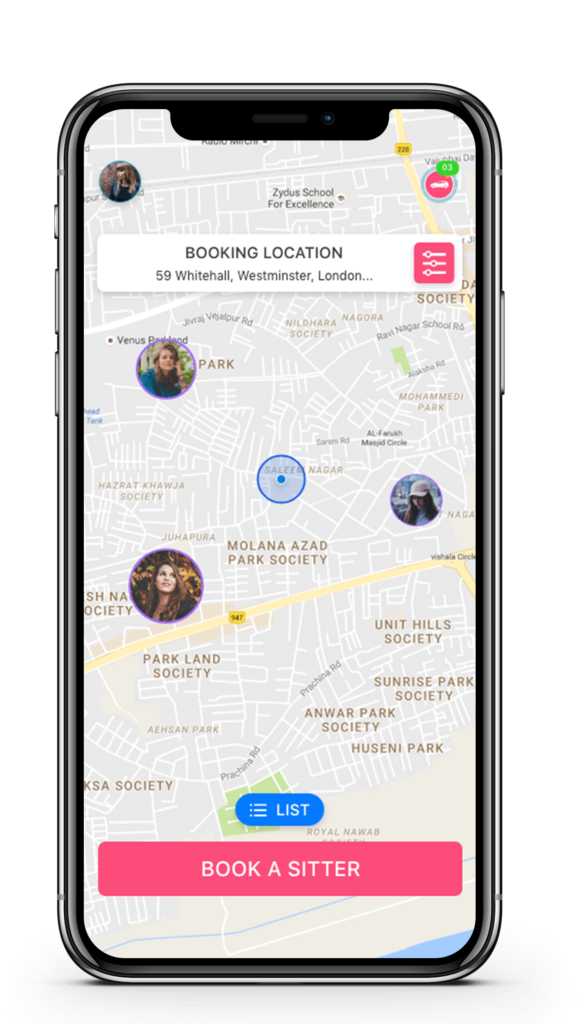 RA real-time tracking provision is enabled for customers of their booked babysitter.eal-Time Tracking
Parents can view a detailed invoice on completion of the job on the childcare scheduling software inclusive of additional charges if any.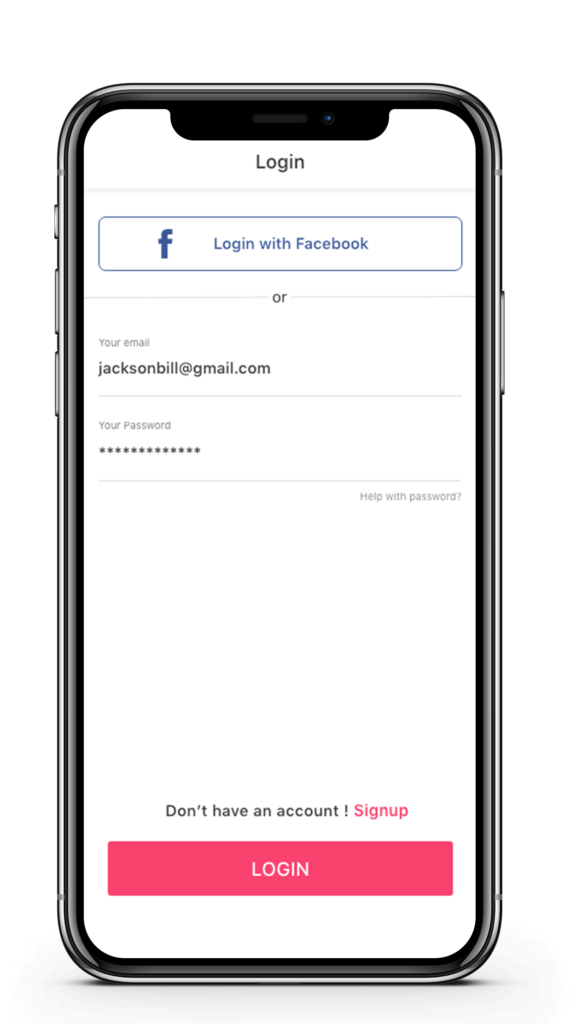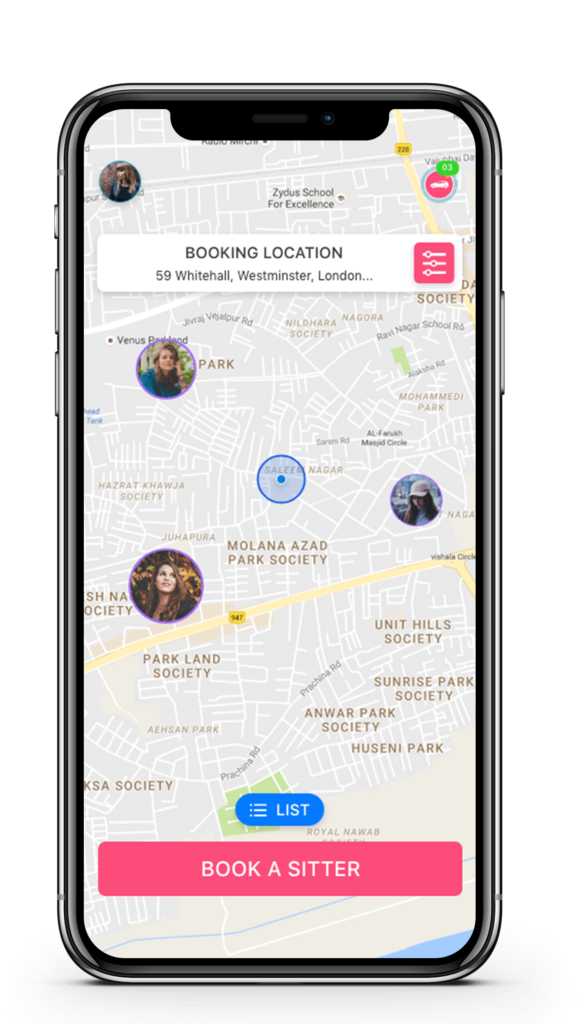 Users are mandatorily encouraged to leave reviews of their booked babysitter or childcare on demand service to maintain high quality standards on the app as well as further encourage other parents/guardians to book sitters on the customised sitter service application.
Parents can view a history of all booking done in the past and present. The app provides a list view of all jobs booked via the child care scheduling App.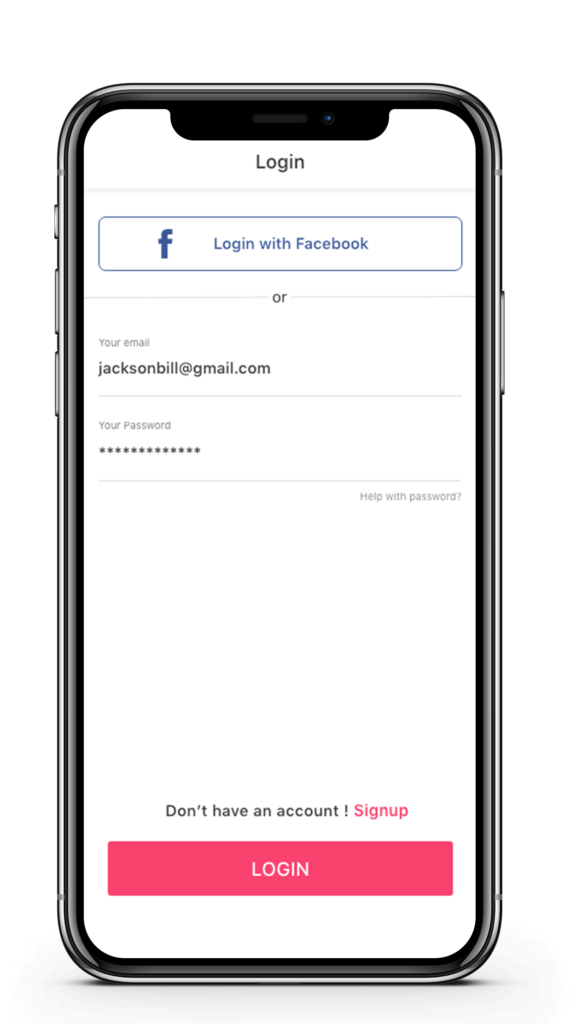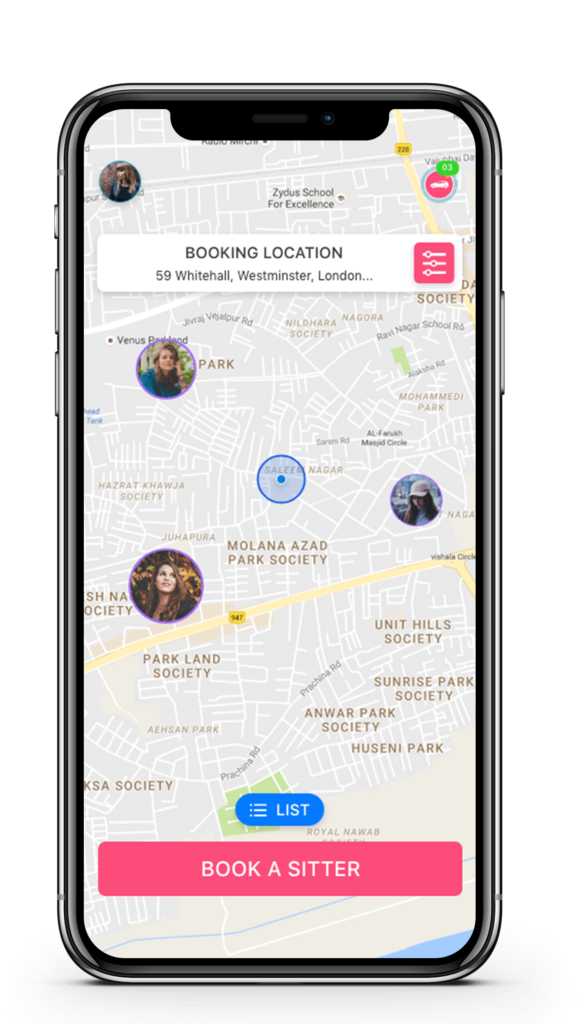 Parents / users are provided with a referral code to avail referral discounts whenever they refer another parent or client.
Users can add all necessary details of each child while adding them on the application. You can specify instructions such as food to be served or any allergies.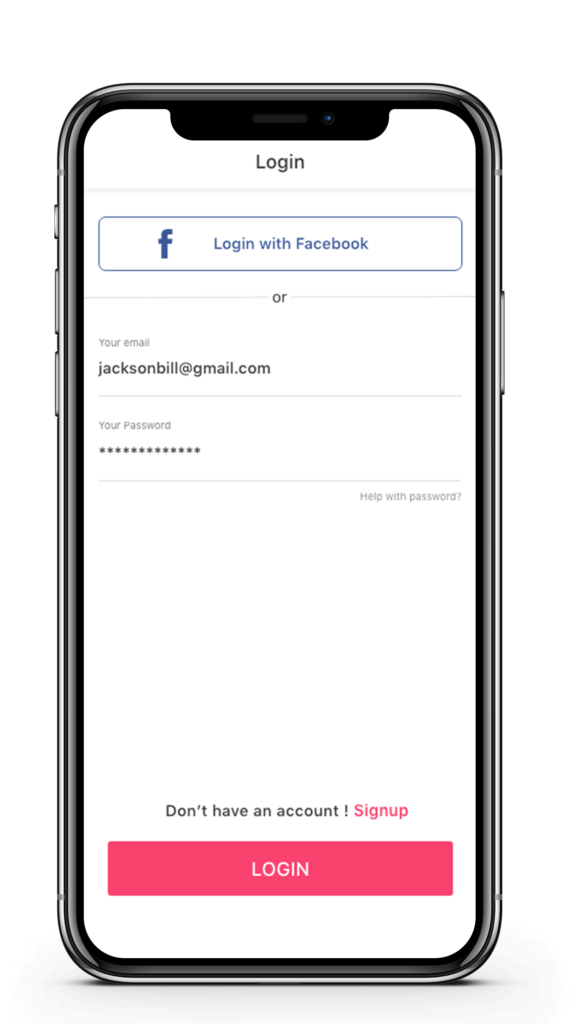 CUSTOMISABLE CHILD CARE SCHEDULING SOFTWARE & WEBSITE
Customer & Babysitter Online Portal

Firstly register on the App as a parent/guardian looking to avail services of a babysitter / nanny. Or a professional could register looking to offer child care scheduling service.
Explore Various Childcare Services

Explore various child care scheduling services to specific babysitting or nanny services on our childcare booking website.
View Detailed Verified Babysitter & Nanny Profiles

All registered babysitters, nannies & childcare expert profiles are verified in-depth & insured as well. Users can view reviews & recommendations of each child care professional. The backend childcare management system software for Admins control verification & approval of each childcare professional on the App.
Scheduling, Payment & Live Tracking

After booking for child care service & a professional engaged, users can book for right away services & schedule for the future. Users get the option to view real-time the babysitter & their child. Each job can be monitored in real-time via the child care dispatcher software as an enhancement to safety & security.
UBER FOR CHILD CARE DISPATCHER
Bird's Eye View

Entire view of all childcare professionals, on-going babysitting jobs, real-time childcare services, booking requests, individual phone battery percentage, etc are provided.
Manual Bookings

Option to manually assign child care bookings to babysitters is available.
Individual Job View

View the status of each individual assigned child care professional in real-time.
CHILD CARE SCHEDULING SOFTWARE | ADMIN PANEL
BABYSITTER & NANNY MANAGEMENT
Manage all child care professionals on the app. Approve / reject babysitters during registrations as per qualifications, licenses, certifications & other uploaded documents.
FEE SET UP OF CHILD CARE SERVICES
Setup and manage the on-demand child care scheduling service fees for different professionals, various cities & hourly rates.
PROMOTIONS, REFERRALS & LOYALTY PROGRAM MANAGEMENT
Dedicated marketing module to setup and manage promotional codes, referral campaigns & loyalty programs for a personalised child care scheduling service app.
TRACK CHILD CARE BOOKINGS
View all the bookings by parents & guardians in real-time as and when they are being placed.
CHILD CARE BILLING & ACCOUNTING SOFTWARE
Financial accounting module to keep a track of app commission's and babysitter earning's, all through the accounting panel.
PAYROLL MANAGEMENT
The child care staff scheduling software for babysitters comes with a payroll management system to manage cash & card earning for babysitters & nannies. Direct payment can be enabled to the childcare professional's bank account.
BIRD'S EYE VIEW
Track all registered babysitters, nannies and their respective jobs in real-time on the Creche childcare software.
ZONE MANAGEMENT
Create zones for various child care services, by drawing polylines on a map and set rates as per the region.
IN-APP CHAT MONITORING
various babysitter, nannies, child care professionals and parents/guardians during their interactions.
REPORTS & REVIEWS
Keep a tab on your registered babysitters & nannies. Maintain high safety & quality standards, using ratings and reviews given by customers.

MESSAGES & NOTIFICATIONS
Send out in-app notifications to parents, guardians, babysitters, nannies & other professionals registered on the child care scheduling app.
WHY CHOOSE CRECHE AS YOUR CHILD CARE SCHEDULING SOFTWARE?
Inspired by the build of top babysitting apps such as Sittr, Chime, Care.com, Urbansitter & others – Creche encompasses a seamless UI experience for parents & guardians. All the while ensuring safety & security features inculcated to enhance trust factor with the white-label child care scheduling software application.
100% Customizable
The child care scheduling software can be customised for various on-demand childcare / child care scheduling apps. Whether you are looking for a child care app, babysitter app, nanny booking service or a day care solution – Crèche can be tailored for each requirement perfectly.
PCI Compliant
PCI compliance is assured to inhibit legal issues while accepting in-app purchases on the customised child care scheduling software.
Prebuilt Scripts
Using state of the art app container technology, clean coding practices, use of microservice architecture, integrating safety & security features makes Creche one of the most robust and safe online childcare booking software solution available in the market today
Scalable & Clean Design
Using state of the art app container technology, clean coding practices, use of microservice architecture, integrating safety & security features makes Creche one of the most robust and safe online childcare booking software solution available in the market today
Multi-Language & Multi-Currency Support
Irrespective of your location or currency preference, Creche can be tailored to operate in any country or language preference to support your business in the childcare domain.
Referral, Promotions & Loyalty Programs
To enhance growth of user base & improve retention on the Urbansitter clone & Uber nanny app, you can provide promo codes, referral features & loyalty programs to encourage users to engage and refer other clients for the child care scheduling software application.

SEO Friendly Design
hildcare solutions & on-demand babysitting apps built on the Creche child care scheduling software are designed ascribing to the best SEO & ASO practices for apps in mind. This aids in the visibility of your App on SERP.

App Monitoring & Chatbots
Our childcare scheduling software and babysitting booking apps are the only customizable childcare app solutions with chatbot-integrated app monitoring services. This ensures updates on your customised child care scheduling software.

Security | Child Care Scheduling Software
Our child care staff scheduling software solution is not only robust & scalable but secure as well. SSL-powered API's, Keychain, JWT, reverse proxy setup, etc ensures security extends from the babysitter booking app to each individual API.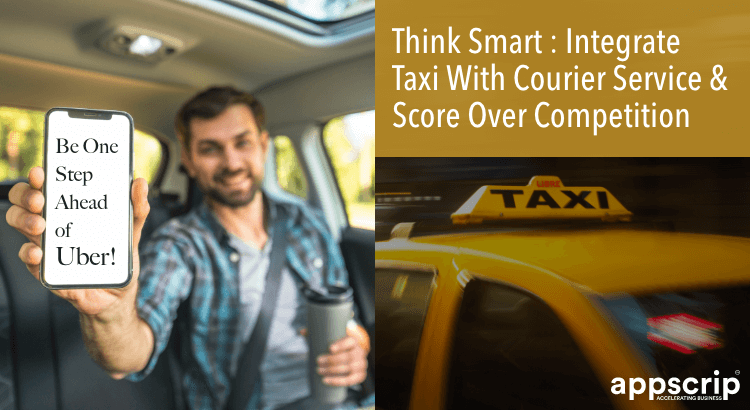 Think Smart : Integrate Taxi With Courier Service & Score Over Competition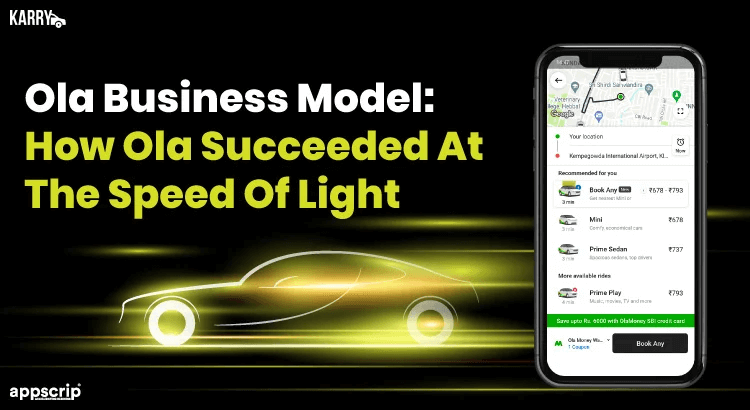 Ola Business Model: How Ola Succeeded At The Speed Of Light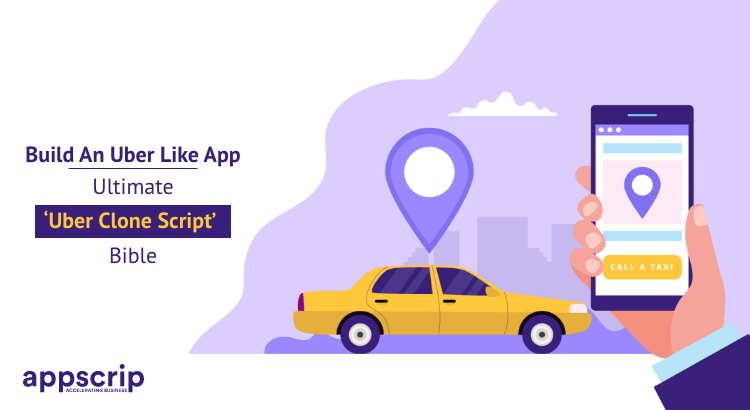 Build An Uber Like App | Ultimate 'Uber Clone Script' Bible