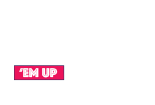 FREIGHT DISPATCH SOFTWARE & FREIGHT FINDER SOLUTION
The freight dispatch software, freight dispatch app & truck load finder solution, is an overall trucking software solution for freight dispatchers & fleet owners alike. This transportation brokerage software is for shippers, freight brokers, movers and other on-demand moving services.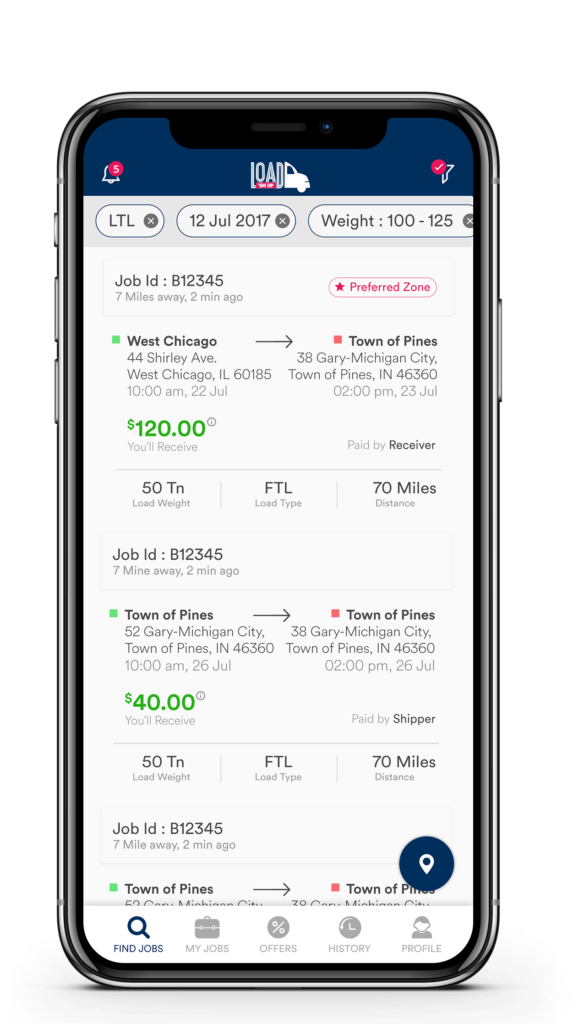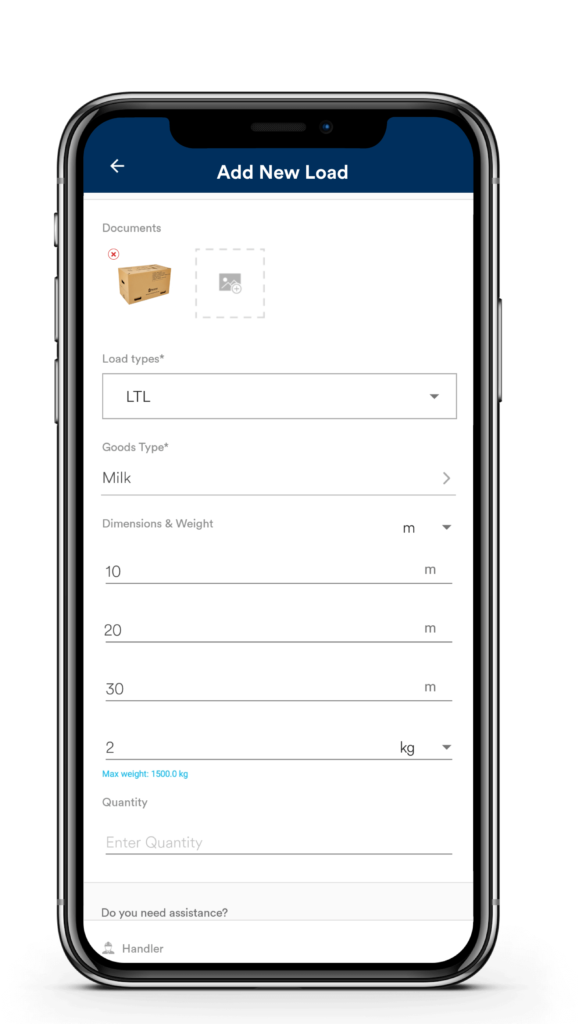 LOAD & JOB LISTING APP | FOR DISPATCHERS, AGENTS & CLIENTS
The distinctive customer app allows users to flawlessly enter load details. Live tracking is provided on job status on real-time basis. The option for Job bidding is integrated which enables prices to be negotiated prior to jobs been accepted by the fleet owner/driver.
DRIVER APP | CONTINUOUS & INNOVATIVE LOAD FINDER SOLUTION
There is an easy-to-use innovative load board solution for drivers to filter load jobs based on their vehicle type and carrying capacity. Live job tracking empowered via Google Maps / Waze powered. Driver Analytics & In App Invoice Generation is also available.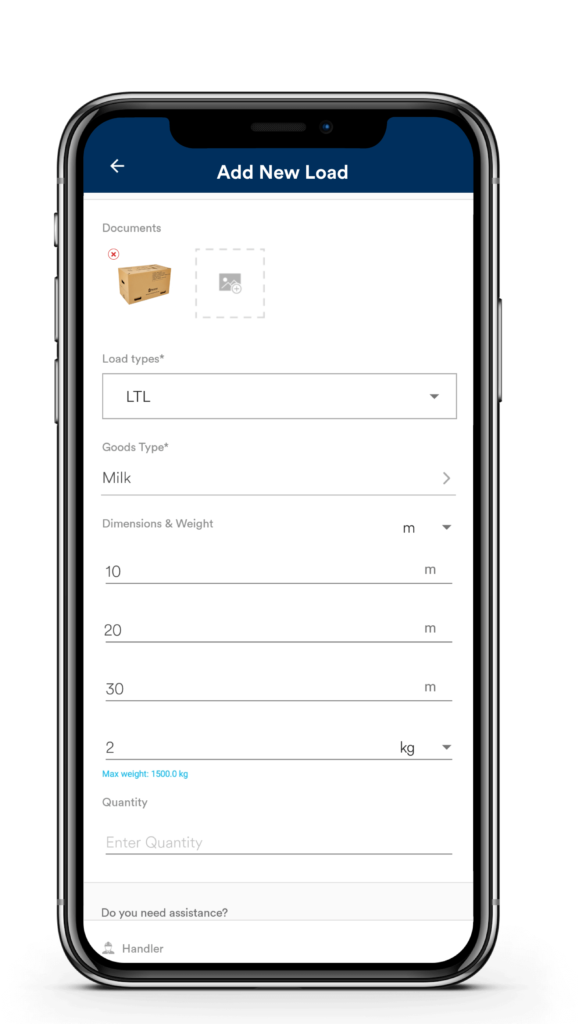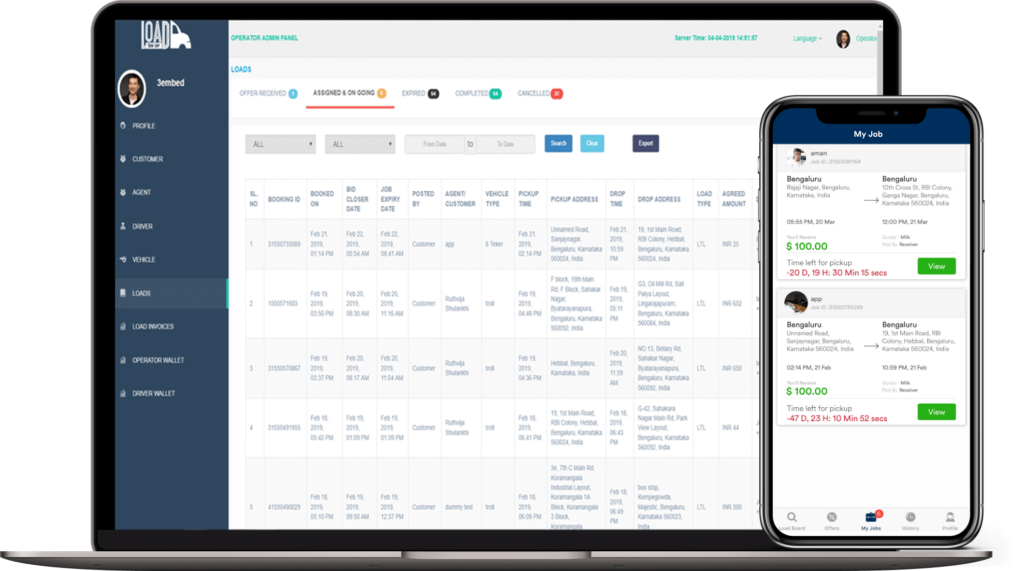 LOAD & JOB LISTING APP | FOR DISPATCHERS, AGENTS & CLIENTS
The distinctive customer app allows users to flawlessly enter load details. Live tracking is provided on job status on real-time basis. The option for Job bidding is integrated which enables prices to be negotiated prior to jobs been accepted by the fleet owner/driver.
CUSTOMER WEBSITE PORTAL | DESKTOP VERSION
A large slice of customers in this domain consists of those who would prefer a desktop over an app. Therefore a Website Portal is provided for customers, brokers and agents to post job details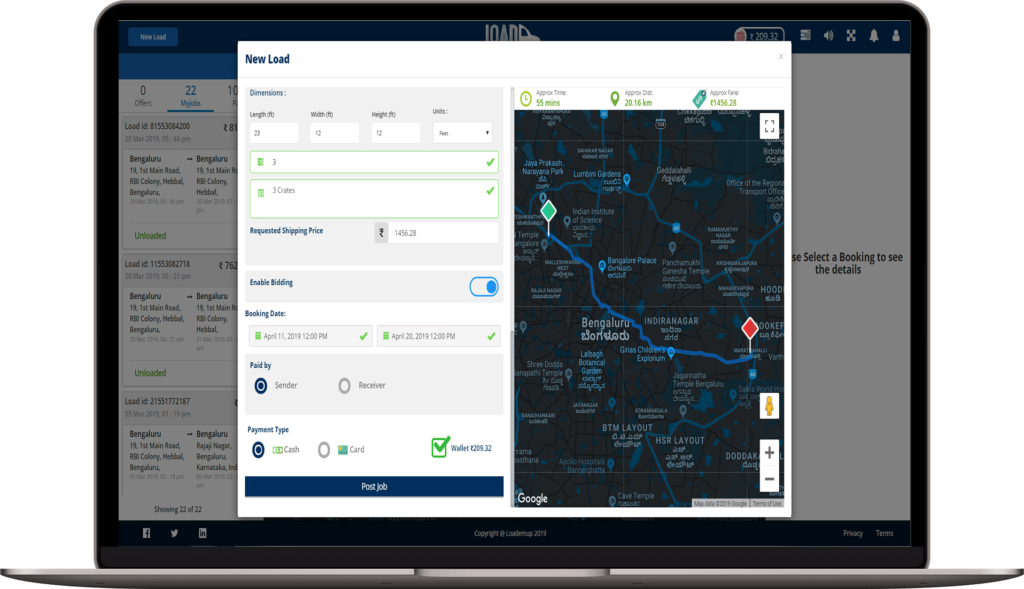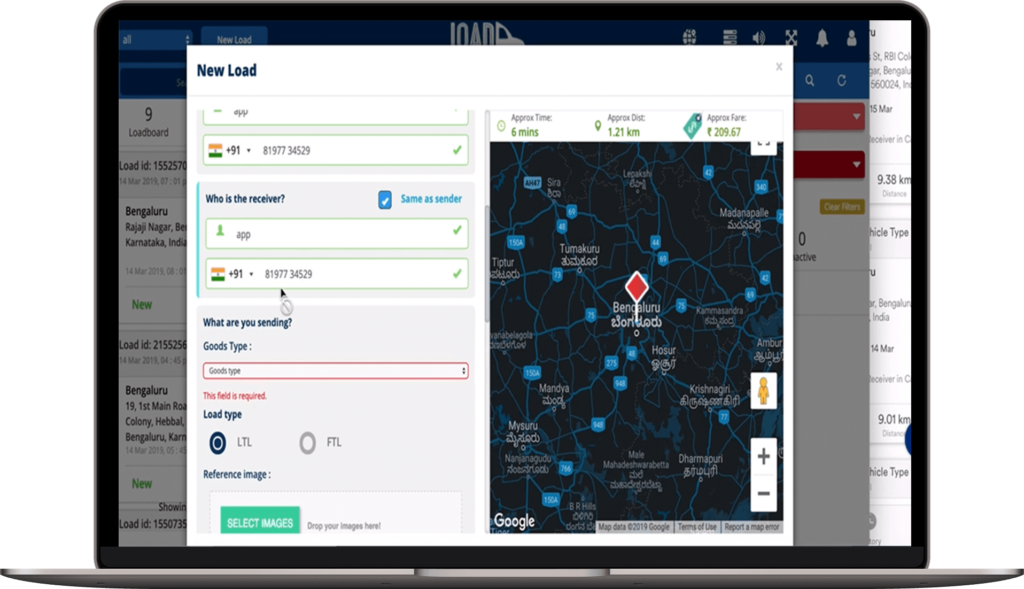 WEB DISPATCHER | FLEET, JOB & LOAD MONITORING
The web dispatcher can create jobs manually and assign them to drivers as well. The central control center is designed so that dispatchers get an overview of all jobs in real-time and trips undertaken.
ADMIN PANEL | COMPLETE CONTROL & ACCESS
The LoadEmUp admin panel gives freight owners complete access / control of the freight dispatch software solution. The admin panel can be utilized to configure accounts, set up zones, add contractors, agents, fleet-owners, set up plans, pricing, and much more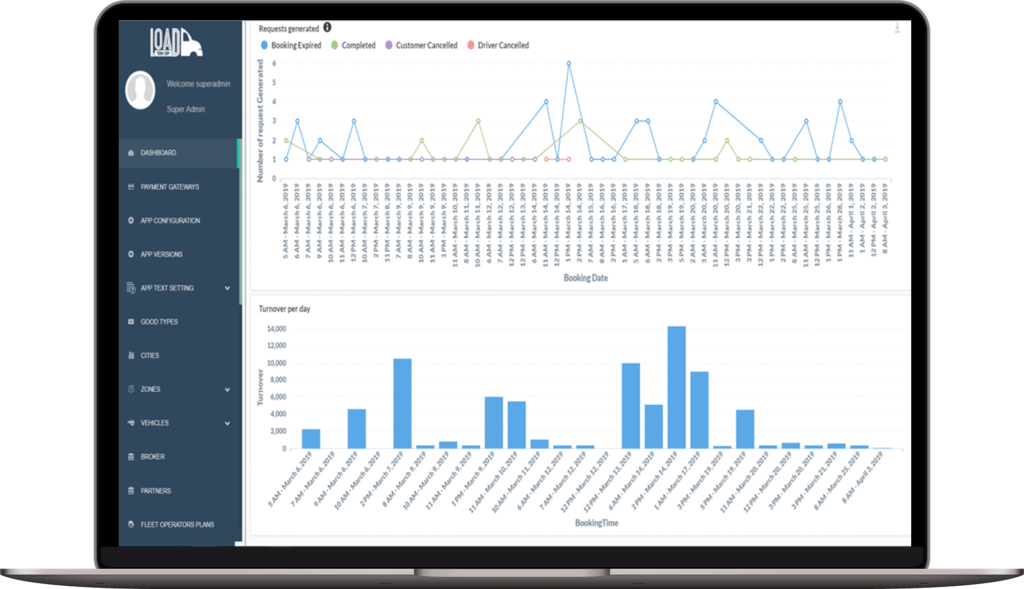 Freight brokers assist shippers move freight by finding a carrier (trucking company) to haul freight at a cost. Freight brokers, also referred to as load brokers, truck brokers, or transportation brokers, match shipper freight with available trucks earning 10% to 35% per shipment.
Do freight brokers need a software solution?
YES if you plan to be successful you need software to manage freight brokerage business. To succeed freight brokers need a system to effectively manage customer's freight, invoicing and pay truckers.
How to choose a freight broker software?
This depends on your needs and budget. Diverse options are available to select a software solution, which will streamline operations and improve overall management. Freight brokerage software allows easy entry of loads, add carriers, dispatch drivers, invoice clients & pay truckers.
What is the future of freight broker business?
Everyday people / businesses buy, sell and consume products. These products must be shipped. Freight brokers help move freight efficiently. Any product you need/consume has been on a truck at some point. The demand for transportation will only increase with time.
What are the features of a freight broker software?
Unlimited users, offline management, manage app updates, receiver tracking link, manage access, payment gateway integration, & many more.
100% Customizable
The freight dispatch software is customizable to provide a solution for all kinds of freight transportation, cargo moving services and various on demand freight finder apps.
PCI Compliant
We ensure PCI compliance which will assure no legal hassles in accepting online payments on the LoadEmUp freight dispatch software
Prebuilt Scripts
The proprietary Pre-Built IP solution enhances the movement of your app from development to deployment quicker than any other freight dispatch software by any other developer out there.
Scalable & Clean Design
Utilizing the state of art app container technology, clean coding practices and microservice architecture – LoadEmUp is designed to be innovative & trustworthy for all your freight dispatch business requirements
Multi-Language & Multi-Currency
Launch your own freight dispatch software in any country with any language of preference. We ensure that LoadEmUp can be deployed in diverse language or currency preference.
Referrals, Promotions & Loyalty Programs
Enhance client base on your innovative freight dispatch software. Also increase overall retention via referrals, promotions & loyalty campaigns.
LOAD'EM UP GRAPHICAL FLOW
The simplistic UI inculcated in the freight dispatch software assists in uploading details of the service required, load type & images. The shipper can view a list of all nearby truck load jobs simultaneously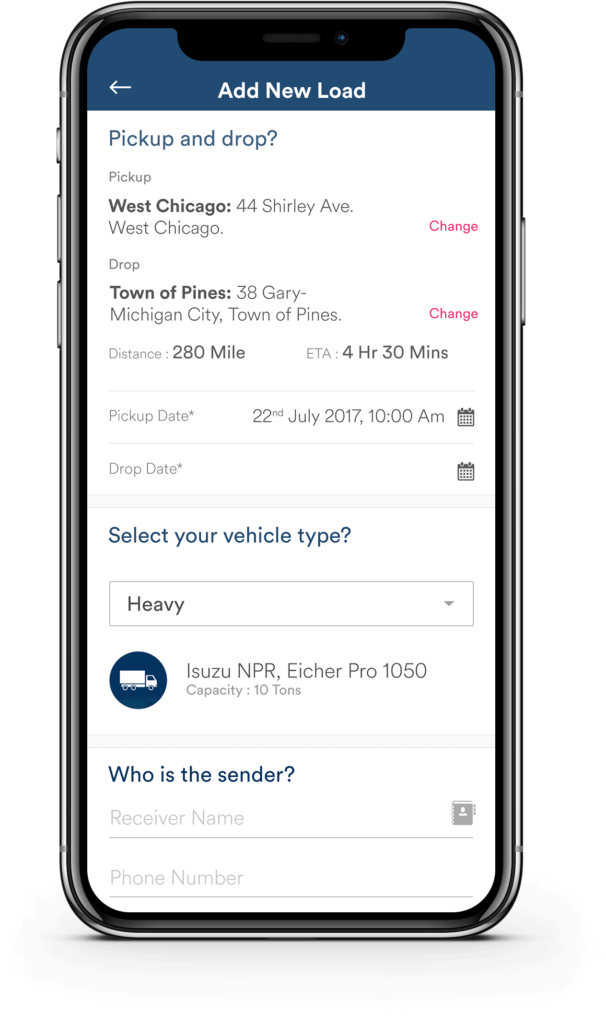 The agent enters load details such as vehicle type, goods type, pick-up, drop-off location, time factor, offer price, & mode of payment
The dispatch driver can view a filtered list of all available loads that requires transportation. The driver is also notified when new load entries are placed by freight brokers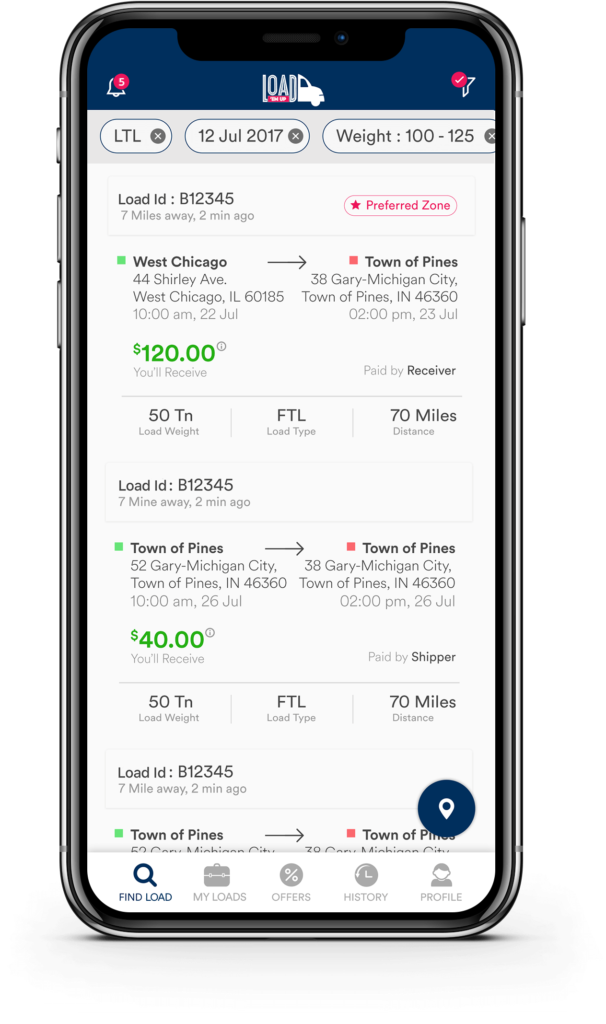 Inspired by top freight dispatch softwares such as Convoy, uShip & others, we have created options for freight dispatchers to set offers & for shippers to counter them on-the-move.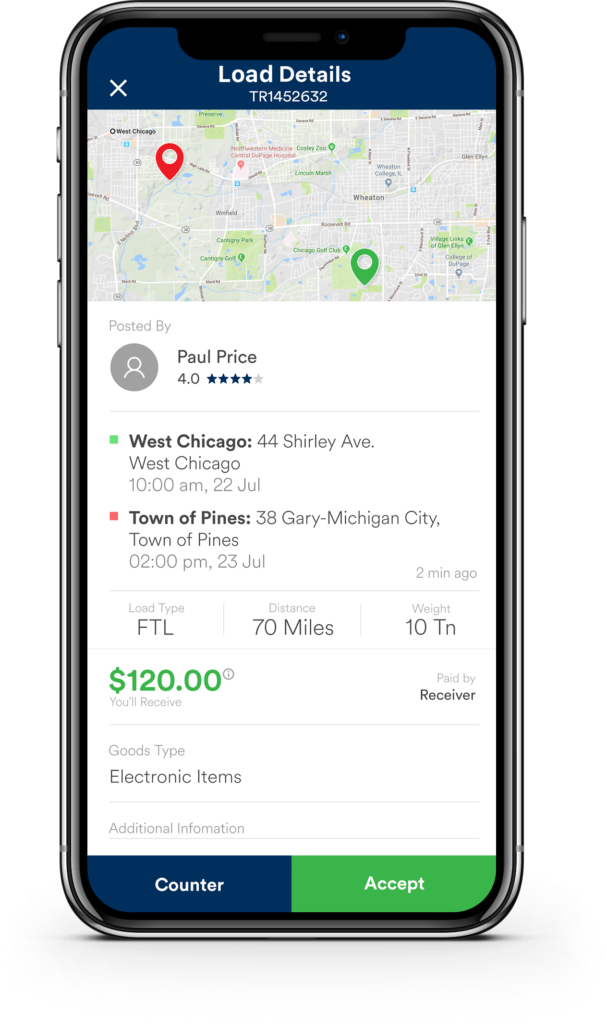 The truck driver can view details of load jobs placed by freight brokers
The truck drivers can go ahead & provide counter offers to the price that has been set by brokers for a load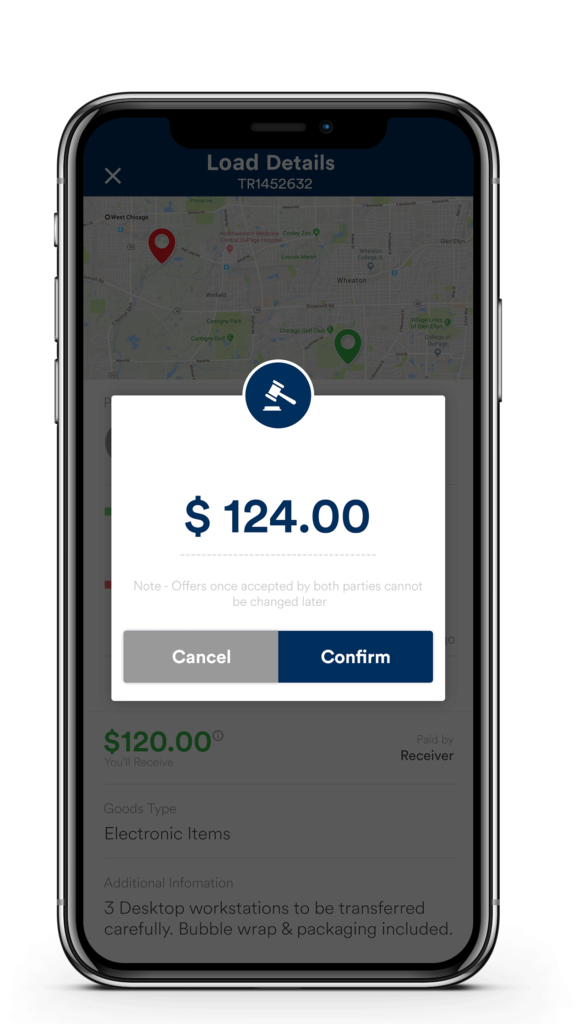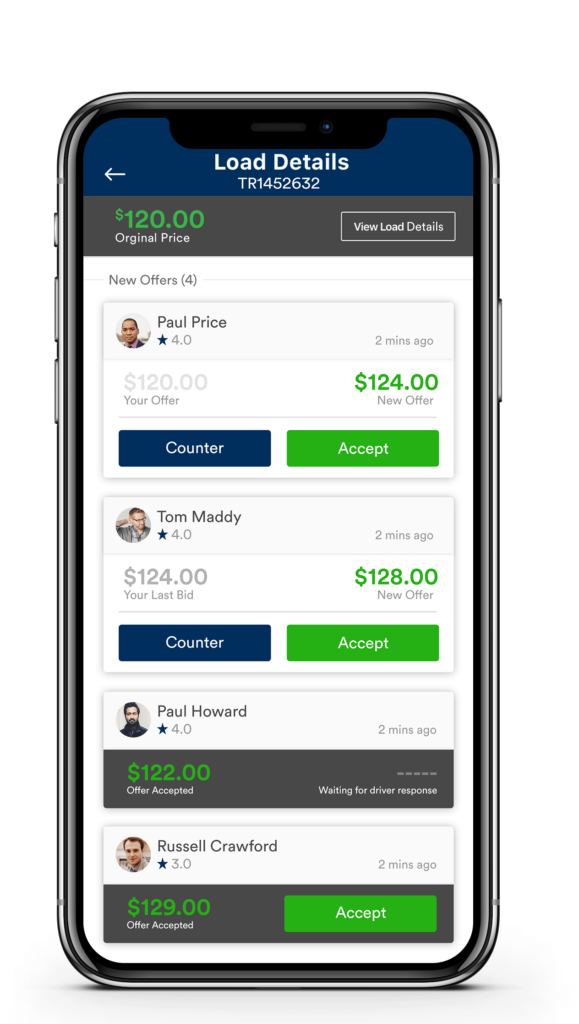 The freight broker can view a list of freight loads that has been accepted by truck drivers and ones that have been countered.
The freight broker can counter or accept a new price. After both the broker and the truck driver agrees a new price, the load job will be assigned to the truck driver who has to now accept the request.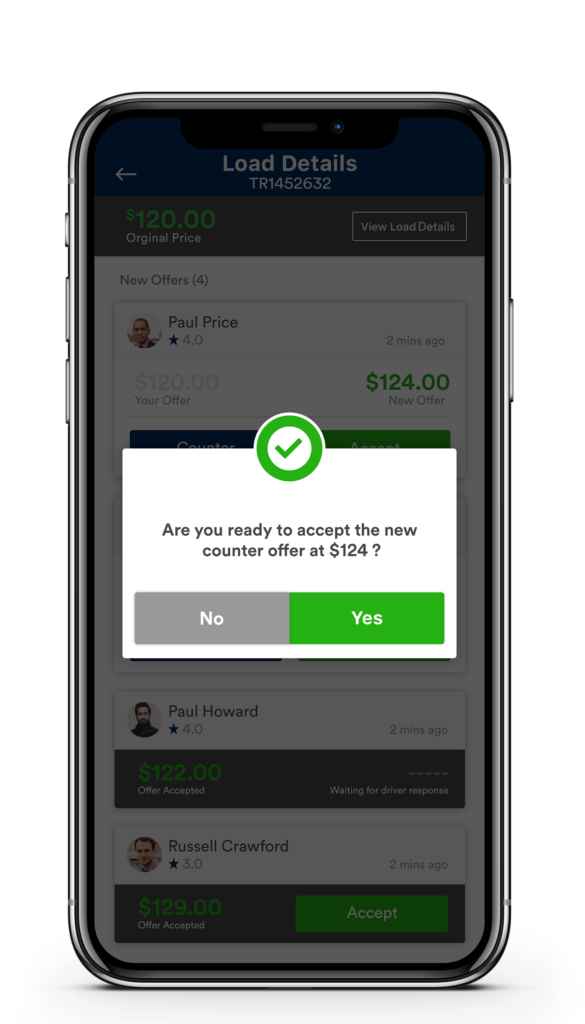 Freight brokers can view the status of each load posted & notifications emerge on the change of status. Shippers can navigate via Google Maps or Waze. Shippers can update trip status at each stage with a swipe.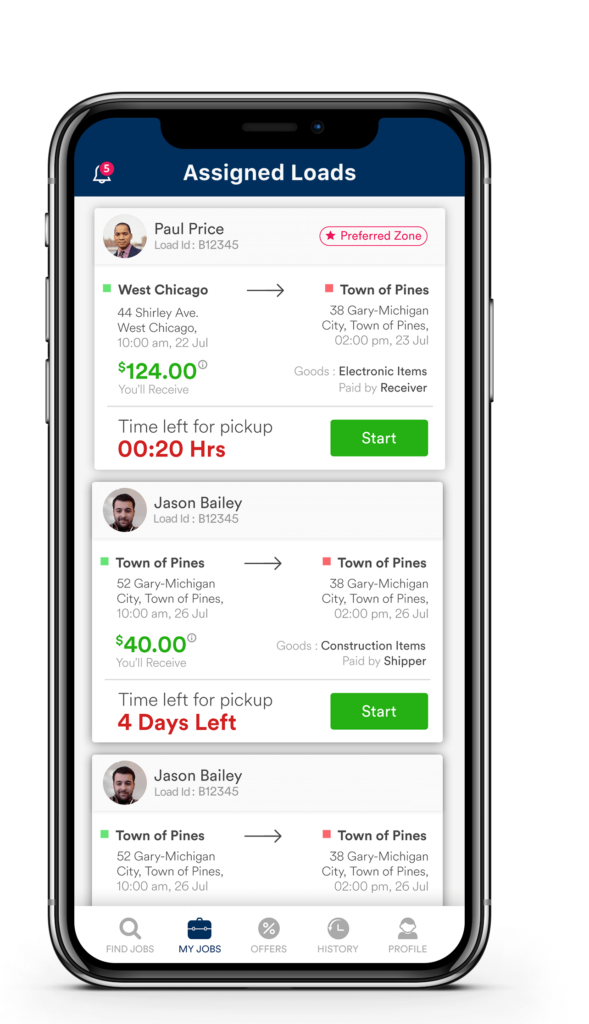 The truck driver can view the list of load jobs that he has signed up for and on the start date. After which he can start the trip.
The truck driver has the option to route the journey using either Google maps or Waze. The trip status can be updated by swiping the screen & this notifies the broker as well.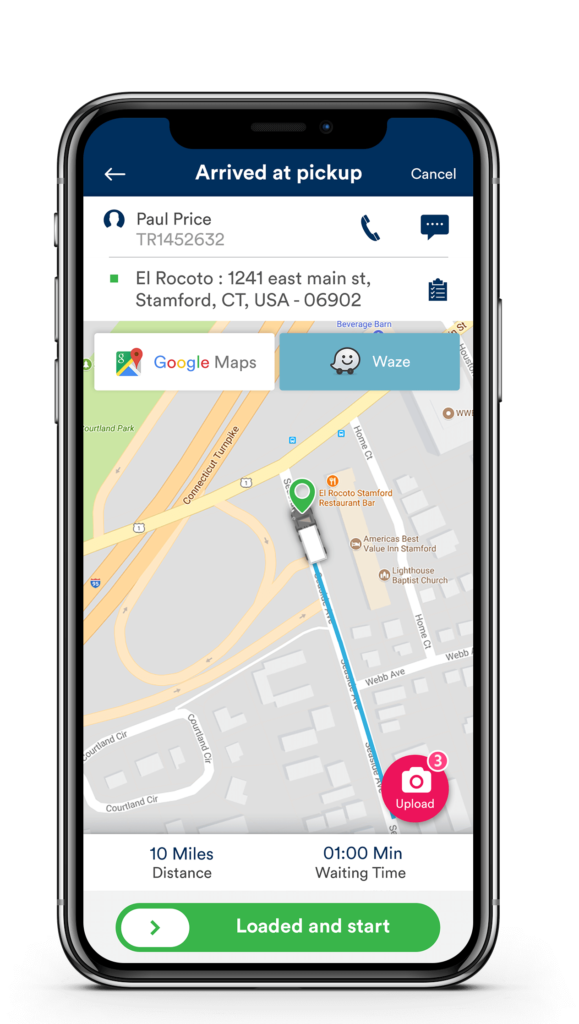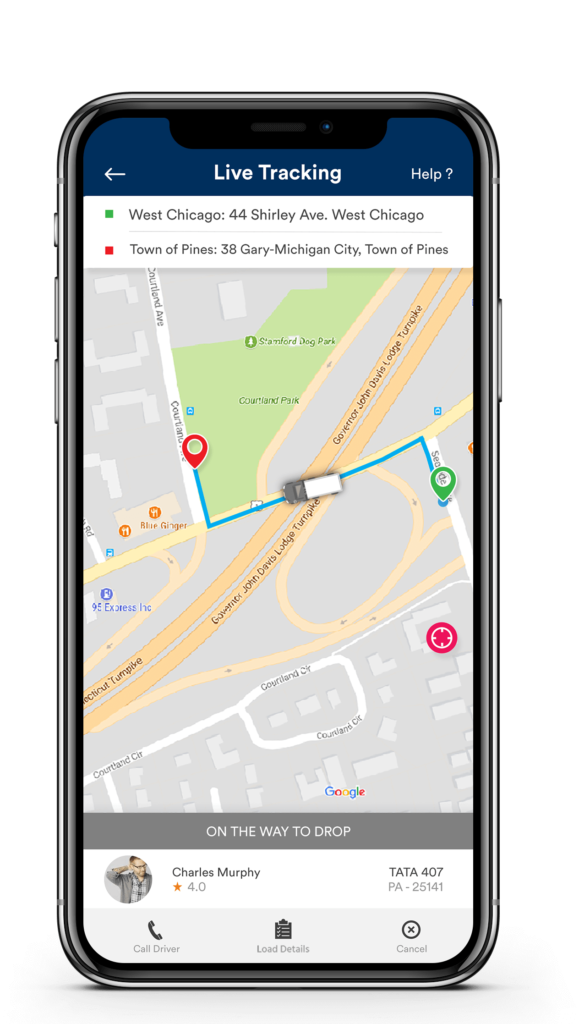 Track Load Jobs Real-time
The freight broker can track the journey of a truck in real-time which is updated along with the current load status en-route.
After having arrived at the destination, the driver can update the final status and generate the invoice.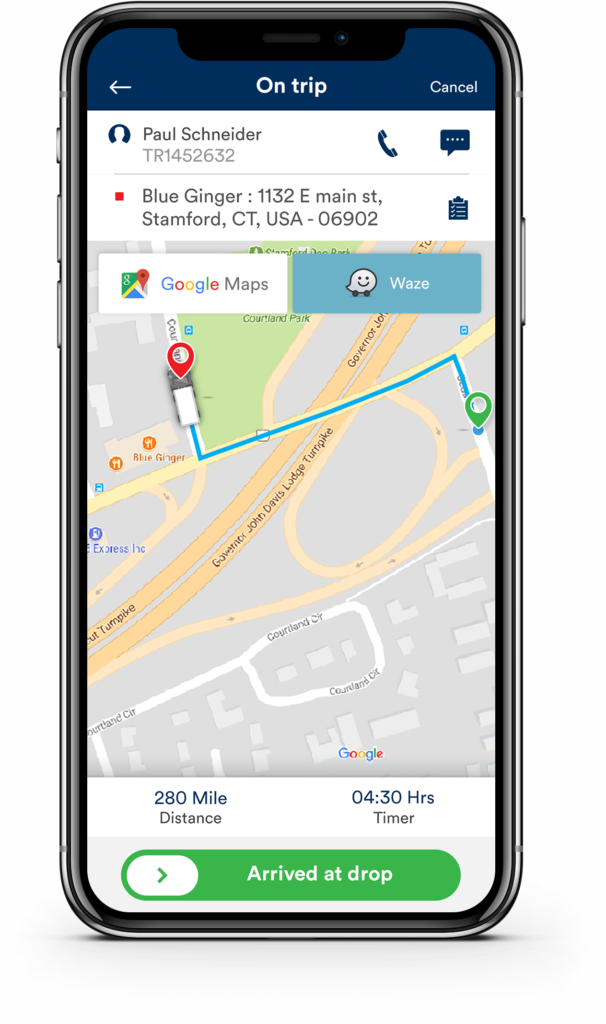 Load Job Completion, Ratings & Earnings
After reaching the drop location, the truck driver generates an invoice. This is sent to the broker. The truck drivers are provided access to analytics of their earnings and booking history. Freight brokers can rate the driver's regarding their performance of the trip.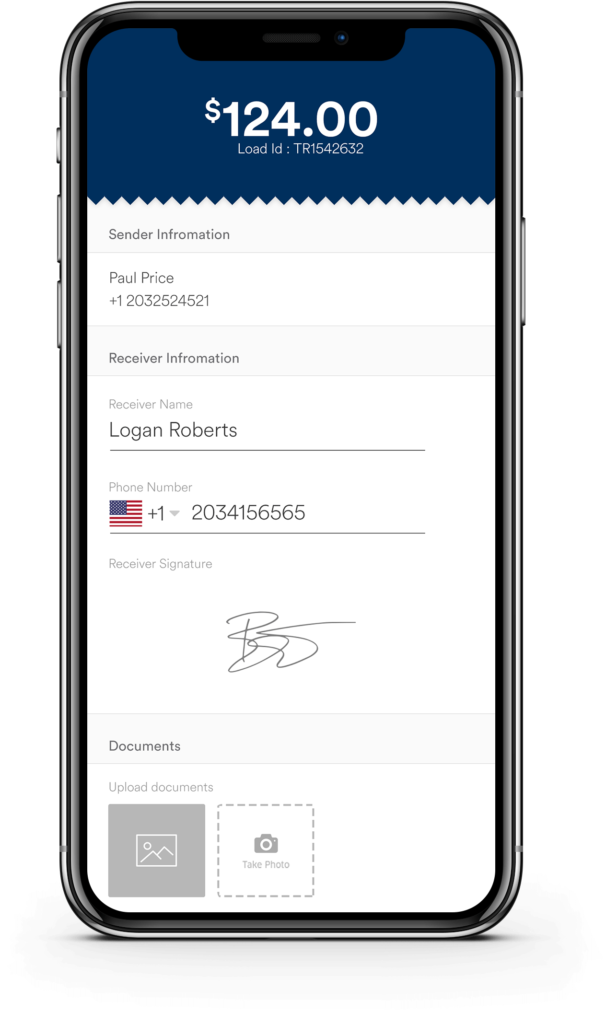 Invoice generated for the trip contains images, additional notes & client's signature
After notifying successful completion of the load delivery with all necessary documentation, the driver can now go ahead and rate his experience also.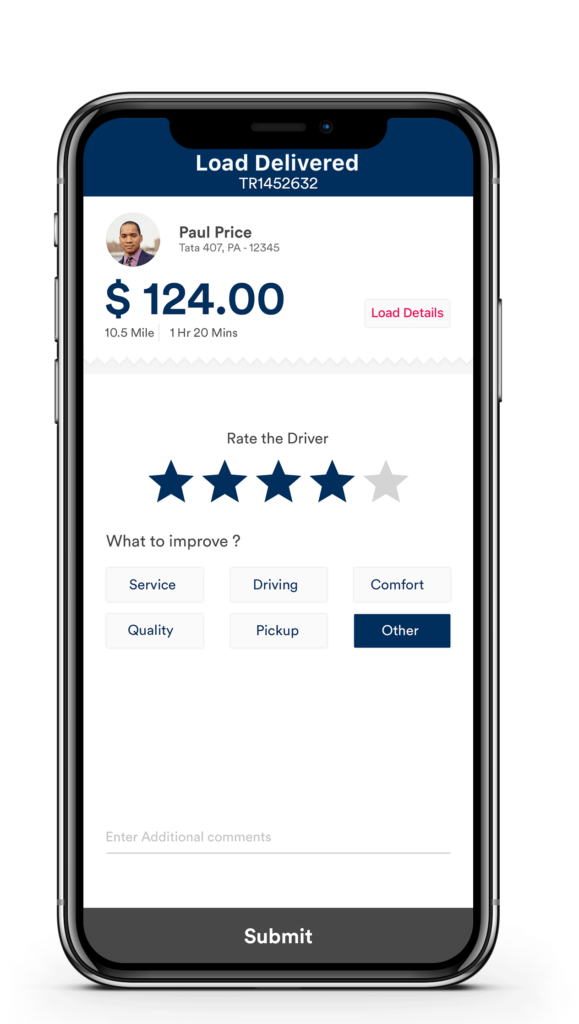 Centralised Control Center

Manage your bookings, jobs, trip status, offers, etc from the centralised web app.
Live Data & Alerts

Get notified at each and every stage. View the status of all jobs / trips in real-time.
Filters & Analytics

You can combine various filters to get specific details regarding jobs & shippers. Data can also be exported.
FLEET MANAGEMENT
Manage both drivers and various cargo-hauling vehicles.
FREIGHT FARE SETUP
Setup and manage load hauling fares to different cities for diverse truck types such as Semi's, 18-Wheeler, etc.
PROMOTIONS & REFERRALS
Setup and manage promotion codes and referral campaigns
TRACK BOOKINGS
View all bookings in real-time as & when they are being placed
ACCOUNTING
Complete financial accounting system provided to keep track of earnings
PAYROLL
Payroll management system to manage cash & card earning for drivers. Direct payment to driver bank accounts also included.
MANAGE SERVICES
Setup fixed prices for services in different cities
HOLISTIC VIEW
Track your fleet in real-time across cities on a map
ZONE MANAGEMENT
Enable zones by drawing polylines on a map and set the rates as per region
MESSAGING
Push messages to drivers and customers from the admin directly is enabled
Reports & Reviews
Keep a tab on drivers to maintain acceptable quality standards by inculcating ratings and reviews given by customers
COMMISION
Setup various App commision rates based on vehicle type, zone, service, etc
WEBSITE BROKER PORTAL & SHIPPER APP
WEBSITE CLIENT PORTAL WITH DRIVER APP DEMO
CUSTOMER APP & TRUCKER APP DEMO
FLEET OWNER APP & TRUCKER APP JOB HANDLING DEMO