THE BEST PYTHON WEB DEVELOPMENT IN THE MARKET
Looking for the best outsourced python development company? Or top offshore full stack python developers in India? You can hire python developers from our team backed by years of industry experience integrating & launching python-based software solutions for businesses all over the globe.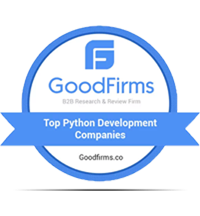 OFFSHORE PYTHON WEB DEVELOPMENT SERVICES
We've years of expertise in perfecting our data mining, data analytics, data visualization, behavioural analytics, machine-learning solutions, etc for clients in USA, Europe and across the globe. Using the best full stack Python web development practices or hire python developers for your specific business to create a clear development roadmap with milestones & deliverables to suit your specific requirements.
PYTHON WEB DEVELOPMENT SERVICES
PYTHON AUTOMATION SERVICES
Using Python development tools like Fabric, Salt or Ansible – Python can be used to automate repetitive or basic processes. For example sending mass mails to a particular groups, automation in connected technology & IoT-based implementations and much more
python back end development services
Hire python developers with extensive experience of writing APIs and interacting with databases. Quora, Dropbox and even Instagram utilize Python for backend integrations. Major Python back-end development tools used for this are Django & Flask
Python-based Behavioural Analytics
Python-based Heatmap Generation
PYTHON MACHINE LEARNING SERVICES
Python libraries such as Pandas, NumPy, scikit-learn help bring in features such as data frames, modeling & matrix operations. Python-based libraries such as PyBrain, OpenCV, SimpleCV, Pylearn3, scikit-learn etc are used to build powerful machine-learning algorithms. Whether its implementation of image, facial or language detection softwares, computer vision or behaviour analytics – Python is your go-to for machine learning-based implementations
Facial Recognition Software
PYTHON INTERNET OF THINGS (IOT) SERVICES
Python web development is a globally-accepted language when working with Raspberry PI and other microprocessors. Implementing connected tech solutions & IoT-based products in the field of home automation, smart agriculture, robots etc is easily achievable using a combination of Raspberry PI & Python
PYTHON APP DEVELOPMENT SERVICES
Python has the edge for being able to query large datasets in real-time, more efficiently as compared to other languages.. Using Python API's, one can implement Newsfeed-like UI features displaying "Trending" "Most Viewed" "Latest" items in real-time, by using Python-based APIs to query databases and return the results back to the App.
HIRE FULL STACK PYTHON DEVELOPERS WITH BENEFITS
Using our proprietary pre-built scripts, our Python-based solutions have been designed to be cost-friendly & 100% customizable with respect to the business or Pythons service requirement in hand
MILESTONES WITH BEST DEVOPS PRACTICES
We carefully chart out a mutually agreed upon project roadmap with well defined milestones. With clear & active communication with our clients, our project managers ensure a roadblock-free development & implementation process using Python
Combining our pre-built technology & years worth of industry experience developing the best Python-based solutions, spanning from building heatmaps, python warehouse management system, data collections, data analytics, automation, machine learning etc across the globe – We ensure agile python software development & deliverables for all our taken on Python-based projects
HIRE PYTHON DEVELOPERS | WEB DEVELOPMENT TEAM
Looking for affordable, secure, robust & customizable business-ready Python-based solutions? Are you looking to hire the best Full Stack Python developers for your project? Fill out the form below
PYTHON DEVELOPMENT REQUEST