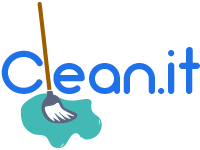 UBER FOR MAIDS | THE BEST MAID BOOKING APP & SOFTWARE SOLUTION
Clean.it is a complete white label maid finder software solution for entrepreneurs looking to get into the on-demand home services/home cleaning industry. Our Uber for maids software can be tailored for any kind of maid on call app or as a general on-demand house cleaning app.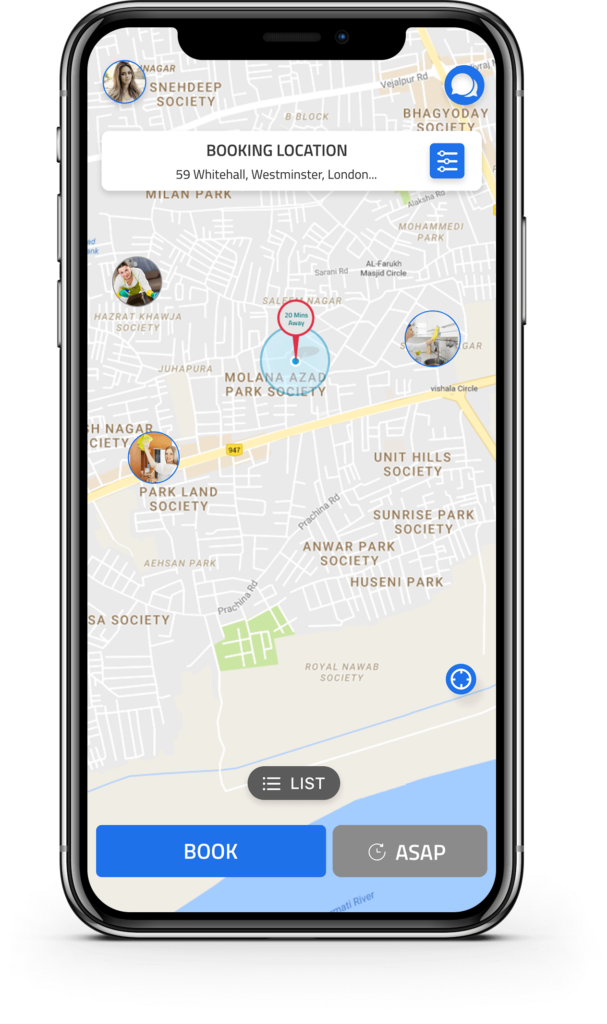 UBER FOR MAIDS GRAPHICAL FLOW
The realtime maid finder view lets users view various on-demand house cleaning service providers near their locations. Users can also select home care services or Janitorial Management Software for Building Service based on priority & availability.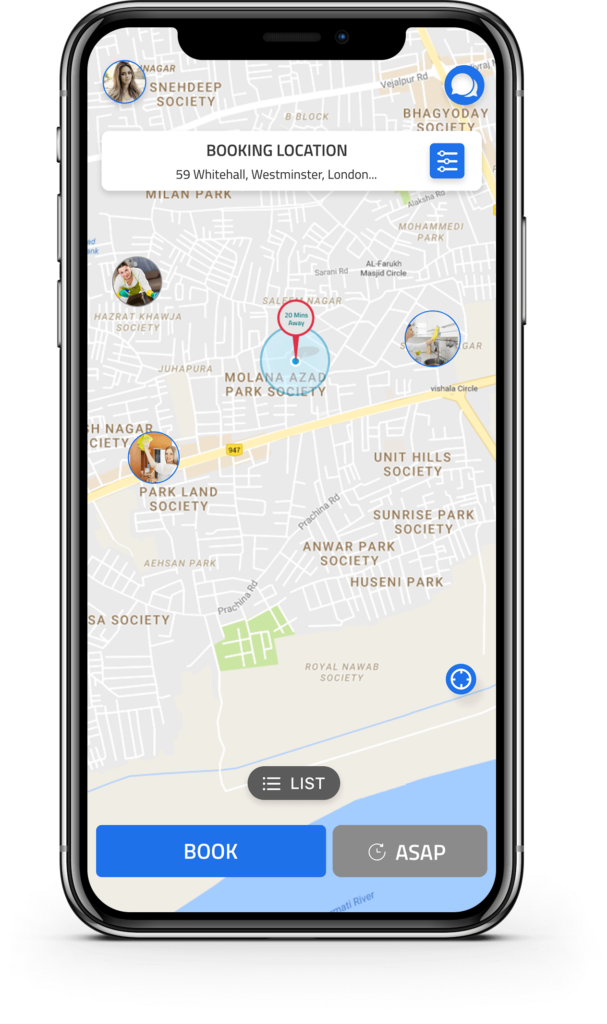 View the realtime map view of all available maids near you, based on your location.
Users can opt for services right away or Schedule the service for a later date & time.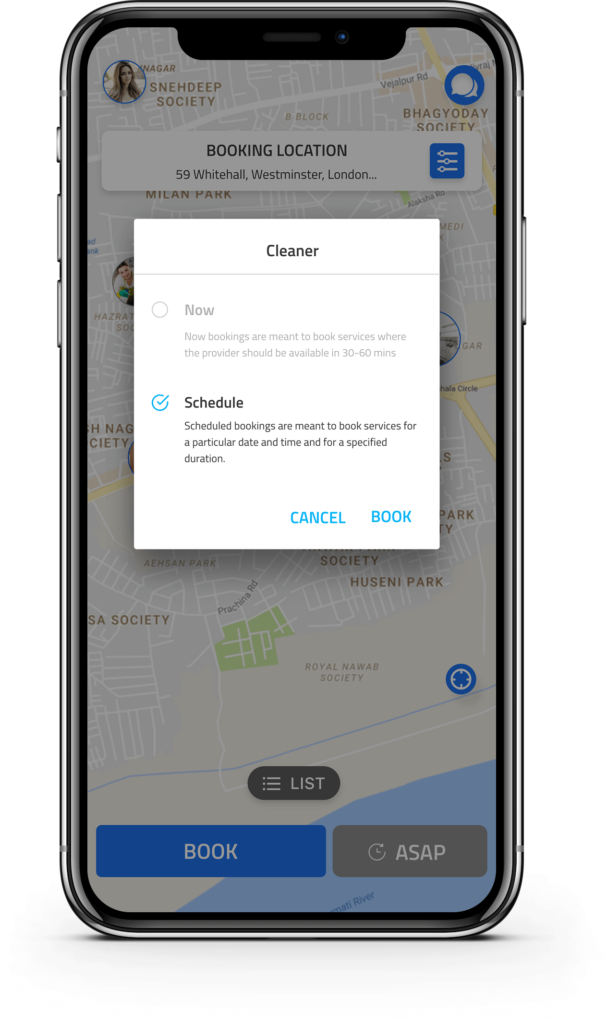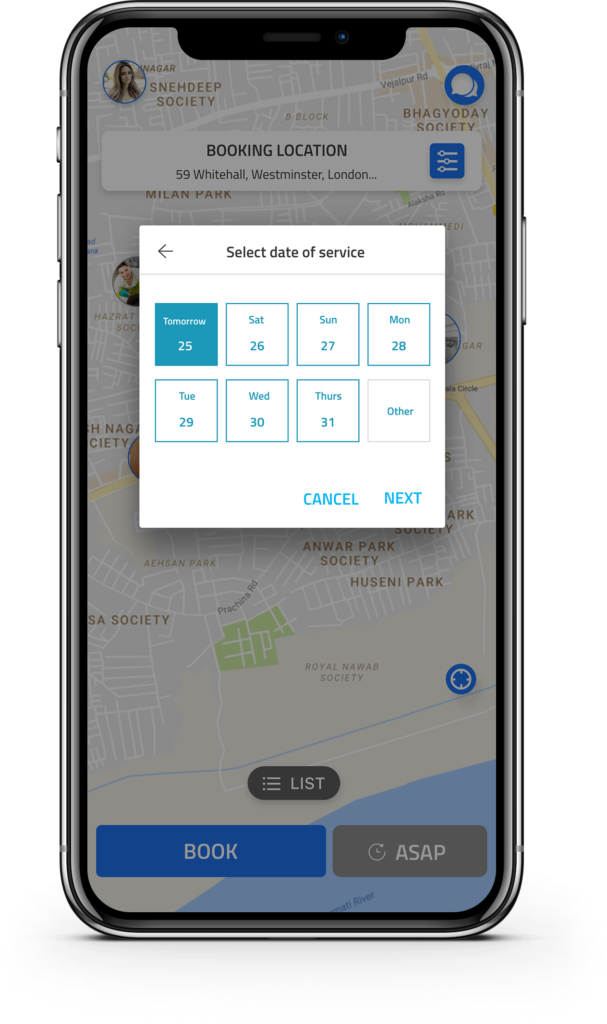 Schedule the required services as per your convenience.
Users can view a list view of home cleaning services available on the Uber for maids app. Individual maid ratings are also provided.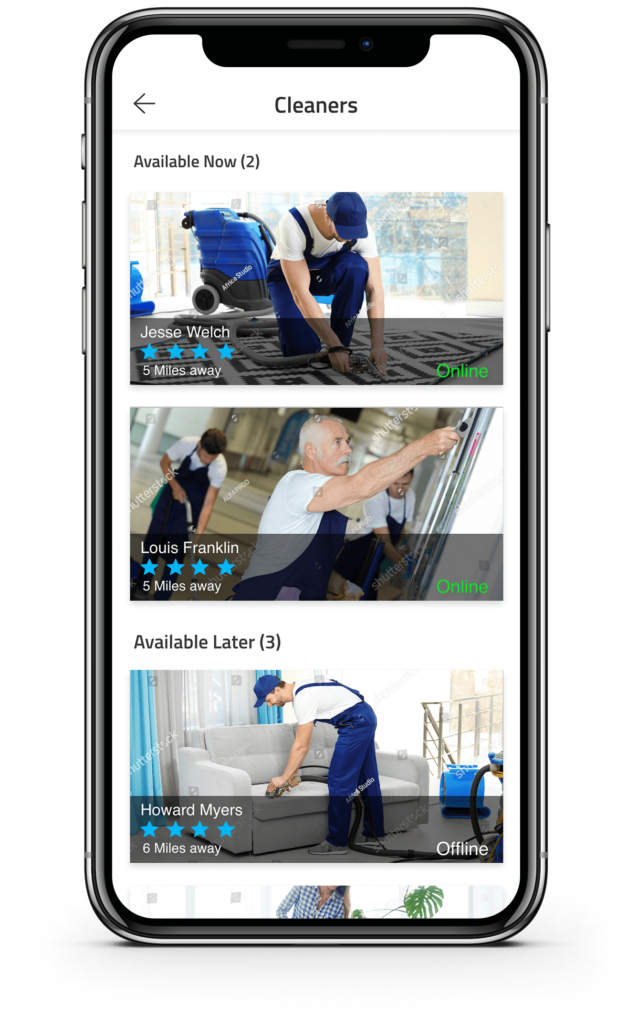 Book Cleaning Service, Scheduling & Payment
Clients booking for maids can view their detailed profiles. These are whose backgrounds have been verified. Once selected, users can add additional service requirements, change payment options, schedule the service, add promo codes, etc.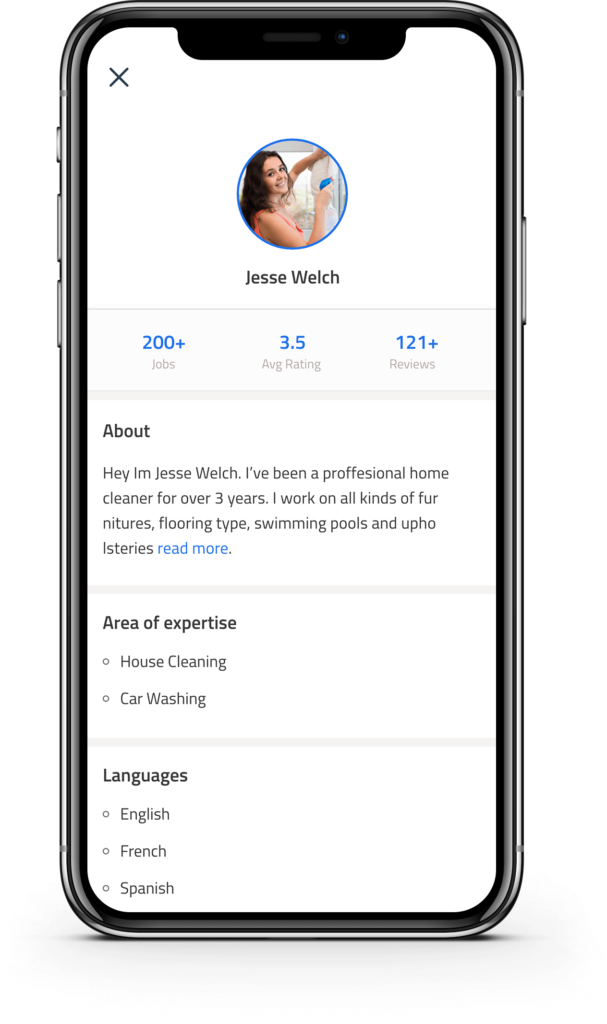 Background-Checked Maid Profiles
The Uber for maids platform hosts a detailed profile that needs to be completed by all maids / home care professionals who sign up on the app. View descriptions, services, past reviews, job photos, etc.
Each maid or house cleaning professional usually offers a variety of services. Users can book their maids by the hour or by the service needed.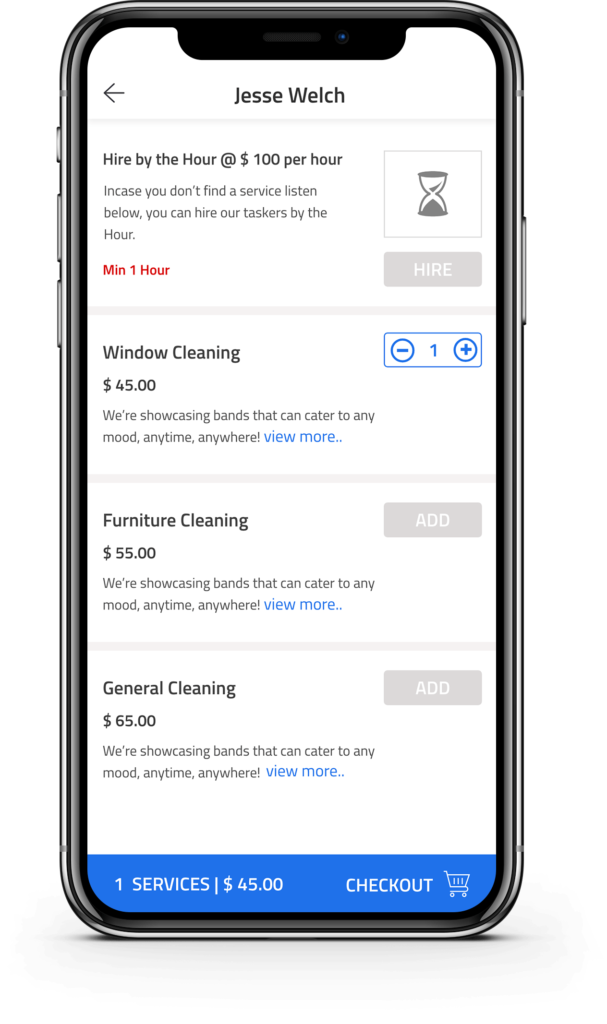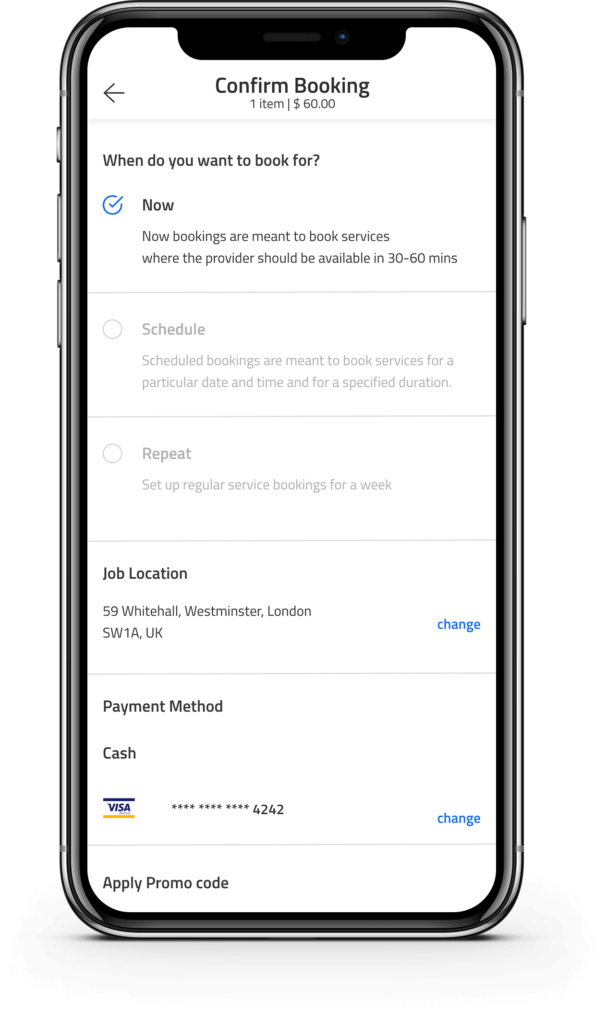 Book the house cleaning professional for immediate services or schedule the service for a later time. Users can opt for repeat bookings in case of daily requirements.
Choose from a list of payment options, add additional services and include promo codes if available.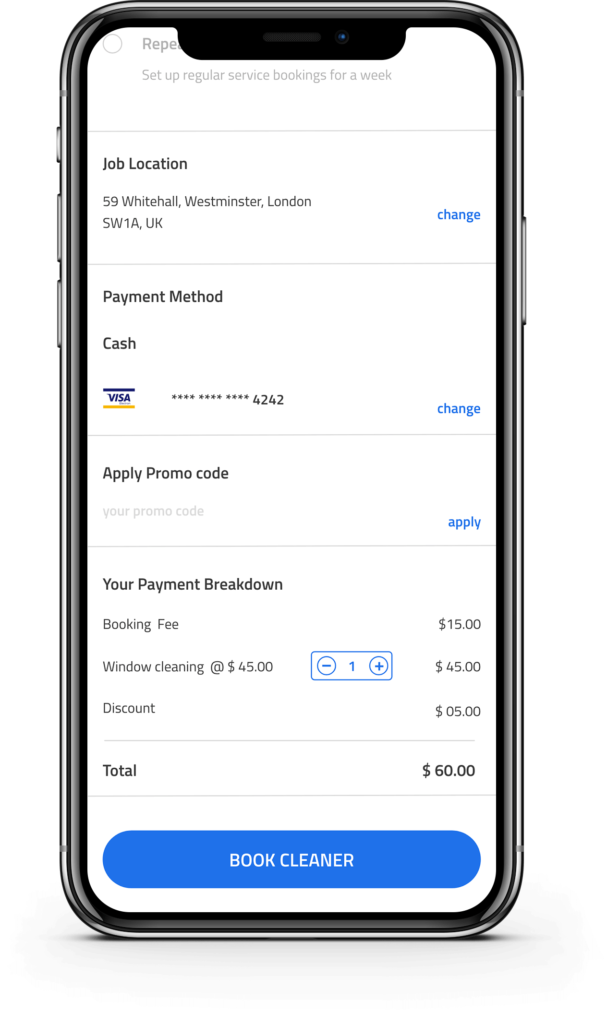 Booking Status & Realtime Tracking Of Maids
To improve the efficiency of the app, Clean.it has been integrated with realtime booking status updates in-app as well as realtime map tracking on the app.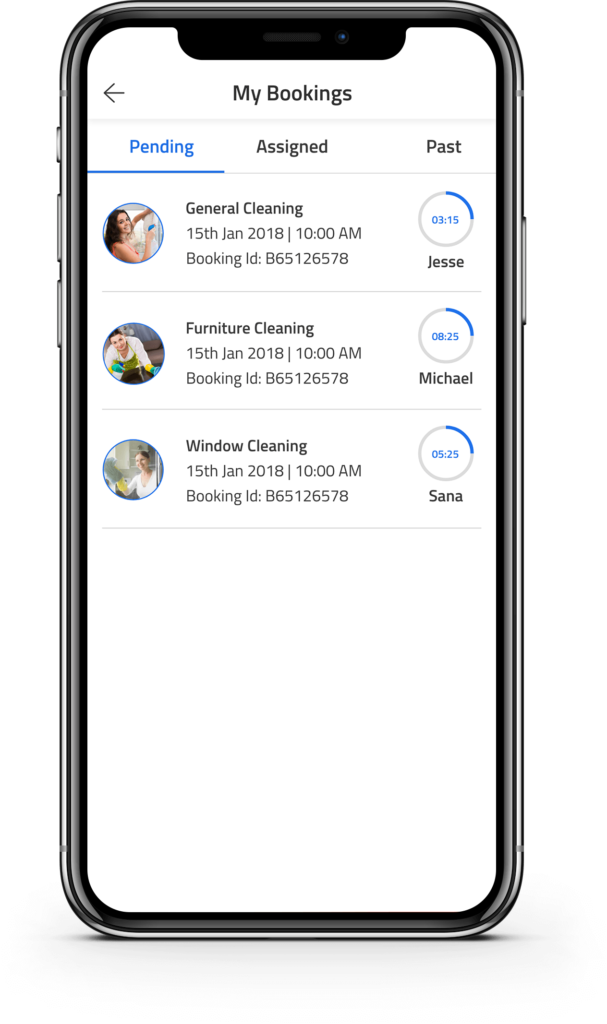 Users can view various booking done by them on the app. There is a time limit that has been assigned to accept the cleaning job. Based on the scheduling preferences, the cleaning job will begin after the maid is assigned.
Our Uber for maids software lets users view the status of their active bookings. In-app notifications are also provided on each status change.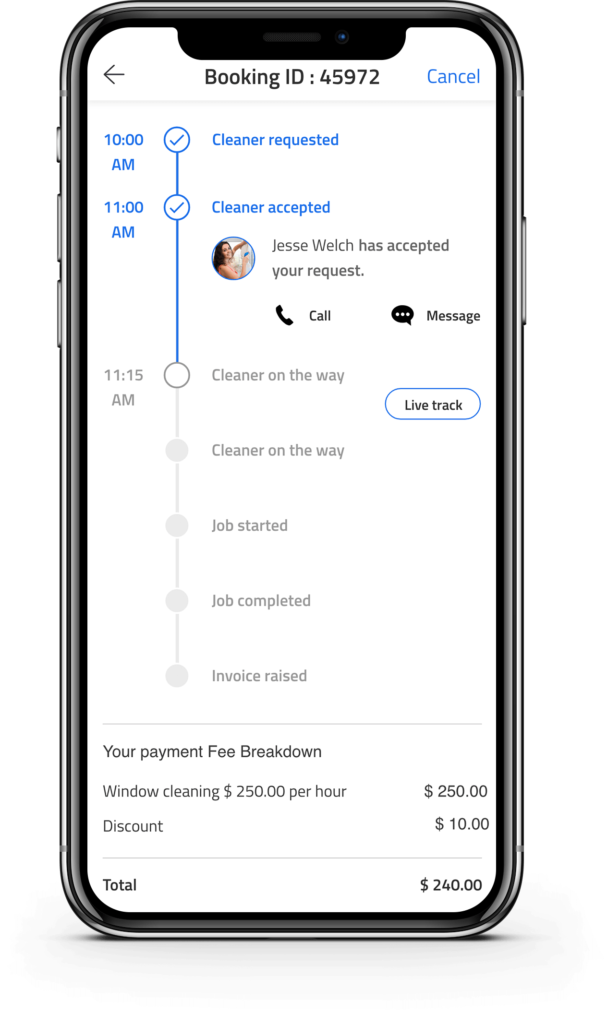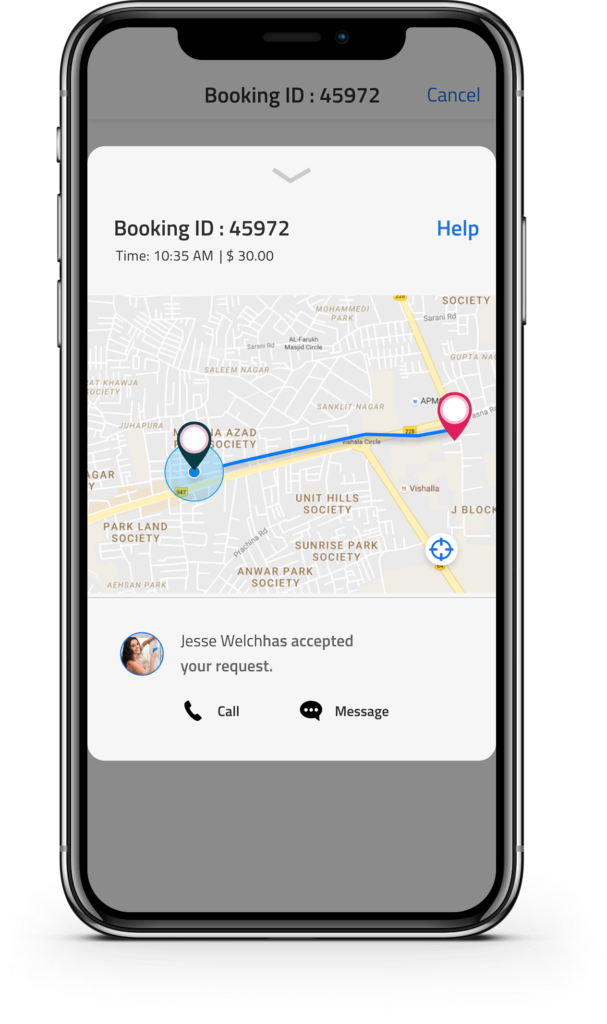 Live map view of your assigned house cleaning professional.
In-app chat module integrated with our Uber for maids app. Useful when special instructions need to be mentioned to the maid.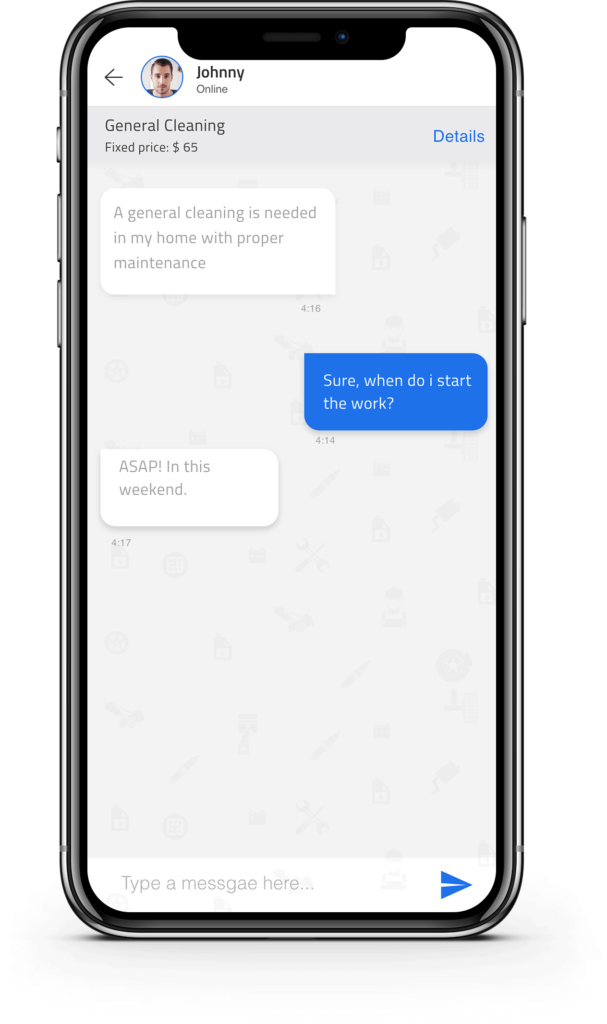 Once the maid service or house cleaning service is completed, Users can review their invoice details and rate their maid or house cleaning professional as well.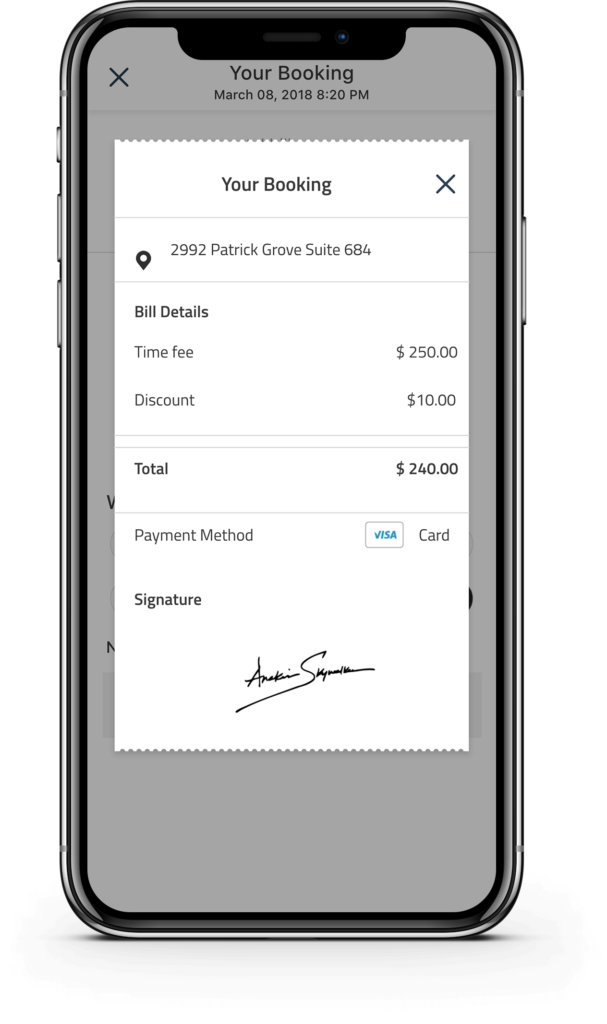 View a detailed invoice of the cleaning service provided.
Provide feedback & rate your house cleaning professionals on a variety of service fields. This ensures high quality standards are maintained on your customised Uber for maids application.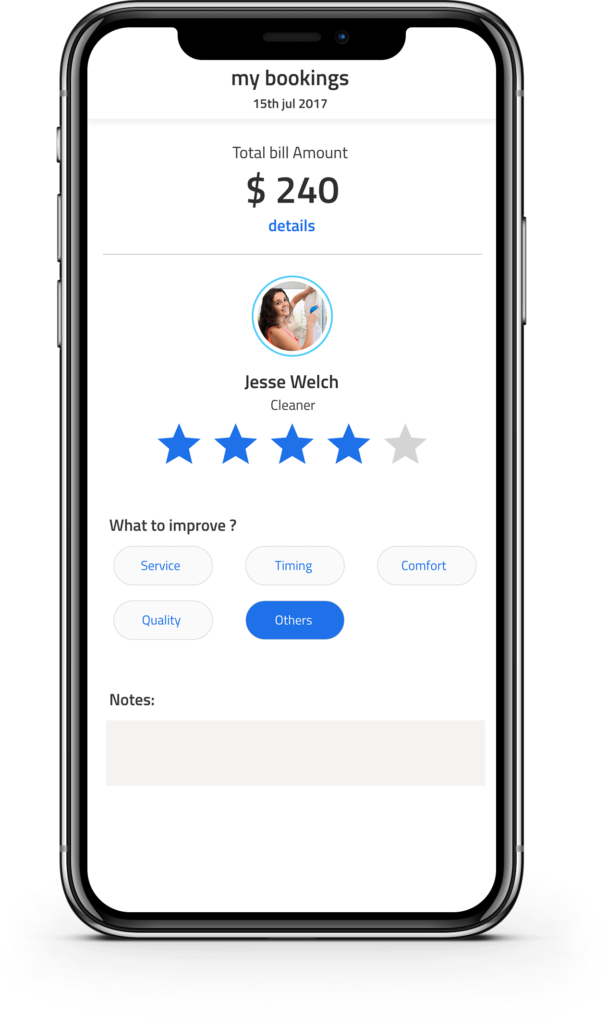 UBER FOR MAIDS DISPATCHER SOFTWARE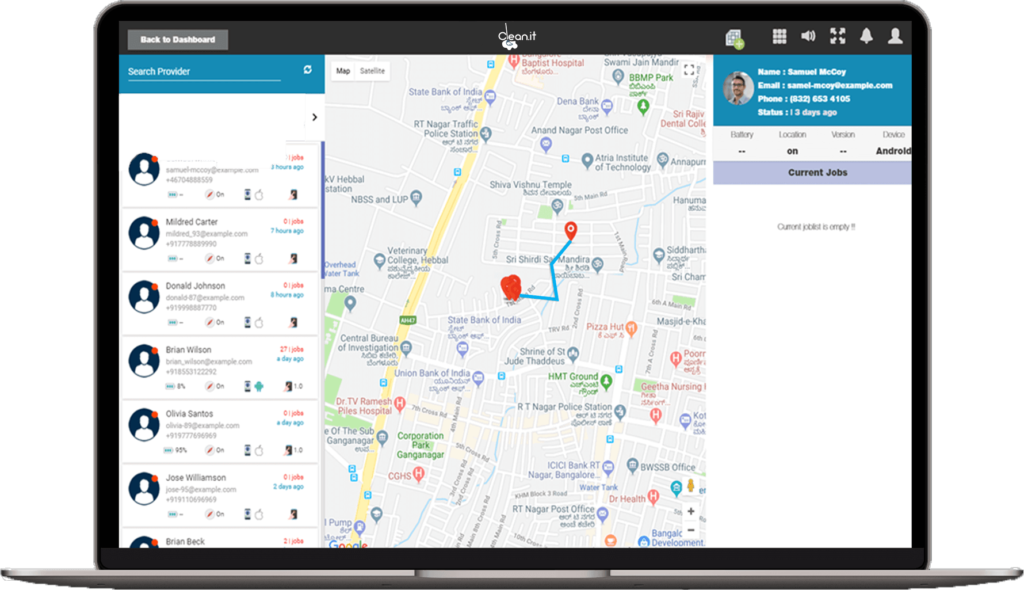 Bird's View

View an overall look of all the ongoing grocery pickup or delivery jobs, available & unavailable grocery delivery drivers, phone battery percentage etc.
Manual Bookings

Manually assign grocery bookings to grocery deliverers on demand.
Individual Job View

View the status of each individual grocery trip in real-time.
UBER FOR MAIDS ADMIN PANEL

HOUSE CLEANING PROVIDER MANAGEMENT
Manage various on-demand maids & home service providers. Accept or reject various home care professionals registering on your Uber for Maids app.
FARE SETUP
Setup and manage fares for on-demand house cleaning services based on cities, service type or hourly rates.
PROMOTIONS & REFERRALS
Setup and manage promotion codes and referral campaigns on your custom Uber for maids platform.
TRACK BOOKINGS
View all house cleaning service bookings in real time as they are being placed.
ACCOUNTING
Complete financial accounting system to keep track of earnings for various home care professionals & maids registered on the app.
PAYROLL
Payroll management system integrated in our Uber for maids platform, to manage cash & card earning for house cleaning service providers with direct payment to their respective bank accounts.
MANAGE SERVICES
Manage various home care service categories present on your customised maid finder application.
BIRD'S VIEW
View all bookings & trips in real time on a map across cities or zones.
ZONE MANAGEMENT
Create zones for your Uber for maids service by drawing polylines on a map and set rates accordingly.
MESSAGING
Push messages to house cleaning service providers and customers directly from the admin.
REVIEWS & REPORTS
Keep a tab on the house cleaning service providers and maintain high quality standards using ratings and reviews left by customers.
COMMISION
Setup various app commision rates based on zone, service type, fares etc on your Uber for maids app.
WHY CHOOSE CLEAN.IT AS YOUR ON-DEMAND HOUSE CLEANING SOFTWARE SOLUTION?
The Clean.it app & software solution has been inspired by top on-demand home cleaning service providers like Handy, Tidy, HouseKeep, MaidsApp & more, in mind. The software is backed by a robust & scalable tech-architecture ensuring your tailored Uber for maids service app can handle your business requirements.
100% Customizable
Our Uber for maids software solution is customizable to build home care provider apps for a variety of business models based on home cleaning services. From select home cleaning/care services to a rich all-rounded home services platform.
PCI Compliant
We assure PCI compliance so you will have not legal issues accepting in-app purchases on our on-demand house cleaning script.
Prebuilt Scripts
Using our proprietary Pre-Built IP solution, we move our customisable housekeeping app & software from development to deployment faster than most on-demand house cleaning software developers.
Scalable & Clean Design
Using state of the art app container technology, clean coding practices, microservice architecture, while simultaneously promoting safety & security on the app – Clean.it is the best on-demand home cleaning app & software solution, available in the market today.
Multi-Language Support
Whether you want to launch your on-demand house cleaning app in German, Arabic, Chinese etc we ensure our Uber for maids script can be deployed in any language preference.
Referral & Promotions
Increase your cleaning app user-base as well as overall retention via referrals and promotions features. Our tech architecture ensures that the white label Uber for maids script is scalable with the growth of your professional home cleaning service.

SEO Friendly Design
All apps developed using our Uber for maids solution are designed to ensure that the tailored maid on-demand solution ranks during searches and in app stores.

App Monitoring & Chatbots
Our home care services software solutions are the only ones in the market to provide app monitoring services with chatbot integration. Ensuring you can get instantaneous performance updates on your tailored maid on-demand app.

Security
Our white label home services/house cleaning software solution is not only robust & scalable, but extremely secure as well. Keychain, SSL-powered API's, JWT, reverse proxy setup, etc ensure that security covers the entire app and each individual API.