Whatsapp Clone with text chat, group chat,  audio calling, video calling, image sharing, video sharing, audio sharing, stickers, gif's, doodle board, secret chat, and public chat.
Whatsapp Clone / Wechat Clone – Sup! Exchange text messages, make audio and video calls using the mobile calling software.
The Whatsapp Source Code uses state of the art technologies like NodeJS, Socket.IO, REDIS, WebRTC, MongoDB to deliver a real-time messaging experience. Sup? Is the first WhatsApp clone in the market built completely on the MEAN stack.
The Instant Messaging App is completely real-time and can be hosted on your own web server. The Whatsapp Clone / Wechat Clone / Telegram Clone also supports free audio and video calling.
Signaling technology developed over Socket.IO for initiating and completing calls comes free with the mobile chat software source code.
The Instant Messaging App uses REDIS and MongoDB as its database, and so the application guarantees web-scale in case your application goes viral with millions of users!
The Whatsapp Source Code comes with a NodeJS based server backend which we can deploy on-premise on your own server.
To read more about the features we have on the Whatsapp Clone Script PLEASE CLICK HERE.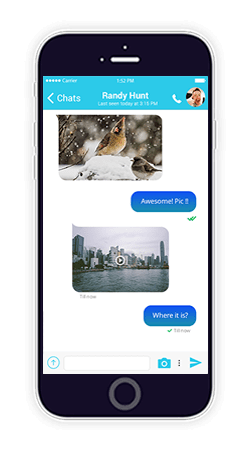 SIMPLE, RELIABLE MESSAGING
Message your friends and family for free. Sup uses your phone's internet connection to send messages so you can avoid SMS fees.
Keep in touch with the groups of people that matter the most , like your family or co-workers. With group chats, you can share messages, photos, and videos with many people at once.
Talk to your friends and family for free*, even if they're in another country. Sup Calling uses your phone's Internet connection, instead of your cell plan's voice minutes, so you don't have to worry about expensive calling charges.
SHARE MEDIA, STICKERS, GIF'S AND MUCH MORE
Send photos ,audio notes and videos on Sup instantly. You can even capture the moments that matter to you most with a built-in camera.Additonal options to share stickers , doodles and gif's powered by giphy.com
Contact's are synced in real time and if a contact joins the app later, you can find this contact in the FAVORITES page of the whatsapp clone.
Exchange messages that self destruct like on Snapchat.
1) Whatsapp Clone Script to build your own Telegram clone / Telegram clone script
2) Whatsapp Clone Source Code to build an app like Wechat so you can have your own Wechat Clone / Wechat Clone Script
3) Whatsapp Clone Script to build your own corporate chat app to facilitate employees to talk with each other just like on Whatsapp
4) Whatsapp Clone to build an app for support services where users can contact support staff working in different companies.
5) Whatsapp Script to add a chat module to any app which needs instant messaging functions integrated.