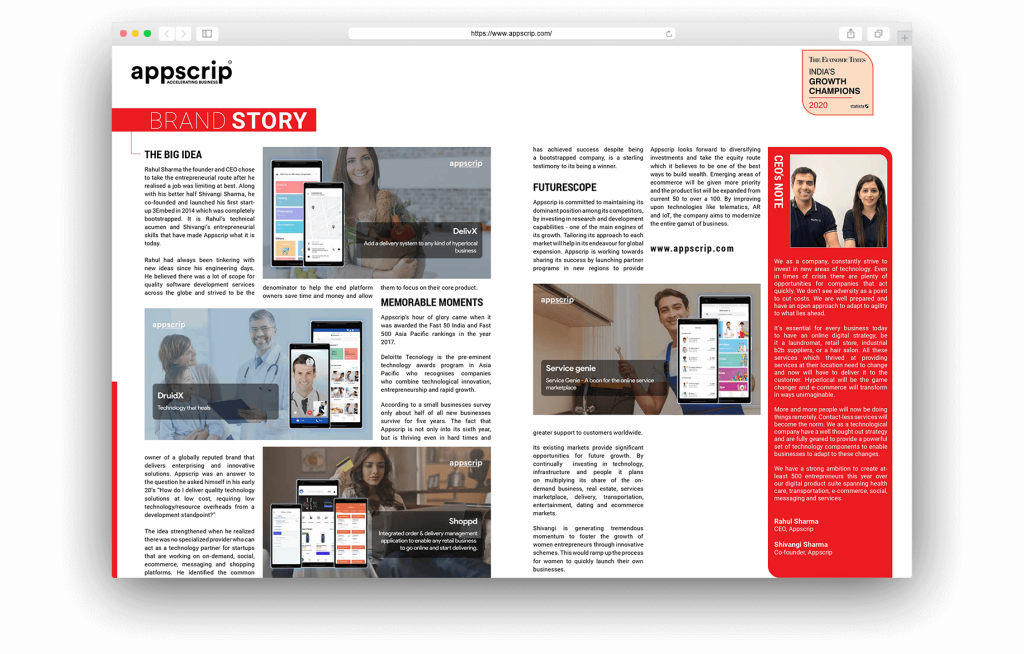 Economic Times Special Edition of The Coffee Table Book
An exclusive interview explaining how Rahul Sharma's (CEO, Founder) technical acumen and Shivangi Sharma's (Co-Founder) entrepreneurial skills have made Appscrip what it is today!

A Script Embedded In History | Appscrip In Elite India's Growth Champion 2020 List
A befitting endorsement to hard work is recognition. To be pronounced as one among an august assembly of 2020 Growth Champions is as good as it gets.
The Economic Times in association with Statista have launched an ambitious initiative to highlight true accelerators of the Indian economy. In particular, few growth champions whose achievements are noteworthy.
To be cloistered along with giants such as Paytm, BYJU'S, Razorpay, Zomato, TVS Next, and Sankalp is an honour in itself. Over and above Appscrip being ranked #30 is the icing on the cake.

Financial Time's Ranking | Appscrip Breaks Another Barrier
The Financial Time's ranking of 500 high-growth companies from the Asia-Pacific region couldn't have come at a more opportune moment. As it will now serve as a true indicator for readers to identify firms with the clout to survive the debacle and continue breaking barriers.
Indeed, the creative and perspicacious will stride through the crisis with innovation and will strengthen their resolve to further enhance their standing in their domains.
Appscrip is elated to find itself within the first 30% of this magnanimous assembly of the top 500 high-growth firms of the Asia-Pacific region.