Build An Online Consultation Software for Experts to Meet Their Clients
Introducing FindAPro, where innovation meets functionality. We've meticulously designed this white-label platform with features that are set to redefine how professionals and businesses/users interact.
Features That Will Make Your
Platform Stand Out
With cutting-edge technology and user-centric design, here are some of the standout features you can expect:
Users are allowed to discover the professionals as per their requirements from anywhere in the world.
Webinars
Professionals can monetize their expertise by sharing knowledge through paid live webinars.
1-On-1 Audio & Video Sessions
Users can pay a fee set by professionals to book an audio or video session with them.
1-On-1 Chat Sessions
Users can easily book a 1-on-1 chat session with the expert of their choice by paying a set fee.
Features for the Customers
For your valued customers, FindAPro presents an array of user-focused features:
Discover Professional
Users can easily explore and connect with experts with specializations in their desired field of interest.
Search A Pro or A Product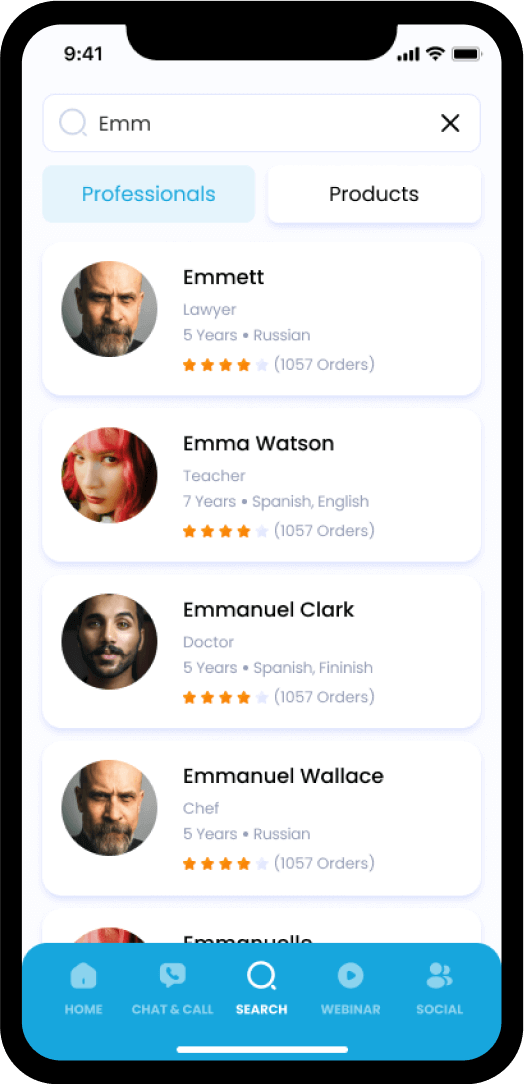 Search A Pro or A Product
Users can search for a particular professional or a product on the platform instead of on-demand matching.
On-Demand Matching with Professionals
On-Demand Matching with Professionals
Users can submit their preferences and pay the fee to get matched with an expert on-demand.
Book A 1-On-1 Audio or Video Session
Book A 1-On-1 Audio or Video Session
Users can effortlessly buy and schedule a 1-on-1 audio or video session at their convenience, without any hassle.
Book A 1-On-1 Chat Session
Book A 1-On-1 Chat Session
Users can book a 1-on-1 chat session with a professional of their choice across different categories.
Extend Session Duration
Users can add more minutes to their chat and 1-on-1 video call by paying for it before the session ends.
Upcoming Webinars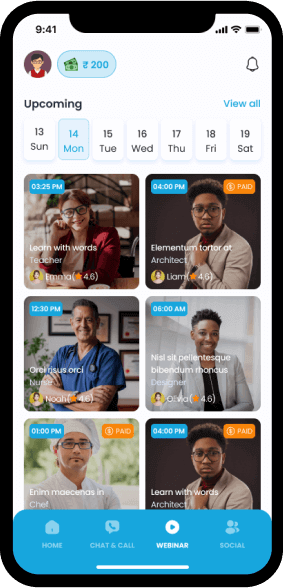 Users can browse the upcoming webinars by the experts and book the ones they find relevant for them.
Rating & Feedback
Users can rate the professionals after a session ends to share their feedback & experience with other users.
Follow A Professional
Users can follow their favorite experts from any field of work to stay updated with their latest sessions and posts.
Detailed Product Page
Users can view a detailed product page to know more about any particular product listed by an expert.
Stay Updated with Social Feed
Stay Updated with Social Feed
Keep up with the latest updates shared by professionals, fostering connections and knowledge-sharing in real time.
Save Favorites
Users can save their favorite professionals to book more sessions with them in the future.
Ready to transform your business with FindAPro?
Get started today and introduce the future of seamless professional interactions!
FindAPro is a great partner for the success of professionals.
They can benefit from:
Professional Dashboard
Professionals can keep track of their sessions, earnings and much more using the dashboard.
Session Requests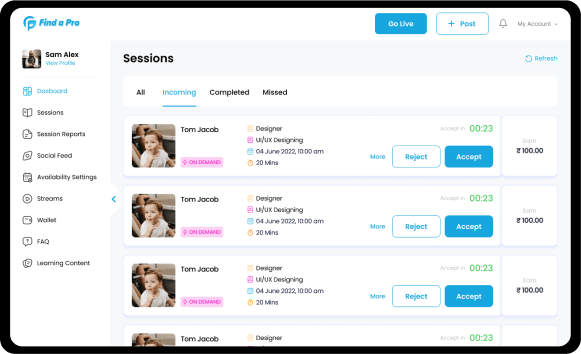 Professionals can accept or reject a session request made by the users after reviewing the details.
Schedule Webinars
Experts can host impactful online webinars at their convenience to connect and share their knowledge with the user.
Create A Product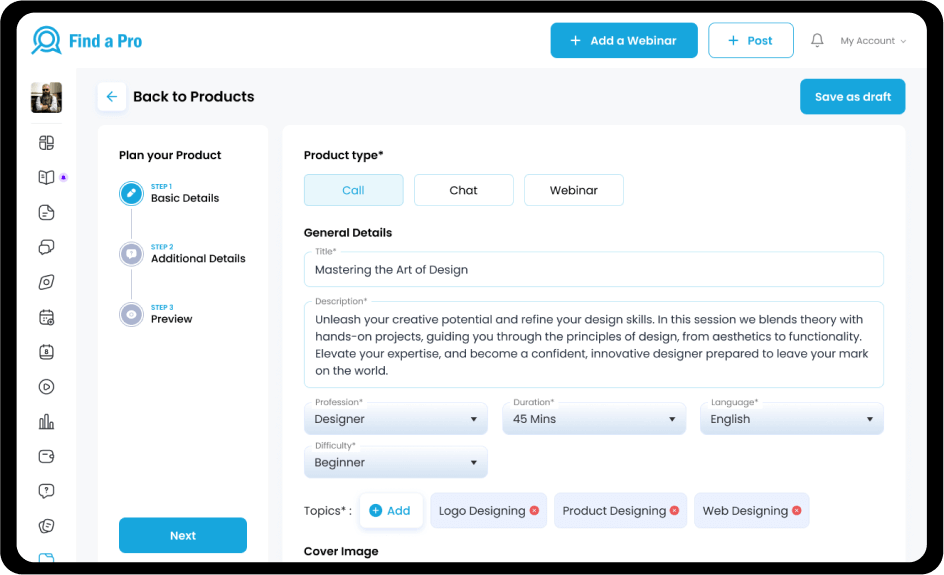 Professionals can add virtual products sharing their expertise and making it available for the users to buy.
Demo Lessons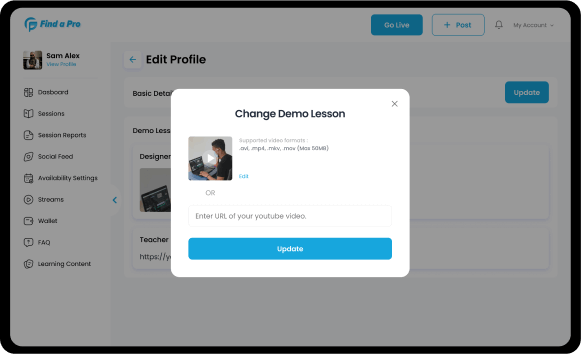 Professionals can add a demo lesson video or share the YouTube link on their profile for the users.
Lesson Library
Professionals can add as many lessons to share during a live session or for the users to buy directly.
1-On-1 Call
Professionals can host 1-on-1 calls with the users to conduct the sessions booked by the users.
1-On-1 Chat
Professionals can host 1-on-1 calls with the users to conduct the sessions booked by the users.
Live Webinar Interactions
Live Webinar Interactions
Professionals can view the users watching their webinars and interact with them in real time.
Availability Settings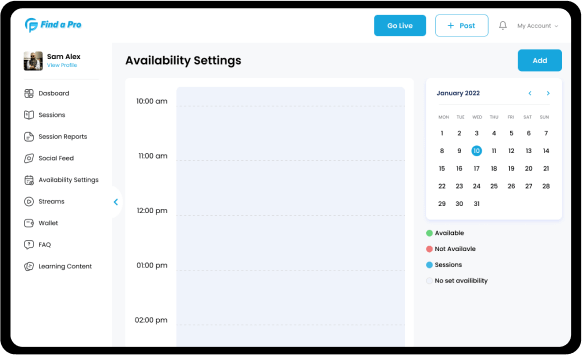 Professionals can set their available date and time slots for the users to book a session accordingly.
Add A Post
Professionals can add media or text posts to engage with their followers and build a community.
Session Report
Professionals can submit reports after each session to update the users on their performance.
Add A Lesson
Professionals can add a pre-recorded lesson to the lesson library for the users to check.
Get Instant Payouts
Earnings for every completed order are credited instantly to the professional's wallet for them to withdraw.
Offer a Diverse
Marketplace of Experts
From teachers to fitness instructors, and doctors to astrologers, FindAPro is a hub of diverse expertise. You can cater to an extensive range of professionals, including but not limited to:
Therapist
Teacher
Fitness Trainer
Doctor
Yoga Trainer
Astrology
Interviewer

Lawyer
Designer
Partner with Us to Launch Your Platform
Our admin features provide complete control over
the platform:
Manage Professional Categories
Access Financial Dashboard
Access Analytics Dashboard
Technologies Used
To Built
At Appscrip, we pride ourselves on using state-of-the-art technologies to build FindAPro:
Technologies Used To Built
Launch & Grow Exponentially with Our Partnership

100% Customizable
Our white label truck booking app solution script can be customized for a variety of on demand services including freight dispatch and freight management applications. Whatever your unique business idea is, Truckr can be tailored to suit that.
Scalable & Clean Design
With state of the art container technology, clean coding practices, use of microservices architecture while simultaneously integrating safety & security features on the white label trucking app solution - Truckr is one of the most robust truck booking app in the market today.
Security
The white label trucking app solution & truck dispatch software is not only robust & scalable but extremely secure as well. SSL-powered APIs, Keychain, JWT, reverse proxy setup, etc. ensures that security extends all the way from the app to each individual API.
IP Rights Registered
The IP rights of the customized white label trucking app solution script will be registered to your business and we will have no claim post this. The product will solely belong to your business and therefore, any modification or usability of the app will be limited to your discretion.
Other Marketplaces We Offer
Appscrip isn't just about building marketplaces for experts & professionals to meet their clients. Explore our other successful marketplace offerings
Other Marketplaces We Offer
Appscrip isn't just about building marketplaces for experts & professionals to meet their clients. Explore our other successful marketplace offerings