Not every startup idea is bound for success, and pitching to a room full of investors is no small and easy feat. Then how did

a small website venture

 that once offered weekend trip packages (Olatrip.com)

emerge as an electric vehicle company

? How did a company convince investors to invest a total of

$4.3 billion

over 26 rounds? 
Introducing you to the green-eyed boy of the Indian startup ecosystem, the first-of-its-kind taxi aggregator service provider in India, Ola! 
Ola – Company Profile
The birth* of Ola on 3rd December 2010 (& the new-to-customers Ola business model) ushered in revolutionary changes in India and marked the transition from traditionalism to technology. 
Bad experience

*

 during a car rental situation goad 

Bhavish Aggarwal (founder and CEO, Ola)

 into the ride-hailing business. His car rental business (Olatrip.com) became the basis for his billion-dollar business (

As of 

October 2019

, Ola was valued at 

about US$6.5 billion).
Founders Bhavish Aggarwal and Ankit Bhati baptized their business "Ola," stimulated by the Spanish term "Hola," which means "Hello" in English. 
Within 4 years of Ola's birth, the company said Hola to 85 cities in India. 
India's Ride-Hailing Market Share
Ola had a market share potential of 80% in 2016 while Uber had only 15% of India's ride-hailing market share. 
The Indian homegrown operator continued to lose its market shares over the years while Uber continued to see sensational growth. As of 2020, Ola and Uber had 52% and 44% of India's ride-hailing market share. Ola still is India's largest mobility platform.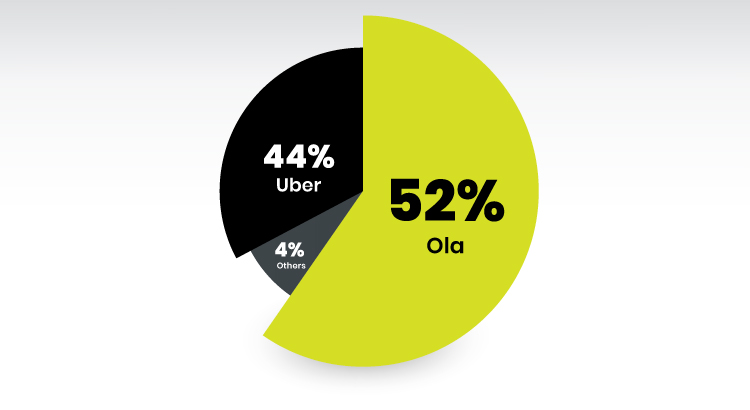 Ola's biggest problem is neither growth nor cash efficiency, it's to hold off the world's most valuable venture-backed startup, Uber. 
No doubt, India is a two-horse race. That said, if you are thinking of launching a ride-hailing startup in India, you'd be competing with 2 giants.  
Lacing the streets of 250+ cities across India*, Australia, New Zealand, and the UK with cabs that spell security, Ola redefines mobility for billions.
*

Ola took over India before it expanded to other countries.


Key Lesson: Start Local Before Going Global 
In January 2018, Ola extended into its first overseas market, Australia. In September 2018, the company stepped into New Zealand. 
It began its operation in the UK by introducing auto-rickshaws in March 2019. This introduction intrigued the interest of more than 10,000 drivers who applied both in online and offline mode ahead of its launch in London.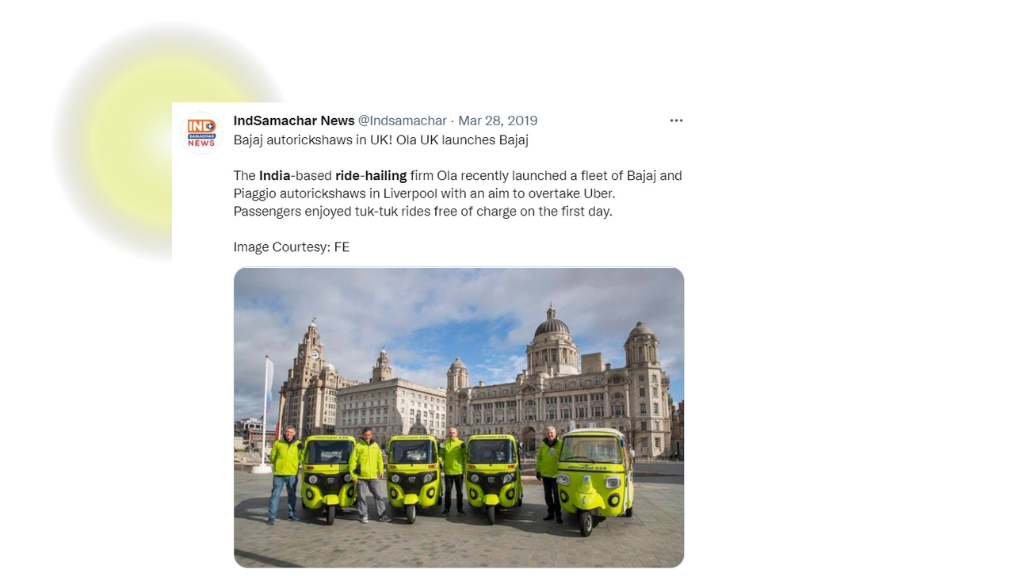 Simply put, it is easy for companies to expand once they get hold of one region. Let's consider a few more examples!
Uber 

took over 

San Francisco

 before it expanded to other cities. 

Careem 

took hold of 

Dubai 

before it expanded to 

MEA

. 

Bolt 

took over one area, 

Tallinn (Estonia)

, before it expanded to other regions.  
These companies' international expansion was based on a locale-by-locale approach, which truly is the only approach possible. One can't get everywhere at the same time, regardless of one's budget.
That's why it makes sense to start Local before going Global.
Which apps do you open when you think of booking a cab online in India? Ola? Uber? Exactly, and that's your only competition if you are considering launching a ride-hailing startup in India. 

What About Other Taxi Aggregators In India? 
Can 

Meru and other taxi aggregators

 be considered as well designated competitors of Ola, Uber, or any other soon-to-be-emerged ride-hailing startup? 
The Indian ride-hailing world thinks, NOT! The price system embedded into the Ola business model is far better than what other taxi aggregators offer. 
Transparency leads to (Customer) trust but, unfortunately, new ride-hailing companies still learning to love transparency.
Karry, our pre-built ride-hailing app script designed for aspiring entrepreneurs to launch an app like Ola within a few months allows customers to view the price before booking a ride (similar to Ola) along with an additional, easy-to-use feature – a feature that lets customers choose their driver (male/female).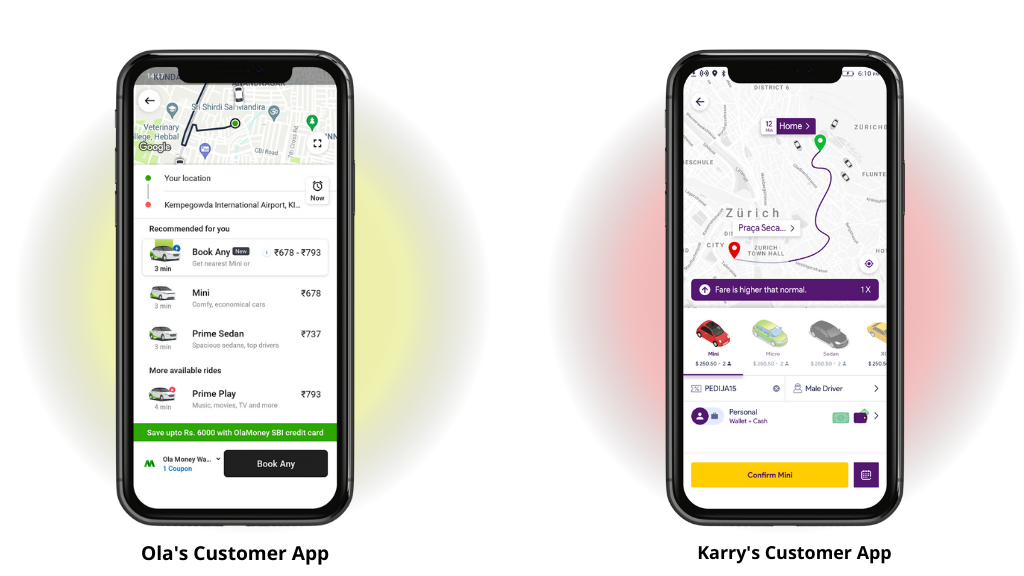 For consumers confused about complicated tax pricing calculators, Karry unveils a rate card for every vehicle type, and that too, before booking.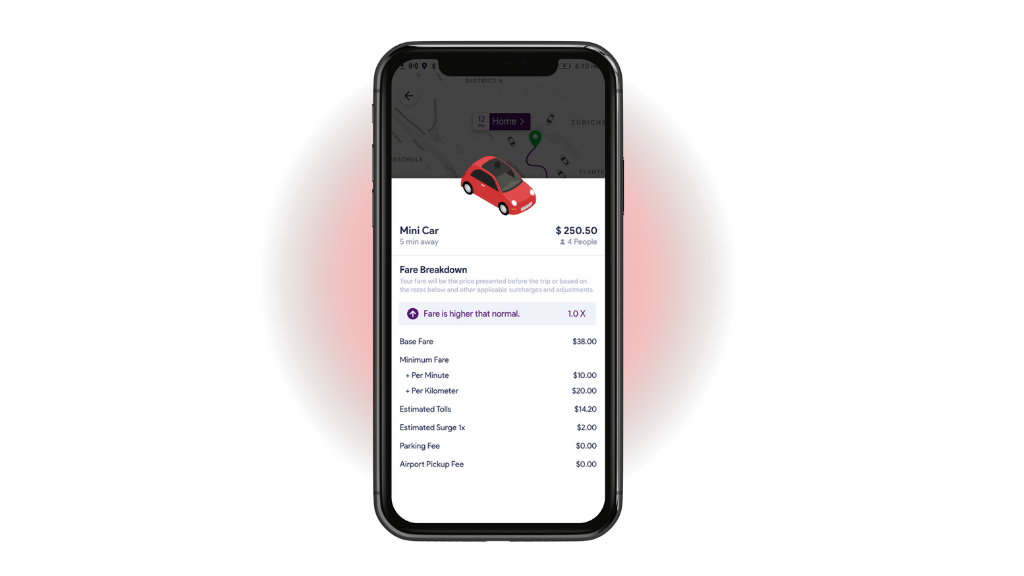 Coming back to other Indian ride-sharing companies, Meru cab is more expensive than Ola – a company that provides the same facilities at lower rates. 
The word "Improvement" doesn't seem to be there in the dictionary of THE OTHERS (Meru Cabs/local radio taxis) in the world of the Indian ride-hailing market.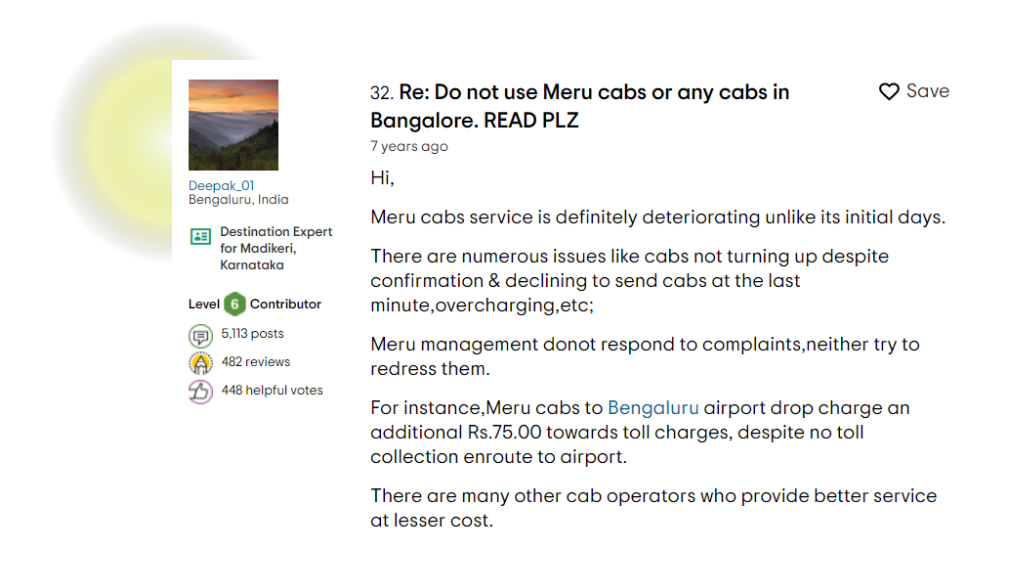 Ola Business Model
The Ola business model revolves around offering ride-hailing services, car rental services, cab-leasing program, Ola Money, Ola Prime Play, and, of course, its electrical vehicle arm, Ola Electric. 
Website, call center, mobile application – there was a time when Ola had as many as 3 channels to accept customers' requests. As time went by, Ola gave a second thought to its methodology and started accepting appointments just through the applications. 
Ola teamed up with technology to mold its business model, riding customers into the realm of comfort and sending drivers to follow the footprints of financial freedom using a customer app, driver app, and an admin dashboard. 
Customer App
Ola's customer app says a lot about Ola's ambitions. From 24*7 customer care service to GPS ninjas embedded in the Ola business model, every feature shouts customer comfort and security. 
Customer security is Ola's priority. Unfortunately, we can't say the same for other Indian ride-sharing companies.  
Ola also offers a car rental facility for outstation trips. It doesn't limit its services to the city boundary. 
What else stands out is a scheduled service. Of course, Meru and other Indian ride-sharing companies also offer scheduled services but standing up to customers' expectations doesn't seem to be their cup of tea.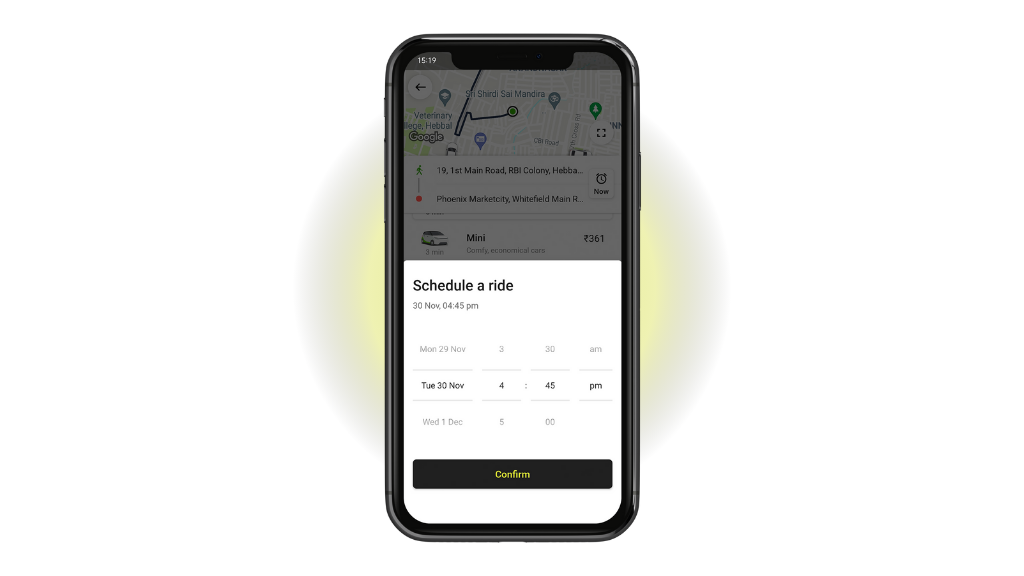 The customer app* allows users to track their ride in real-time, pay via their preferred mode of payment, and rate their services after the ride ends. 
*

One Karry software package not only includes customer app (iOS + Android) but also driver app (iOS + Android), web dispatcher panel, and admin panel.
Driver App
Ola emerged as an awesome innovation stage for Indian transportation. Drivers of Ola are armed with an option to choose their own particular time to get paid by acknowledging ride demands from customers on the Ola application. 
Admin Dashboard
Admin holds the power to do anything from managing drivers to setting up fares to tracking appointments. Admin can also manage cash and card earning of each driver, keep track of each driver, view trips in real-time, set up and manage promotion codes, & whatnot! 
Think of the admin dashboard as a remote that entrepreneurs can use to manage their ride-hailing business from the comfort of their couches. 
As of 2019, Ola is valued at 2,544 crores INR (US$360 million), and Ola Electric*, its electrical vehicle arm, alone is valued at $3 billion. There surely is no looking back for Ola, but the question remains: how did this startup grow at the speed of light?
*

Ola Electric operates as a separate company.
Encapsulating the intentions of Ola in a few words, we'd say that Ola's only strategy was to leave no stones unturned.
Strategies Adopted By Ola
The company oiled its way to strategies to mold the Ola business model and ended up cooking a success recipe. Here are a few strategies that were adopted by Ola, teaching aspiring entrepreneurs that the only thing they have to do is CARE. 
Ola had a high old time ruling the Indian ride-hailing market, and the credit also goes to its deep-pocketed investors. Ola had a lot of cash to play with. All this green-eyed boy of the Indian startup ecosystem did with that cash was translation. Here's how Ola translated Cash Into Care!
With the market-share battle between Uber and Ola becoming more intense, both the giants strived to sign on as many drivers as possible. Ola came up with a strategy to lock drivers into its system and make them their exclusive partners*. 
*

Exclusive partners define drivers who don't sign in on Uber or other ride-hailing applications.
This strategy spelled "Car leasing program" but shouted empowerment for drivers. The company started buying cabs to lend them to new drivers. Along with starving off competition from Uber, Ola's this strategy represented a big shift in its old Ola business model. The Ola business model has been through a set of ups and downs and pivots and U-turns.
Ola never aimed to own cars. All it wanted to do was connect customers with drivers who owned cars. But Ola did put up its cash to buy cars, to offer drivers an opportunity to become micro-entrepreneurs. It bravely moved to a part-inventory & part-marketplace model.
Under this program, drivers can lease a car for an initial deposit, and then continue to make monthly payments to own the car after 3 years. 
How can you make customers hop on your cab-booking platform? By offering cab rides at auto fare price? With the comfort doubled and price halved, who would restrict himself from saying hola to Ola?
Ola Mini was one of the most successful campaigns launched by Ola. Ola burnt its money to cater to the dire needs of its customers. Unsurprisingly, this idea of Ola Mini got accepted by the public. 
Described as the worst in a century in India, November 2015 Chennai floods were the world's 8th most expensive natural disaster in 2015. 
People were stuck in their offices and other areas, in dire need of food and water, desperate to reach their homes when Ola came to their rescue by launching its ferry service. Each ferry that could accommodate 5 to 9 people per trip had professional rowers. 
This startup was meant to last for just three days, but the situation's demand made Ola ditch its plan, and it agreed to continue providing the service. As a result, Ola got to reap the praise off the social media land.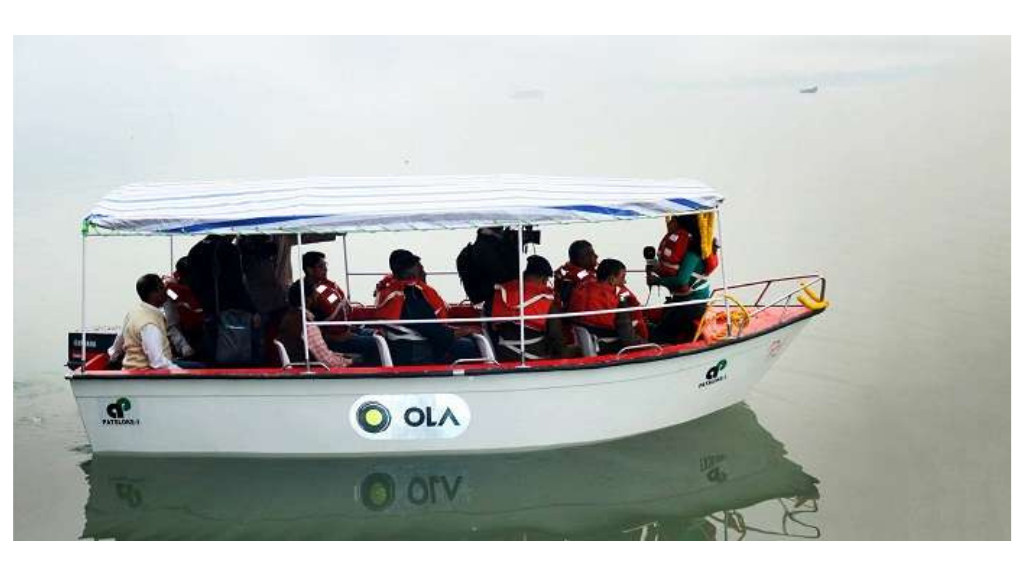 Only for women by women, the pink ola cab idea was born to nurture women entrepreneurship. Women's safety doesn't have to stay on papers, proved Ola by rolling out the pink carpet in the ride-hailing world. Ola became the first of the big guns to roll out this service following the Uber rape incident in Delhi.
Undoubtedly, Ola understood the science of customer emotions. It wanted to achieve public support and create a buzz in the market, and IT DID. 
Growth Strategies Of Ola
Say "strategic partnerships with other brands?" and you'll find brands nodding their head. Under this partnership between Ola and Make My Trip in 2013, Ola offered a rental car facility to Make My Trip customers for pick up and drop off at desired destination. 
This partnership helped Ola spread its wings wider and thus acquire new customers. 
TVF (The Viral Fever), an Indian online web series platform's strong fan base smelled like an opportunity for Ola to acquire more customers. Not only did Ola acquire customers, but TVF also got to reach out to Ola's customers. 
Personalization Was Ola's Penetration Strategy
Personalization was the pen Ola used to paint the ride-hailing world with its own colors. Ola started segregating its fleets into different models – models that seemed to suit every customer and every pocket. 
Ola's models include Ola Mini, Ola Pink, Ola Sedan, Ola Rentals, Ola Outstation, Ola Micro, Ola Prime, carpooling for corporate, etc. People feel such a strong pull towards Ola also because Ola offers the lowest price rate compared to all other Indian taxi aggregators.
Ola Revenue Model: How Does Ola Generate Revenue
The revenue model of Ola is pretty similar to the Uber revenue model with a couple of additions to it. The central pillar on which the Ola business model stands on is "X% commission (ranges from 15% to 20%) from the total fare of the trip."
The factors that decide the total fare commission include the total time of the ride, waiting time (customer making a driver wait), the total distance of the ride, peak-time fare (during rainy hours), scheduled ride fare (extra charges for rides scheduled for later use), service tax, convenience fee (fare charged for the entertainment, eg: games in the cab), & cancellation fee. 
Other Revenue Lines Of Ola
In January 2019, Ola introduced its money wallet similar to PayTM and FreeCharge Wallet. Ola's this virtual wallet service not only allowed users to pay for rides but also make payments at various vendor touchpoints. OlaMoney Wallet highly contributed to Ola's revenue line.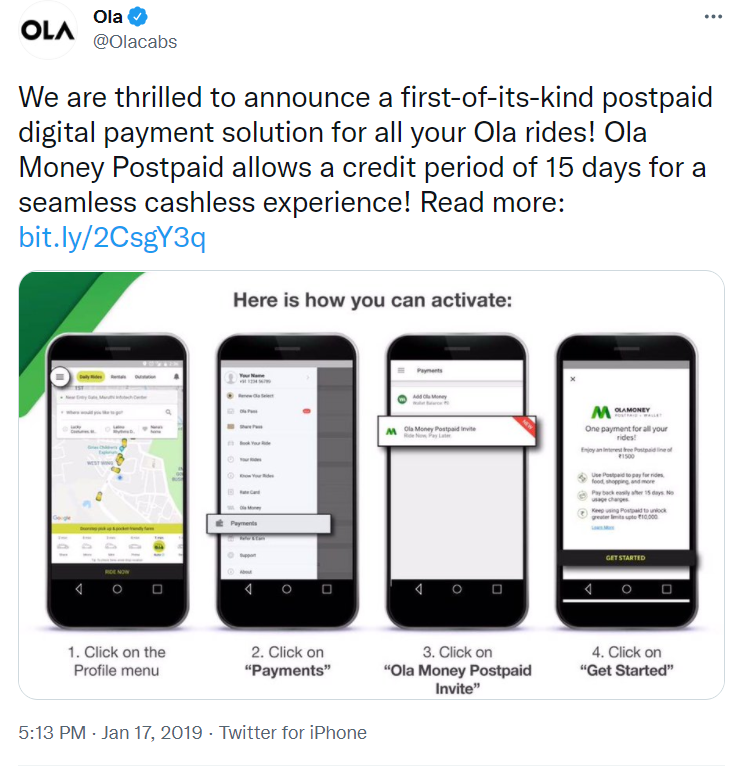 The Indian international ride-sharing company, Ola launched its food delivery feature, Ola Cafe on its app in 2015. The service was meant for a handful of metros (Delhi, Mumbai, Bengaluru, and Hyderabad) but only for one year. The company gave a second thought to its old Ola business model and shut down its service Ola cafe a year after its launch. 
Ola Store was Ola's second attempt but the company pulled the plug on its grocery delivery service too. Then came the news of Ola's FoodPanda acquisition, the ride-hailing giant's third shot. 
Unfortunately, FoodPanda's buzz didn't take enough time to taper off and the company started laying off FoodPanda employees. It laid off 40 employees and 1,500 delivery executives and delisted third-party eateries.
Finally, Ola started taking a swing on Swiggy and Zomato's market share by building a portfolio of its own food brand: Ola Foods. The brand forayed into the food delivery world with a twist – Khichdi Experiment. Ola definitely knows how to stand out in a sea of food delivery services.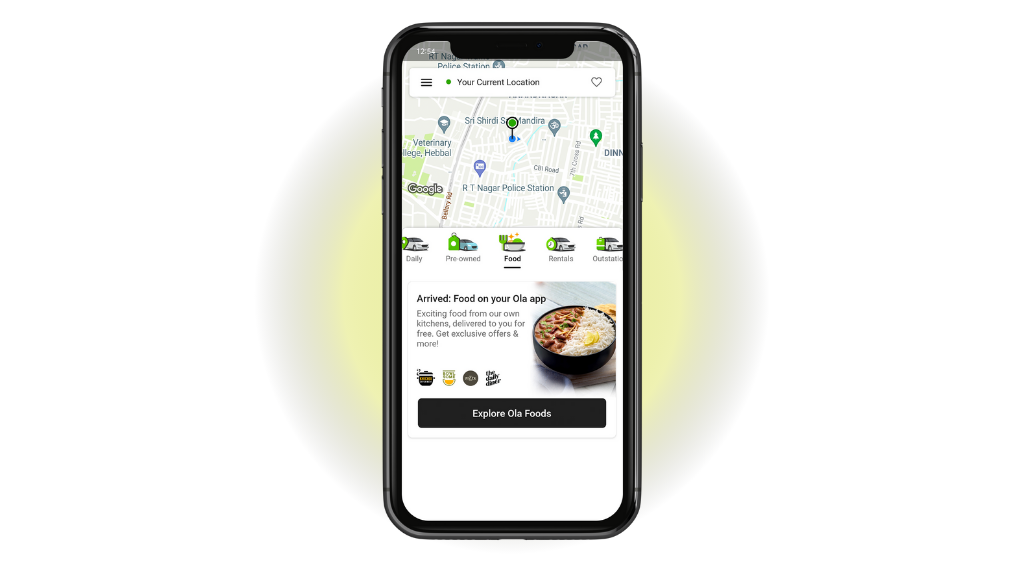 This year in November, Ola locked its horns with Dunzo, Swiggy's Instamart, BigBasket, Swiggy's Instamart among others. The company made a foray into the quick commerce sector by re-launching its 15-min grocery delivery service, Ola Store. 
Customers can choose from around 2000 items across several categories including personal care, beverages, and pet care products. 
Ola forayed into used-cars market space by launching a vehicle commerce platform, Ola Cars in Oct 2021. Ola Cars started with pre-owned vehicles, aiming to open up for new vehicles over time. 
So far, "Ola cars" offers car purchasing services including vehicle registration, maintenance, vehicle finance, and insurance. 
Ola partnered up Microsoft, Apple Music, Sony Liv, Audio Compass, etc to provide commuters with an experience that echoes entertainment. The company charged commuters extra Rs 20 as convenience fees for in-cab entertainment. 
Ola was sitting on a mountain of data about its users' financial spends. It was time for this ride-hailing startup to stand out, and thus, it infused credit card business into its existing Ola business model in May 2019, introducing the world to its "Ola Money SBI Card" in association with SBI and Visa in May 2019. Ola's this act represented a new avenue to monetize its customers.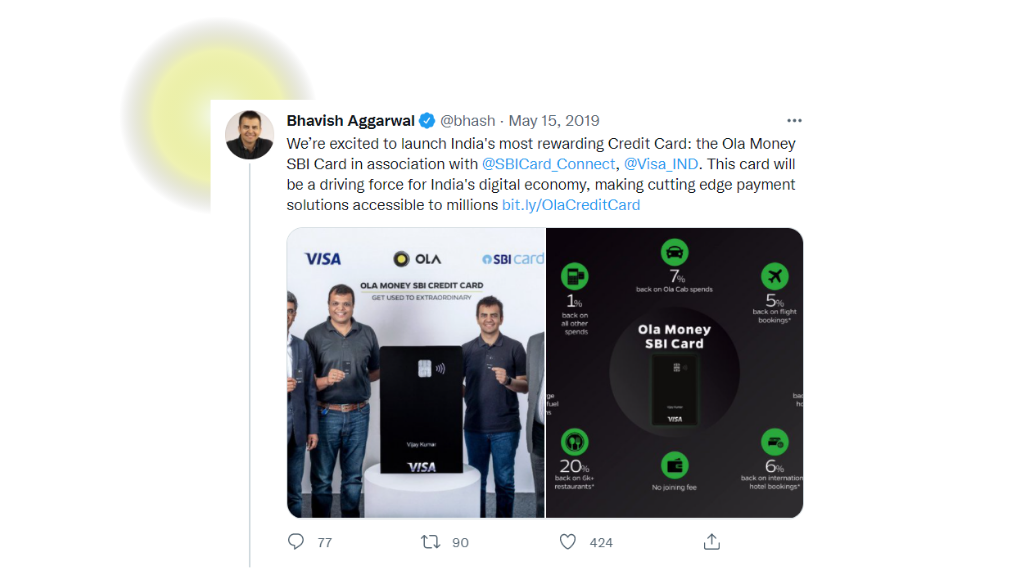 Corporate travel management made easy, says Ola. Corporate tie-ups help ola say hello to a big sum of sales.
You might have seen Ola cabs studded with pamphlets & brochures not to just please commuters but to promote different companies' products. The company charges a commission for these promotions.
Entering into different segments (food delivery, grocery delivery, digital payments) has been beneficial for this green-eyed guy of the Indian ecosystem. The company generated more revenue, thanks to its food/grocery and fintech arm, but its main source of sales, and thus, success remains ride-hailing.
Ola tightened its grip on the ride-hailing sector (used it as a base) before moving on to other sectors such as food delivery. It's easy to expand when you get hold of one sector. Ola has proved that the Indian ride-hailing sector is overloaded with opportunities, but hardly anyone dared to hop onto the idea of launching a cab-booking service in India. As they say, the hardest thing to do is start. 
The Indian ride-hailing sector streams only two stories, only two heroes, and the Indian ride-hailing sector is desperate for another dramatic entry. No doubt, social media is in favor of this fact. 
Canceled rides remained the reason behind the frowns on the faces of Uber and Ola's customers & they don't know of any other platform to hop onto. 

Implement an app to solve the problem of canceled rides. While leaving no stones unturned (like our clients) might take you a few months, converting your doubt into delight will take you a talk. 
Coming back to the Ola business model, have we introduced you to Ola's philanthropic arm, Ola Foundation? Ola's fans flaunt Ola for a reason. Amidst COVID chaos, Ola delivered free oxygen concentrators to the doorsteps of consumers. 
On the way to success, Ola healed and hugged the world without hesitation, and its competitors are no exception. Ola acquired at least 9 companies. Companies that got to sit under the shadow of Ola include TaxiForSure, Ridlr, Foodpanda India, GeoSpoc, Geotagg Technologies, Qarth, and Zicash.
OLA Electric Scooters: Ola's Electric Vehicle Arm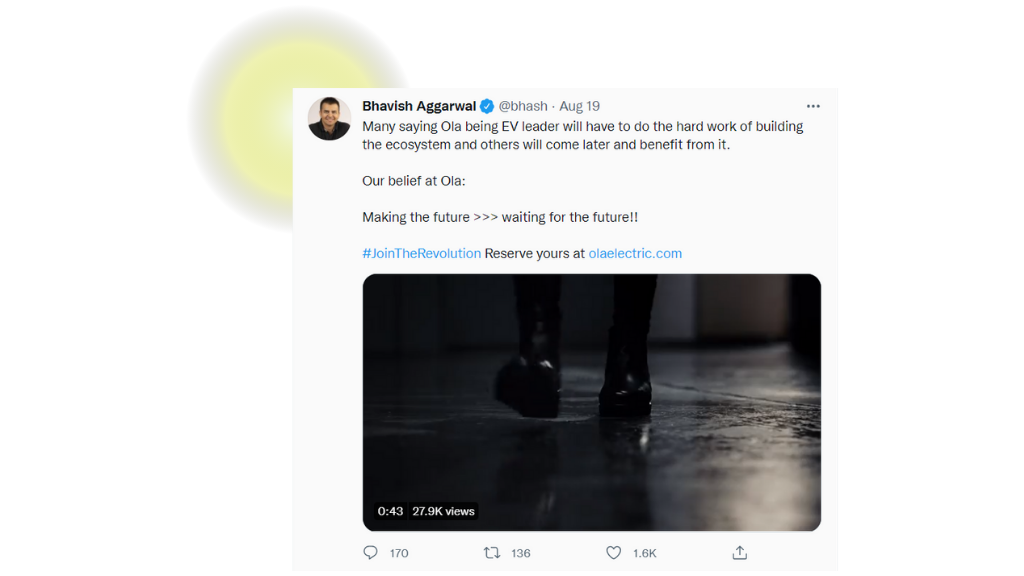 "Join the revolution" became a magnet that made Indians say "Me Too!" Ola Electric sealed a strong response in the sales of the scooters, crossing the Rs 600 crore mark in a single day. The company is expected to take e-scooter to the international markets this fiscal. 
India's mobility market is expected to touch $90 billion by 2030. Are you quick enough to snatch the market share?